Highway Buses
Japan highway buses: read about using the Japan highway (kosoku) bus network, including long distance highway bus costs, tickets and routes.
Highway Buses in Japan (Long Distance Buses in Japan) 高速バス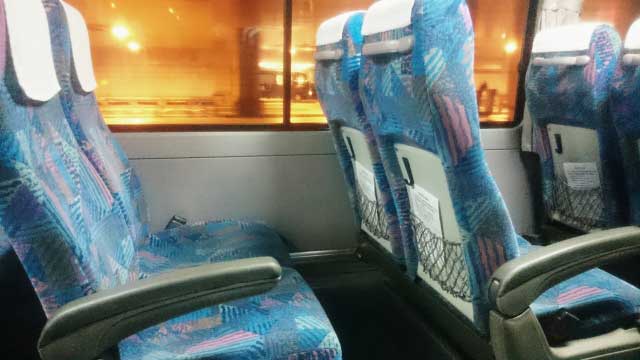 Japan has an efficient system of city, local and long-distance highway buses.
As well as city and local buses, Japan has an extensive network of long-distance, highway (kosoku) buses.
As the name suggests these buses run on Japan's highway (motorway) network. Traveling by bus may be slower than train or shinkansen but fares are cheaper and it is possible to travel overnight thus saving on accommodation costs.
Nagoya to Tokyo by shinkansen is approximately 1 hour and 50 minutes, whereas the same journey by bus is around 6 hours. Nagoya to Kyoto by bullet train is 50 minutes and 2 and a half hours by bus.
Most highway buses start and finish their journeys at or near major stations. For example, Kyoto Station, the Busta Shinjuku Terminal of Shinjuku Station, and Nagoya Station are all major terminals for highway buses.
Major JR Highway bus routes out of Tokyo include Morioka, Fukushima, Mito, Tsukuba (Ibaraki), Kashima-jingu, Tokyo Disneyland, Shizuoka, Hamamatsu, Nagoya, Toyota, Toyama, Kanazawa, Kyoto, Nara, Osaka, Wakayama, and Takamatsu, Matsuyama and Kochi in Shikoku. Buses depart from Tokyo Station, Shinjuku Station and Ikebukuro Station.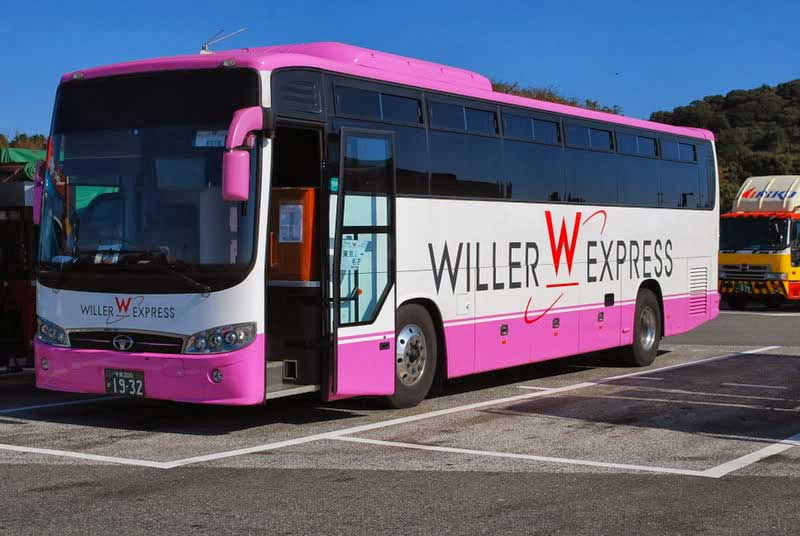 Willer Express highway bus
From Kyoto Station there are highway buses to Kanazawa, Hiroshima, Kochi, Tokyo, Nagoya, Tokushima, Takamatsu, Izumo, Tsuyama, Shizuoka, Yokohama, Omiya in Saitama, Matsuyama and Toyama.
From Osaka there are highway buses to Sendai, Fukushima, Kanazawa, Toyama, Tokyo, Tokyo Disneyland, Yokohama, Niigata, Nagoya, Kochi, Shizuoka, Hiroshima and Ehime. Buses depart from Osaka Station and Umeda Sky Building.
From Nagoya there are highway buses to Osaka, Universal Studios Japan, Kyoto, Kobe, Sendai, Takayama, Shirakawa-go, Kofu, Tokyo, Tokyo Disneyland, Yokohama, Matsumoto, Matsue, Izumo, Shizuoka, Hiroshima and Gifu. Buses depart from Nagoya Station and Nagoya Meitetsu Bus Station.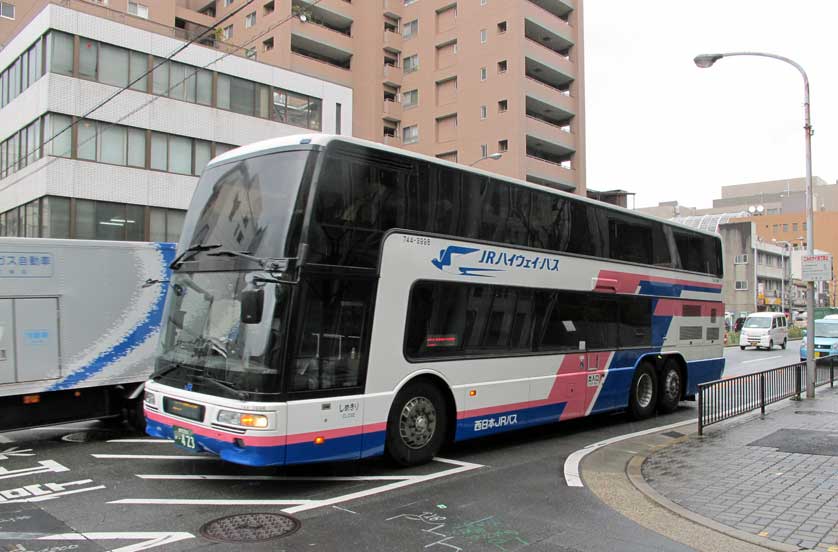 Double decker highway bus in Kyoto

Japan Bus Pass
The Japan Bus Pass from Willer Express can only be purchased outside Japan (like the Japan Rail Pass) and is valid for up to two months. Two routes per day only can be reserved: one overnight bus and one night bus or two daytime routes. Prices are presently 10,000 yen for three days, 12,000 yen for four days and 14,000 yen for five days. The service is ticketless and reservations must be made online.
Willer buses cover Honshu, Shikoku and Kyushu in the following areas:
Tohoku (Akita, Aomori, Fukushima, Morioka, Sendai and Yamagata); Kanto (Chiba, Kanagawa and Tokyo); Hokuriku (Fukui, Kanazawa, Niigata and Toyama); Tokai (Gifu, Nagoya, Mie) Kansai (Hyogo, Kobe, Kyoto, Osaka, and Shiga); Chugoku/Shikoku (Ehime, Hiroshima, Okayama, andYamaguchi); Kyushu (Fukuoka, Kagoshima, Kumamoto).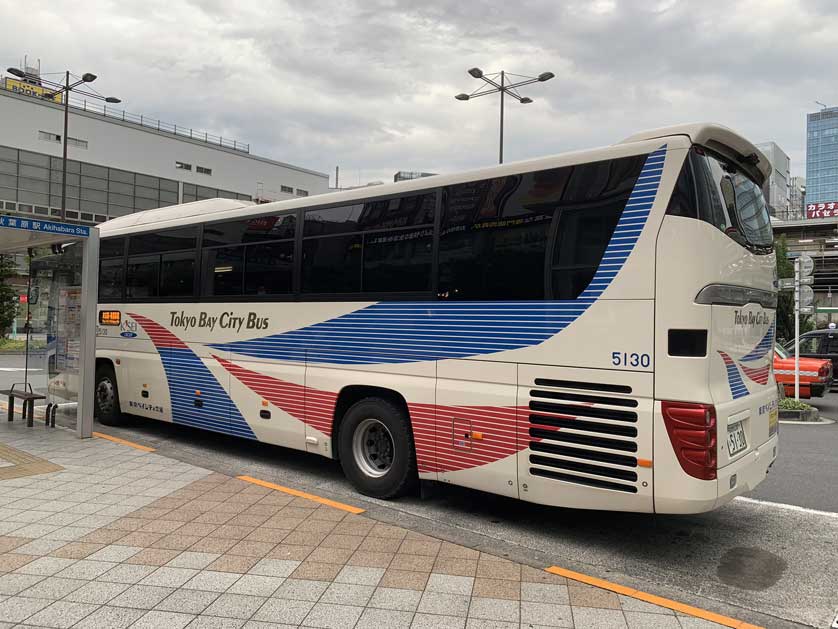 Bus to Tokyo Disneyland, Akihabara Station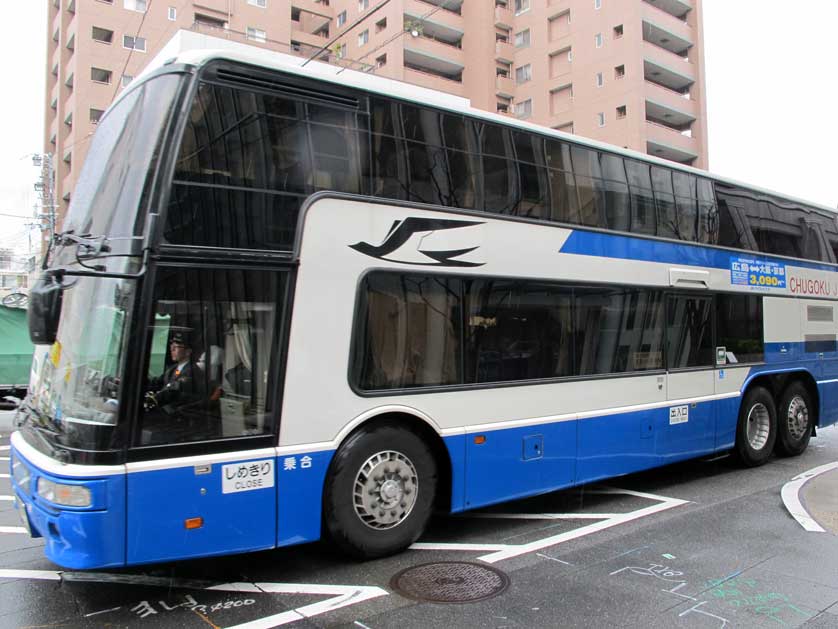 Double decker highway bus in Kyoto
There are a number of private companies running highway bus services in Japan and as a general rule of thumb, you get what you pay for. Some buses may be much more comfortable than others. (On all the buses try to avoid the front row of seats as these have the least leg room.)
Also the bus companies do not book females next to males on the overnight services so please book as early as possible, usually one month before departure is the maximum booking period. Some overnight buses are also women-only.
Friday night services and departures before public holidays frequently book out.
All the buses have a toilet, reclining seats, make stops at highway service stations and are no smoking. Double decker buses are used on some routes such as the Nagoya-Shinjuku JR Bus.
Tokyo is obviously the major hub of the highway bus network and even some very small towns will have a daily or weekly bus to Tokyo usually arriving at Tokyo Station or Shinjuku Station.
Distance from your destination is not always the major factor on the length of your journey. For example an overnight journey from Tokyo to Izumo in Shimane Prefecture is only slightly longer than an overnight bus from Nagoya to Izumo (a journey nearly 500 km shorter). The reason is that the Tokyo-Izumo bus employs a team of drivers who keep going all night whereas the Nagoya-Izumo bus has only one, and due to road safety regulations, the driver must rest every few hours.
Reservations for JR Highway Buses can be made at JR Stations and private railway companies that also operate bus services, such as Meitetsu in the Chubu area and Nishitetsu in Kyushu, sell bus tickets at their railway stations. Otherwise highway bus reservations can be made by phone, at travel agents or online.
Single, return and multiple tickets can be booked. Return tickets are in general much cheaper than booking two singles. Check to see if your JR Rail Pass is valid for any JR Highway Buses you wish to use.
Nagoya bound highway bus at Kyoto Station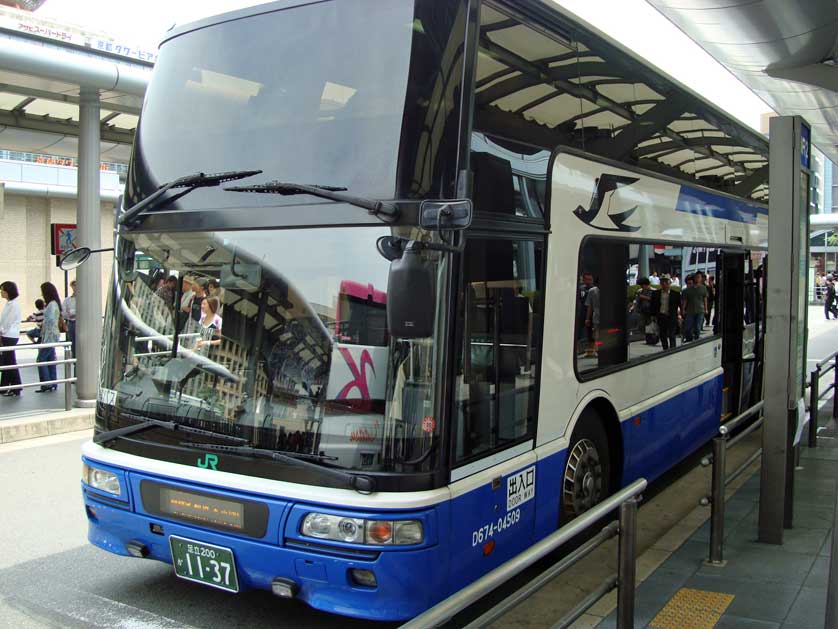 Highway bus at Kyoto Station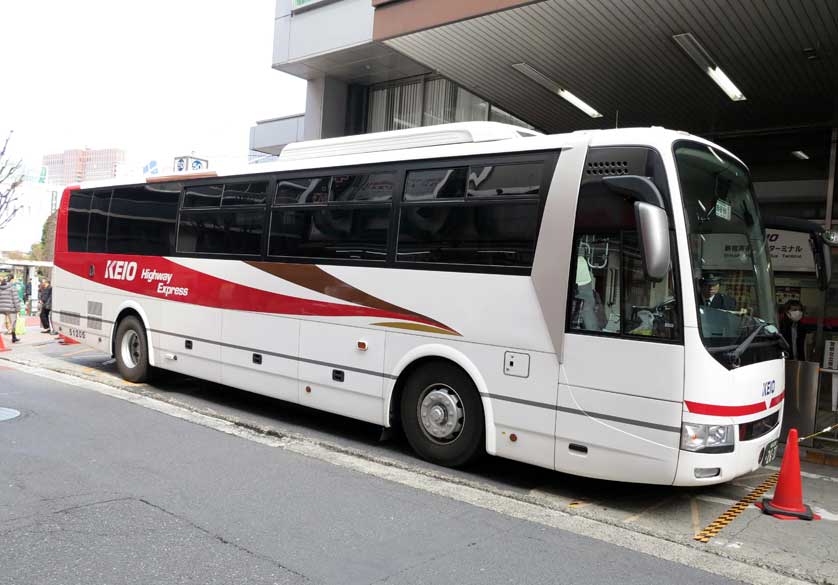 Keio highway bus, Shinjuku, Tokyo

Japan Bus Video
Related Articles
Highway buses from Shinjuku Station
All the themes of the city