Ishikawa Prefecture
Ishikawa Prefecture 石川県
Situated on the Japan Sea Coast
Center of the Hokuriku region
Population: approx. 1,200,000
Home of the beautiful Kenrokuen Garden
Prefecture includes the Noto Peninsula
Kanazawa is the prefectural capital
Region formerly known as Kaga which was controlled by the powerful Maeda clan
Caroline Klein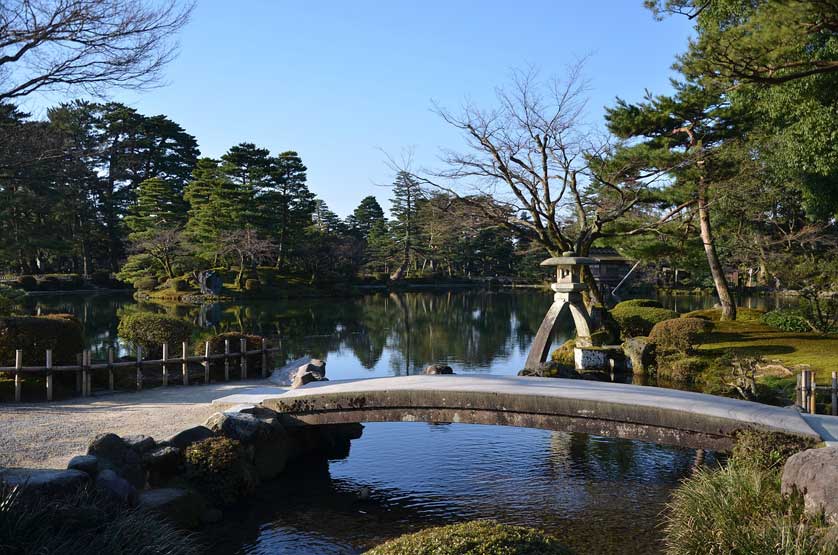 Kenrokuen Garden, Kanazawa, Ishikawa Prefecture
Ishikawa Prefecture is located in the west of Japan, on the Japan Sea coast. The name usually draws a blank amongst foreign visitors, and even among many Japanese, who either think immediately of "Ichikawa" (a city near Tokyo) or whose brows only clear when you mention its prefectural capital, Kanazawa, well known for its cultural and historical riches.
This long, thin prefecture can be divided into three areas - the Noto Peninsula to the north, Kaga/Hakusan to the south, and the city of Kanazawa, which lies almost exactly in the middle. Although the prefecture measures just short of 200km from top to bottom; due to its peninsula jutting out so distinctively, there is nearly 600km of coastline that provides some memorable scenery.
There is a lot to be seen here - it must be said, however, that unless one wishes to make only simple daytrips up and down the prefecture from Kanazawa, a car is really crucial to viewing the full glory of Ishikawa.
This article assumes that you will have one! There is so much to see that it is hard to do justice to Ishikawa in one article - what follows is simply a selection of some highlights known to the author. As with all rural areas, half the fun will be in finding those hidden gems that appear to be completely undiscovered!
Kanazawa Castle
The natural world
For the nature lover, Ishikawa really falls into two categories - the coast line and the mountainous region behind it. While not all the coast line has been looked after as well as one might wish, there are some beautiful and quiet beaches particularly in the Noto Peninsula. These are often deserted, and you may find that your only company is an elderly Japanese lady walking her small dog from out of the window of a slowly moving car, or a couple of giggling tourists taking pictures of themselves along the "longest bench in the world" - a 1521 foot long bench looking over the scenic Masuhogaura Beach.
For those who are less interested in sunning themselves, the often rugged and wild looking coast offers some wonderful views, little fishing villages and the "thousand rice fields" drive between Suzu and Wajima.
Away from the sea, the Hakusan National Park is so named after the mountain at its centre. Mount Haku ('Haku san') is one of the three best known mountains in Japan (the other two are Fuji and Tateyama) and stands 2,702 metres above sea level. It and the surrounding range are especially beautiful viewed from a distance when covered in snow on clear blue winter days.
The northern part of the mountain is home to Japanese snow monkeys and the Asiatic Black Bear, but most visitors are restricted to fantastic views over the surrounding mountain range and towards the sea, or appreciating the alpine plants and forests. The mountain is considered holy, but these days most people climb for fun and it is well set up for the amateur climber. In winter, there are a number of local ski slopes which offer a good deal of variety for mid-level skiers.
The most popular route through the mountains is the Hakusan Super Forest Road, a toll road which twists and turns its way across to Shirakawago World Heritage Site in Gifu prefecture - famous for its 'Gassho' steep-pitched roofed houses. The speed at which one takes this road can vary - the hairpin bends keep the pace down anyway, but when the autumn leaf-peepers take to the roads for the spectacular colourful scenery, progress slows to snail pace.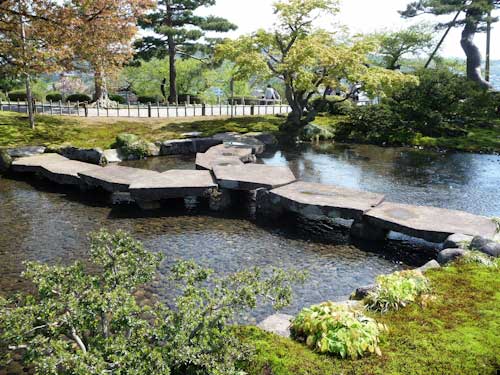 The flying goose bridge in Kenroku-en, Kanazawa, is built as a series of linked stepping stones. It is said to represent a skein of geese flying across the sky, or a goose flying across the water.
Onsen in Ishikawa
Wakura Onsen (well known in the Noto Pensinsula) and Mawaki Onsen (near the rather optimistically named 'Mawaki Ruins') are not terribly easy to access without a car but worth the trouble to get to.
The Kaga Onsen area, which comprises Yamashiro, Yamanaka, Awazu and Katayamazu, is a favourite with Japanese visitors. Awazu, with its beautiful views and access to the local crafts, is especially popular. All four areas offer a variety of old and modern accommodation and have slightly better access by public transport than the hot springs in the north.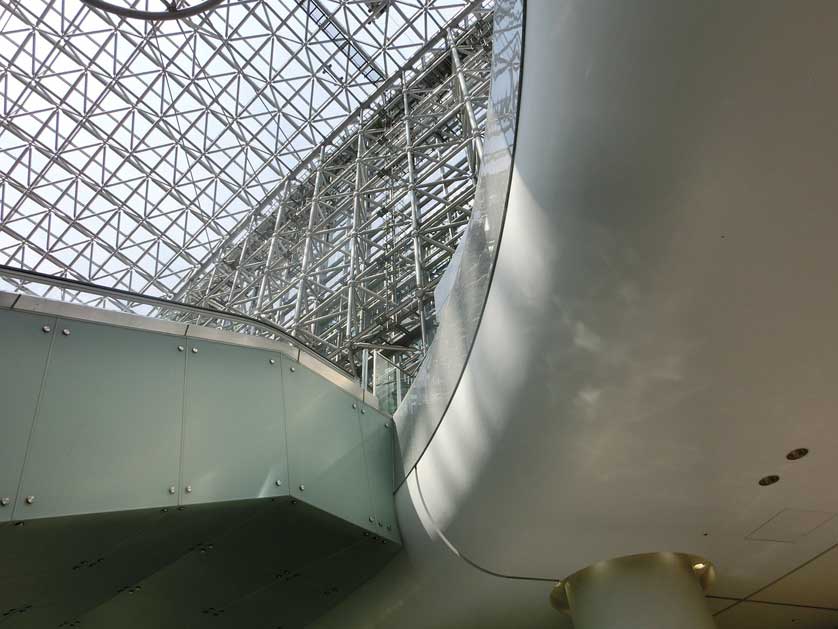 Kanazawa Station Roof
Food & Drink in Ishikawa
Unsurprisingly, a key part of the Ishikawa menu comes from the sea. Fresh fish and seafood are vital here, with crab season highly anticipated.
The best known local cuisine is Kaga Kaiseki (加賀料理) considered a strong rival to Kyoto Kaiseki cooking. It's a delicate cuisine, beautifully presented and based on the finest seasonal ingredients from sea and mountains.
For something rather cheaper, or if you're looking for 'eki-ben' (station lunch boxes) ideas, the local forms of sushi - Oshizushi or Sasazushi (笹寿司) are to be recommended. For Sasazuchi, small pieces of fish (often mackerel or very tiny shrimp) are pressed into squares of sushi rice and then wrapped in bamboo leaves. The leaves work as natural wrapping but also leave their fragrance on the rice, creating a lightly scented, delicious and unusual dish.
Ishikawa also produces some of the finest and best loved sake in Japan, including the well known Tengumai and Kikuhime - both dry and strongly flavoured. Indeed, the overall trend for the region's sake is dry and crisp - perhaps well suited for those who have not drunk much sake. Sake is brewed by about 40 producers here, and quite a few of these do not even sell outside of the prefecture - sample their wares while you can!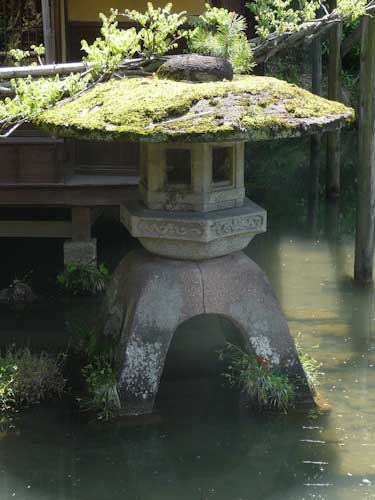 In Kenroku-en, Kanazawa, this distinctive, squat stone lantern stands in water.
Temples in Ishikawa
Soji-ji is a temple in Monzen (Noto), originally built as the headquarters of the Soto Sect in 1321. It was unfortunately largely destroyed in 1898 and the head temple was moved to another location in Japan. However, the present temple remains a beautiful and peaceful place to visit.
The buildings stand in a complex around a green courtyard, with the magnificent main hall taking pride of place in the centre. The temple nestles into the hills and is a wonderful place to rest and soak up the atmosphere, whatever the weather may be when you visit.
Nata-dera is down to the south of Komatsu city and is the head temple of the Shingon Sect, established in 717. The temple is set into rocky mountains and lies in about 230,000 square metres of grounds, covered by cedar trees and camellias and many impressive buildings. A number of these, including the three story pagoda, have been designated as important cultural assets, although the rather old fashioned signs may not enlighten the visitor a great deal! This temple is particularly popular in autumn for leaf viewing, when it is best visited out of peak hours.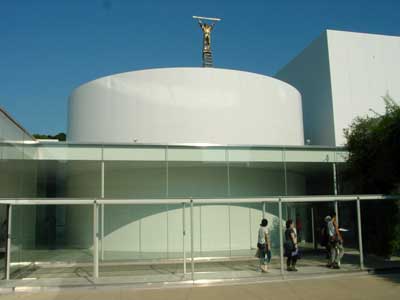 21st Century Museum of Contemporary Art, Kanazawa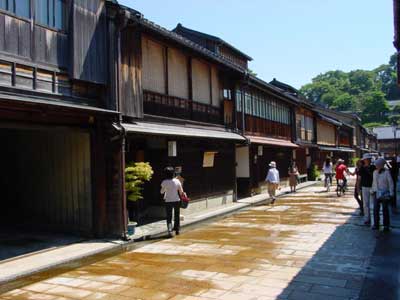 Higashi Geisha District, Kanazawa
Ishikawa Festivals
The highlight of the year in many Japanese rural areas are the local festivals, many held in the summer, when young people return from their city jobs to take part in ancient rituals, support their villages and drink a lot of sake!
Kanazawa's "Hyakuman goku" festival is quite famous, but you will get much more involved if you find a local festival where you might be able to join in traditional bon odori (dancing) or watch locals fight through a burning bonfire to retrieve the flag at the top that will bring good luck for the coming year (Wajima).
The Abare Matsuri - fire and violence festival (yes, really!) - in another Noto town is another festival where you would be well advised to stand back and watch as locals charge around yelling, smashing, drumming, chanting and drinking. The origins of the festival are said to be connected to the locals trying to appease the god of rage and destruction in order to rid themselves of an epidemic, but it's not clear how many residents are aware of that these days.
Both the Abare Matsuri and Wajima's festival involve Kiriko (portable shrines) being carried around the towns and for those who miss the festival season, these Kiriko are displayed in an impressive and atmospheric museum in Wajima throughout the year.
Some other options are the firemen's parade and acrobatic performance in January, and the Dekayama festival in Nanao in spring where huge multicoloured floats are pulled through the streets and visitors leap out of the way as ropes are heaved under the 2 metre creaking wooden wheels to change the carts' direction. And perhaps the most fun you will have is finding a festival by accident and ending up invited in to a complete stranger's house to eat and drink and make merry. There are too many festival opportunities to list here!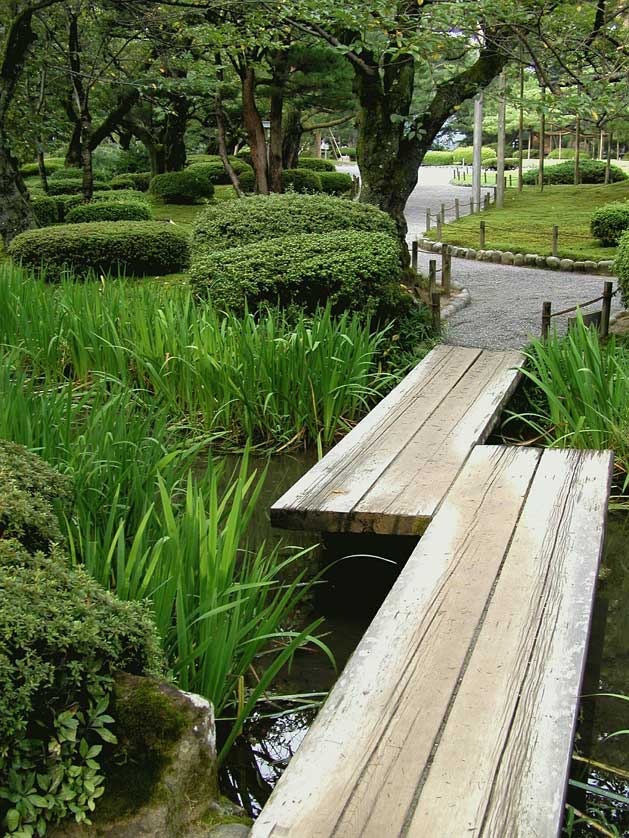 Kenrokuen Garden, Kanazawa
Culture and crafts in Ishikawa
Not for nothing is the capital city of Kanazawa known as "little Kyoto". In fact, there is a great variety of crafts produced all over the prefecture. The best known are the "Kaga Yuzen" kimono dyeing technique, Wajima lacquer ware and Kutaniyaki (九谷焼) - a distinct style of pottery.
Kaga Yuzen is a technique for decorating kimono, which has particular colouring and uses a paste outline so that the dyes do not run and mix together. Its distinctive feature is the delicate white outline of the pattern which remains at the end of the process. This is left behind even after washing - which was often done in the rivers of Kanazawa where beautiful coloured cloth streaming in the moving water used to be a common site.
Lacquer ware from the region seems to have been well known as early as the Nara Period probably because the Noto area had many of the necessary raw materials such as lacquer trees. Wajima ware is acknowledged to be very hard wearing due to the fact that its production process involves around 70 coats of lacquer. Although it is possible to see magnificent gold leaf painting on much lacquer, what is unique to Wajima is the way that the surface is engraved with a design, which is then filled in with gold leaf.
The heaviest of Ishikawa's crafts is Kutaniyaki (Kutani ceramics), which takes its name from the nine valleys ("ku tani") in the mountains where it began. It dates back over 300 years to when high quality china clay was first discovered in these mountains, although there was a long and inexplicable gap in production until the early nineteenth century. It uses five particular colours - deep blue, purple, yellow, green and red - but these days there is much greater experimentation with colours and beyond the traditional landscape, birds and flowers motifs. There are plenty of opportunities to visit Kutaniyaki production, displays, shops, kilns, or even try throwing pots in Kutani Togei Mura, now part of Nomi City.
Some recommended places to stay in Kanazawa are:
Near the station: ANA Crowne Plaza Hotel; Hotel Nikko Kanazawa
City center: Various small ryokan (notably Murataya for good value and central location)
Tourist Information
Kanazawa Tourist Information Center
Kanazawa Station
Tel: 076 232 6200
Ishikawa Access
Air
Komatsu Airport (Tel: 0761 21 9803) is 25km southwest of Kanazawa and is linked by Hokutetsu buses (approx. 40 minutes) to Kanazawa station. There are domestic flights to Tokyo (Haneda), Fukuoka, Okinawa, Sapporo and Sendai and international connections to Seoul and Shanghai from Komatsu Airport. There are also flights from Haneda Airport to Komatsu (1 hour south of Kanazawa) or Noto (north Ishikawa)
Rail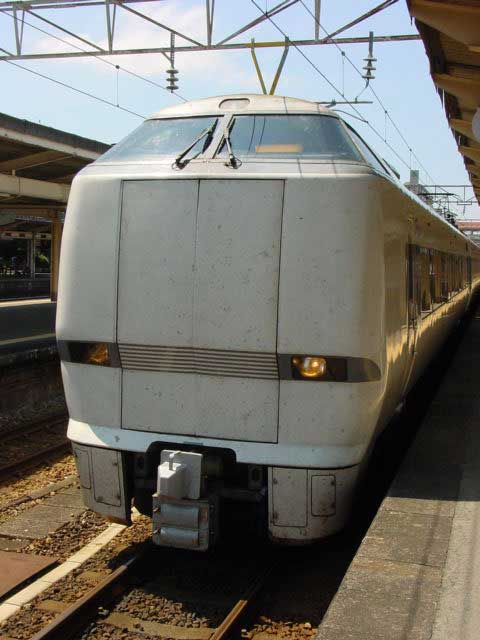 The quickest route to Kanazawa from Tokyo is now the Hokuriku Shinkansen. The quickest trains from Tokyo Station to Kanazawa Station take 2 hours, 30 minutes.
Kanazawa is also served by the JR Hokuriku Line to Osaka (2 hours, 45 minutes), Fukui (50 minutes), and Kyoto (2 hours 15 minutes). To Tokyo travel via Echigo-Yuzawa and pick up the Joetsu shinkansen (approx 3 hours 50 minutes) or Tokaido shinkansen from Tokyo changing at Maibara to the express train for Kanazawa (approximately 4 hours 30 minutes).
To Nagoya take the Shirasagi service (approximately 2 hours 30 minutes). The JR Nanao Line connects Kanazawa to Nanao and Wakura Onsen on the Noto Peninsula. There are express trains to Kanazawa from both Osaka and Kyoto via Miabara.
There were two night trains to Kanazawa from Tokyo's Ueno Station: the Hokuriku Express Sleeper (7 hours, 27 minutes) with couchettes and private rooms and the all-seat Noto Express (6 hours, 47 minutes). Both services are now discontinued.
Bus
There are long distance bus services from outside Kanazawa Station to Tokyo (7 hours, 30 minutes), Kyoto (4 hours), Yokohama (8 hours, 20 minutes), Nagoya (4 hours), Sendai (8 hours, 30mins), Niigata (4 hours, 40 minutes), Takayama (3 hours) and other destinations.
Caroline Klein
Book Hotel Accommodation in Kanazawa
Ishikawa Prefecture: read a guide to Ishikawa Prefecture in central Japan including information on Kanazawa, Kaga, Hakusan and Wajima.
All the themes of the city