Wajima
Japan City Guides: Wajima, Noto Peninsula, Ishikawa Prefecture 輪島 能登半島 石川県
Johannes Schonherr
North of Kanazawa, Ishikawa Prefecture, the rugged, hilly Noto Peninsula juts out far into the Japan Sea. The historical city of Wajima is located in the far north of the peninsula.
Despite the fact that Wajima is situated in a rather remote location, Wajima has an amazing wealth of attractions to offer. The town, with a population of about 30.000, is most famous for its traditional lacquerware, its Morning Market, its unique old festivals and the nearby Senmaida rice terraces, but there is much more to discover even on a short visit.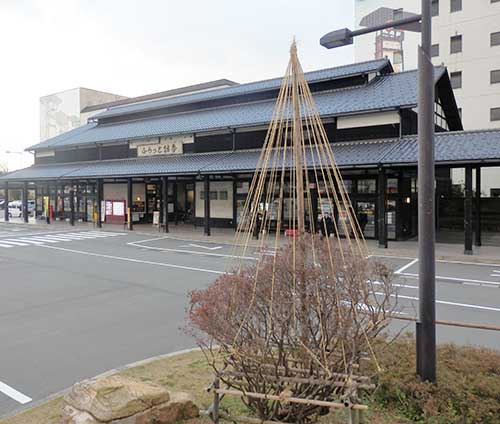 Wajima Station
Wajima Station
The most convenient way to travel to Wajima is by highway bus from Kanazawa Station. The trip takes about 2 hours. The most advisable stop to get off in Wajima might be the centrally located Wajima Station. Wajima Station looks like a vintage train station and that is what it actually is.
Up until about 2005, Wajima could be reached from Kanazawa by rail. Back then, the Hokuriku Shinkansen connecting Tokyo with Kanazawa was still a project of the far future. A temporary lack of passengers led to the closure of the railway line.
The old Wajima Station has been turned into the city's visitor information center. It has a desk designated for foreign visitors but English-speaking staff are not always available.
An almost endless array of maps and city information brochures in English, Japanese, German, Chinese and other languages however is on permanent offer at no cost.
If you haven't studied your guidebook too deeply before arriving, here is the place to stock up on detailed, up to date town information.
The visitor center is also the place to get information about and buy local bus passes.
Wajima Visitor Center is open daily from 8am to 7pm. Tel: 0768 22 1503.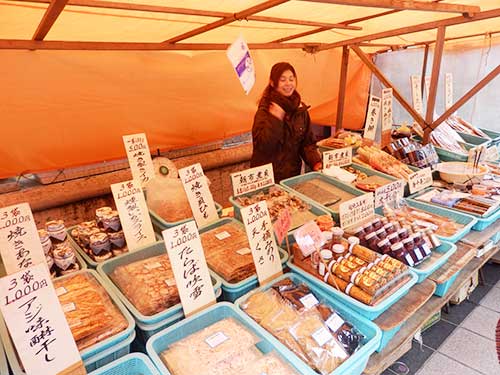 Asa Ichi - The Morning Market
Asa Ichi - The Morning Market
The best way to start a day in Wajima is a visit to the Morning Market, known locally as Asa Ichi. The market starts at 8am and stretches for about 350m along a pedestrian street in central Wajima with the easily recognizable name Asaichi Dori.
The market claims a history of more than 1000 years which means that its origins are somewhere in the Heian Period (794 - 1185). It is one of the oldest continuously operating markets in Japan.
The market stalls are mostly run by elderly women, many of them the wives of local fishermen. A great variety of fresh, dried, salted and other seafood is on offer as well as fruits and locally grown vegetables.
In the center of the market is a small roofed rest area were charcoal-fired barbecue grills are available to the market customers for free. Just enter the spot, look for an available heated grill and barbecue the shellfish, shrimp or squid you have just bought.
Wajima produces much local sake which might go perfectly well with such a morning meal, especially on cold, windy winter days.
The market closes at about noon. It is held daily with the exception of January 1st to 3rd. It is also closed on every 2nd and 4th Wednesday in the month.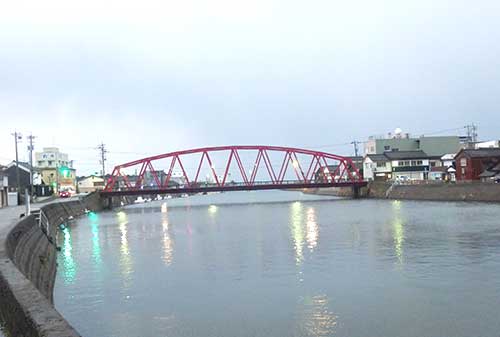 Iroha Bridge, Wajima
Fishermen's Quarter
To get a sense from where exactly most of the seafood at the market comes from, take a stroll to the other side of the Wajima River over either the red iron Iroha Bridge or the newly constructed Minato Bridge close to the harbor.
The bridges will get you right into the heart of the old Fishermen's Quarter around Sumiyoshi Shrine. It is an area of rather wealthy houses built in historic style, many of them covered with shiny Wajima lacquer tiles (more on Wajima lacquer later).
In front of Wajima Harbor, operated by the local Fishing Cooperative, you see a rather new sign, urging the fishermen to report "suspicious boats" to a special hotline.
Indeed, in fall 2015, Wajima made world headlines when several weather-beaten fishing boats were discovered close to the shore, containing the corpses of their crew. Those boats turned out to be of North Korean origin where the authorities seem to send their fishermen to the sea with no radio equipment and insufficient supplies. Call 118 if you spot one of those boats.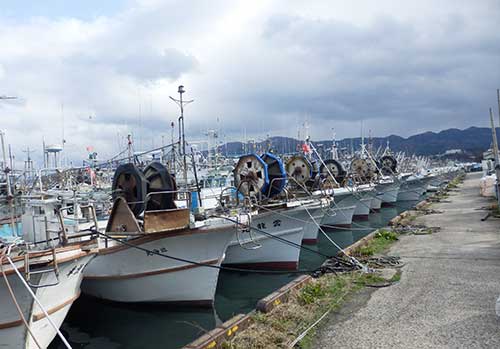 Wajima Harbor
The Wajima fishing fleet anchored at the harbor consists of sturdy modern boats and they don't go out into a stormy sea.
Behind the harbor, you enter the Kamogaura Walkway, leading right to and along the coast. Right at the bend before it turns into a shore walk, you see a tiny Shinto shrine with a small pool covered by a wooden structure.
The adjacent sign explains that this pool served from ancient history on as a freshwater source for ships travelling along the Japan Sea coast. The same sign spells out not to place gold fish into the pool. Some local fool did probably exactly that at some point.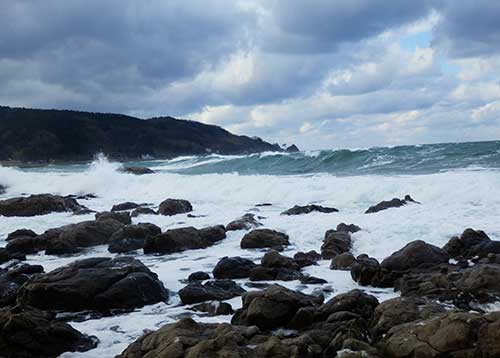 Wajima in winter
Wajima Beach
Follow the Kamogaura Walkway and you will arrive at Wajima Beach. It is rocky and the waves are often high. On windy winter days and with a little luck, you can see here the namihana floating about, foam created by the waves in cold weather and translating to wave flowers. Many Japanese are fond of the namihana. They are rare and convey a strong feeling of winter at the sea.
Weather permitting, you will see a number of rocky islets far out in the sea. There are seven of them and they are collectively known as Nanatsujima (Seven Islands).
Even further out is the inhabited small island of Hegurajima. A ferry for Hegurajima leaves once per day form Wajima Harbor and the ride takes one and a half hours. At Hegurajima, traditional women divers called ama still dive for abalone and turban shells in the summer.
Hegurajima Ferry website with boat schedule: http://hegura.com/ (in Japanese)
The trip takes about 90 minutes one way. One way trip for adult 2,260 yen, child 1,130 yen.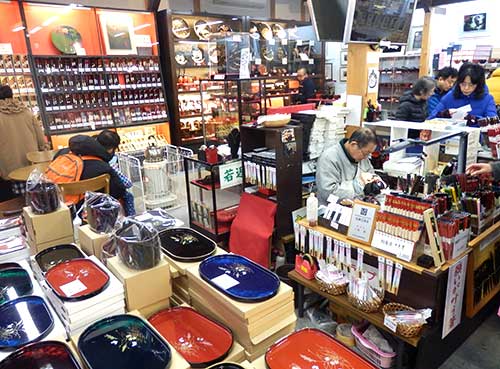 Lacquerware shop with lacquer artist at work, Wajima
Wajima Lacquerware
Many of the stores lining the street behind the market stalls of the Morning Market specialize in traditional Wajima Lacquerware. In fact, lacquerware is by far Wajima's most famous product.
But before heading into the shops to buy any of it, you might want to visit the Lacquer Assembly Hall right on the old town side of Shinbashi Bridge, one bridge south of the iconic red Iroha Bridge.
The Lacquer Assembly Hall serves as a showcase display site of the best of Wajima lacquerware.
It's worth visiting here with a little time at hand. The exhibits are large - and entry is free.
Most interesting, however, might be the videos shown here on large screens - at least to people who don't come here as lacquer specialists but who want to learn about Wajima lacquerware.
Those videos show in detail how the wood is selected that forms the base of the lacquerware products, how the wood is dried and processed before it even enters the production process (it has to mature for a long time), then they go into the art of the wood carvers and polishers before they turn to the actual and very complicated process of lacquering.
The lacquer work itself is an arduous task - and a very dangerous one. The lacquer, derived from tree resin and mixed with local minerals known as jinoko, is very poisonous before it has dried. Many of the great old lacquer artists producing the most beautiful wares for the emperors and the shoguns suffered terribly from skin ailments brought on by the materials they worked with.
Once the lacquer is dry, however, it is perfectly safe to use.
Wajima also has a Lacquerware Museum, which is well worth visiting, and the town also offers the "Red Noren" program. Noren are the curtains adorning traditional Japanese doors and they indicate a place that is currently in business. A red noren placed outside one of the many lacquer workshops in Wajima means that visitors are welcome to enter the premises and to talk to the people working there.
Someone over-ambitious at the local tourist office had the brochure announcing the "Red Noren" program translated into many foreign languages, implying that the craftsmen would be able to converse in a variety of foreign languages.
In fact, most of them speak only local dialect. Still, a visit to such a workshop might be a great experience even without speaking much Japanese.
Wajima Lacquer Assembly Hall (aka Wajima Lacquerware Center) is open daily from 8.30 am to 5 pm. No admission fee. Tel: 0768 22 21 55
Wajima Museum of Lacquer Art is open daily from 9 am to 5 pm. Closed from December 29th to 31st. Admission 620 yen. Tel: 0768 22 9788
Lacquerware Shops
There are many shops in the city selling Wajima lacquerware. A good number of them are right on the Morning Market Street. The variety of lacquerware on offer ranges here from tea spoons for as little as 500 yen to elaborated wall paintings for 5 million yen or more.
The variety of lacquer goods feels endless. Rice bowls, chopsticks, sake cups, pretty much any household item that will not be subjected to intensive heat during its final use will be offered in one way or another in a lacquer variety.
You can have your personal name on your purchases inscribed in real lacquer at no cost in some of the shops, too. You can watch the craftsman writing it with a calligraphy brush and he will write in Latin letters if so requested.
He will then seal the product and mark it with a date. Don't open the package before that date - the lacquer used in the writing needs its time to dry properly. Opening the package prematurely might result in skin rashes. Once the lacquer has properly dried, however, it poses no danger whatsoever and it is perfectly safe to use.
Kiriko Lantern Festival, Wajima
Wajima Kiriko Lantern Matsuri
August is matsuri (festival) time in Wajima. Though various smaller festivals are sprinkled across the year, Wajima's spectacular Kiriko Lantern Festival is the main event. Taking place annually from August 22nd to August 25th, the Kiriko Lantern Festival consists of four separate but closely linked celebrations, held at a different shrine each of the four festival days.
At the festival, huge wooden lanterns are carried through the city. Those lanterns, called kiriko, are four to six meters tall and demand a keen sense of balance when paraded through the streets. Loud shouting between the men holding the ropes that keep the kiriko in place serves to coordinate every move - and provides a unique sound track to the ceremonies.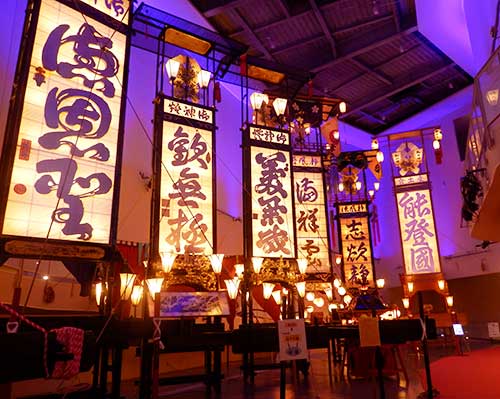 Wajima Kiriko Art Museum
Kiriko Lantern Museum
Visitors arriving throughout the year can get a good sense of the Kiriko Lantern Festival at the Wajima Kiriko Art Museum aka the Kiriko Lantern Museum. The modern structure, opened in 2015, houses a large number of kiriko lanterns, all of them lit up in changing colors.
Some of the kiriko on display here are several hundred years old and up to 15m tall. In Edo and Meiji times, families and neighborhoods competed in building and balancing ever higher kiriko through the streets. That practice had to be abandoned with more and more electrical cables spanning over the streets in the 20th century. Today's kiriko are designed to pass below the cables.
From the top floor of the museum, you have a great view over Wajima Bay and out to the Nantsujima (Seven Islands).
A large video screen in a separate room constantly plays footage from a number of kiriko festivals in Wajima and neighboring villages. It's truly impressive to watch.
The Kiriko Lantern Museum is open daily from 8am to 5pm. Admission for adults 620 yen, high school students 470 yen, elementary and junior high school students 360 yen. Address: 6-1 Marine Town, Wajima; Tel: 0768 22 7100.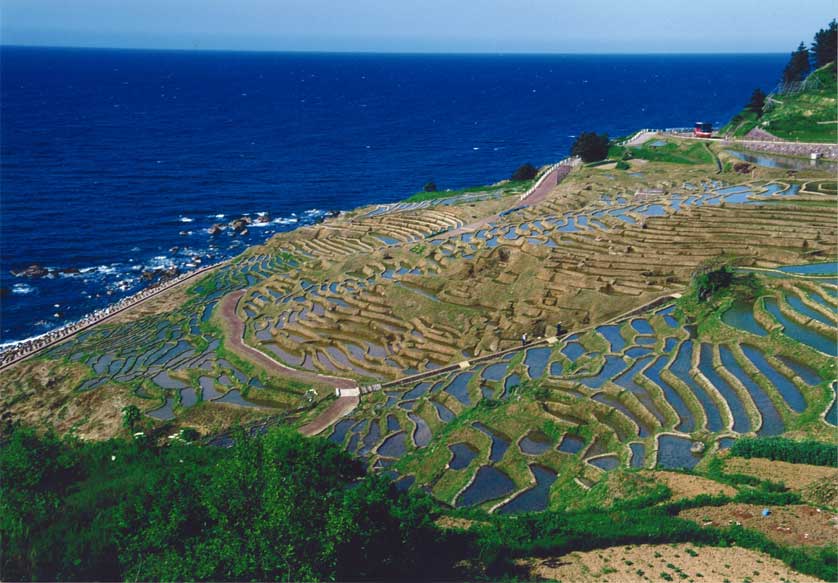 Senmaida Rice Terraces
Senmaida Rice Terraces
A few kilometers outside of Wajima are the Senmaida Rice Terraces. The name indicates 1000 rice fields. In fact, it's 1004 tiny rice fields on a single slope stretching down to the sea. The Senmaida Rice Terraces are listed as a UNESCO World Heritage Site for their long agricultural tradition.
The fields are still farmed today both by traditional farming families as well as by enthusiastic locals who can rent a plot and farm it on their own.
Senmaida rice, considered the best and most valuable of the area, is for sale at the rest house adjacent to the fields, it is served with the meals in various Wajima ryokan and used by local sake brewers.
The Senmaida Terraces are worth a visit in all seasons. Most notable are the planting season in late May/June when the fields are watered, summer, when the fields are lushly green and the harvest time in early October when the fields turn a bright yellow.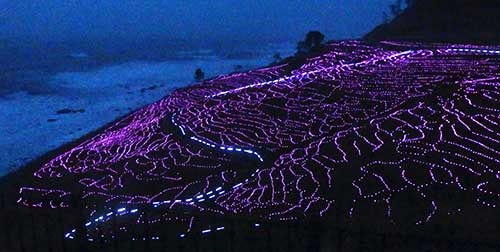 Senmaida Rice Terraces Illuminated
From mid-October to mid-March, the time when farming work ceases, the fields are lit up in the evenings by about 200,000 small LED lights which are constantly changing colors. It's an overwhelming view.
Access: take the local bus towards Ushitsu, get off at Shiroyone Senmaida Station.
During the light-up season, a special bus pass is available to Senmaida. It is only valid in the evening and can be purchased at Wajima Station. It costs 500 yen for adults, 250 for children and covers a return trip.
Wajima Accommodation
Wajima offers a great number of traditional ryokan and minshuku (inns). Outstanding is the centrally located Wajima Minshuku whose wooden floors and stairs are completely covered with Wajima lacquer. You have to walk in socks to experience the feel of lacquer under your feet. (Tel: 0768 22 4243; in Japanese).
Contact the Wajima Tourist Information (Tel: 0768 22 1503, English staff often but not always present) for help booking a traditional Japanese inn.
Some recommended places to stay in Wajima include Wajima Onsen Yashio, Hotel Route Inn Wajima, Hotel Mercato Wajima, Kaiyu Notonosho and Pension Croissant.
Access - Getting To Wajima
By bus:
From JR Kanazawa Station (East Exit) by Hokutetsu Okunoto Bus
2,260 yen per adult one way
Bus schedule (in Japanese): www.hokutetsu.co.jp/express-wajima
By car:
Highway 249 from Kanazawa
By air:
Noto Airport is close to Wajima. The airport is served by ANA with 2 flights each way per day to and from Tokyo Haneda Airport.
Flight time is one hour.
Noto Airport website: (in Japanese)
Some but not all Hokutetsu Okunoto Kanazawa - Wajima buses stop at Noto Airport on their way to Wajima and back (check Hokutetsu bus schedule above).
Most convenient connection to Wajima is by taxi.
Getting to Kanazawa
Komatsu Airport (Tel: 0761 21 9803) is 25km (15 1/2 miles) southwest of Kanazawa and is linked by Hokutetsu buses (approx. 40 minutes) to Kanazawa station. There are domestic flights to Tokyo (Haneda), Fukuoka, Okinawa, Sapporo and Sendai and international connections to Seoul and Shanghai from Komatsu Airport.
Kanazawa is served by the JR Hokuriku Line to Osaka (2 hours, 45 minutes), Fukui (50 minutes), and Kyoto (2 hours 15 minutes).
In March 2015 the Hokuriku Shinkansen opened connecting Kanazawa and Toyama with Nagano, Karuizawa and then Takasaki and then on to Tokyo on the Joetsu shinkansen. The Kagayaki shinkansen train is quickest, taking 2 hours, 30 minutes from Tokyo Station, while the slower Hakutaka shinkansen takes 3 hours.
From Nagoya take the Shirasagi service (approx 3 hours). Alternatively take a Hikari shinkansen from Nagoya to Maibara (27 minutes) and then Shirasagi Express to Kanazawa (1 hour, 52 minutes). The JR Nanao Line connects Kanazawa to Nanao and Wakura Onsen on the Noto Peninsula.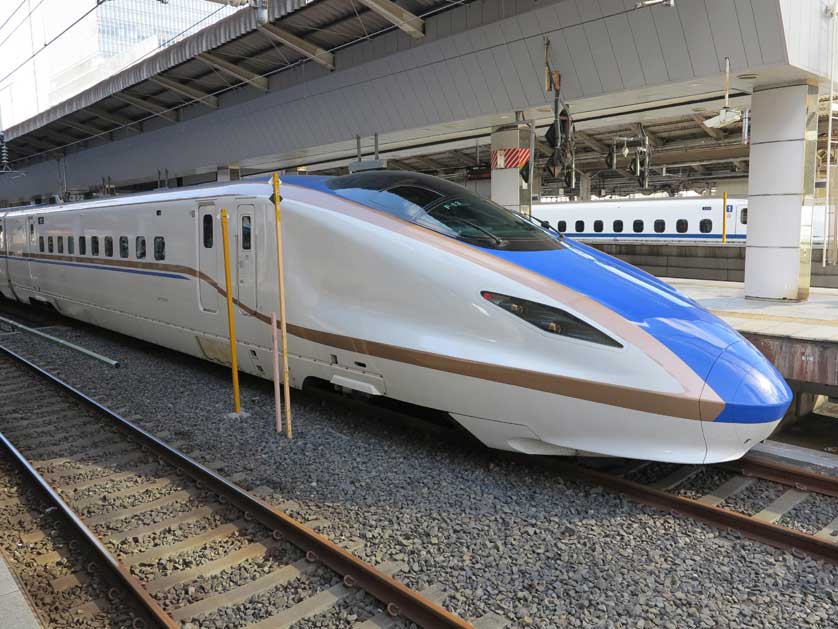 Hokuriku Shinkansen at Tokyo Station
There are long distance bus services from outside Kanazawa Station to Tokyo (7 hours, 30 mins), Kyoto (4 hours), Yokohama (8 hours, 20 mins), Nagoya (4 hours), Sendai (8 hours, 30mins), Niigata (4 hours, 40 mins), Takayama (3 hours) and other destinations.
Buses from Kanazawa leave for Shirakawa-go at 8.10 am, 9.05 am, 10.50 am, 1.25pm, 2.40 pm and 4 pm. The journey takes 1 hour and 15 minutes. Nohi Bus offers a daily bus tour to Shirakawa-go from Takayama with an English-speaking guide leaving Takayama Bus Terminal at 8.30 am and returning to Takayama at 3.10 pm (6,690 yen for adults).
Takayama -Shirakawa-go-Toyama with Nohi Bus
Nohi Bus information in English
Book Hotel Accommodation in Kanazawa & Ishikawa Prefecture
Wajima: read a guide to Wajima located on the Noto Peninsula in Ishikawa Prefecture and famous for its lacquer work.
All the themes of the city