Kanto Guide East Japan
Kanto Guide East Japan: read a guide to the major cities and attractions of the Kanto area of Japan including Tokyo, Yokohama, Nikko, Kamakura and Hakone.
Japan's Regions: Kanto 関東
The area surrounding Tokyo, in north central Honshu.
Home to most of Japan's major cities.
Cultural, political, economic heartland of Japan.
Kanto has many popular and spectacular festivals throughout the year.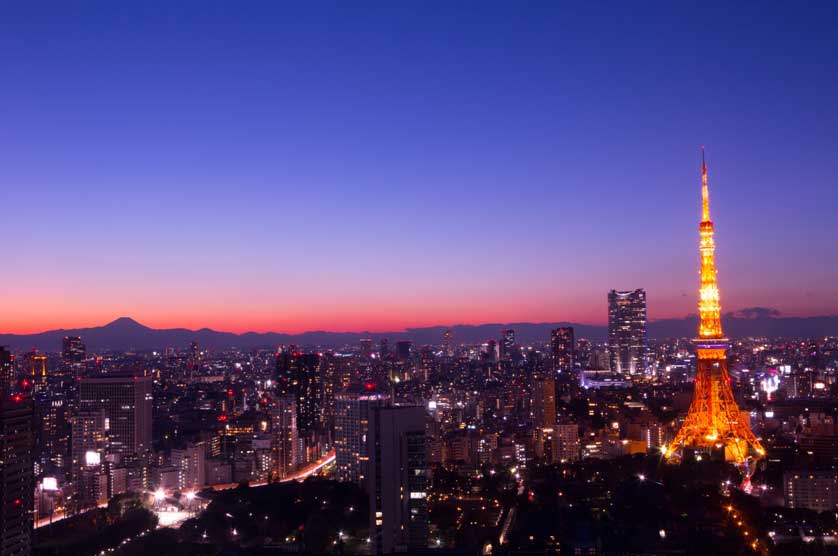 Tokyo Tower and Mt. Fuji
The Kanto region is located in the north central region of the main island of Honshu.
The area includes the seven prefectures of Chiba, Gunma, Ibaraki, Kanagawa, Saitama, Tochigi and Tokyo. Chiba, Kanagawa and Tokyo have access to the Pacific Coast; the other prefectures are landlocked.
The area has a slightly more temperate climate than Kansai and Kyushu to the south. The weather in the greater Tokyo area is generally cooler and less humid than Osaka and Kyoto in summer. Winters can be cold but snow in Tokyo is a rare occurrence.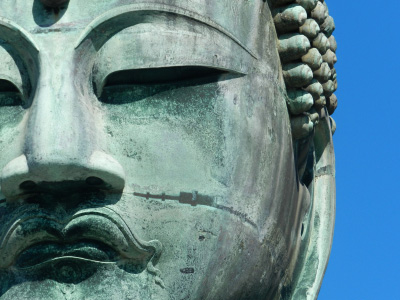 The Daibutsu "Great Buddha Statue" in Kamakura, Japan. The 13 meter tall bronze statue was built in 1252
The Kanto area's history is dominated by the establishment of the shogunal capital first in Kamakura and later under the Tokugawa regime in Edo (Tokyo).
In the 17-19th centuries Edo grew to be a metropolis of great size and wealth and for a time in this period was by far the largest city in the world.
The capital Tokyo and the cities of Yokohama, Chiba, Kawasaki and Saitama form a huge urbanized and industrially developed area larger than any similar conurbation on earth.
Kanto's main towns and places of interest are:
Tokyo, the seat of government and the center of Japan's economy. Tokyo is the heartbeat of the nation's popular and traditional culture, a world leader in the arts, architecture, entertainment, food, fashion, film and music. Tokyo also offers interesting temples and shrines, gardens, parks, museums and a vast array of bars, restaurants, shops and cinemas. Like London and New York, Tokyo has it all. An experience not to be missed.
Yokohama, a major port, cosmopolitan city and historic gateway to the world when Japan opened to foreign trade in the late nineteenth century.
Kamakura, a pleasant seaside town full of temples and shrines that was once Japan's political center in the 12th and 13th centuries.
Hakone, popular mountain and onsen (hot spring) getaway from Tokyo.
Nikko, located in the hills of Tochigi Prefecture north of Tokyo and famous for its elaborate shrines and the mausoleum of the Shogun Tokugawa Ieyasu - a UNESCO World Heritage Site.
Tsukuba, Japan's Science City and home of Japan's Space Agency.
Kashima, located in Ibaraki prefecture and home to Kashima Jingu shrine.
Kawasaki, an industrial city located between Tokyo and Yokohama. Home of the Kanamara Phallic Festival.
Saitama, Japan's fastest growing prefecture, largely urbanized but with areas of natural beauty.
Kawagoe, historic castle town with historic merchant houses and fine dining just 40km from Tokyo.
Kanto Access
Air
Japan's major airports are Narita International Airport and Tokyo International Airport (commonly known as "Haneda Airport") with international connections to many destinations around the world including Beijing and Seoul in East Asia and direct flights to many cities throughout Europe, North and South America, Africa and Oceania. Haneda Airport being in Tokyo itself is more convenient than distant Narita.
Ferry
There are a number of ferry services operating to and from various ports in Kanto.Tokyo Ferry Port (Ariake) to Naha in Okinawa, Tokushima in Shikoku and Fukuoka in KyushuYokosuka (Kurihama Port) to Oita (Kyushu)Oarai Port (Mito) to Tomakomai (Hokkaido)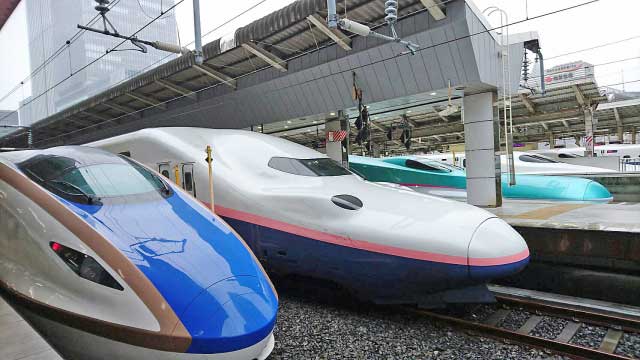 Shinkansen bullet trains at Tokyo Station
Train
Tokyo is the main rail transport hub for all of Japan.
Osaka, Nagoya, Kyoto, Shizuoka and Yokohama are all connected to Tokyo via the Tokaido shinkansen and Hiroshima, Fukuoka, Kobe, Himeji and Okayama by the Sanyo shinkansen from Osaka onwards.
The Joetsu shinkansen connects Tokyo with Niigata and the Tohoku shinkansen to Sendai, Morioka and Hachinohe. Tokyo is also the hub for local express trains that connect the capital to the other major towns and cities of the Kanto. Tokyo Station, Ueno Station, Shinjuku Station and Asakusa Station are the major terminals.
Bus
Tokyo has highway bus services to every large city in Japan and even many small towns will have at least one bus connection with Tokyo per day.
Kanto Map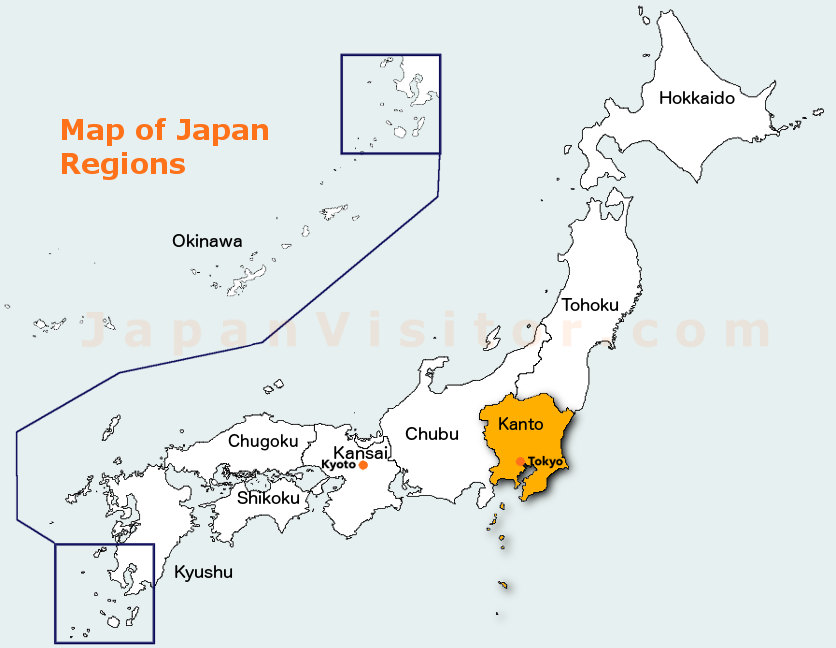 Kanto Map
Book Hotel Accommodation in Tokyo Japan
All the themes of the city