In the footsteps of Japanese volcanoes
火山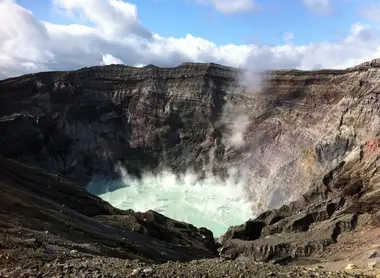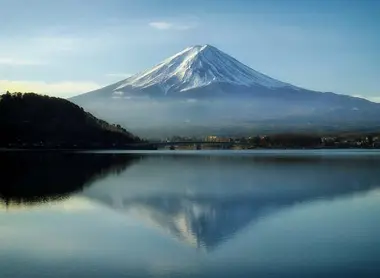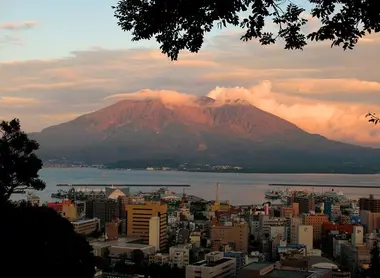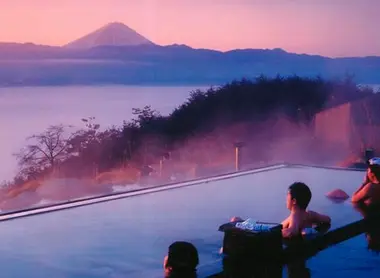 Japan, the land of fire
Located on the Pacific Ring of Fire, Japan has 110 active volcanos, such as the renowned Mount Fuji. From Hokkaido to Kyushu, calderas and eruptive mountains follow one another, and Japan lives to the rhythm of their moods.
What are the active volcanoes in Japan?
Legend has it that the Japanese islands were created by the celestial spear of the couple Izanamiet Izanagi, but it is more likely that a plate movement that took place around 15 million years ago was the cause.
Japanese territory is naturally conducive to the formation of volcanoes (火山 kazan, in Japanese) because it is located at the junction of four tectonic plates. The Japan Meteorological Agency (JMA) lists 110 active volcanoes, 47 of which are likely to awaken in less than a century. A volcano considered active must have known at least one eruption in the last 10,000 years. The JMA closely monitors their activity and issues warning bulletins in the event of unusual phenomena. To ensure maximum security, it is possible to report your trip to Japan on the "Arianne" site. In the event of a crisis, you will be contacted and the person of your choice can be notified if necessary. Nevertheless, rashes are rarely severe in Japan, and victims are even more so.
The volcanoes of Honshu island
In Honshu, Mount Fuji or Fujisan is one of the most famous volcanoes in the world. A symbol of Japan, popular with classic Japanese authors and designers, it is also very popular with hikers. Each year, thousands of visitors flock to climb the stations leading to the summit which rises to 3776 meters above sea level. At his gentle, peaceful pace, it's hard to imagine he could ever tremble. When it last erupted in 1707, slag and volcanic ash spread as far as Tokyo, nearly 100 kilometers away.
Also located in Honshu, Mount Hakone is particularly popular for the view it offers on its neighbor Mount Fuji. Between two walks, you can also taste the specialty of the region: black eggs cooked in sulfur-laden water.
Another large volcano in Honshu, Mount Asama is part of the Japanese Alps, not far from Nagano. It rises to more than 2,500 meters and is very active, its last eruption dates back to August 2019. Its slopes are nevertheless very popular for its beautiful hiking trails.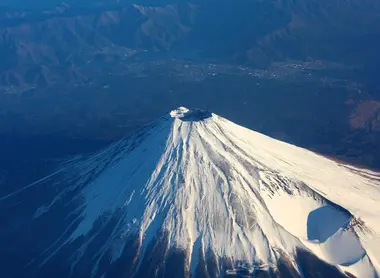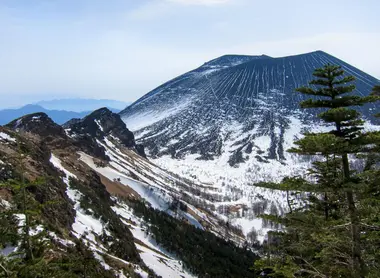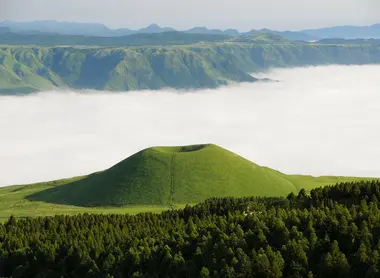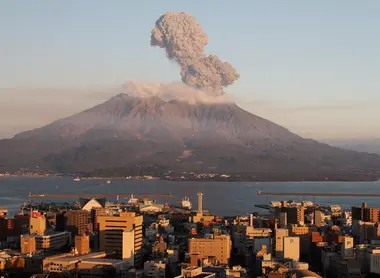 Tumultuous volcanoes on Kyushu Island
In Kyushu, the largest caldera (large circular depression due to eruptions) inactivity in the world, measures no less than 25 km in diameter and attracts crowds of curious people. This Mount Aso has been talked about recently after its eruption in September 2015. Since then, the alert has been maintained at level 2 out of 5, which prevents access to the crater. The gas emanation and the risk of projectiles brought authorities to build concrete bunkers to protect visitors.
We can also note that the Sakurajima, another famous volcano in Japan, located in front of the big city Kagoshima, also often makes its own: the sidewalks of the city are covered with a thin layer of ash 365 days a year. It is one of the most monitored volcanoes in the world, and many measures and evacuation plans are planned to protect the population of Kagoshima, home to 600,000 inhabitants living just 8 km from the volcano.
The volcanoes of Hokkaido island
In northern Japan too, there are many volcanoes. The northern island of Hokkaido is home to about ten volcanoes. Akan, to the east of the island, is a volcanic chain with several craters (ten peaks) organized into a caldera. The last eruption dates back to 2008. Its magnificent national park is very popular with visitors.
The other large volcano on the island is Mount Tokachi, which rises to 2,077 meters. He saw, in the twentieth century, very large eruptions, those of 1925 and 1962 have also caused deaths. Akan and Tokachi are both parts of the " 100 Famous Mountains of Japan ".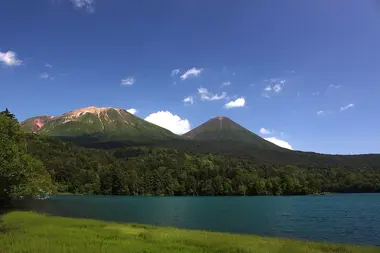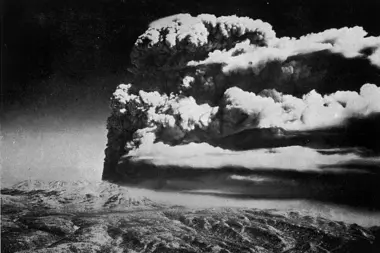 Volcanoes: hikes and hot springs
If the relief of the volcanoes gives rise to beautiful hiking trails that will delight enthusiasts, volcanic activity has favored the development of the famous onsen, these baths supplied with naturally hot water. These baths are rarely mixed and are installed both indoors and outdoors, dedicated to the body or only to the feet.
In Japan, an abundant choice of onsen is offered to visitors looking for a moment of relaxation. More than 3,000 hot springs are indeed listed across the country, each with its properties and benefits. This is perhaps one of the reasons why volcanoes have been revered...
Discover the Japanese volcanoes:
---
Address, timetable & access
All the themes of the city