Sakurajima Volcano
桜島を散歩する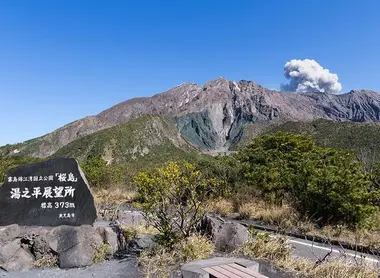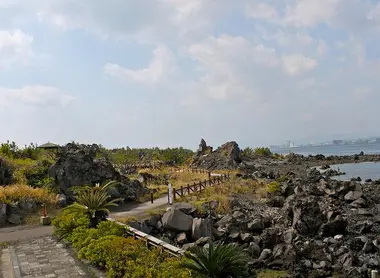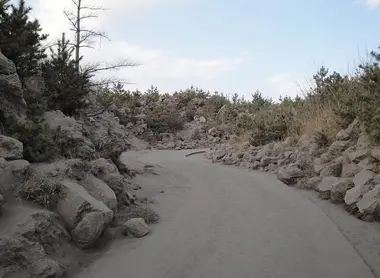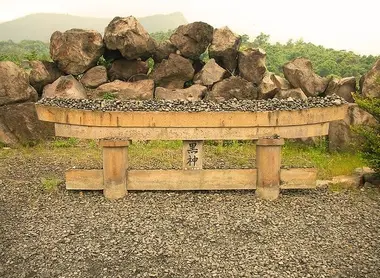 A Walk around Sakurajima Volcano
Sakurajima is more than just postcard picture. It is an active volcano with a turbulent history: a walk close to the ancient lava flows will quickly make you realize this.
Before 1914 the volcano Sakurajima was an island, but after a violent eruption, the constant lava flows made ​​it a peninsula reachable by car from the mainland. A ferry connects the volcano to  Kagoshima. The ride, lasts about fifteen minutes and provides an opportunity, if you are lucky, to see the dolphins that live in the Bay of Kinko.
The volcano is still active, so best to check with the Japan Meteorological Agency before entering the crossing, as some attractions may be closed in case of danger.
If small eruptions and ash falls occur regularly, they often present no danger. However, it is best to avoid wearing contact lenses and light-colored clothes, so that the ash escaping from the volcano does not stain them. The ash falls are often brief, it is usually sufficient to shelter while this happens.
Volcanic Oddities
Sakurajima is an important mountain, culminating at almost 1117 meters and measuring 36 km in diameter. It is also prohibited for visitors to get closer than two kilometers from the summit. A bus going through the main attractions allows you to do this visit.
The most popular part is around the ferry terminal, where we find foot onsen (one of the largest in Japan) and shops of local products that offer radish - the largest in the world - or clementines , the smaller ones growing on the island thanks to the full-fledged ecosystem created by the volcano. Sakurajima Visitor Center offers free and explanatory exhibits on the history of the volcano.
Sea, nature and washing
800 meters south begins Nagisa Lava Trail, a lovely coastal path created on the remains of the lava flow from 1914 and leading to the point of Karasujima observation. A bus can take you up till Yunohira observatory, the highest point accessible to visitors at 373 meters.
View of the crater
Sakurajima consists of three peaks: the Ontake, the Nakadake and Minamidake. The Minamidake, the southernmost peak, is now the most active, notably in the Showa crater area, visible from the Kurokami standpoint (by bus from the port), an area covered with lava in 1471 and then in 1946 . Not far from there you can also see a torii, but only the upper part, the base having been buried by lava.
All the themes of the city