The 5 lakes of Mikata
三方五湖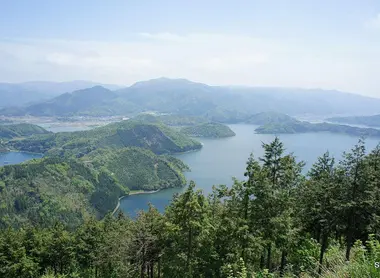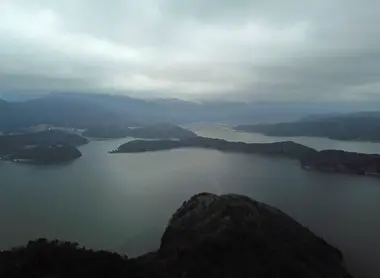 The five-colored lakes
Located in Wakasa Bay, the five lakes of Mikata are also called "the lakes of five colors," with their colors changing with the seasons!
The five lakes of Mikata, named Mikata, Suigetsu, Saga, Hiruga, and Kugushi are unmissable if you pass through Fukui Prefecture and, more specifically, through Wakasa Bay, located in the center of the island of Honshu, on the coast bordering the Sea of Japan.
These lakes, called "Mikata goko," are one of the most scenic sites in Wakasa Bay National Park. Located in the middle of the wooded hills like small oases, they will first charm visitors by the calm that reigns in their surroundings and their colors, which change with the seasons.
Color-changing Lakes
Indeed, the five lakes of Mikata have been nicknamed the lakes of five colors; each has a changing color because of the density of salt in each lake and their various depths. Thus, you will discover a lake with deep blue waters. The next one will draw more on a light, almost turquoise blue, reminiscent of the lakes in the natural park of Bandai Asahi, in the prefecture of Fukushima.
To read: Goshiki, the ponds of Mount Bandai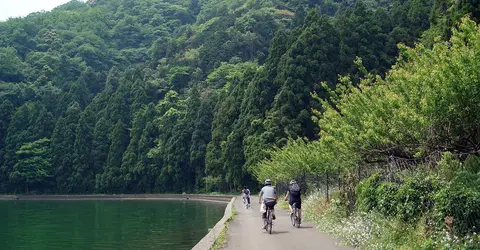 A Reserve Of Fauna And Flora
To visit these five lakes, several choices are available to you. It is possible to survey the beaches and the contours on foot, with small hiking trails running all around them. Enough to immerse yourself in the very natural atmosphere that surrounds them: vertiginous pines and mosses, but also a vibrant fauna since 60 different species of fish live in their waters, and they are also a reserve for wild birds, which come in large numbers (more than 10,000 each year) to spend the winter there.
Hikes, Cruises, And Panorama
But you can also discover them by boat, with organized small excursions. Indeed, these five lakes are interconnected by small arms of water. You will be able to admire the color of their water more closely and feel completely enveloped in this surrounding green nature.
Finally, for lovers of beautiful panoramas, it is also possible to admire them from above, have a fantastic overview, and compare the various colors of the water at a glance. To do this, you have to take the Rainbow line, a (toll) road winding on a mountain that takes you to its summit to admire these five lakes, but also the Sea of Japan below.
To visit and admire these five lakes of Mikata, it is better to travel by car, public transport not necessarily being particularly abundant in the vicinity of the five lakes.
---
Address, timetable & access
Address

Timetable

30 min from the Tsuruga IC freeway interchange (Hokuriku freeway). 50 min from the Obama-nishi freeway interchange (Maizuru-wakasa road).
All the themes of the city