Daimonjisan
大文字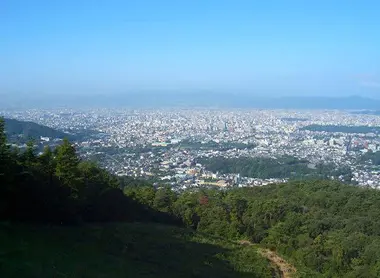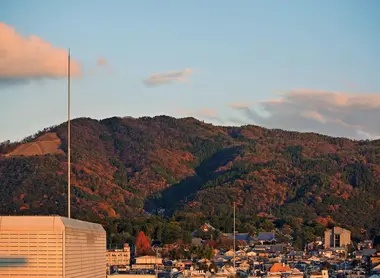 Kyoto from above
Fifty minutes out of Ginkakuji, an easy walk up the hill, atop Mount Dimonji is a panoramic site of Kyoto valley and on a clear day, as far as Osaka...
In the distance, the clear sky offers a view of Osaka. Nestled at an altitude of 466 meters, at the top of Mount Daimonji, you are now well above the magnificent Kyoto Valley and its surroundings unfolding at your feet.
But you have to put in a little work... Barely an hour's walk for a very accessible hike, even for the youngest, under tall trees and along paths dotted with roots. The route, well laid out, is embellished with a few stairs at the end to facilitate the ascent, without the getaway losing its authenticity. More place of a walk for locals than for day tourists, the Daimonji takes you off the beaten track. Halfway through, a temple dedicated to the Buddhist monk Kukai, founder of the esoteric Shingon school, who became Kobo Daishi (774-835), the "great master of the law", in front of which everyone passes before reaching the summit.
On August 16, on the occasion of Daimonji-Okuribi, a huge Dai sign, "big", ignites the Mount, as other characters illuminate four other mountainous foothills around the city. Dedicated to the greatness of the monk Kobo-san, the distinctive fire dominates Kyoto.
---
Address, timetable & access
Address

Timetable

from Ginkakuji, parking lot on the left. About fifty minutes.
All the themes of the city