Anyoji & Chorakuji Temples Kyoto
Anyoji Temple, Kyoto 安養寺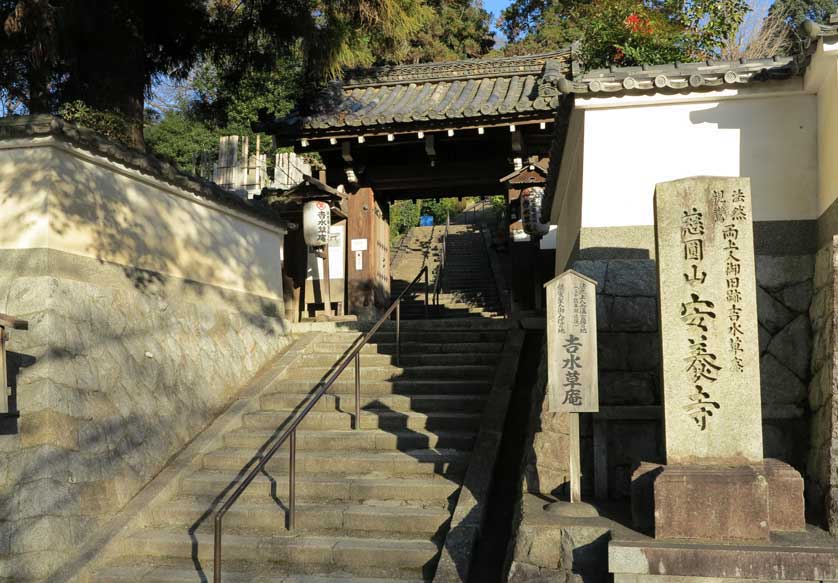 Entrance gate to Anyoji Temple 安養寺
Anyoji Temple is now a small temple tucked in the wooded hills close to Maruyama Park and Yasaka Jinja in the Gion area of south eastern Kyoto.
The temple grounds were once much larger. Indeed parts of the temple's property were to become Maruyama Park when it opened in 1886 during the Meiji Period of Japanese history.
An alternative reading of the kanji of the mountain name of the temple (慈円山; Jikeizan) in fact gave its name to the new park.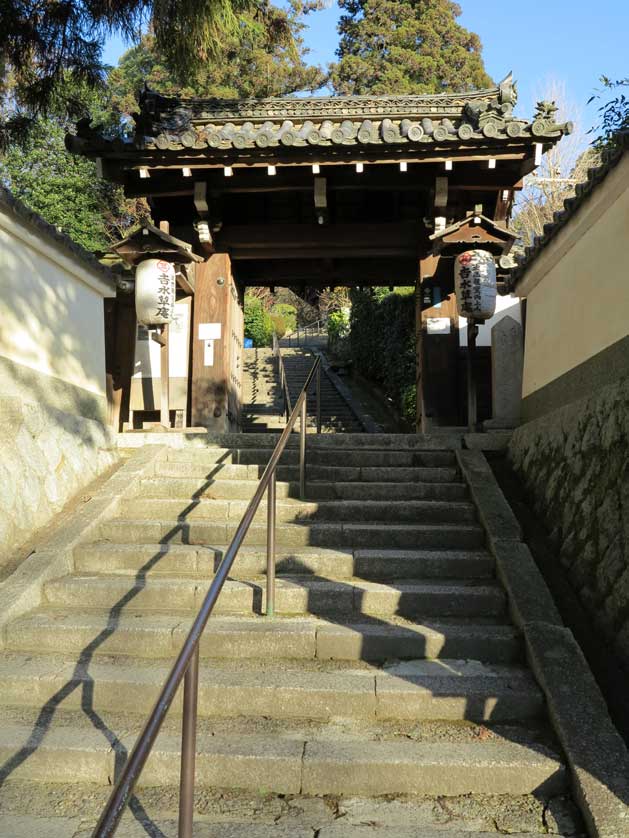 Main gate and steps to Anyoji Temple, Gion, Kyoto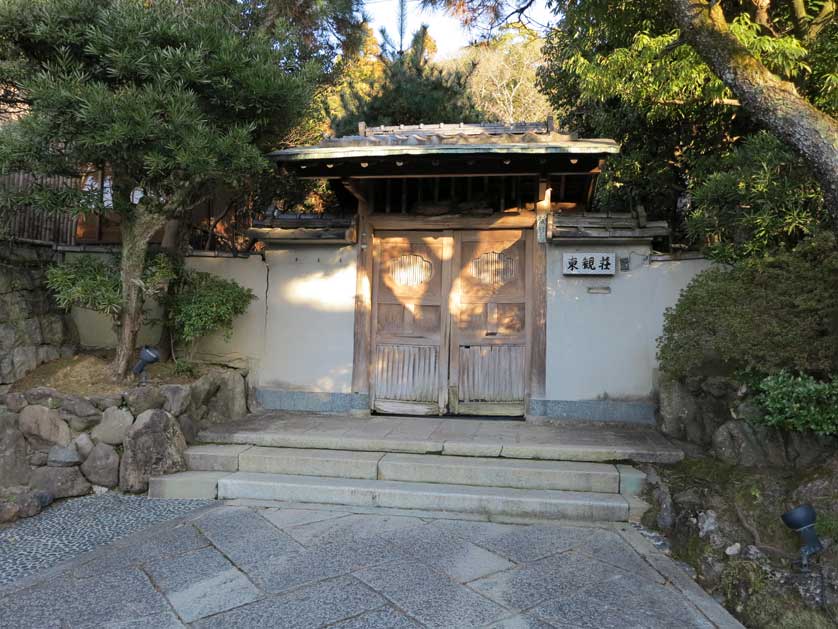 Entrance to nearby Tokanso (東観荘) wedding reception restaurant, Kyoto
History
The origins of the temple go back to the late 8th and early 9th centuries.
The founder of the Jodo-shu (Pure Land) sect of Japanese Buddhism, Honen (1133-1212) spent time here before his exile to Shikoku. Shinran (1173-1263), the founder of Jodo Shinshu and a pupil of Honen also trained at the temple.
The buildings we see today date from much later and include the Main Hall, Lecture Hall and a Bentendo, dedicated to the worship of Benten or Benzaiten. Benzaiten, one of the Seven Lucky Gods (shichifukujin), is the object of veneration by the artists, geisha and entertainers of nearby Gion as she is the goddess of among other things, art and music.
A three meter high stone tower does date from the Kamakura Period and is classified as an Important Cultural Property.
The grounds are very peaceful especially around late afternoon. I was fortunate once to observe a flying squirrel here gliding from a tree branch overhead.
Anyoji is a very common temple name in Japan and there is another Anyoji on Teramachi in the center of town.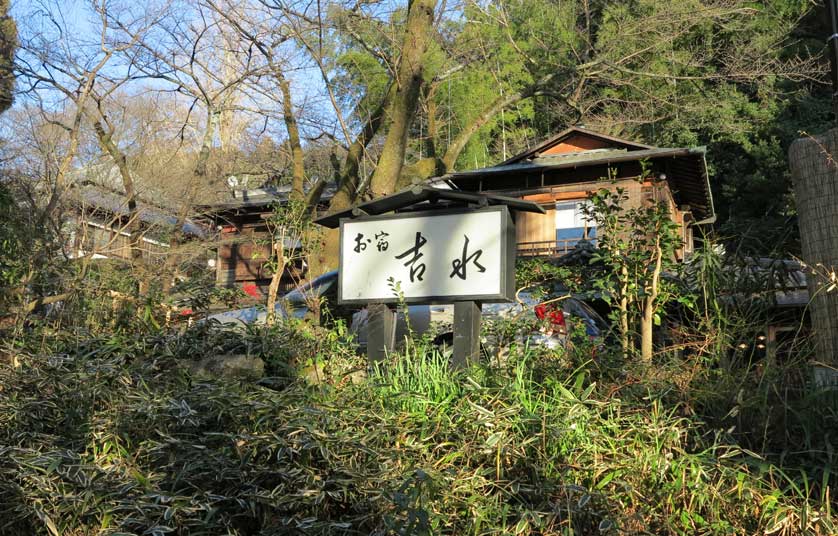 Yoshimizu ryokan, Gion
Access - Getting To Anyoji Temple
Anyoji Temple
624 Yasaka Torii Mae Higashi-iru Maruyamacho
Higashiyama-ku
Kyoto 605-0071
Tel: 075 661 5845
Hours: 9 am - 5 pm
Admission: free.
Maruyama Koen and Anyoji are a 5-10 minute walk from Shijo Keihan Station. From Kyoto Station, take the #206 or #207 bus to the Gion bus stop.
The temple is about 2 km north east of Kyoto Station if you are coming by subway or bus.
A visit to Maruyama Park and Anyoji can be combined with trips to Kodaiji Temple, Chionin Temple, Gion, and Kiyomizudera. The Okazaki museum area and Heian Shrine are to the north of this area. Within Maruyama Park is the famed Kyoto haute cuisine restaurant Mizai.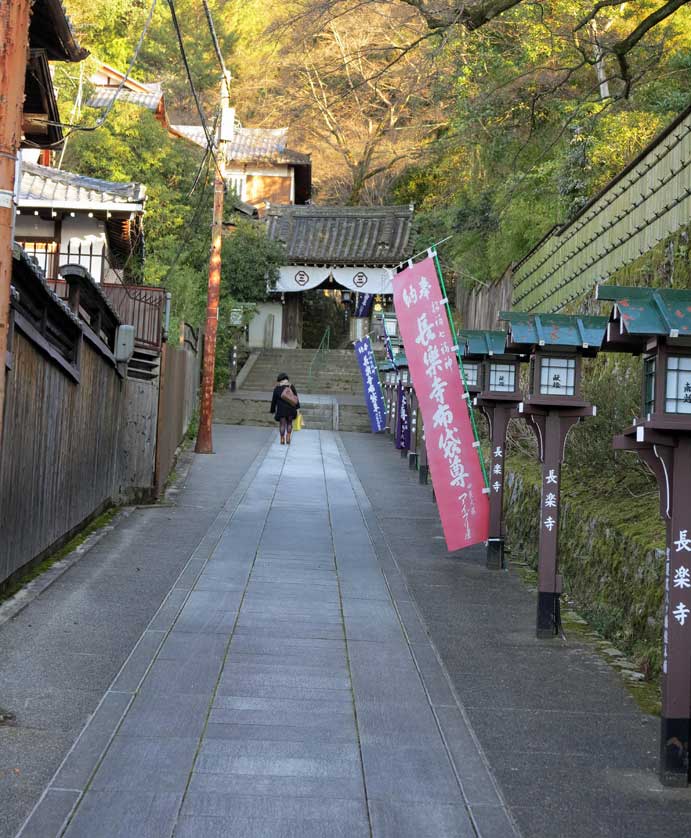 Entrance to Chorakuji Temple, Kyoto
Chorakuji Temple 長楽寺
Nearby Chorakuji dates from 805 and was founded by the monk Saicho (767-822) as a Tendai sect temple. The Main Hall has Heian Period statues of Amida, Kannon, the goddess of compassion and Seishi, the Bodhisattva of strength aligned in an Amida Triad.
At the rear is an 800 year old soft clay statue of Hotei, another of the Seven Lucky Gods, mentioned above.
The temple is associated with the life of Kenreimon, the mother of Antoku, the child-emperor, drowned at the Battle of Dannoura, off the coast of Shimonoseki in 1185. Brought back to Kyoto by her enemies, she lived as a nun first at Chorakuji before moving to Jakkoin in Ohara.
The grounds which are known for both their cherry blossom in spring and maple leaves in autumn also contain a modern Treasure House. This contains life-sized Buddhist statues, many of them Important Cultural Properties, and a scroll containing a darkened portrait of Kenreimon. Also on display is an ancient silk banner made from the robes of her son, Antoku.
Chorakuji Temple
Maruyamacho 626
Higashiyama-ku
Kyoto 605-0071
Tel: 075 561 0589
Hours: 9 am - 5pm; closed usually on Thursdays
Admission is 500 yen for adults.
Otani Sobyo
The nearby temple of Otani Sobyo contains the mausoleum of Shinran. The Main Hall is over 300 years old and contains a statue of Amida Nyorai.
Hotels Nearby
Walking south from Maruyama Park are a number of Kyoto's most exclusive traditional ryokan in the Nene-no-michi area of town. Visitors who can afford to stay here can avoid the neon lights, noise and bustle of the hotels in the Kawaramachi and Kyoto Station areas. Recommended places to stay are many and grouped closely together.
Kyoto ryokans here include Gion Hatanaka, Ryokan Karaku, Komatsu, Yamashita, Mitake, Sakanoue, Gion Sano, Kodaiji Yoshinoya, Motonago, Samyotei, Fukuya, Rikiya, Nakagawa, Watanabe, Tamahan, Maifukan, Inakatei and Sakiyoshi. Most have Japanese-style tatami rooms with futon bedding and include a Japanese breakfast and full course evening meal.
Within Maruyama Park itself are Iyuki, Yoshimizu, Chorakukan, a European style building dating from 1909 and housing a select French restaurant, Yuzuya and Kichuan.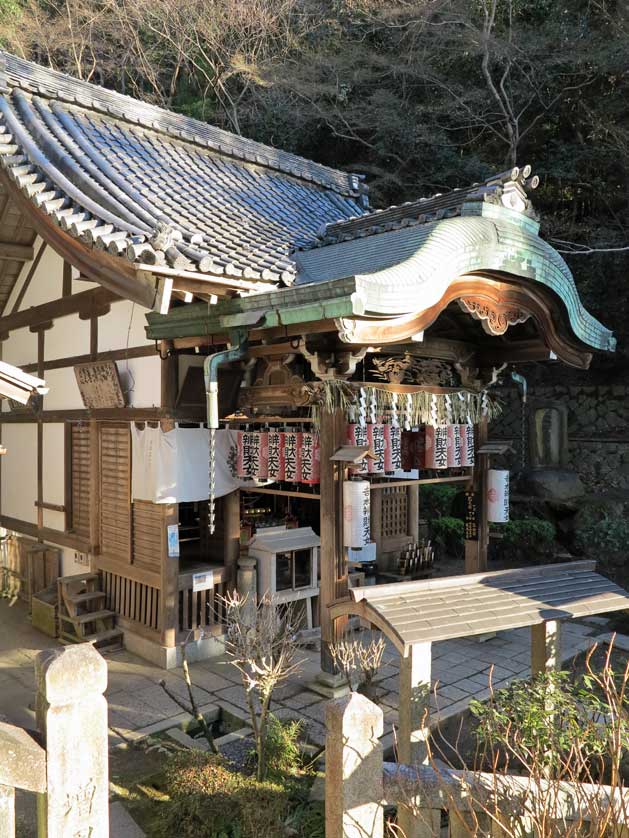 Bentendo Shrine, Gion, Kyoto
Book Hotel Accommodation in Gion, Kyoto
Anyoji (安養寺) and Chorakuji (長楽寺) temples are two historic Buddhist temples in the hills above the Gion district of south east Kyoto.
All the themes of the city