Nagasaki Lantern Festival
Nagasaki Lantern Festival. Read an article on Nagasaki Lantern Festival which celebrates Chinese New Year at the end of January and the beginning of February in Nagasaki, Kyushu. The Nagasaki Lantern Festival is Nagasaki's biggest festive event.
Color, Character and China: The Nagasaki Lantern Festival Experience 長崎ランタンフェスティバル
by Ted Photinopoulos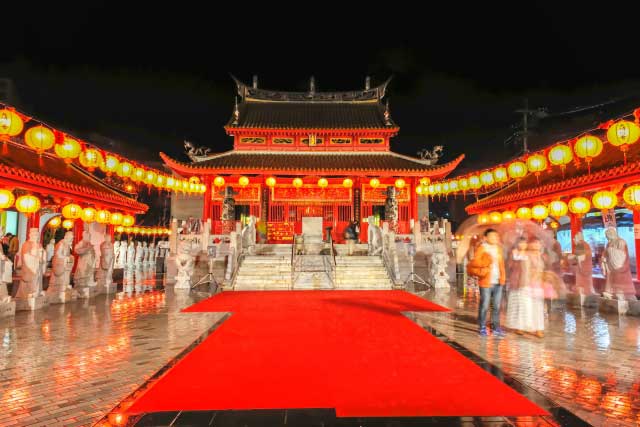 The city of Nagasaki has much to see and do. Tourist favourites such as the pleasant Peace Park with its, nevertheless, sobering War Museum, the historic Dejima Wharf and the relaxing Glover Gardens are indeed must-sees for anybody visiting Nagasaki for the first time.
However, like most cities in Japan, the attractions don't bear that unique fingerprint of energy and spirit that a major festival in Japan does.
Therefore, when I heard about how beautiful the annual Nagasaki Lantern Festival was, my mind was made up to visit the city a third time, just to prove its reputation for myself.
When is the Nagasaki Lantern Festival?
For three weeks, beginning in late January or early February, Nagasaki radiates a buzz unparalleled anywhere else in Kyushu.
The Nagasaki Lantern Festival celebrates Chinese New Year blanketing the streets with fiery scarlets and blazing yellows so visually captivating that all you can do is stare - smiling.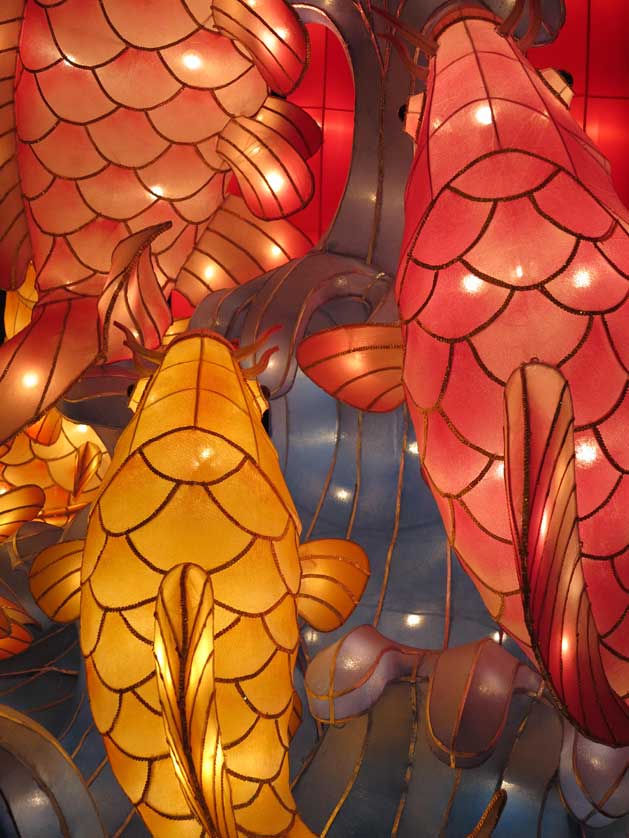 Nagasaki Lantern Festival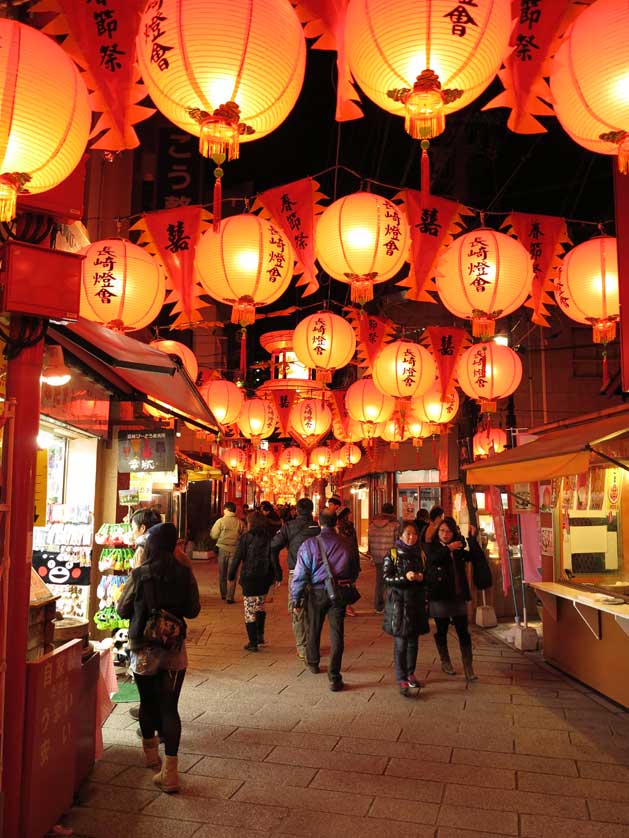 Nagasaki Lantern Festival; walking under the lanterns in Shianbashi
If you treat yourself to a visit to Nagasaki at this time, prepare also to be dazzled by the passionate skill of Chinese artists, delectable cuisine and the beautiful displays of colorful lanterns, all for a mere 100 yen bus ride.
Where is the Nagasaki Lantern Festival?
There are eight sites with lantern displays throughout the city, but if pressed for time concentrate on the three major areas: the two parks, Chuo-koen and Minato-koen, as well as Chinatown. These are by far the pearls of the festival. And yet still - they won't cost you a yen.
If arriving by train be sure to pick up a copy of the Nagasaki Lantern Festival program at the station.
It's an excellent source of information that can quite readily be deciphered even if you don't read Japanese.
You will also find lanterns with Nagasaki Station as well at this time of year!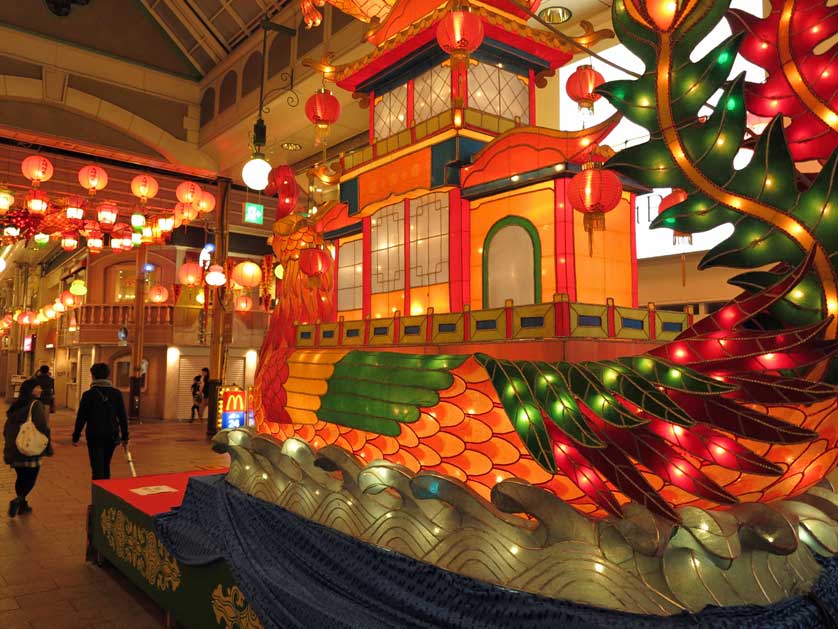 Nagasaki Lantern Festival, Shianbashi arcade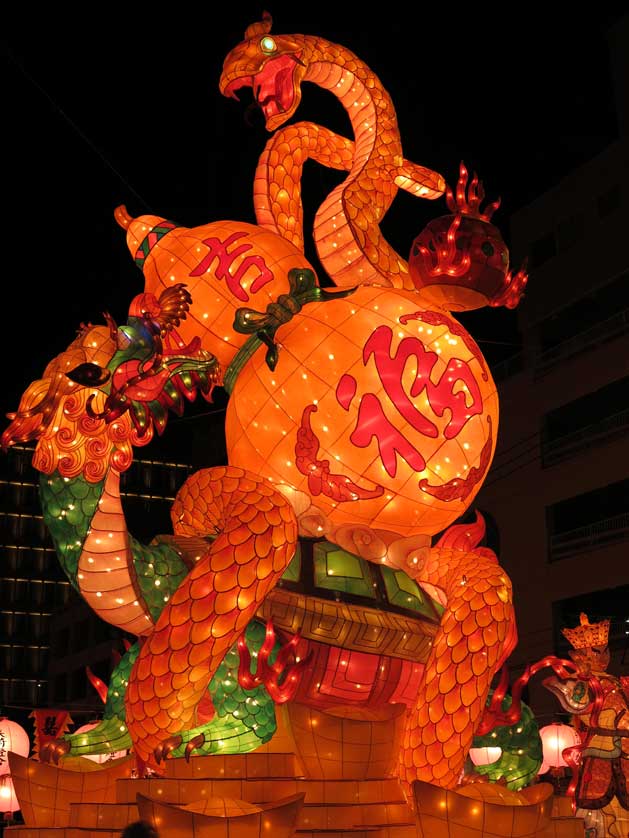 Nagasaki Lantern Festival
You should first try to locate the following spots on the map: the two park lantern displays, which, in the program I picked up, have a Chinese lantern graphic pasted on a large green shaded background.
Also, the "community" bus stop in front of the train station. This is a shuttle bus that loops around the city, stopping near all the important sites, a bargain to ride for the mere 100 yen mentioned above. The route should be indicated by an orange dotted line with a graphic of a bus, bus stops indicated by orange circles.
Minato-koen
Taking the bus, the first spot you'll stop at is Minato-koen. Get off at the Nagasaki Bus Terminal (fifth stop from the station) and walk a few blocks southeast down the main road until you reach the end of the Fukuya building. Turn left. Go straight and before long you'll see the festival happening on your right.
Minato-koen has to have the most gorgeous lantern displays in the whole city: a fact that hits you when you enter the gates, beset by two enormous and intimidating warriors.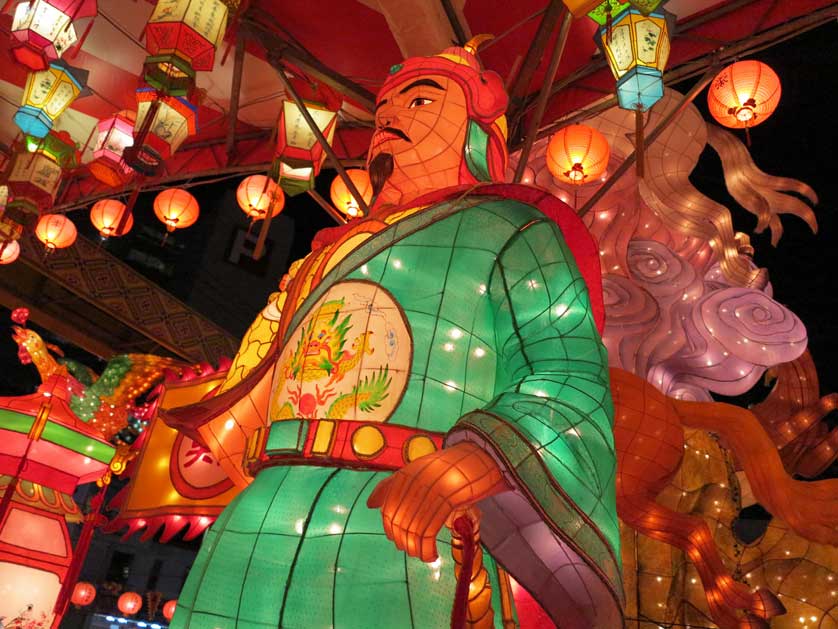 Lanten of a Chinese warrior
Inside the park, the multitude of lanterns creates a mosaic of such beautiful color that the wonder it inspires almost makes you feel like a kid again. The centerpiece of this life-size collage was a 6-meter-high lantern in honour of the Year of the Dog (2006).
Lion Dances
Also, it is here that you will find dramatic, vibrant dragon and lion dances staged for your entertainment. Once you've had a chance to get lost in the maze of color and performance, look for the shrine displaying an offering to the gods of 10 roasted pig heads - a sight, if you're game for it, you may well never see again. Not for the faint of heart!
Chinatown
Next you may want to experience Nagasaki's famous Chinatown. Situated next to Minato-koen, Chinatown is strung with a endless arcs of bright red lanterns that glowing overhead. The crowd, dense yet fluid, swarm the many shops, restaurants and snack stands scattered along the sides of the street.
Chinatown is a great place for catchy souvenirs, cheap yet delicious snacks, or, if you're ready for it by now, a full spread of some real Chinese cuisine. Or perhaps you just want to get lost in the crowd. There are few other places in Japan to soak up quite as genuine an atmosphere as this of the Chinese New Year.
Chuo-koen
Next stop: Chuo-koen. Unlike Minato-koen, the bus stops directly in front of the park, making it even easier to find. Chuo-koen has a smaller, yet equally charming, lantern display of everything from perfect Chinese goddesses to writhing snakes battling firebreathing dragons.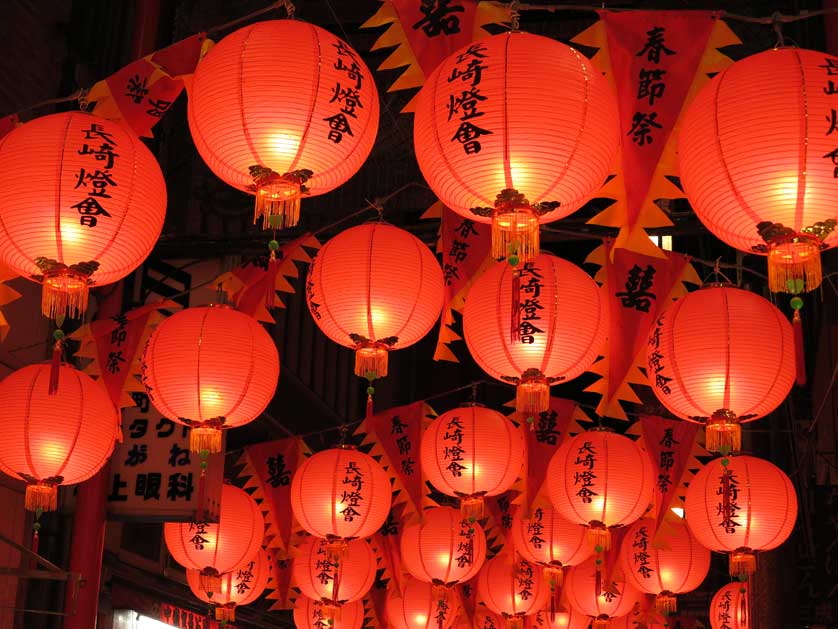 Red lanterns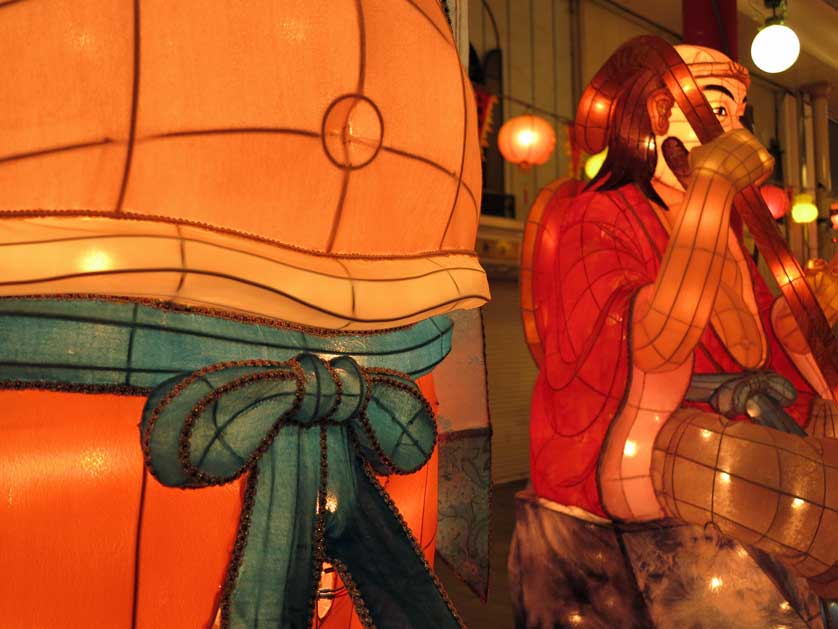 Large scale lanterns, Nagasaki Lantern Festival
The most impressive thing about Chuo-koen must be its stage. A stage this massive can entertain tens of thousands, which is why the best Chinese acts perform here.
You will be entertained by everything from Chinese musicians playing the simplistic hypnotic sounds of their traditional music to acrobats whose contortions and dexterity must be seen to be believed.
As a Kyushu resident, I must say that for sheer unadulterated beauty, this is one of the best festivals I have had the fortune to see. If you too have the fortune to be in town for it - a little advice.
Dress up warm. The cold ocean winds around this time of the year can be intense. Also, don't hesitate to ask the good people of Nagasaki for directions if you get lost. They really helped me a lot.
Happy New Year!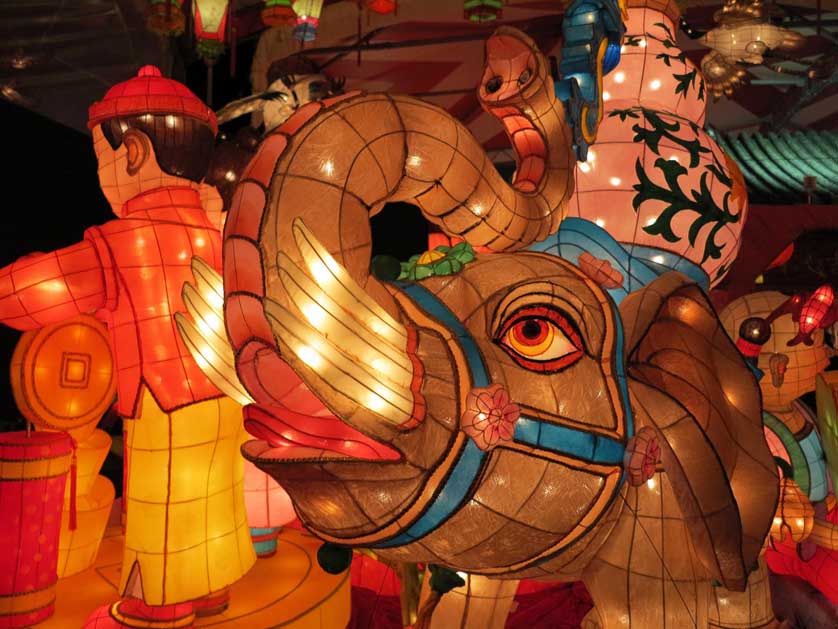 Mythical creature, Nagasaki Lantern Festival
Book Hotel Accommodation in Nagasaki
All the themes of the city