Unzen Onsen
雲仙温泉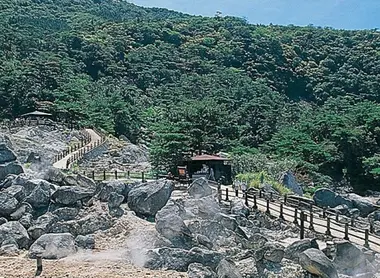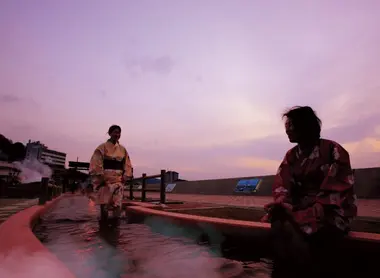 Welcome to Hell
Located in the oldest national park in Japan, the hot springs of Unzen provide baths full of goodness and virtue.
All the locals will tell you that baths of Unzen offer you the best in terms of onsen, due to the high sulfur content (thanks to the nearby volcano), and acidity of the water. It's the perfect opportunity to wear a yukata and wander the streets of the village of Unzen, sample the onsen of the numerous ryokans, and enjoy a typical Japanese time admiring the Dante-esque landscape. There are a dozen luxurious resorts in this small mountain town, greatly enjoyed by the people of nearby Nagasaki and Kumamoto. You will also find some public baths where you can take a dip with the elders (Shin-yu and Yunosato, downtown).
The Hells of Unzen 
A volcanic land, full of hot steam and geysers, Unzen's chaotic scenery is the origin of the Volcanic Park's nickname: Unzen Jigoku ("the hells of Unzen"). Paths here meander between mud pools and sulfur mounds. The whole area is more natural, and offers a slightly more enjoyable walk, than the famous Hells of Beppu. And while you're here, why not take the opportunity to taste the local cuisine, jigoku mushi - dishes steamed in the heat of the volcanic steam.
A Tragic History 
The inhabitants of the region have been there since the year 700, but it was not until 1653 that it was given the title of "onsen town", when the lord of Shimabara decided to preserve the area by forbidding the killing of any animals. Yet it is here that many missionaries and converts were tortured and murdered, thrown into the boiling "hells of Unzen" during the dark years of the martyrdom of Christians in Japan.
---
Address, timetable & access
All the themes of the city