Mount Oyama
Mount Oyama: Kanagawa Prefecture 大山 (神奈川県)
Matt Baxter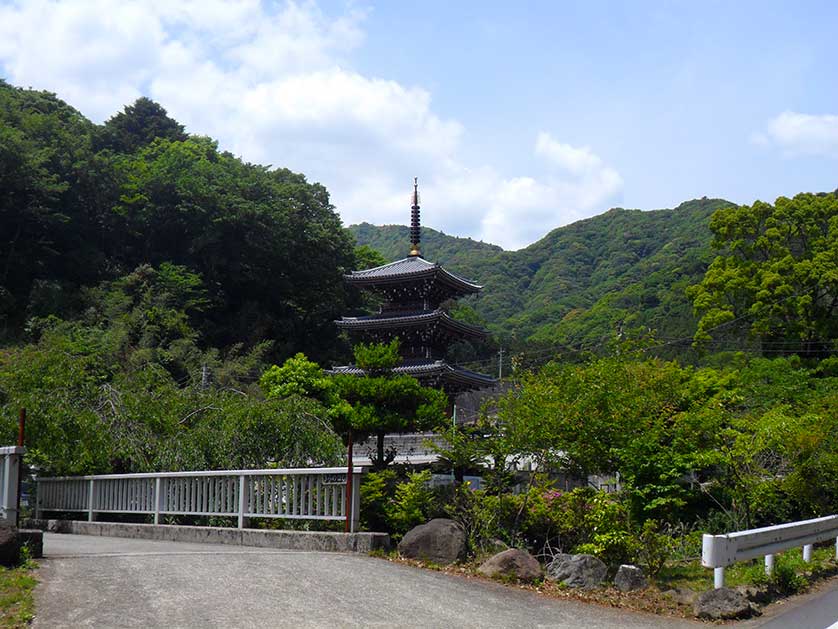 Pagoda and shrines line the trails up Mt. Oyama, Kanagawa
Mount Oyama is in Isehara City, Kanagawa Prefecture, and is part of the Tanzawa-Oyama Quasi-National Park. About 60 km west of Tokyo, Mt. Oyama is one of Tokyo hiking spots with easy access (less than one hour by train) from the center of the metropolis.
At 1,600 meters high, Mt. Oyama offers great hiking, but is known as much for its religious significance as for its hiking. If you're not into hiking, Mt. Oyama is fairly easy ascendable using the mountain's cable car, which is covered by Odakyu Railway's Tanzawa-Oyama Area Pass.
Located in Kanagawa Prefecture, Mount Oyama shares the same kanji as Mount Daisen in Tottori Prefecture - albeit with a completely different reading.
Mount Oyama is not as busy as Mount Takao or Mount Mitake, but offers the conveniences of these places, such as a good rail and bus network to connect hikers with the various trails and other attractions. Mount Oyama is a great way to enjoy a quiet day away from the busyness of big city Tokyo.
It's best to visit Mount Oyama during the summer, when all the routes are open, or autumn. The autumn leaves are stunning as you reach the top, and there are literally thousands of orange and golden leafed trees in the distance as you look over the mountains. It's known to rain more often than usual in this area, so be sure to bring a raincoat.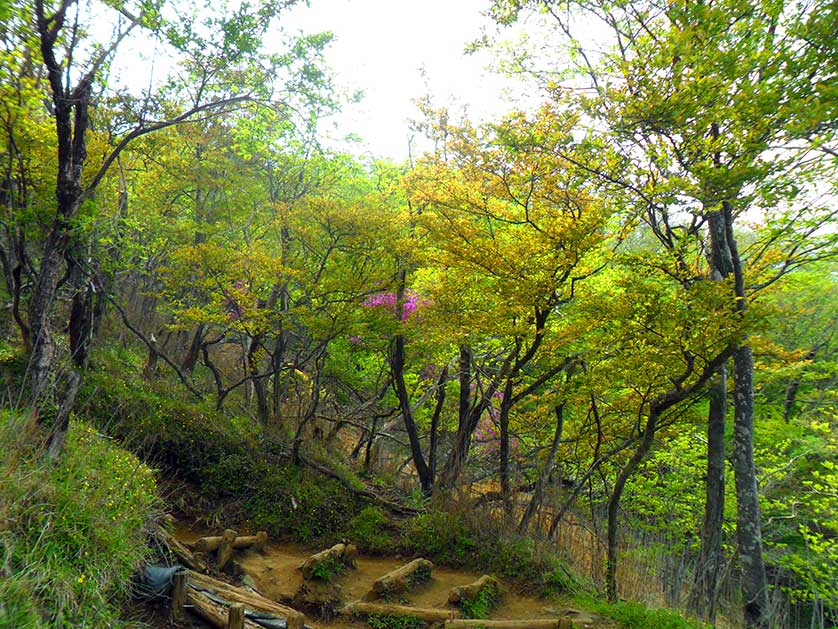 Autumn leaves up Oyama, Kanagawa Prefecture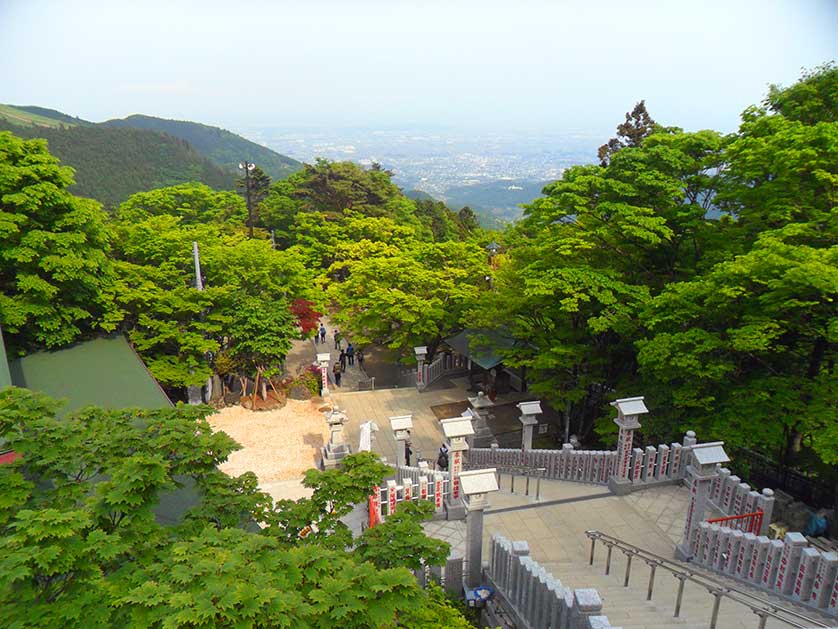 Walking up to the shrines on Mount Oyama, Kanagawa
Mount Oyama Attractions
The Oyama Cable Car is funicular line allowing hikers to skip the most strenuous parts of the trails up, as well as dropping worshipers off at Oyama Afuri Shrine.
Opened almost 100 years ago, it has been upgraded over the years, and features modern cars where you can stand or sit (but with very little legroom). It's only 800 metres long, but it's worth it if you are not so much into hiking but want to experience the mountaintop shrines and see the views over the mountains.
Nevertheless, be warned that even the walk up to the cable car involves climbing an enormous number of stairs.
Oyama Afuri Shrine is the most famous of these shrines. More than 2000 years old, the shrine is 1,252 metres up, near the top of Mount Oyama. It is dedicated to the god of sake, mountains and water, Tsumi no Okami, as well as the god of thunder.
As you hike up, the trails are also dotted with smaller shrines, and hikers will also be able to see some stunning examples into the distance. Seeing these large shrines built up the mountains, surrounded by the forests, is both an enticing and very photo worthy experience.
The stop halfway up the cable car line sits right next to Oyama Temple. Featuring some rather steep stone steps, it's a worthwhile stop. The old generation will be joining you, as they challenge the steps for their chance to pray at the top. There are a number of interesting statues in the temple complex, portraying different demons and heroes.
There are multiple hiking trails up the mountain, and it takes 4 to 5 hours to reach the top depending on which course you take. The main two are called the 'women's trail' and the 'men's trail'.
The men's trail is steeper, while the women's trail takes hikers past several 'power spots' such as tiny temples or spiritual monuments. Both cross at Oyama Temple. At this point a stone path takes visitors up to an area with some souvenir shops and restaurants.
Now about halfway up, hikers can continue for about two hours to reach the summit. It can difficult and steep at some points, but the views are spectacular. The occasional mist can actually make the shrines and temples in the distance look rather mysterious, so you'll definitely bring back some amazing photos.
In terms of food, the area is known for its tofu. It even has it's own festival dedicated to the soybean curd every March. It's available in the small restaurants and stalls up and around Oyama. These spots also have simple Japanese dishes, such as udon and yakisoba, if you need some energy for all that hiking.
Tourist Center
1st floor (Ground Floor), Odakyu Railway Shinjuku Station West Exit
Tel: 03 5321 7887
Hours: 8 am-6 pm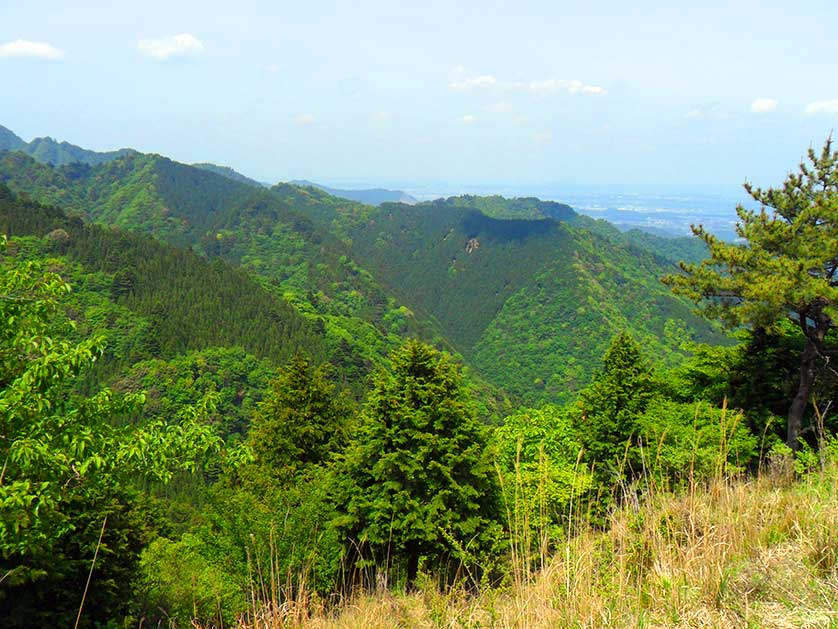 View over the Tanzawa-Oyama Quasi-National Park, Kanagawa
Mount Oyama Accommodation
Most people will stay in or around Isehara if visiting Mount Oyama. For a classic, modern hotel Hotel Select Inn Isehara is recommended. Right next to Isehara Station, it has free wifi and excellent support from staff.
Those wanting a more traditional experience will want to try Kageyu, a traditional Japanese ryokan hotel, near to the bottom cable car station. Tatami rooms, Japanese breakfasts and more make it a truly authentic experience.
See a listing of hotels in Isehara here.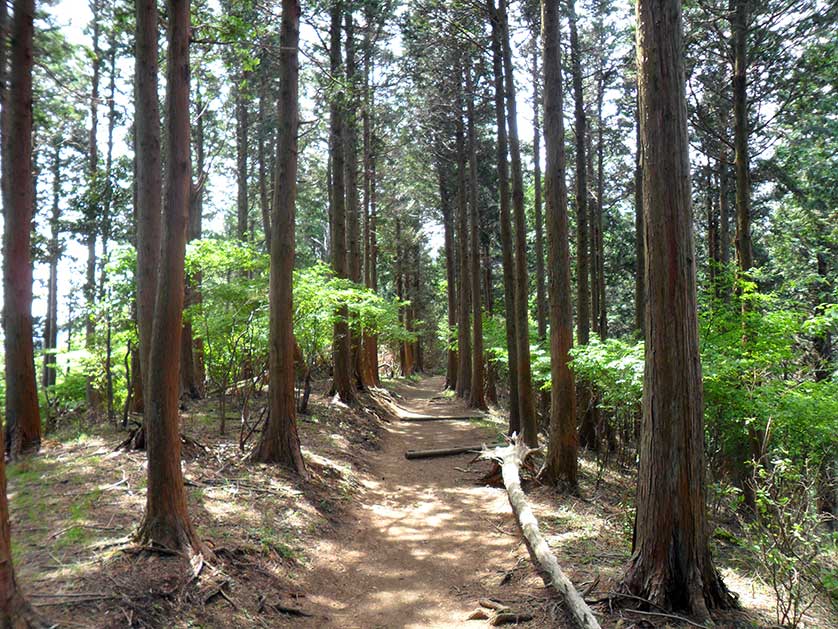 Hiking through the cedar forests, Mount Oyama, Kanagawa Prefecture
Access: Getting to Mt. Oyama
From Shinjuku Station in Tokyo, head to the Odakyu Railway. From here you can take the Odakyu Line to Isehara Station (597 yen, about 1 hour). Getting the Tanzawa-Oyama Freepass from Odakyu Railway includes the return train ride, plus the use of buses to the trail heads. From Shinjuku Station, the B-pass costs 1,560 yen with use of the buses, and the A-pass 2,520 yen including the buses and cable car. Children are half price.
The buses are easy to ride, as they are timed to depart soon after the trains arrive. Bus routes are clearly explained in the leaflet customers receive when they buy a train ticket or pass, and include updates of any closed tracks.
The cable car up operates from 9 am to 5 pm on weekends and holidays, and until 4:30 pm on weekdays. The regular cable cars depart every 20 minutes, so there is never too much of a wait. To the top, tickets are 630 yen for adults and 320 yen for children. IC cards such as Suica and Pasmo are also accepted.
Mount Oyama, in Kanayama Prefecture, is a popular hike within reach of Tokyo, 60km to the east. Mount Oyama is known for its numerous shrines and temples and spectacular autumn leaves.
All the themes of the city