Sounkyo Onsen
Sounkyo Onsen, Hokkaido 層雲峡温泉
Sounkyo Onsen is one of Hokkaido's top hot spring resorts.
Origin of the name is "Sounbetsu", which means 'the river with many waterfalls' in Ainu, the language of Hokkaido's indigenous people.
Located in the Daisetsuzan National Park in central Hokkaido.
Easy to access via bus.
Famous for its Kamakura festival.
Located 2 hours east of Asahikawa.
Matt Baxter
Sounkyo Onsen is in excellent hot spring town in the heart of Hokkaido.
Over the last few decades the town has been rebuilt, based on the design of Canadian mountain resorts. While it used to be a run down, forgotten resort, Sounkyo Onsen is now a perfect blend of modern conveniences and old fashion onsen traditions. Frequented by the young and old, it's a great town to visit.
Sounkyo Onsen resort is located in the gorges of Daisetsuzan National Park in Kamikawa, Hokkaido. In addition to the standard hotels and hot springs of a Japanese resort, it also has extensive hiking opportunities. The area is abound with stunningly tall cliffs, huge waterfalls and grand mountain landscapes.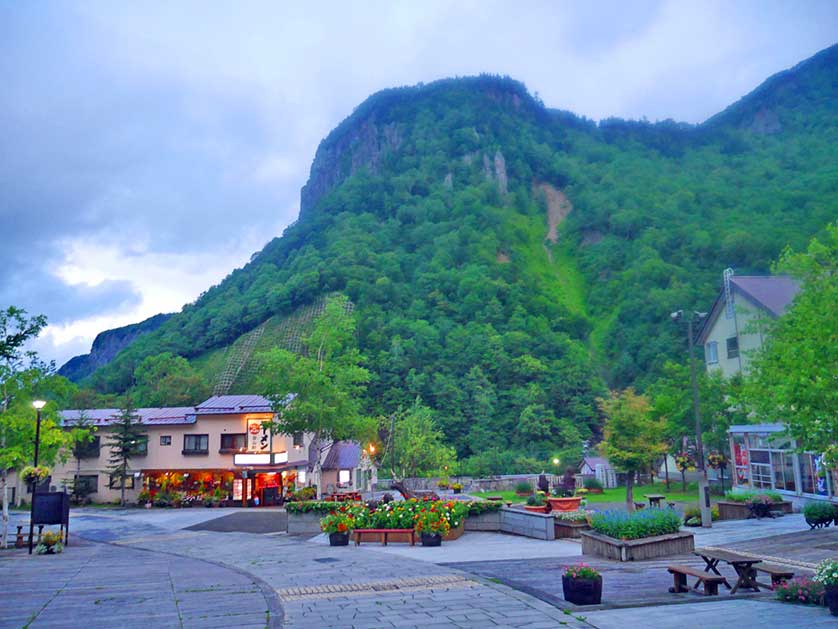 Sounkyo Onsen, Hokkaido
Hot Springs
The hot spring water in Sounkyo is rich in sulfuric minerals to soothe your body. The water is known to relieve muscle and joint pain or stiffness, as well as help in healing sprained ankles or wrists.
While most hotels in the area have their own hot spring baths for guests to use, it's worth visiting one other to get the full onsen experience. Sounkyo Kankou Hotel has the most modern facilities, with a sauna and a large variety of indoor and outdoor baths. The new bath, Utari, built with local rocks and overlooking a grand, 6 metre high waterfall is quite an experience. Entrance costs 600 yen and is open to those not staying at the hotel from 12pm to 4pm.
The most famous hot spring though is Kurodake No Yu. While it's quite small once you get inside, many consider it to be the most authentic hot spring in town. It features a few small outdoor baths, an inside bath and a relaxation room to chill out in after. Entrance costs 600 yen (ask at your accommodation if they offer any discount coupons to guests) and is open from 10am to 9pm. There is also a free foot bath nearby, which uses the same hot spring source
Choyotei Hot Spring is a lesser known, but very decent bathing option. Commanding a great view over the mountains, the building is rather posh, with lots of classical Japanese architecture and wooden baths. Admission costs a little more at 1,000 yen, but this does mean that the baths never get crowded. Open 1pm to 9pm.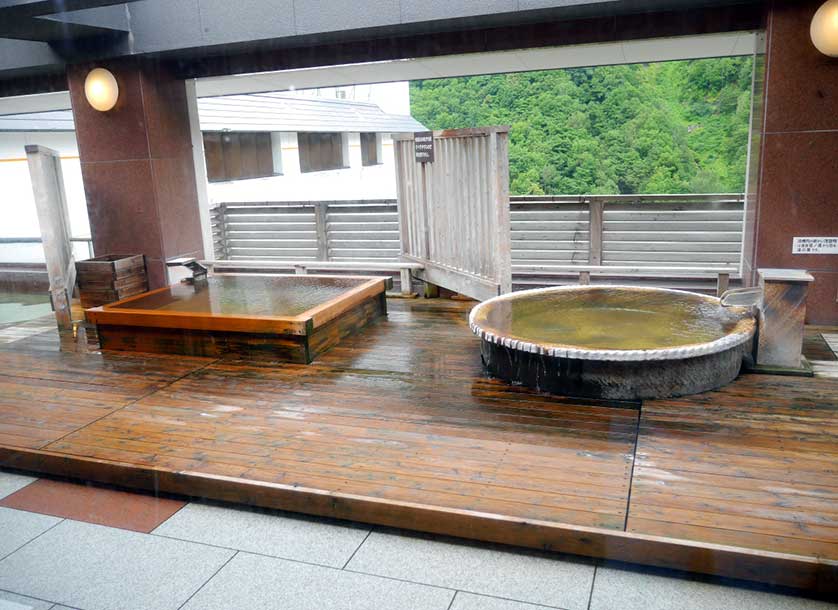 Choyotei Hot Spring, Sounkyo Onsen, Hokkaido Prefecture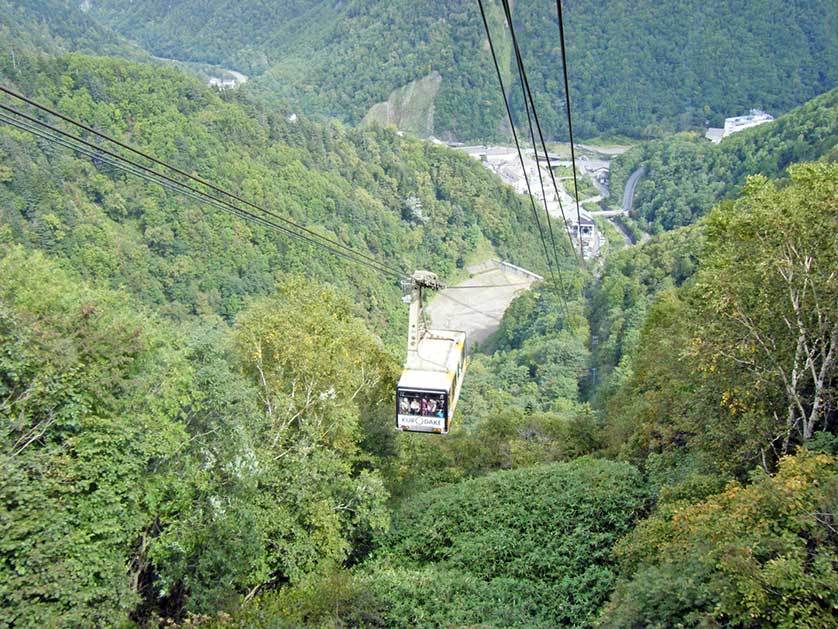 Ropeway, Sounkyo Onsen, Hokkaido Prefecture
Sounkyo Onsen Onsen Attractions
Mount Kurodake, to the south west of town, is the most interesting hike to take in Sounkyo Onsen. One of the tallest mountains in the Daisetsuzan National Park at 1,984 metres, it takes hikers through dense forests, along pristine streams and leads to a superb view of the mountains from the top.
Lucky hikers may also see deer roaming the mountains. It takes 7 to 8 hours to walk all the way from the bottom, but there is a ropeway to the Taisetsuzansounkyo Kurodake Ski Area that goes most of the way.
From the ropeway station at the top it only takes 3 hours to get to the summit and back. The ropeway operates between 6pm and 7pm, but check times with the tourist information center, as they are subject to change depending on the season and weather conditions. Tickets cost 1,850 yen for adults and 950 yen for children.
The gorge runs east of town for over 20 kilometres, and is easy to access on foot or on bicycle. Ishikari River runs down the gorge, so continue walking down the river if you want to get away from the crowds.
There are also a few nearby waterfalls that are definitely worth checking out. Ginga No Taki, meaning the 'Milky Way Falls', are a line of thin waterfalls cascading down the mountainside. Ryusei No Taki, meaning 'Meteor Falls', is a larger, noisier fall. Both are considered to be some of the most impressive in Japan. Eventually you will reach Obako, a stunning rock formation along the river.
Sounkyo Onsen is also famous for its 'Kamakura', igloo style buildings, and ice statues. Every January the Sounkyo Hyobaku Festival is held at the frozen Ishikari River. Snow sculptors and artists come from across Japan to build magnificent objects, and colourful illuminations create a rather magical atmosphere. In the evening there are also fireworks.
From mid-November to early June, visitors can also go skiing or snowboarding at Kurodake Ski Area. Sounkyo Onsen has the longest ski season in Japan, and while there are not many courses, it's relatively quiet. Access costs from 3500 yen, and equipment rental is also available.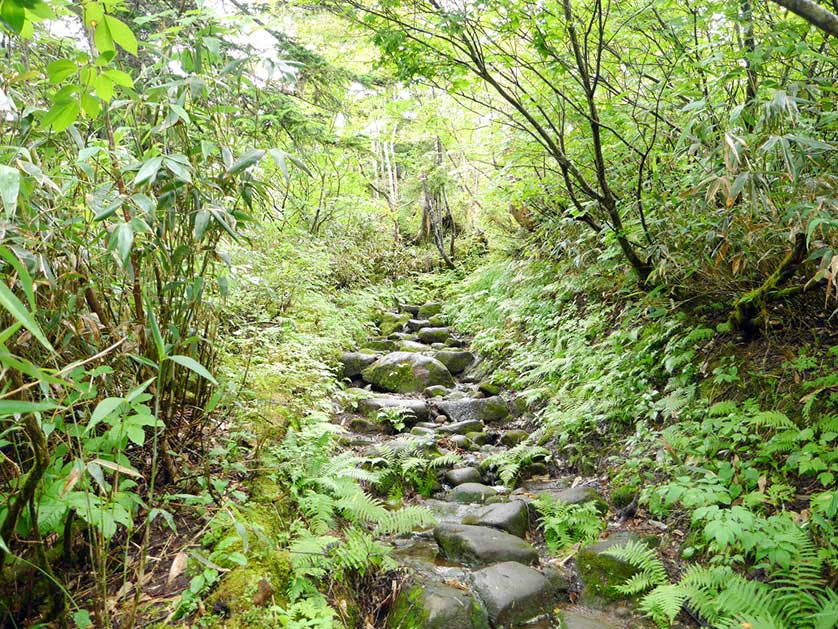 Hiking up Mount Kurodake, Sounkyo Onsen, Hokkaido Prefecture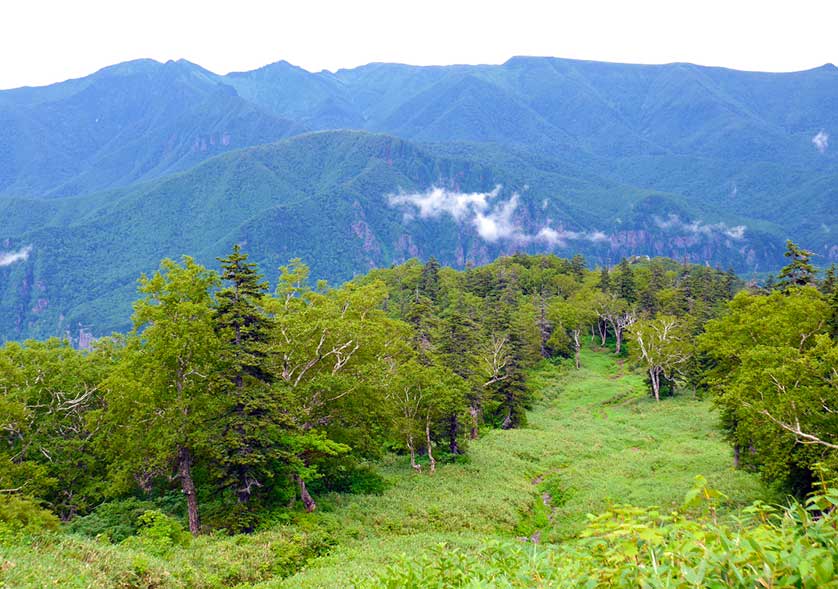 Near the summit of Mount Kurodake, Sounkyo Onsen, Hokkaido Prefecture
Sounkyo Onsen Accommodation
Unfortunately the youth hostel was recently closed, but there are still plenty of options in town. The most popular is Sounkyo Kankou Hotel, which has it's own hot spring, excellent service and is also nearby a 7-Eleven store. A cheaper option is Sounkyo Onsen Kumoi, which has traditional Japanese tatami rooms, but lots of modern conveniences such as wifi.
Other places include Hotel Taisetsu, Yumoto Ginsenkaku and Choyo Tei, which has a shuttle from Sapporo Station, and a variety of traditional ryokan or minshuku for various prices.
Tourist Information Center
Sounkyo Onsen Onsen's Tourist Information Center (Tel: 01658 5 3350) is located in town within the bus terminal near the post office. The Visitor Centre is near the ropeway station.
Sounkyo Visitor Centre
Tel: 01658 9 4400
Open: June to October 8 am to 5.30 pm, November to May 9 am to 5 pm, closed June to October.
Access - Getting To Sounkyo Onsen
From Asahikawa Station, take a bus with Dohoku Bus to Sounkyo Onsen (110 minutes, 2,100 yen). If coming from Sapporo, first make your way to Asahikawa on a Limited Express train from Sapporo Station.
Air
New Chitose Airport south of Sapporo has domestic flights with JAL, ANA and Air Do (a subsidiary of ANA) to Haneda Airport in Tokyo as well as to Akita, Aomori, Nagoya, Osaka (KIX) and Sendai.
There are international flights from New Chitose Airport to Incheon in South Korea with a variety of carriers.
At Chitose Airport there are rent a car offices or taxis for your onward journey.
Asahikawa Airport has flights to Haneda Airport in Tokyo (1 hour, 35 minutes) and Chubu International Airport in Nagoya with ANA, its subsidiary Air Do and JAL. Buses from Asahikawa Airport to Asahikawa Station take 40 minutes.
Sounkyo Onsen, Hokkaido Map
Book Hotel Accommodation in Sounkyo Onsen
Sounkyo Onsen is a peaceful onsen resort in the mountains east of Asahikawa in Hokkaido. Sounkyo Onsen is within Daisetsuzan National Park.
All the themes of the city