Ritsurin Koen
栗林公園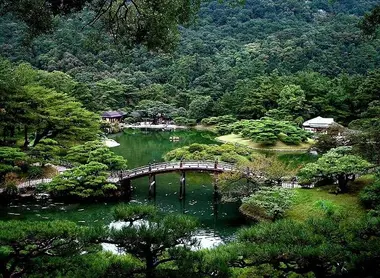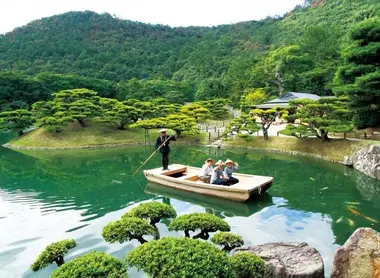 Outstanding Landscape
With its 75 acres of Japanese tradition, in one century the verdant Ritsurin Park has become one of the most beautiful gardens of Japan...
The main attraction of the city of Takamatsu, the traditional Ritsurin Koen garden surprises visitors with its size and its intoxicating serenity.
Built in 1625 on the orders of the Ikoma clan, the park was originally just an ornamental lake, with Mount Shiun-zan as a backdrop.
It took nearly a century of development for the current park of 75 hectares to obtain its exceptional beauty. The garden, in the hands of the Matsudaira family for 228 years, gradually became a remarkable example of "a Japanese Garden". The six ponds, wooded hills, pavilions and bridges combine with the surrounding mountains to make Ritsurin Koen an illusory natural environment of infinite dimensions.
Tucked away in the heart of the garden, in the Folk Art Museum Sanuki, you can discover a collection of precious objects in the region. For total immersion in the Zen atmosphere of the place, for a few yen the Kikugetsu-tei tea pavilion offers a tasting of macha (green tea) while you admire the beautiful scenery.
The result of many developments, the park is now divided into two distinct parts: western charm to the north and Japanese tradition to the south.
Ritsurin Koen is one of the most beautiful parks in the country,and it is also the largest garden to be awarded the prestigious "Outstanding Landscape" label.
---
Address, timetable & access
All the themes of the city