Shunkei Lacquer Museum
飛騨高山春慶会館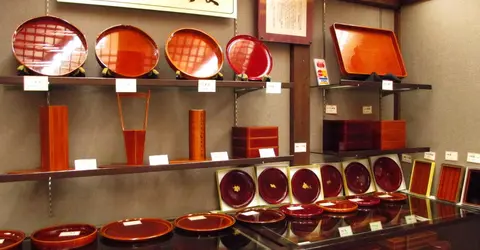 Le laque des signes<br>
Des entailles dans l'écorce d'un arbre mettent la chairvégétale à vif, desquelles s'écoule un sang clair et épais, hautement toxique.De ces précieuses blessures provient l'une des substances qui firent la gloirede l'art japonais : la laque.
At the heart of Takayama, a small museum presents this marvel of craftsmanship of the Hida region: the shunkei urushi. The red-brown color of the utensils displayed behind the glass walls guarantees their success: in Takayama, the lacquer gets better with age and the color lightens and gets brighter.
It was in the seventeenth century that the artisans of the region created a varnish that took away the usual problem of lacquers, namely a long exposure to light made ​​them lose their luster. These processes are explained in the museum, where many reference panels and objects detail the transformation process.
The thousand objects dating from the Edo period to the present day show the evolution of the lacquer over the centuries, from tiny utensils to noble furniture. The relaxed and peaceful atmosphere of the establishment makes it possible to fully appreciate the coppery hues of these true works of art. The tour is short but educational, constituting a perfect little visit to break up the day. In the annex of the museum is a store where you can splash out on charming little boxes, cups and other items. Caution, however, prices match the level of expertise!
---
Address, timetable & access
All the themes of the city