Hida-no-Sato Museum
飛騨の里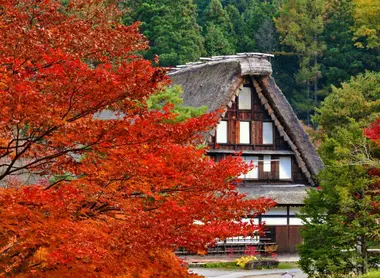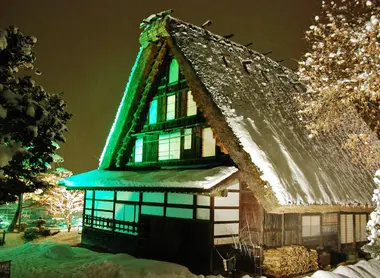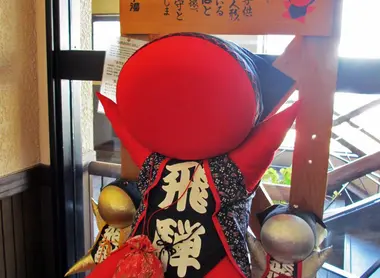 Village from the past
Few museums seem as alive as Hida-no-Sato, which attracts visitors both for its traditional houses and its authentic Japanese crafts.
Ten minutes from the center of Takayama, the village of Hida (Hida-no-Sato) is revealed on a hillside. Old, colorful buildings surround a pond inhabited by swans with a view over Takayama Valley and the Japanese Alps. Visitors come from across the country to admire the houses, some of which are more than five hundred years old.
Built in gassho-zukuri style, their roofs were built to form praying hands, and are made ​​of thatch and shingle. Rustic houses, these thatched cottages, which are well-known in Japan, were mostly found in mountainous areas. They were all taken intact to Hida village to better preserve them and many have the status of important national cultural folklore property.
For educational and historical purposes, many tools used in olden times are placed inside each house to better recreate the atmosphere of daily life back then. Details are important here, and every morning, a fire is lit in the chimney of each building.
To each house its craftsman
Japan is full of traditional crafts, carefully preserved even today. Among the best known are lacquer work and woodcarving, but here the way to build these very special roofs is taught. The public can watch demonstrations, and also take part in various workshops. There's also the chance to make candles or rice crackers!
A must-see is the Museum of Mountain Life, which explains the ways of life in the Japanese Alps. A sign that Hida-no-Sato is alive, the village celebrates each major event punctuating the Japanese calendar, from New Year to the Tanabata Star Festival, not to mention celebrations related to the rice harvest in fall. It's enough to make you want to drop everything and head for the hills!
---
Address, timetable & access
All the themes of the city