Inro Museum
印籠美術館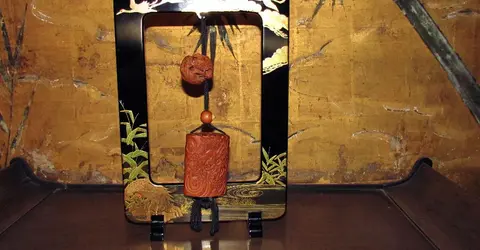 L'art dans la poche
Aussi indiscutable que soit leur beauté, les kimonospossèdent un défaut. Ils n'ont pas de poches. Comment faire alors pourtransporter petites affaires et papiers importants sans s'encombrer ?L'esprit pratique nippon trouve une solution dès le XVIe siècle.
This is how the inro came into existance, small compartment boxes attached to the obi (the wide kimono belt) with a netsuke (small object holding the inro the obi). Only men wore these cases made of bamboo, wood or leather.Takayama Museum offers a unique collection of more than three hundred finely crafted pieces. Ivory or lacquer, engraved gold or set with semi-precious stones, these objects enthrall thanks to their finesse. Netsuke are often in the form of animals from the Chinese zodiac or Japanese mythology. Visiting this miniature menagerie, carved with originality, invariably delights young and old.
This is also an opportunity to discover the fullest expression of what makes the reputation of the city, woodworking.
Despite its recent closure, there are some hopes about its future reopening.
All the themes of the city