Shinagawa
品川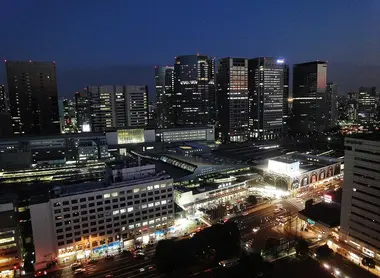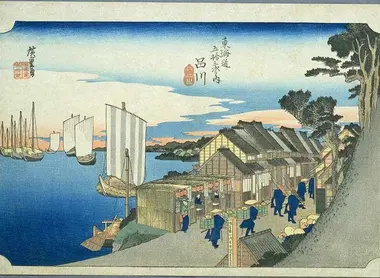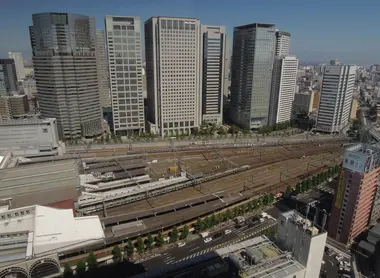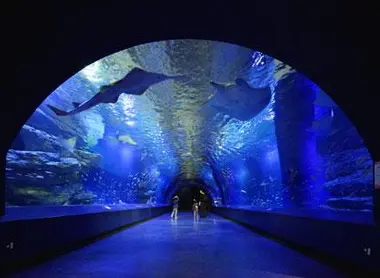 A contrast of old and new
Shinagawa's first impression is that of an impersonal business district full of skyscrapers, but it was once a fishing village. This district is both retro and modern at the same time and leaves, after visiting, a strange feeling.
A Historic Area
Shinagawa Station (JR and Keikyu lines) was Japan's first urban railway station. In October 1872 the official opening of the first railway line between Tokyo and Yokohama took place, actually preceded in May by the Shinagawa-Yokohama section. The station was at the edge of the sea, which seems unimaginable today.
The area around the mouth of the Meguro River was called Shinagawa. It was originally a fishing village that became Shinagawa-juku. First or last of the 53 stations of the Tokaido road, travelers from the provinces could rest, wash and change there before entering the city of Edo.
It retains a bit of the look of that time in Kita-Shinagawa Shotengai, a shopping street located near Keikyu Kita-Shinagawa Station and remains the same shopping street of yesteryear. Famous brands such as Maruya have been selling traditional Japanese shoes (geta, zori) since 1865.
Taste Shinagawa mochi at a wagashi shop or at the traditional Kimuraya sweet shop opened in 1892, you will be surprised by its authentic taste.
Then walk the small street from the Keikyu railway line to Shinagawa Fune Damari, the port: the presence of boats attests to the old activity of the port of the fishing village.
What a contrast of that nostalgic atmosphere with huge glass towers in the background!
Mini Fuji
On the other side of the train line is the Shinagawa-jinja, a Shinto temple founded by Minamoto no Yoritomo in 1187. This temple, attached to the Tokugawa family, has a rare torii with bas-relief sculptures at the entrance: dragons going up and down.
Their Fuji-zuka is an artificial, mini mount Fuji built in 1869. There are several in Tokyo, but this one is the biggest at 15 meters high. It is related to the belief of the Edo period that Mt Fuji was a sacred mountain. People dreamed of going there, but it wasn't easy back then. So instead, they climbed the mini-Fuji and prayed while viewing the real mountain from it's top...
A more modern side of the place is the Hara Museum, which lets you escape the bustle of the big city in this residential area (15 minutes walk, take the Takanawa exit from Shinagawa Station). It's a contemporary art museum with remarkable architecture. It contains a rich collection of works of great artists, including Kusama Yayoi, Nara Yoshimoto, Andy Warhol, Jean-Pierre Raynaud, and Sophie Calle.
It was originally the private residence of Hara Kunizo (a rich Japanese businessman) built in 1938 and inspired by European architecture of the early twentieth century.
Finally, don't forget to take a break in the art museum cafe to enjoy cakes inspired by the exhibition of the moment, for the pleasure of the eyes and tastebuds alike.
Visit from Tuesday to Sunday, entry is 1,100 yen.
Aquatic Exhibitions
Return to Shinagawa Station to go to Maxell Aqua Park Shinagawa (formerly known as Epson Aqua Park), 2 minutes walk from Takanawa Exit and then to Prince Hotel). It's a futuristic aquarium in the center of Tokyo. The aquatic exhibitions regularly change their theme, with dolphin shows, rides, and high-tech staging, with the fusion of image and light create a futuristic atmosphere.
Open every day from 10am to 10pm. Prices: +16 years: 2,200 yen, from 6-15 years old: 1,200 yen, 4-5 years old: 700 yen.
Finally finish on the Nihondo Kampo Museum (Takanawa exit 3 minutes walk), museum of Kampo medicine (Japanese science derived from Chinese herbal medicine) to learn about this art. Discover exhibitions of plants, their uses and their effects. Also try the restaurant with Kampo specialties - "detox" guaranteed!
Admission is free, and it's open daily from 11am to 11pm.
Ramen lovers should go to Shinatatsu (1 minute from Takanawa outlet) a restaurant with seven great chefs from all over Japan.
So, Shinagawa isn't just an impersonal business district...
All the themes of the city