Aqua Park Shinagawa
エプソン アクアパーク品川
20,000 leagues under the sea... in Tokyo
Aqua Park Shinagawa is in the heart of the Japanese capital, a beautiful renovated aquarium to delight young and old alike. Aquatic shows, jellyfish galore, tropical fish and a pirate ship: it's an ideal place for a family visit.
An aquarium in Shinagawa
There are quite a few aquariums in Japan, a country with close links with the surrounding seas. The Japanese greatly appreciate fish and other marine creatures, both to eat and in aquariums! Tokyo, like many other cities in the country, has several aquariums, such as Tokyo Sea Life Park or Sumida Aquarium.
Aqua Park, formerly called "Epson Aqua Park", changed its name in 2017 following a change of ownership, and is now officially known as Maxell Aqua Park Shinagawa. Very easily accessible thanks to its prime location in Shinagawa, southern Tokyo, it offers many sights and activities. It's located inside the Shinagawa Prince Hotel, and was recently renovated in 2015.
This aquarium is best known for two things: first its spectacular dolphin shows, often themed (in spring 2019, the theme was flowers), but also the "Wonder Tube", a long glass corridor surrounded by water, where you can observe sharks and manta rays swimming by.
A brief guide
The aquarium is laid out over two floors, in 10 different zones. Your visit begins with a surprising carousel, reminiscent of European fairgrounds, but with an aquatic theme. This is also where you'll find the new pirate ship. These two attractions are only open to the public at scheduled times.
Visitors then discover a magnificent cafe, the Coral Cafe Bar, which has a unique atmosphere. The tables there are aquariums containing seahorses and eels.
After enjoying a coffee, the visit continues with the jellyfish walk. All kinds of jellyfish are on display in the darkness, drifting in cylindrical aquariums, with lights and music enhancing the atmosphere.
The bulk of attractions are on the first floor: most importantly the pool (called "the stadium") where the dolphin shows take place. It's advisable to grab a seat early if you can, and to wear a raincoat if you are in the front row!
The pool is surrounded by 360° terraces, and the shows are incredibly high quality, with sound and light displays.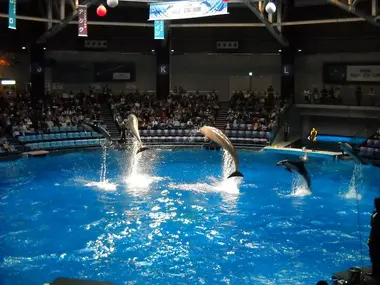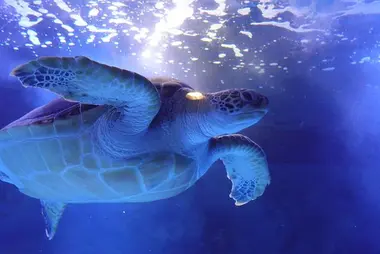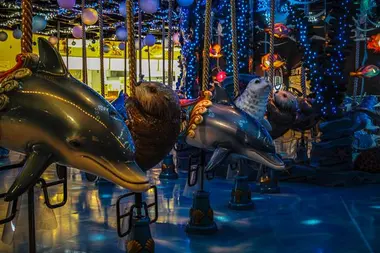 Then you'll discover the famous Wonder Tube. It's an impressive glass corridor for visitors to walk through, surrounded by water. You can admire the rays, sharks, sawfish, and tropical fish, that glide quietly above your head. The "Little Paradise" section presents dozens of species of colorful tropical fish, from the famous clownfish to the surgeonfish. The Aqua Park is also home to vivariums and aquatic jungles.
Finally, on "Wild Street", you'll meet penguins, sea lions, sea lions, seals and otters. The penguins are fed at fixed times by the keepers, which leads to a small improvised show...
Discover the "Flower Aquarium" theme at Aqua Park: 
---
Address, timetable & access
All the themes of the city