The Moomin Bakery & Cafe
ムーミンベーカリ&カフェ
The cafe where you dine with plushies
Located in LaQua Mall near Korakuen Railway Station, Moomin Bakery & Cafe is one of Tokyo's most popular themed cafes. The reason for its success? Moomin soft toys that keep customers company during their meal!
The world of the Moomins
Created in the late 1940s by Finnish illustrator Tove Jansson, the Moomins (called Mumintroll in Swedish) are the main characters of a series of popular children's books. The stories are centered on the Moomin family, a family of hippopotamus-like creatures who have crazy adventures in an imaginary forest in northern Finland.
Hugely successful around the world, the Moomins have given rise to many animated adaptations since the 1970s. And it's especially beloved in Japan, which today has several themed cafes and shops related to these small Finnish hippos.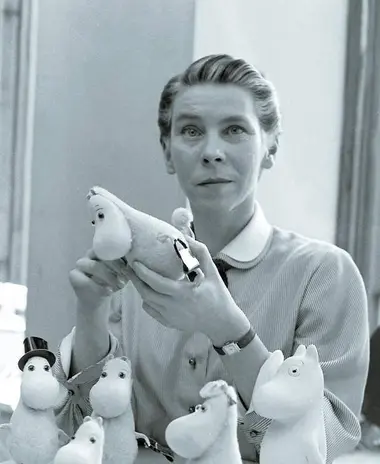 Plush dining companions
Between the walls decorated with Moomin murals and the green plants ingeniously dotted around the large reception room, the Moomin Cafe carefully replicates the forest from the illustrated books which inspired it.
But unlike most themed cafes in the capital, this little cafe takes the immersive experience one step further - it gives its customers the opportunity to have lunch with the characters of the franchise!
Whether you come alone or with friends, the cafe staff will always introduce you to one of the giant Moomin soft toys at the establishment! And "introduce" is definitely the right word here - the Moomin will sit at your table with you as a dining companion. It's a fun idea that will delight not just the fans of the Moomin universe, but also children, with whom the cafe is particularly popular.
The cafe also has a souvenir shop selling many Moomin-themed goods. In case leaving your new Moomin friend at the end of the meal is too painful...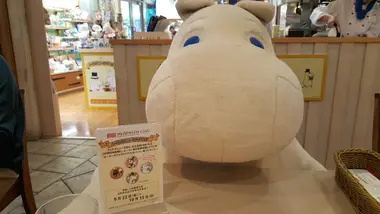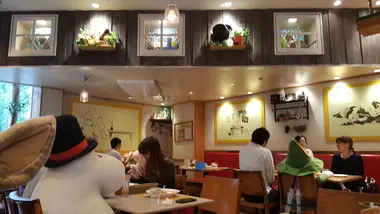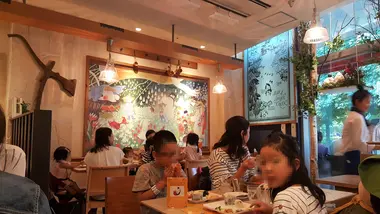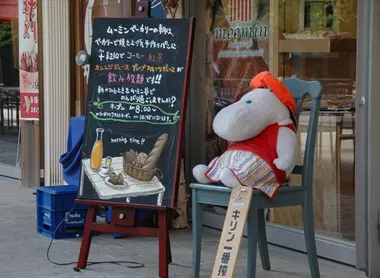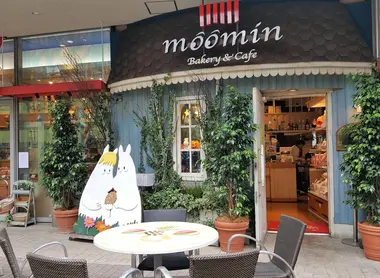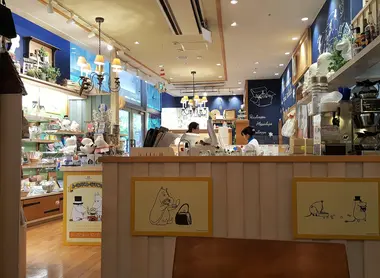 … and Finnish specialities
The other highlight of this little cafe is its menu! Perfectly marrying Japanese cuisine with Finnish specialties, the Moomin Cafe is one of the few Tokyo cafes to offer Northern European dishes for less than 1,500 yen ($13). A small buffet of Finnish breads is also on the menu, available to customers who order any set meal at lunchtime!
The cafe doesn't overlook dessert either, as it offers all kinds of Moomin-themed sweets, ice creams, cakes, and Finnish waffles and pastries.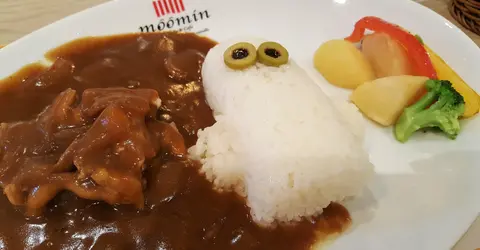 & Bakery
Finally, as its name suggests, the Moomin Cafe and Bakery also has a small bakery right next to the cafe.
For an average of 200 yen ($1.80) per pastry, you can go home loaded with Finnish specialties, both sweet and savory!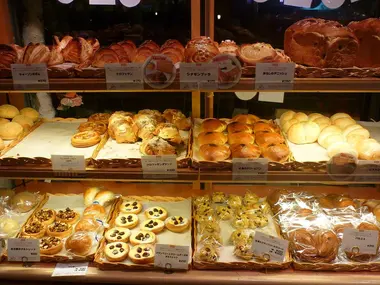 ---
Address, timetable & access
All the themes of the city