Ameya Yokocho
アメヤ横丁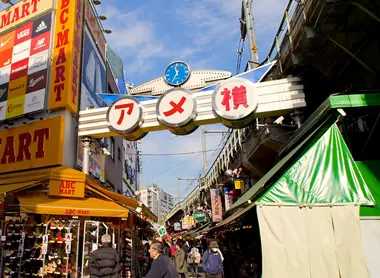 A taste of Japan
The hoarse voices of grandmothers calling out out from behind their stalls, traders dealing customers.The smells of fresh fish, spices and candy tempt passersby. The liveliness of Ameya Yokocho never fails to fascinates visitors.
Originally dedicated to the sale of candies, the place takes its name from ame, which means "candy". Or it could come from the ame of "America", as the street was home to the largest black market for American products after the war. This etymological indecision perfectly reflects the spirit that prevails here: dried octopus, international phone cards, you can find everything at Ameya Yokocho.
Stretching along the overhead rail track and winding between its pillars, the market - not far from Ueno Park - is an area seemingly preserved from the modernisation of most of the city. The atmosphere seems to have remained the same since the postwar period.
In December, the people of Tokyo flock here to do their food shopping and buy gifts for Oshogatsu, the Japanese New Year.
---
Address, timetable & access
All the themes of the city