Hanayashiki Park
浅草花やしき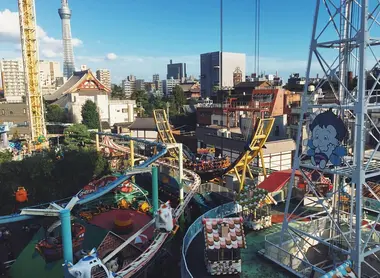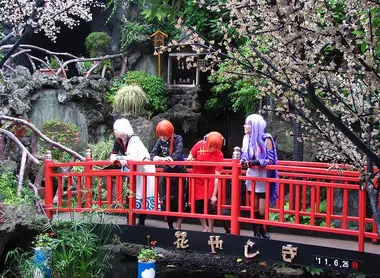 The vintage fun fair
This former botanical garden, created in 1853 in the popular district of Asakusa, has undergone many transformations. Over the years, we added a mini zoo, a cinema, then many rides to make, in 1949, an amusement park. Hanayashiki is the first of its kind in Japan.
Seen from the outside, Hanayashiki Park's Bee Tower, roller coaster and Space Shot seem to spring from the surrounding buildings. It must be said that the garden was founded in 1853, long before the construction frenzy that gripped Tokyo after the war. It's even almost a miracle that this park is still standing, despite its antiquated attractions, but isn't it just this vintage aspect that attracts nostalgia and photography enthusiasts?
Turn the merry-go-round!
In a confined space (we are far from the immensity of Disneyland!), Around twenty attractions huddle together, sometimes flattening neighboring buildings.
Ferris wheel, Space Shot, roller coasters (built in 1953, these are among the oldest in Japan), gondolas twirling in the air (Disk-O) or even the haunted house delight thrill seekers . are entitled to rides, a mini wheel, a pirate ship, small panda-shaped cars that go around the park and other distractions. The Bee Tower , the emblem of the park, allows, once mounted in gondolas in the shape of small houses, to admire the surrounding landscape and the Tokyo SkyTree from a height of 45 meters.
Ninjas and cosplay
Rifle shooting, duck fishing and other funfair entertainments add to the ambiance, while a mini theater (sometimes shows in Japanese) and a small garden complete this kitsch and eclectic landscape. Souvenir shops and food stalls are of course present. Hanayashiki Park also offers "ninja training", outfit included, and sometimes hosts cosplay days, which add a modern touch to this decidedly unique place.
---
Address, timetable & access
Address

Timetable

5 min from Asakusa station By metro: Ginza or Toei Subway lines Asakusa line or Tobu Isezaki line

Price

1000 yen. 500 yen for children up to 12 years old and people over 65 years old. Free for the disabled and children under 6 years old. In addition to the entrance fee, count between 2 and 5 100 yen tickets for the attractions. The pass costs 2300 yen and gives access to all attractions (does not include the 1000 yen entrance fee)

Access

10 am-6pm Opening hours and days may vary depending on the weather.

Website

http://hanayashiki.net/e/
All the themes of the city