Nachi-Katsuura (Kii-Katsuura)
Nachi-Katsuura 那智勝浦
Nachi-Katsuura, aka Kii-Katsuura, is a small port and fishing town in Wakayama Prefecture. Nachi-Katsuura is a gateway to visit nearby Nachi, with its stunning 133 meter high Nachi no Taki (Nachi Falls) and the Nachi Taisha Grand Shrine.
The "town" of Nachi-Katsuura was created in the 1950's and consists of Nachi, Katsuura, Ukuimura and Wakamura.
The area is part of the UNESCO World Heritage Sacred Sites and Kumano Kodo Pilgrimage Routes in the Kii Mountain Range.
Nachi-Katsuura has the highest catch of tuna in Japan and the early morning tuna market and auction has become a popular, local tourist attraction.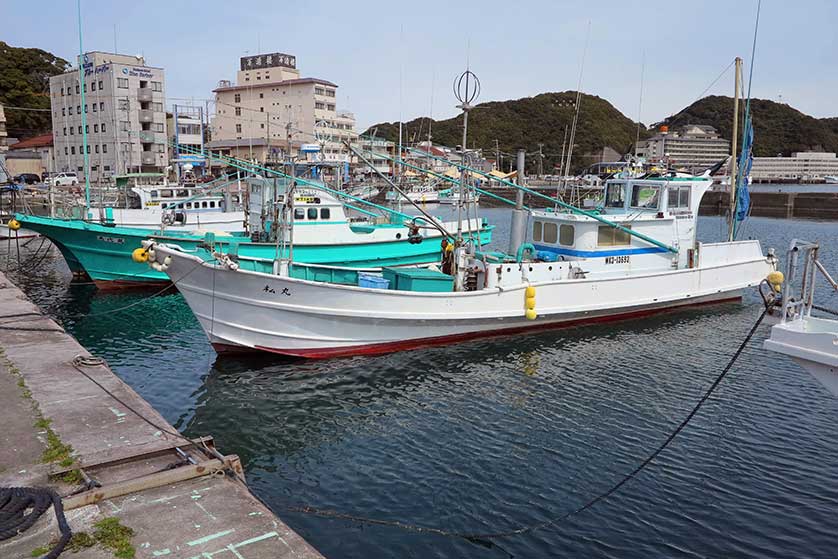 Fishing boats, Kii-Katsuura Port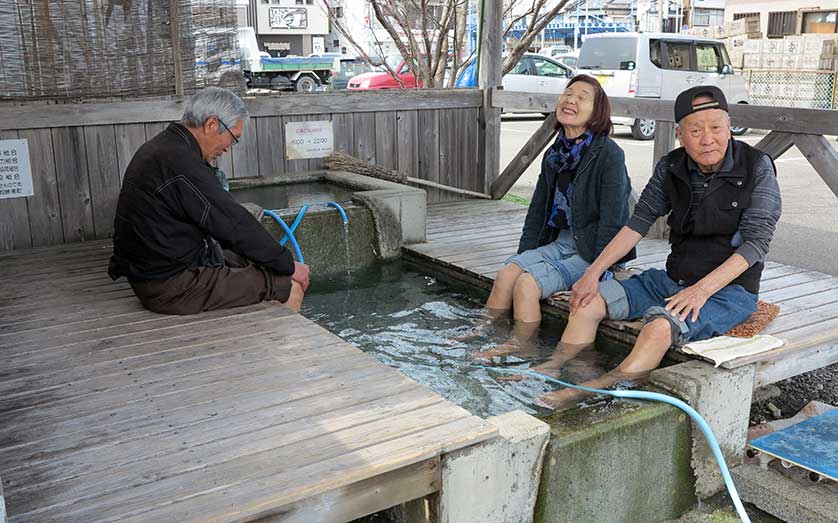 Ashiyu (hot spring onsen foot-bath), Kii-Katsuura Port
Things to do in Nachi-Katsuura
Most visitors simply pass through Nachi-Katsuura (Kii-Katsuura) on their way by bus from Kii-Katsuura Station to Nachi Falls and Nachi Taisha but the small town has several things to see and also offers a number of superb onsen hotels dotted along the coast and offshore islands.
The early morning tuna auction offers visitors a chance to see a traditional Japanese fish market is less crowded and more informal circumstances than the hugely popular Tsukiji Fish Market in Tokyo. Just outside the market is an ashiyu or onsen foot bath.
The tuna fishing fleet sailing out of Nachi-Katsuura is now staffed by a growing number of fishermen from Indonesia, Thailand, Vietnam and The Philippines. Several "Snacks" and karaoke bars run by their compatriots dot the shotengai arcades that radiate out from the bus and train station area.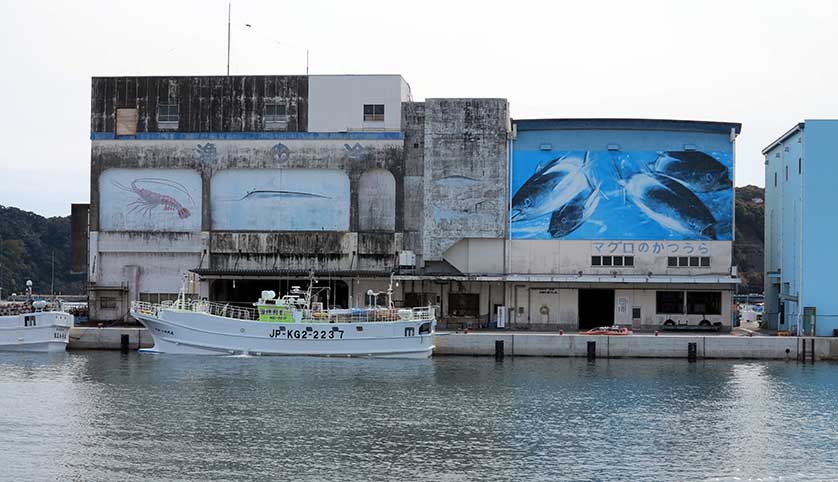 Kii-Katsuura Tourist Port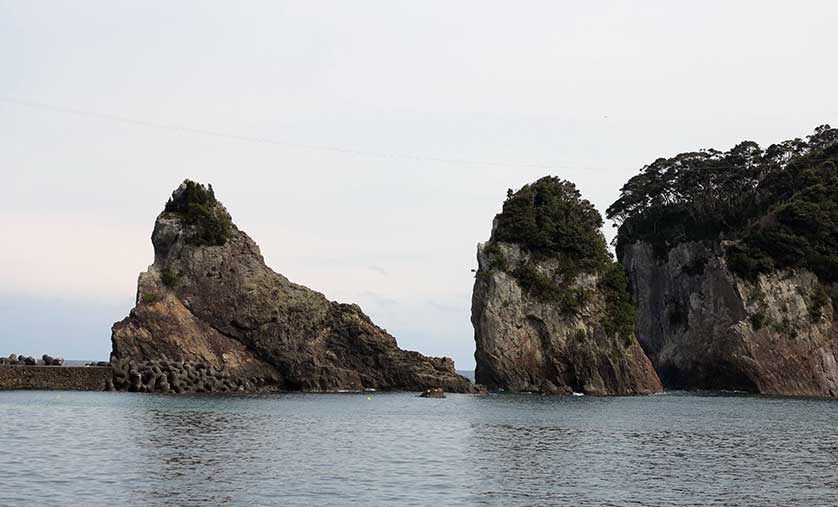 There are around 130 islands located in Katsuura Bay
Kii no Matsushima Cruises
A number of different tourist cruises operate out of Kii-Katsuura Tourist Port, just a short walk from the fish market.
The name "Kii no Matsushima" refers to the more famous island-dotted coastline off Matsushima, near Sendai in Tohoku, northern Japan. Here in Wakayama, there are around 130 offshore islands, which can be viewed on a 55-minute cruise from the Tourist Port.
The various pine-tree-studded islands are named for their unusual shapes, so look out for Camel Island, Crane Island, Helmet Island and Lion Island. The cruise also calls at Taiji Whale Beach Park (Dolphin Base) across Katsuura Bay in nearby Taiji. There are usually six sailings a day (more in the summer) leaving Kii-Katsuura Tourist Port at 8.30 am, 9.40 am, 10.50 am, 1 pm, 2.10 pm and 3.30 pm.
During the summer season from April to September there are also dolphin and whale-watching boat tours.
Bring warm clothing as it can get cold on the open water.
A shuttle boat operated by the Hotel Nakanoshima also makes the short hop to the hotel from the Tourist Port (Kanko Sanbashi Pier).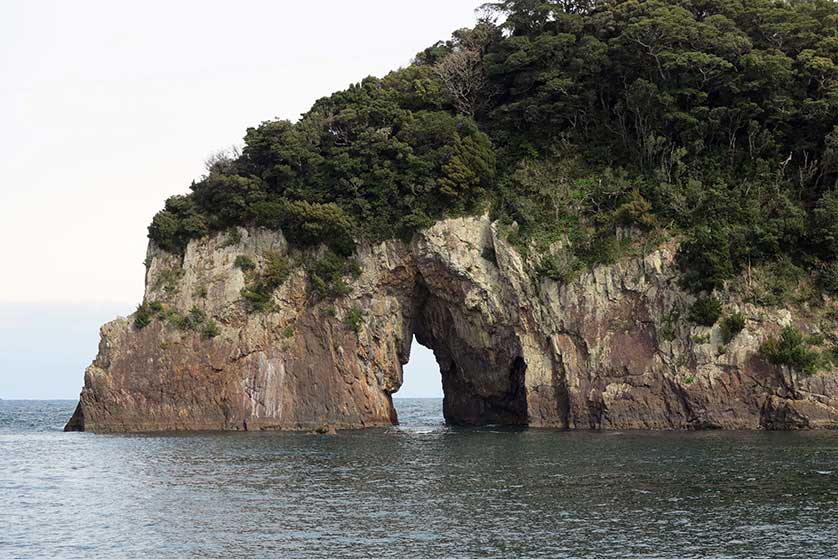 Island located in Katsuura Bay
Kii-Katsuura Shotengai (Covered Arcades)
Several shotengai (covered arcades) radiate out from Kii-Katsuura's train and bus stations. If you are waiting for a bus to Nachi, enjoy a stroll shopping for souvenirs including the local sake and marine products including dried bonito, seaweed and pickled vegetables.
There are also a number of good restaurants and cafes here, too, to savor sushi and the local tuna dishes.
The atmosphere is quiet, unhurried and relaxing, a million miles from the busy, touristy cities of Osaka, Nagoya and Kyoto from which the area draws the majority of its visitors.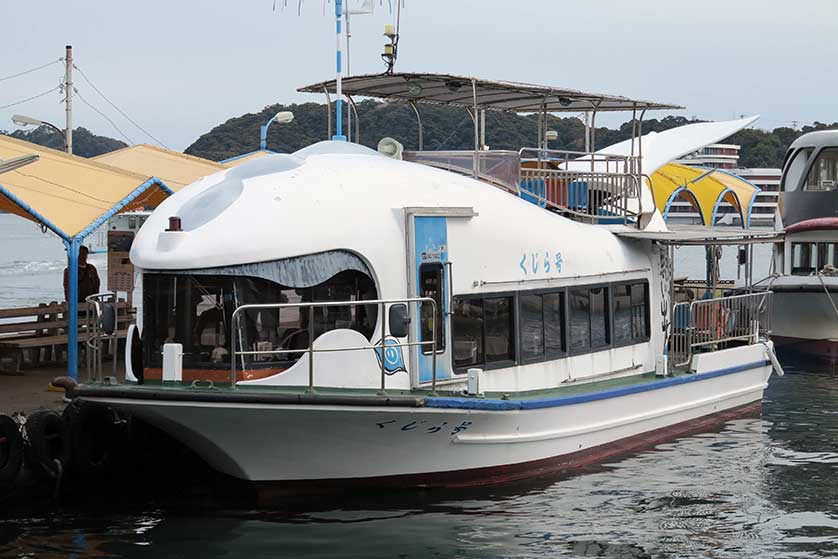 Tourist boat in Katsuura Bay
Accommodation Near Kii-Katsuura
There are various accommodation options in the area for different budgets. On the coast around Nachi and Kii-Katsuura are many seaside resort hotels, ryokan and minshuku as well as a few business hotels. The most dramatic place to stay though is the shukubo, temple lodgings, at Seigantoji in Nachi itself.
The following recommended places to stay are in Kii-Katsuura on the Kisei Main Line. They are arranged here according to budget.
Hotel Charmant is a refreshingly lemon-hued accommodation, clean and simple, with all the facilities and conveniences needed for a comfortable stay. Free Wi-Fi, free lockers/luggage storage, free parking, 24-hour reception.
Hotel Urashima offers great mid-range accommodation with the novel feature of hot spring bathing inside the cave on the premises. Spacious Japanese-style rooms, and - being out on the end of a small peninsula - great ocean views.
Yukai Resort Koshinoyu is one of the best places to stay in the area, offering space, quietude and comfort, Japanese-style, looking directly out over the sea. Features superb Japanese cuisine that takes advantage of its ocean proximity.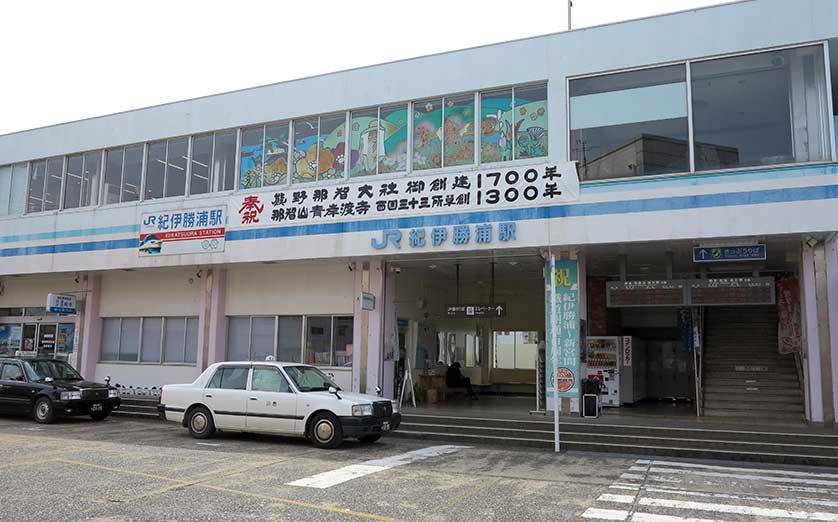 Kii-Katsuura Station
Access - Getting to Nachi-Katsuura
Nachi-Katsuura is located south of both Osaka and Kyoto, in a rural area easily accessible by train and bus from those two cities as well as Kobe and Nagoya. From Nagoya Station it is 3 hours, 30 minutes on a Limited Express Wide View Nanki to Shingu Station. Change at Shingu Station for a JR Kinokuni Line train for Kushimoto for Nachi Station (about 20 minutes) and Kii-Katsuura Station (about 22 minutes). The Japan Rail Pass is valid on this route.
There are regular flights to Osaka from both Beijing and Shanghai in China.
Kii-Katsuura Station is on the JR Kisei Line, 3 hours and 50 minutes by the quickest express train from Shin-Osaka Station in Osaka.
Taiji Station in Taiji is 20 minutes south by local train.
Regular buses run from Kii-Katsuura Station stopping at Nachi Station and then Daimonzaka, Nachi Falls and Nachi Taisha Shrine.
Buses depart Kii-Katsuura Bus Station for Nachi at 6.45 am, 7.25 am, 8.25 am, 8.55 am, 9.30 am, 10.25 am, 11.05 am, 12.10 pm, 1.10 pm, 2.10 pm, 3.10 pm, 3.45 pm, 4.35 pm, 5.05 pm and 6.05 pm. The one-way fare is 620 yen; return 1,000 yen.
There are also regular buses to Shingu taking about 36 minutes and operating from 7 am to 8 pm.
The Tourist Information Center is located within Kii-Katsuura Station and has maps, bus timetables and tourist literature in a variety of languages.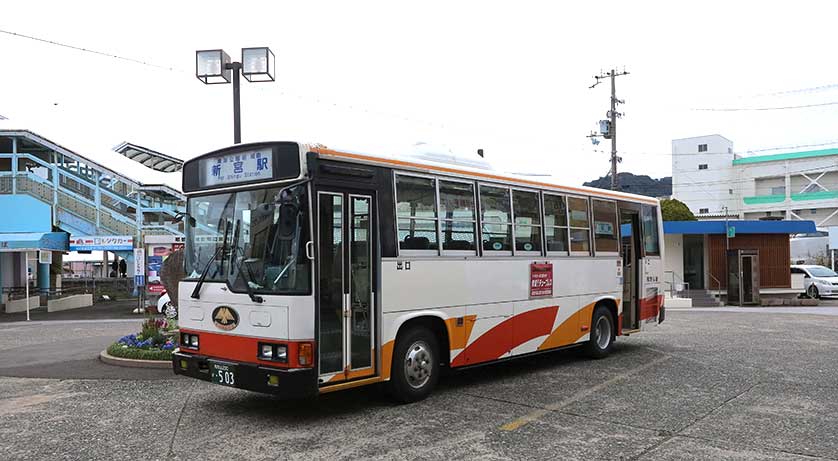 Bus to Shingu at Kii-Katsuura Bus Station
Book Hotel Accommodation in Japan
Nachi-Katsuura (aka Kii-Katsuura) is a tuna fishing port and gateway to Nachi Falls located in Wakayama Prefecture. The coastline here is dotted with islands and onsen resorts.
All the themes of the city