Udon noodles, typical Japanese dish
饂飩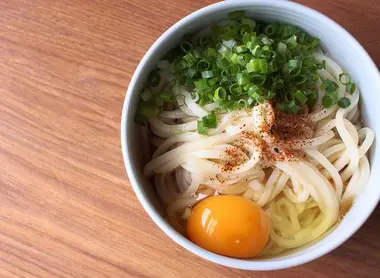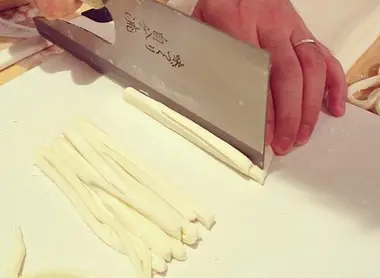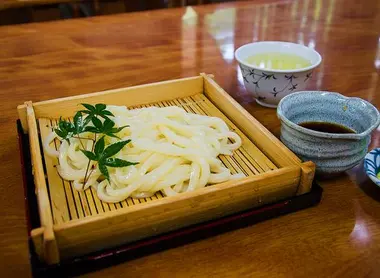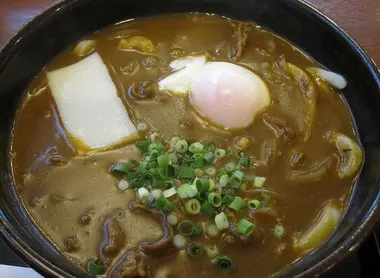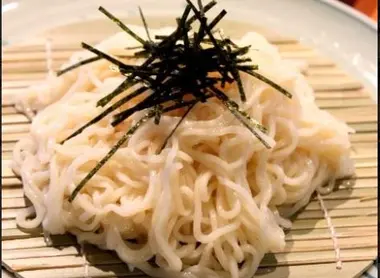 Udon, the traditional noodles of Japan
But where do these thick, springy noodles come from that are so hard to eat with chopsticks? Udon are part of typical Japanese dishes with their cousins soba (buckwheat pasta) and ramen . These very thick and gooey white noodles are made from wheat flour and salted water.
History and making of udon
Today, udon is therefore the most consumed noodles in Japan, along with soba . They are easily recognized: they are the thickest noodles , 2 to 4 mm wide.
If they are said to be more Japanese than ramen , the technique of making udon noodles was also imported from China. There is no consensus on the century of the time of their arrival. A spy sent to the Middle Empire, the famous Kûkai or a monk from the Rinzai sect, several people are arguing over the paternity of these Japanese noodles.
Several of these stories make Kagawa the region where this staple originated in Japan. The film Udon (2006, by Katsuyuki Motohiro) traces the history of the boom of these large noodles in the 1980s, when the city decided to bet everything on this dish to attract visitors. Today it is a real place of culinary pilgrimage. Takamatsu, the capital of the prefecture, has sanuki udon , vermicelli with tuna and kelp (a seaweed).
More than a recipe, it is above all the technique of making udon that makes them so specific, in particular the step which consists in crushing the dough with his feet (while it is covered with a plastic film of course. ).
It was not until the Edo period (1603 - 1868) that udon noodles began to be consumed daily outside temples because they were previously reserved for Buddhist monks . Quick to eat, they quickly become a popular dish that can be eaten on the go, at the counter, just like ramen .
Udon noodles, infinitely available
This typical Japanese dish is served hot or cold , with or without broth , garnished or not with white onion stems. A very dark broth, therefore based on very concentrated soy sauce, means that the noodles are native to Kanto while a clear broth and finer vermicelli indicate that the udon was made Kansai style.
Eaten cold and dipped in a soy sauce , zaru udon are among the most popular recipes, especially in the height of summer.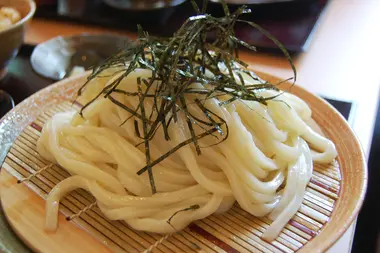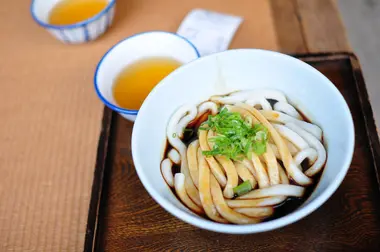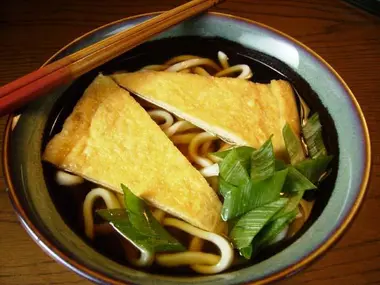 But countless variations exist depending on the ingredients you want to find in your dish: tsukimi udon are egg- cooked , misonikomi udon, a Nagoya specialty, are made with miso, chicken and green onions and finally I se udon , originating from the sacred city of Ise are they with dried bonito, sardines and kelp (a seaweed).
Kitsune udon sees the famous noodles served with fried tofu and spring onion. In tanuki udon , you will find crumbled tempura , in reference to a legend telling that a tanuki would have stolen the vegetables and the fish of a tempura , leaving only the crumbs. More modern, the kâre udon , in curry sauce , are also all the rage among lovers of Japanese curry. Finally, the Japanese also enjoy sautéed udon, like yakisoba .
Where to eat udon in Japan?
There are several chains specializing in udon in Japan such as Hanamaru Udon (our favorite, there is a menu in English), Marugame Seimen, Nakau or the classier Tsurutontan (you can customize your udon ). râmen-ya , there are udon-ya (う ど ん 屋, restaurant specializing in udon ) almost on every street corner.
As a bonus, here are some of the best places to taste udons in Japan:
A restaurant with tight prices (around 500 yen). Here, the udon is made in Kagawa fashion. Be sure to order a side dish, especially the delicious chicken tempura . You will find Maruka in a quiet area, not far from the Imperial Palace.
Address: 3-16-1 Kanda-Ogawamachi, Chiyoda-ku, Tokyo
Not far from Shinjuku station, Udon Shin is a very popular restaurant with Tokyoites , serving zare and kaku udon . Once installed in the small stall, marvel at the superb plates of udon elegantly wound in a spiral. Do not miss to taste the soft-boiled egg cooked in tempura , a delight ...
Address: 2-20-16, Yoyogi, Shibuya-ku, Tokyo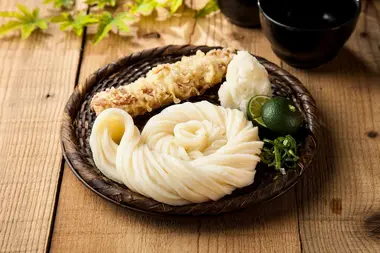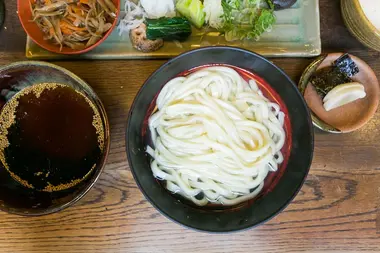 In Kyoto , the Omen chain, specializing in udon , works miracles. Whether it's at the establishment near Ginkaku-ji , or the one on Pontocho Alley, you are sure not to be disappointed. The udons are served there with delicious organic vegetables and a tasty broth.
Omen Ginkaku-ji : 74 Jodoji Ishibashicho, Sakyo-ku, Kyoto 606-8406
Omen Pontocho : Nakagyoku Shijyodori Pontoccho Nishi, Kyoto 604-8014
Udon recipe to make them at home
All the themes of the city