Umeda Hagakure
梅田はがくれ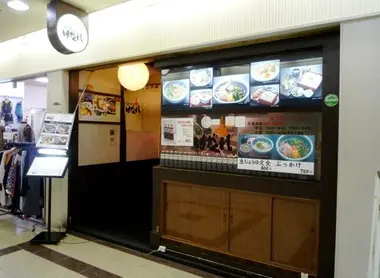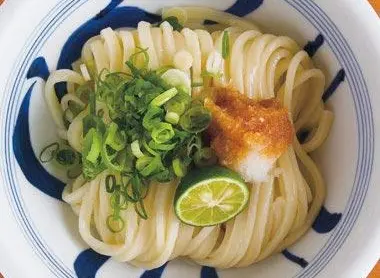 It take two udon
Surrounded by shops that do not all look too good, in one of the buildings that make up the Umeda landscape, this restaurant prepares one of the best udon (thick white noodles made from wheat flour) in Osaka, to be eaten following a rather special code...
A dozen seats in a row facing the counter of this small cramped restaurant that has earned itself a reputation. Sometimes whimsical, always cheerful, rigorous with his dishes, the owner not only prepares, but above all, makes his own udon with an old machine visible to all, they are not to be confused with soba, which are made with buckwheat flour!
Between noon and one o'clock in the afternoon, workers on their break fill the place to enjoy a Sanuki udon - a bowl of noodles in soup - or other dishes, shrimp tempura, chikuwa - small slender fried fish sticks - and other quite common, but delicious and very cheap dishes.
Ritual specialty
But if Umeda Hagakure has earned such a reputation, it is thanks to the chef's specialty: noodles accompanied by finely grated daikon (long white radish) and chopped ​​green onions, all topped with a wedge of lime. Then comes the tasting, carefully watched over by the owner - the conductor, who give the much awaited order... At Umeda Hagakure, noodles are eaten in pairs, and that's it. Not one more, not less, concentrate!
---
Address, timetable & access
All the themes of the city