Donburi: the unique Japanese dish
丼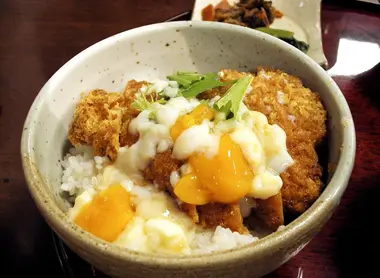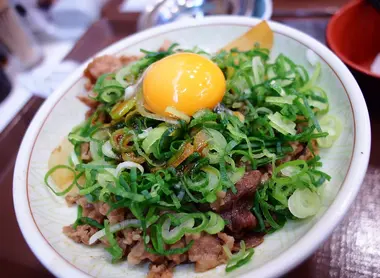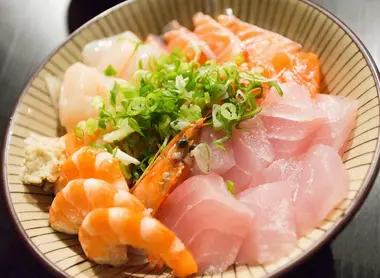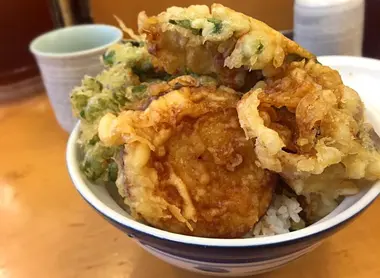 Discover the best Donburi recipes and the best restaurants
Rice and a garnish: this is a simple, hearty, and accommodating dish that can be served universally from one end of the to the other. What are these toppings?
What is donburi?
Donburi is a staple of Japanese cuisine. The word donburi, sometimes abbreviated as don, literally means "big bowl " in Japanese. Generally, it is sometimes called donburi-mono (literally "things in a bowl"). It is a large bowl that is approximately 15cm in diameter and 8.5cm in height and can hold approximately 900ml. It is filled with plain white rice and crowned with a garnish of meat, vegetables, and/or fish simmered together in a sauce. This sauce varies by region and season, but it is mainly made from soy sauce, mirin, and dashi. These ingredients are often cooked with beaten eggs in an omelet with thin slices of onions.
What is special about this dish is that the rice and ingredients are all in the same bowl, unlike typical Japanese habits where white rice is served on the side. This makes it quick and easy to prepare and easy to eat and very filling.
The bowl is usually served with its lid on, to retain the heat and steam but also to allow the ingredients and their sauce to permeate the rice for added flavor. 
Note that even if there are recipes more popular than the others, anyone can create their personal donburi with the desired ingredients, this practice even has a name: passonaru-don, from English "personal-donburi".
The origins and history of Donburi
We trace the origin of donburi to the Muromachi period (1330-1570). It was then named houhan, a bowl of rice covered in vegetables with a broth poured over it. It was a vegetarian dish served in the temples.
Later, in the Edo period (1603-1867), restaurants called "kendon-ya", specialized in this unique dish served in a bowl which was named "kendonburi-bachi" and was then abbreviated to donburi-bachi then quite simply "donburi". The city of Edo (the future Tokyo) then had a large community of often single artisans and this dish was very popular amongst the locals, for its generous and tasty quality but also its simplicity quickly prepared and easy eating.  Perhaps the first concept of fast food in Japan!
It is believed that donburi as presented now dates from the early nineteenth century. It was then a bowl of rice served with grilled eel and seasoned with a caramelized soy sauce, unagi-don (abbreviated as una-don ).
It was a very popular dish among the theater buffs. Kabuki, nô, kyogen, are forms of Japanese theater that last for long hours. It was customary for the audience to bring a snack and the una-don was the ideal dish: it was not only tasty but also convenient to take out food. With the rising popularity of this dish, una-don stalls multiplied, and the rest is history...
Later, during the Meiji era (1868-1912), the ingredients diversified and became what is known as Donburi-mono today!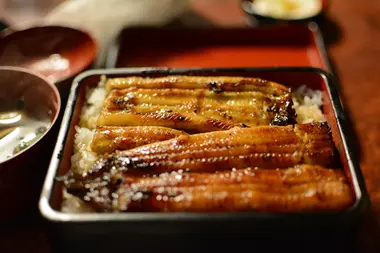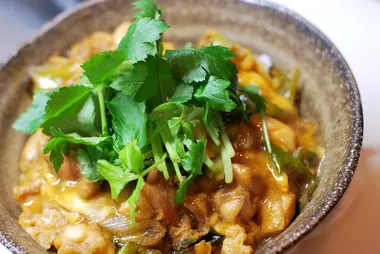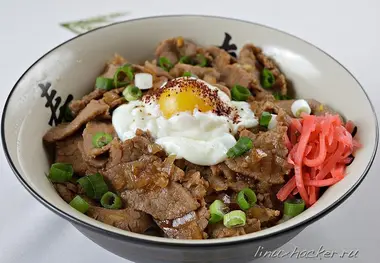 Popular donburi
Here are some of the most popular donburi in Japan for you to try:
The unadon (鰻丼): a bowl of rice accompanied by a grilled eel.
The katsudon (カ ツ 丼): a bowl of rice topped with a breaded pork cutlet accompanied by a flowing omelet and onions.
The oyakodon (親子 丼): the name of this donburi means "family bowl", a cynical expression as it refers to the chicken and egg being a family.
Gyudon (牛 丼): a bowl of rice accompanied by thin strips of stewed beef and onion. It can also be served with an egg, raw or cooked.
The kaisendon (海鮮 丼): this is one of the only cold donburi. It is topped with raw fish in the form of sashimi or seafood similar to its famous cousin, chirashi donburi, sushi, or sashimi over vinegar seasoned rice. 
Magurodon (ま ぐ ろ 丼): very popular, in vinegar-like rice for sushi topped with raw tuna marinated in a soy sauce-based sauce and decorated with thin slices of nori.  
The tendon (天 丼): It consists of a bowl of rice accompanied by shrimp tempura in its true form. However, in less traditional form, vegetable tempura is added as a filler. Prevalent in Japanese restaurants outside of Japan around the world.
Where to eat a donburi?
Basically, everywhere... popular and inexpensive, donburis are served in countless restaurants. It's very easy to find and often costs less than 1000 yen (around $8.50/7.50€).
Here are some famous restaurants: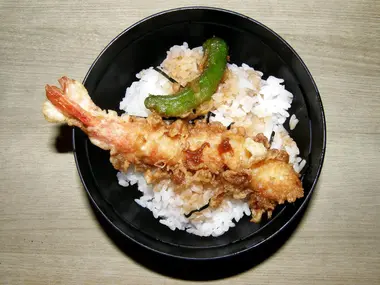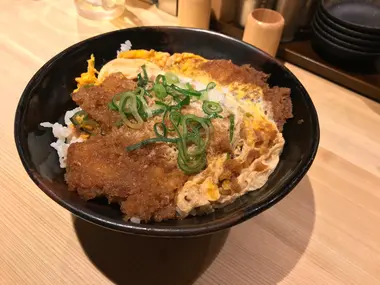 Sansada: it is THE benchmark in a tendon. It is said that it was in this restaurant in Asakusa that it was invented, in 1837.
Tsujihan: kaisen-don restaurant. The garnishes depend on the arrivals of the day.
Address: Kyuei Building 1F, 3-1-15 Nihombashi, Chuo-ku, Tokyo
Opening hours 11:00 am ~ 9:00 pm irregular closing days
Nearest station: Nihombashi
Segawa: restaurant famous for its maguro-don. The raw tuna is marinated in a homemade soy sauce.
Phone: 03-3542-8878 Address: 4-9-12 Tsukiji, Chuo-ku, Tokyo
Opening hours: 8:00 am ~ 11:30 am (Closed when the tuna is out of stock!). Closed Sundays and public holidays and some Wednesdays.
Nearest station: Tsukiji
Sakamotoya: opened in 1923, this family restaurant is famous for its katsudon. If you want to taste this dish, this is THE restaurant to go to.
Address: 3-31-16 Nishiogikita, Suginami-ku, Tokyo
Hours Opening hours: 11:30 am ~ 8:30 pm. Closed on Sunday and public holidays
Nearest station: Nishi-Ogikubo
Hungry by now? Why not learn to cook some Japanese dishes with our expert in Tokyo?
All the themes of the city