Jingoro Ramen
甚五郎らーめん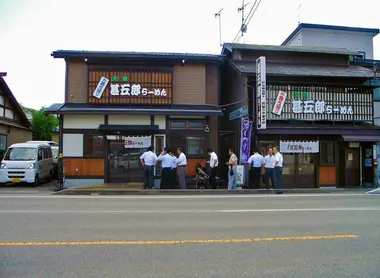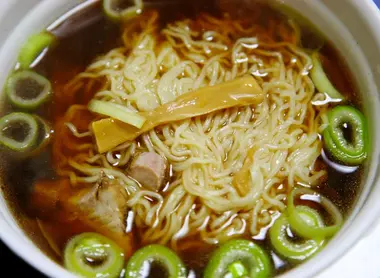 <span>Des <i>ramen</i> ausommet</span><br>
A quelques mètres du sanctuaireHida, Jingoroconcocte des repas de quoi enchanter gourmands et gourmets. Ici, les plaisirsterrestres prennent des dimensions célestes.
Ramen, broth with wheat noodles originating from China, conquered the Japanese population to such a point that it is now considered an essential national dish. Simple and nourishing food, this noodle soup comes in a myriad of recipes that can use a variety of sauces, types of noodles and toppings. The region of the Japanese Alps is renowned for the excellent quality of its agricultural products, so prepare your taste buds for a culinary experience.
The restaurant is located in two adjoining houses, made of wood and in a purely Japanese style. The rustic decor contributes to the warm family atmosphere maintained by the staff. The kitchens are open plan, allowing customers to marvel at the dexterity of the cooks. Observing a strictly coded method, each chef specializes in one of the stages of preparation. A five-minute waltz of spirited movements in a cloud of steam, and your dish is ready to taste.
The sweet pork with green onions in a soy sauce broth wins the vote of customers, who also appreciate the generous portions served here. Note that the convenience store "Seven Eleven" which is on the other side of the street has many parking spaces available for use as well as an ATM. Another practical advantage, the restaurant has menus in English.
---
Address, timetable & access
All the themes of the city