The food specialities to try in Tohoku

Bridging Japan's major hub of Kanto and the most northern island of Hokkaido, the Tohoku region boasts some of the main island of Honshu's most celebrated attractions, its unique culinary culture especially garnering large attention from both domestic and overseas travelers alike. 
With a variety of signature noodle dishes, fresh fruits available all-year-round, and nutrient-rich waters that provide some of the world's best seafood, we move up north to experience (and taste) the best that Tohoku has to offer. 
"The Three Great Noodles of Morioka"
Iwate Prefecture, located in the upper part of the Tohoku region, is appreciated for the natural view it offers. Within Iwate Prefecture, Morioka, the capital city, is unforgettable. Though largely known for its breathtaking, natural views of the Kitakami Nakatsugawa Rivers, along with the awe-inspiring presence of Mount Iwate, Morioka is also well-known for some of the most distinguishable noodle dishes in Japan. These noodle dishes are known as the Morioka sandaimen - or the "Three Great Noodles of Morioka"- and consist of Reimen, Morioka Jajamen, and Wanko Soba. 
Reimen is originally based off of the Korean noodle dish served cold and typically enjoyed in summer. The two dishes share many similarities, both being presented cold (the name reimen translates to "cold noodles" in English), both noted for a chewy texture, and both often being served with kimchi. However, the rendition made famous here also differs in many ways, making it distinct to the region.
Instead of pure buckwheat, reimen is often made with potato starch or wheat flour, giving them a translucent appearance. The broth is often a mix of both beef and chicken stock, and along with meat and egg, seasonal fruit is often added for a fresh touch (yes, that is indeed a slice of watermelon you see in the picture below.) Reimen can definitely be seen as one of the most stand-out noodle dishes, not just in Japan, but the entire world, and serves as a strong representation of the eccentric cuisine to come from here. 
Jajamen continues this trend of unique noodles. Jajamen also has origins from outside of Japan, being based on Zhajiangmian from China, noodles topped with a thick, soybean-based sauce. Taking a similar formula but adding a Japanese twist to it in the form of thin udon and a thick meat miso results in Jajamen. Topped with a variety of garnishes ranging from cucumber, ginger, and garlic, it is then mixed thoroughly, resulting in a hearty umami-filled dish.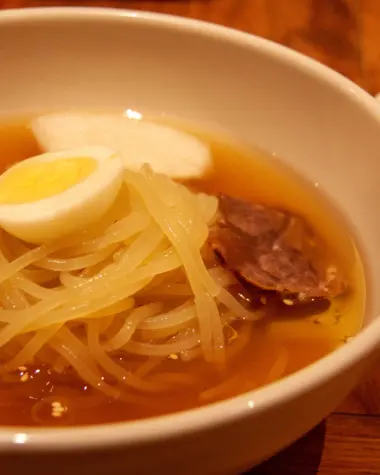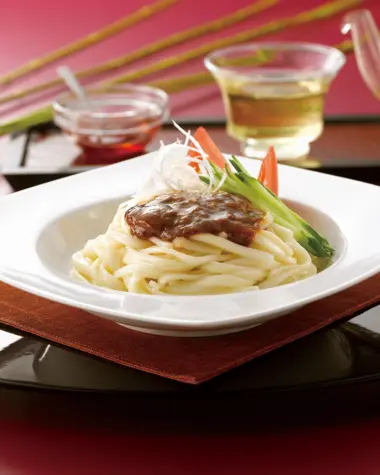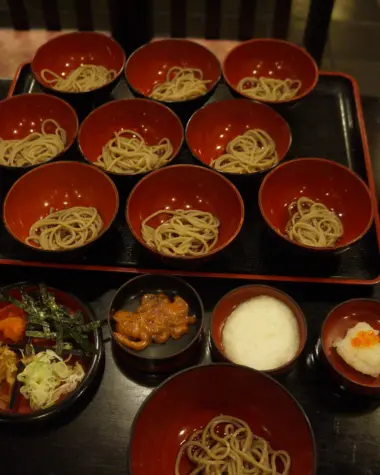 Jajamen also stands out as a meal that isn't necessarily finished once one's plate is empty. When only a few noodles remain, diners can request a "chi tan tan," in which they are presented with a raw egg to break and whisk into their bowl. Servers then will pour broth into the mixture, resulting in an egg-thickened soup that will fully satisfy any appetite. Jajamen is essentially two meals in one, making it a dish that is appreciated by hungry travelers and locals alike.
Finally is the popular wanko soba, where its uniqueness is most evident in its presentation. Wanko soba comes in the form of individual servings of soba noodles brought out in small bowls. These small bowls are stacked as they come, indicating the number of serving an individual customer has eaten.
Going beyond a simple meal, the experience of eating wanko soba has evolved into a challenge of sorts, attracting those with admirable appetites to test their true affinity to consuming calories. The city's most established wanko soba shop, sobadokoro azumaya, claims the current record for wanko soba servings is that of 500 bowls by a man from Osaka. An impressive feat that is eclipsed only by a local woman who ate 570 bowls worth of noodles.
The challenge aside, wanko soba can be enjoyed by casual diners. Since noodles come out in individual bowls, each serving can be eaten with varying toppings and garnishes, making for one of the most unique dining experiences in Japan.
Fruits of Fukushima
At approximately 1 h 30 hour bullet train ride from Tokyo is Fukushima Prefecture, one of the largest prefectures within Tohoku. No stranger to acclaim from the culinary world with its Kitakata Ramen and lauded sake breweries, this prefecture is often cited as a foodie haven for umami-pursuing travelers and well-established chefs looking to source quality ingredients for their restaurants. Especially of note are the many varieties of seasonal fruits that are harvested throughout the prefecture. Additionally, every month of the year has at least one in-season fruit for harvest. Thanks to the combination of these factors this location is often dubbed the "Fruit Kingdom" of Japan. 
Most well-known of these fruits are peaches, and of the 20% of the total peaches sourced within Japan that come from here, none is more praised than the highly-coveted akatsuki peach. Noted for their strong, floral aroma and complex sweetness, akatsuki peaches are enjoyed all throughout Japan during the hot summer months and are often presented as an offering to the Emperor. While they are, of course, often eaten as-is, they are also usually served as a primary ingredient in desserts and confectioneries like parfaits. The bright sweetness and mild acidity is said to pair well with mellow milk or vanilla ice cream and is a delicious way to cool down during the hot Japanese summers. 
There's also a bountiful harvest of apples, a staple of the Tohoku region as a whole, but the prefecture's production of the universally-beloved fruit boasts some very unique attributes. The prefecture's climate is warmer than most other apple-producing regions in Japan, allowing them to ripen faster than what is usually seen.
Additionally, these apples are often grown under direct sunlight, not in shadebags, allowing for a wide range of flavor profiles. They are noted for their perfect balance between tart and sweet and, just like the aforementioned peaches, are often served as a dessert mainstay. Both fruits are seen as produce poster children, so much so that the prefecture's mascot is a rabbit named "momorin," who's name is derived from the Japanese word peach, momo, and apple, ringo.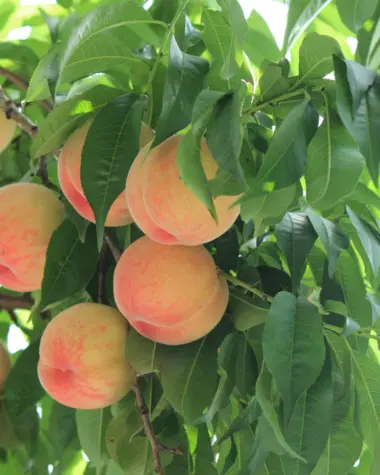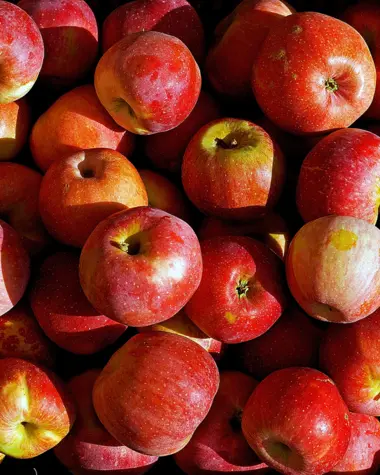 Grapes are also a major product of Fukushima, the prefecture being one of the country's largest producers of the fruit. The well-known varieties are that of kyoho grapes and takao grapes. They both feature a deep-purple skin and are actually both related to each other. Both are also noted for their strong sweetness and are, just like many other fruits from this area, grown in full sunlight without shadebags. The grapes in Fukushima, however, are not limited to simple consumption as bite-sized snacks. The takao grape variety is one that is often favored for wine productions and wineries in the prefecture, like Ose Winery, have made great pushes to use this coveted grape in their products. The winery as a whole utilizes fruits from the region to produce a variety of drinks, fully embracing the bounty available to them from within the prefecture. 
Seafood from Aomori
Right at the very top of Tohoku is Aomori Prefecture. This very northern location finds this prefecture right below Hokkaido, a region renowned for its culinary delights such as cheese, melons, and especially seafood. The cold climate of this northern area creates ideal, nutrient-rich conditions for sea-life, resulting in some of the world's most sought for ingredients. So naturally Aomori, sharing a nearly identical climate and much of the same nutrient-rich waters, is also a highly celebrated name in seafood. 
One can see no better display of this than the many, high quality fish markets lining the northern coast of the prefecture along the Tsugaru Strait and Mutsu Bay. Of the most well-known of these is Furukawa Fish Market, a short walk from the city's main station.
Here, the crown jewels of the surrounding waters can be found in varying forms, including whole fish to be brought back home or used by local chefs at their restaurants, or slices of sashimi, shucked oysters, or opened uni that are ready-to-be eaten then and there. You'll also find a number of small stands and restaurants throughout the market serving delicacies such as nokke-don,  a specialty of Furukawa Market that consists of fresh, raw seafood chosen by the customer and placed over rice. 
The featured ingredients in nokke-don are ones the local residents take great pride in and are often sourced by restaurants and seafood-enthusiasts all around Japan for its high-quality. These include shellfish such as scallops, abalone, uni, and varieties of crab such as helmet crab, or togekuri-gani, as it's known locally. Mantis shrimp, known as shako in Japan and gasa-ebi within Aomori, is also a well-known delicacy, offering a texture with a bit more bite and heartiness than other types of shrimp.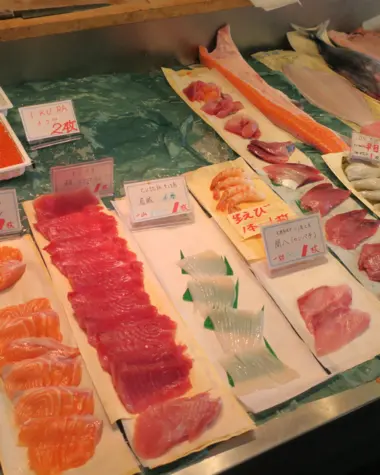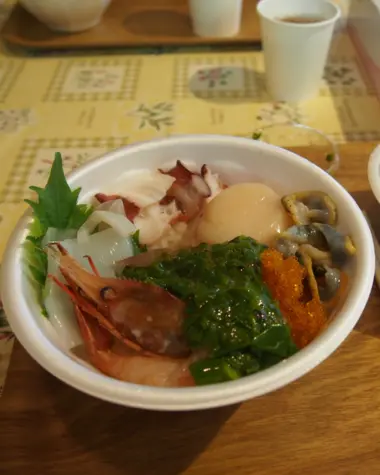 But the most acclaimed of these offerings is that of the Maguro (Bluefin Tuna) from Oma, the most northern city on Honshu Island. Maguro is often cited as the most representative fish used in sushi, and the ones sourced from Oma are famous for their balanced fat-to-lean ratio and delicate flavor.
Maguro from this region go for very high prices at fish auctions throughout the country, and in-fact, the most expensive maguro ever sold was one from Oma in 2019, going for 333.6 million yen ($3.1 million). The fish was purchased by Kiyoshi Kimura, the eclectic owner of the famous Sushizanmai chain of restaurants (chances are that you've seen his face on an advertisement at least once if you've spent any time in Tokyo). Though, one does not have to spend 333.6 million yen to enjoy Oma maguro, especially when visiting the town itself. 
Oma maguro is used in many of Japan's most premier sushi restaurants, oftentimes aged to produce more complex and layered flavors. The chuutoro (medium-fatty tuna) is often sliced in a way to show the clean gradient of color from deep-crimson lean meat to the rosy-pink fatty meat that Oma maguro is renowned for. Trying fish of this caliber directly from the source is a given for any passionate sushi-lover, and the chance to meet the talented individuals who take great pride in sourcing it from the waters around Oma to share with the world is a worthwhile experience in its own right. 
Beef Tongue from Sendai
The capital city of Miyagi Prefecture, Sendai, is the largest city in all of the Tohoku region with a population of 1,099,000 people. And amongst this population, no dish is more well-known or appreciated than that of gyutan. Gyu, in this context, refers to the Japanese word for cow, and tan is derived from the english word "tongue." Gyutan is a delicacy appreciated at practically every yakiniku or meat specialty shop in Japan, but it is in Sendai where it entered the Japanese palette and established itself as a culinary staple.
In Sendai, two popular chain restaurants often come up in conversation (and contention) amongst locals. Rikyu and Kisuke locations can be found all around the city and other parts of the prefecture, both with their dedicated fans and customers. But Aji Tasuke, located in Sendai's Ichibancho, is where it all started. In 1948, then chef/owner Keishio Sano, influenced by the works of French chefs, began selling beef tongue dishes at what was originally his yakitori restaurant. From there, the dish took off and became an everlasting presence in the city's culinary scene. Given its relatively recent introduction to Japan, it's staggering to see how well-established the dish has taken hold of the region, but with the indulgence of such a dish, no one can fault the population of Sendai for their obsession. 
Across the board, beef tongue dishes in the city share distinct and recognizable characteristics. The tongue is usually prepared over a charcoal grill, creating a smokey and robust flavor. The meat is often scored and sliced, giving a very distinct, scalloped shape that promotes tenderness. However the recognizable sponginess of beef tongue is still preserved to provide a satisfying bite when eating. These dishes are also often served with mugimeshi, white rice that is boiled with barley, providing texture and rich, nutty flavor and aroma compared to pure white rice. Utilizing other parts of the ox, soup with simmered oxtails are often served with the signature dish.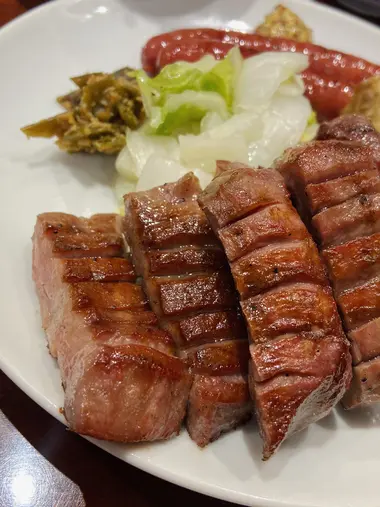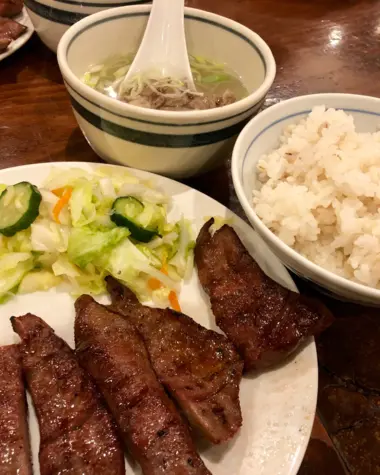 But deviating from the original and famous grilled rendition, Sendai is not afraid to prepare its beloved beef tongue in different ways. Enter gyutan shabu shabu, or beef tongue hotpot. Enjoyed often in winter, gyutan shabu shabu is usually prepared with a dashi (Japanese fish stock) based broth and a myriad of seasonal vegetables and different sauces. In Sendai, Dateno Gyutan Honpo and Gozoroppu are among the most well-known and respected.
Both menus feature a medley of different beef tongue dishes to order and get a well-rounded idea of the many ways to appreciate the meat. These include the classic fire-grilled variation but also stews, curry, and sausage. This smorgasbord of oxtail is best sampled through each restaurants' course menus. 
The cows that this beef is sourced from is often bred and raised locally within Miyagi and is often found in the form of kuroge wagyu, or Japanese Black Cattle, which is internationally known for its high-marbling and top-grade quality.
The straw that is fed to these cows is well-known for its nutrients provided to the animals and is even circulated to different parts of the country that also take great pride in their wagyu production. Rice from within the prefecture is also often used in cattle feed and is said to provide the cows with flavor-rich fat that is used in culinary applications aside from beef dishes.
Having this kind of local access provides restaurants in Sendai with a distinct advantage in their preparation and a strong sense of local authenticity. Japanese culinary culture highly values domestic sourcing; the closer proximity to one's own backyard, the better, and for a cuisine so heavily associated with the region, the people of Sendai and Miyagi Prefecture as a whole have something 100% theirs to not only show to travelers but for themselves to enjoy. 
Northern Honshu and its many treasures
With Tokyo being the capital of Japan and Hokkaido being the largest prefecture in Japan in terms of landmass, the modest bridging area between them that is Tohoku can easily fly under the radar. But doing so ignores a medley of the nations most distinct food destinations, and what was once the little-known-secret of the culinary elite and aficionado, has propelled itself to a gourmet destination that looks to share its treats with the world.
All the aforementioned cities and towns are easily accessible from Tokyo by train with Japan Rail Pass or regional JR EAST PASS, exploring the region as a whole has become even more straight-forward and affordable. The six prefectures of Tohoku await travelers looking to find a unique atmosphere that remains authentic, and for those with adventurous palettes and an appreciation for culture experienced at the table, you need just take a train a bit up north. 
To learn more about it, discover our thematic page dedicated to the Tohoku region!
All the themes of the city