Miyagi Prefecture
Japan's Regions: Miyagi Prefecture 宮城県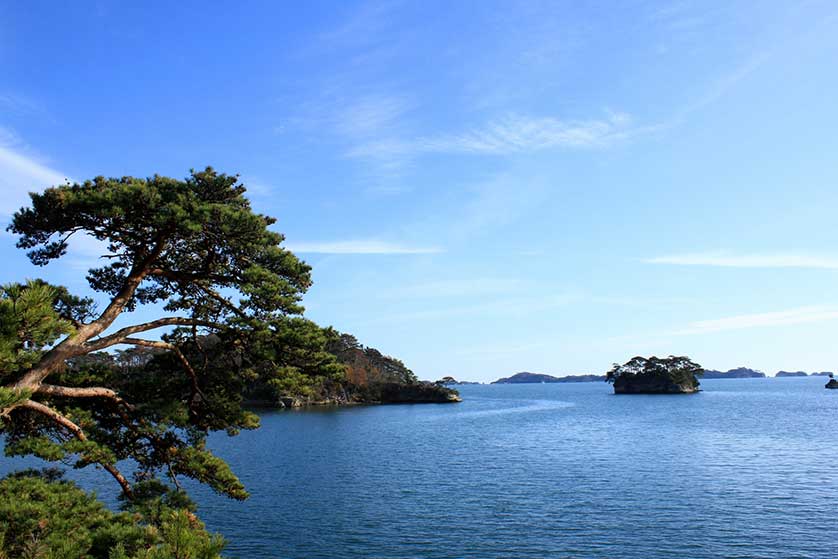 Matsushima, Miyagi Prefecture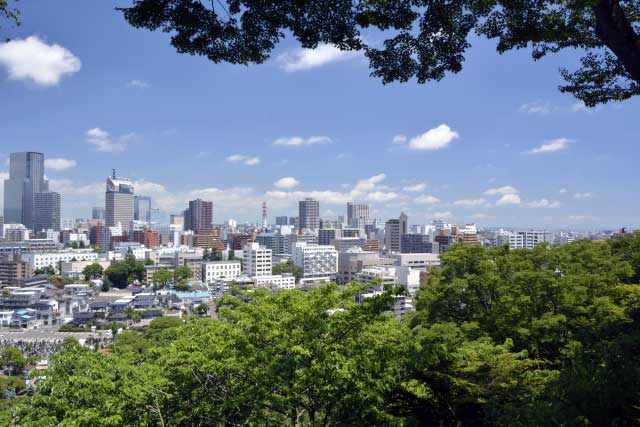 View of Sendai City, Miyagi Prefecture
Miyagi Prefecture is located in the southern part of the Tohoku region on the Pacific Coast of northern Honshu, south of Iwate Prefecture. Miyagi Prefecture also borders Yamagata Prefecture to the west and Fukushima Prefecture to the south.
Miyagi is Japan's sixteenth largest prefecture and is both industrial and agricultural with manufacturing, especially electronics, centered around the prefectural capital and largest city of Sendai. Rice farming and fishing are also important.
Sendai, the prefectural capital and the largest city in the prefecture has a population of around 1,086,000 inhabitants.
Other important towns and cities in Miyagi Prefecture are Higashimatsushima, Ishinomaki, Iwanuma, Kakuda, Kesennuma, Kurihara, Natori, Osaki, Shiogama, Shiroishi, Tagajo, Tome and Tomiya.
Miyagi has cooler weather than many places to the south during the hot and humid Japanese summers. In general Miyagi Prefecture has cold, dry winters and warm and wet summers with the average August high temperature at 28˚C and January low temperature of -2˚C.
Ornate Momoyama-style decorations at the Zuihoden Mausoleum in Sendai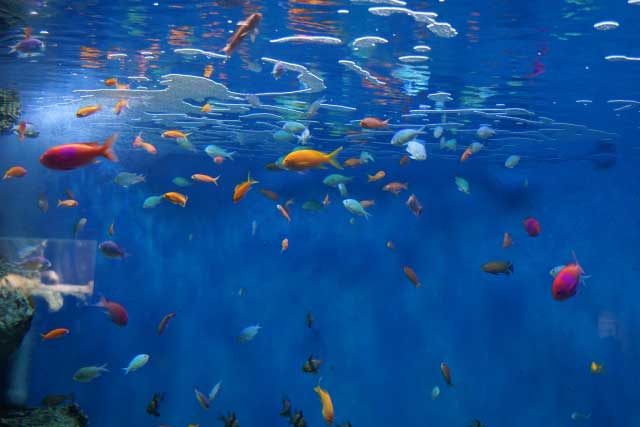 Sendai Umino-Mori Aquarium
Miyagi Attractions
Miyagi offers skiing in winter at a number of fairly small scale ski resorts including Onikoube, St Mary, Miyagi Zao Shichikashuku and Miyagi Zao Shiroishi.
Miyagi's most well-known hot springs (onsen) are located at Naruko near Osaki in the north of the prefecture, where the waters are known for their healing properties. Naruko Gorge is a 2km-long gorge, close to Naruko Onsen, famous for its fall colors and kokeshi dolls. The Japan Kokeshi Museum is located here.
In the central and southern parts of Miyagi, Akui Onsen, Sakunami, Jogi, Togatta, Aone, Gaga and Kamasaki are all pleasant onsen resorts. Sakunami Onsen on the Hirose River is known for its spectacular autumn leaves and is also an escape from the summer heat.
Sendai city's most famous sights are Zuihoden, the mausoleum of Masamune Date and Sendai Castle, aka Aoba-jo, founded by Masamune in 1602, thereby creating the city of Sendai, which thereafter became the Date clan power-base. Getting around Sendai is easy for visitors on the Sendai subway, city buses or Sendai Loople Bus.
Miyagi Prefecture has a long association with the ocean through fishing and whaling and this is represented at the Sendai Umino-Mori Aquarium which has several tanks dedicated to the sea life to be found off Miyagi's Sanriku Coast as well as animals and fish from other continents and environments. Sendai Umino-Mori Aquarium is located close to Sendai Port and also has an adjacent shopping mall, Mitsui Outlet Park, as part of the complex.
Picturesque Matsushima Bay and Oku-Matsushima, the peninsula that separates Matsushima Bay from Ishinomaki Bay, is an easy day or half-day excursion from Sendai.
Oku-Matsushima is best known for its imposing craggy Sagakei cliffs that form a memorable contrast with the tranquility of Matsushima Bay. Reasonably priced cruises of the cliffs leave from a jetty on Oku-Matsushima, accessible from Route 27, near the Otakamori Kanko Hotel. Oku-Matsushima is reached from Nobiru Station, 15 minutes north from Matsushima on the JR Senseki Line.
In Ishinomaki, a replica of the Maru Date or Sant Juan Bautista, a Spanish-style galleon built to transport two Japanese missions to New Spain (Mexico) in the 17th century (see below) can be seen in a specially built dock constructed over a museum.
Kinkazan Island is located off the southern tip of the Ojika Peninsula north of Matsushima. The name "Kinka" (Gold Flower) comes from the sprinkling of mica in the rocks on the island. Kinkazan is a haven for ancient trees and wildlife including wild deer and monkeys. Koganeyama Shrine is dedicated to two Shinto kami of wealth and good fortune - a winning combination that draws many supplicants. From the shrine there is a hiking trail the summit of Mt. Kinkazan for superb views over Matsushima on clear days.
The Sanriku Coast that extends from Miyagi through Iwate and into Aomori is known for its natural beauty. The area was badly affected by the 2011 Tohoku earthquake and tsunami but is gradually recovering. Kesennuma at the north eastern tip of Miyagi was a major fishing port on the Sanriku Coast. The Rias Ark Museum survived the disaster. Mt. Anbasan is a 200 meter hill overlooking the city.
Shiroishi to the south of Sendai has the restored Shiroishi Castle and some pretty Edo Period streets to wander.
Wakuya Castle, north of Sendai, originally dates from the 16th century. Largely pulled down at the beginning of the Meiji Period, only the impressive stone walls and a turret remain.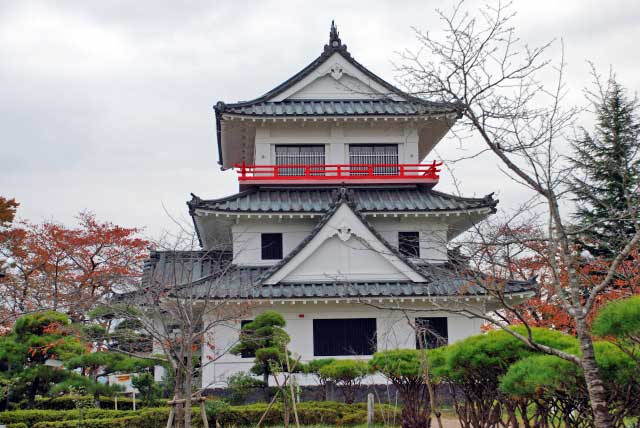 Wakuya Castle, Miyagi Prefecture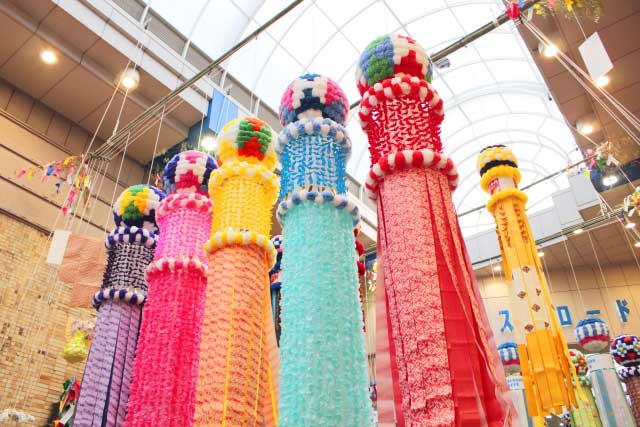 Tanabata decorations in Sendai
Miyagi Festivals
Sendai city hosts its famous Tanabata festival in August. Bamboo poles are decorated with paper streamers and there are parades along Jozenji Dori and firework displays.
Other important festivals in Sendai include the Aoba Festival on the third weekend of May with processions of colorful floats accompanied by people in samurai dress and taiko music.
The Dondo Matsuri at Osaki Hachimangu Shrine takes place on January 14 and is an annual Fire Festival where New Year straw decorations are ceremoniously burnt in a large bonfire.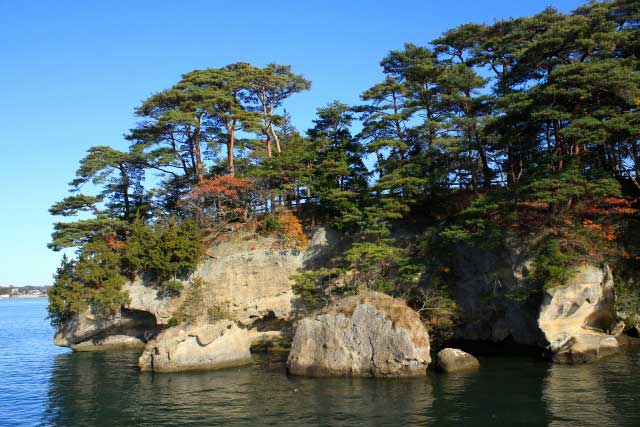 Sanriku Coast, Miyagi Prefecture
Miyagi History
Miyagi Prefecture's early history is all about Date Masamune, an ally of Tokugawa Ieyasu, who founded Sendai Castle (Aoba-jo) and the town.
During the Edo Period the Date clan were to rule Sendai domain (han) which included all of present-day Miyagi Prefecture. During Masamune's rule, Tsunenaga Hasekura (1571-1622), sailed to Mexico and Spain as his lord's ambassador. Hasekura sailed in the Date Maru to Acapulco via Luzon in The Philippines in 1613 and went on to visit Spain, Switzerland and Rome. Hasekura's vessel of 150-180 men was one of the first Japanese ships to cross the Pacific. Hasekura returned to Japan in 1620 having been baptized a Christian, but by this time Christianity was out of favor with the Tokugawa regime and Hasekura's son (the head priest of Komyoji Temple) and some of his servants were executed for their faith.
Sendai was heavily bombed during World War II and was also affected by the 2011 earthquake and tsunami.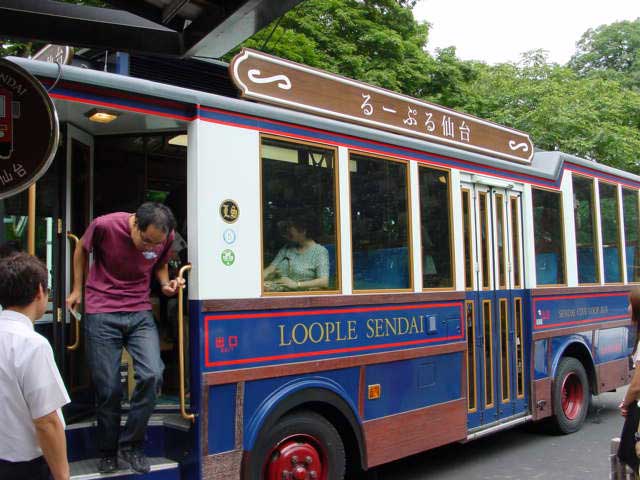 Loople Sendai Bus
Access
Air
Flight connections from Tokyo, Osaka, Sapporo, Nagoya, Fukuoka, Beijing, Seoul and other Asian destinations. Sendai Airport (Tel: 022 382 0080) is 18km (11 miles) south of the city center and connected by bus (40 minutes) and train (17 minutes by express).
Train
From Tokyo JR Tohoku Shinkansen super-express to Sendai Station (1 hr. 36 min. to 2 hr. 32 min.) is a frequent service running on to Morioka.
Sendai is also connected by train with Yamagata, Matsushima and Sendai Airport.
Bus
There are day bus services to Shinjuku in Tokyo and Niigata and night buses to Tokyo, Kyoto, Kanazawa and Osaka. Sendai is the major hub for buses in the Tohoku region which departures to most destinations including Morioka, Akita, Aomori and Hachinohe.
Ferry
There are overnight ferry services to Nagoya and Tomakomai on Hokkaido from Sendai-ko (local JR train to Tagajo station on the Senseki Line then a taxi, bus or 15-20 minute walk) or a bus from Sendai Station. The ferries are operated by Taiheiyo Ferry company and reservations can be made by calling 052 582 8611 in Nagoya, 011 281 3311 in Sapporo, 022 263 9877 in Sendai or 03 3564 4161 in Tokyo.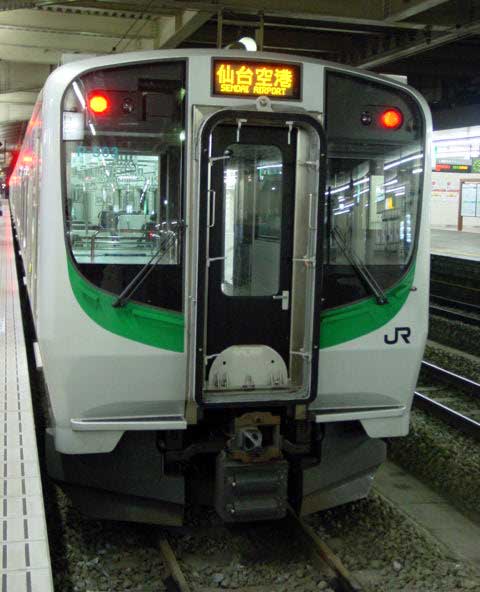 JR Train to Sendai Airport at Sendai Station
Miyagi Prefecture is located in the southern part of the Tohoku region of northern Japan on the Pacific Coast. Miyagi is centered around its prefectural capital of Sendai, the largest city in Tohoku.
All the themes of the city