Missed The Last Tokyo Train
What to do if you miss the last train home in Tokyo
Joe Sinclair on a snooze cruise of Tokyo.
At around midnight in Tokyo there's always a rush for the last train home.
In the packed carriages exhausted commuters sleep on their feet, heads lolled and bodies sagging. But if you miss the train and you're stuck in Tokyo for the night with nowhere to stay, nothing to do and not many yen, here are some suggestions on getting through the night in Japan's capital city.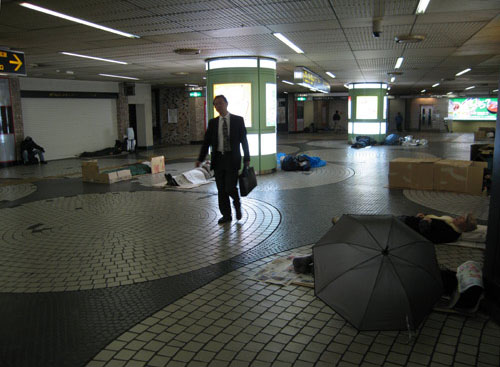 Late night Shinjuku Station in Tokyo with the homeless and the drunk dossing down for the night
Capsule Hotels
It's common practice for businessmen who miss the last train (usually because they've been drinking with colleagues after work) to stay at a capsule hotel.
For about 4,000 yen you can sleep in a coffin-sized bed, with a television, a light, an alarm clock and the prospect of a hot bath in the morning. Alternatively, a taxi home will cost 730 yen per kilometer plus an extra nighttime charge. However, there are many cheap and alternative places to pass your time. See a listing of capsule hotels in Tokyo.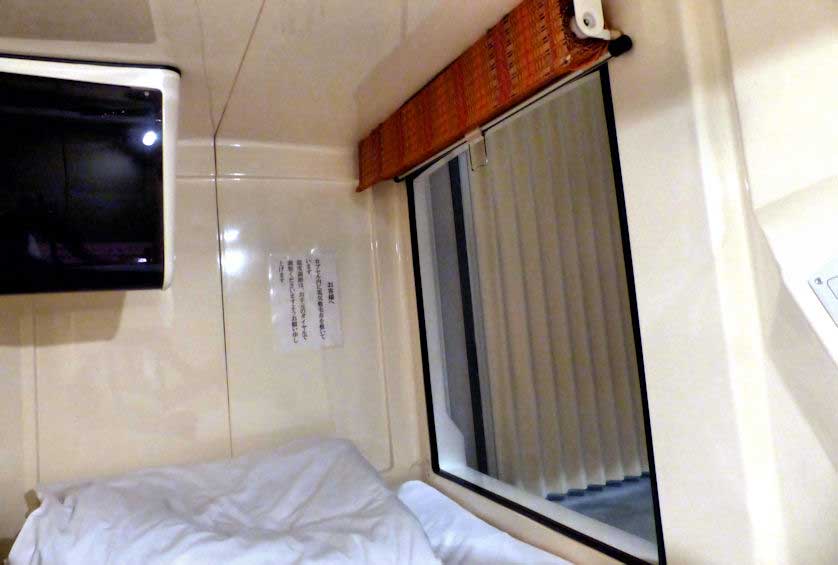 Inside a typical capsule
Short of sleeping on the street, the cheapest place to crash for the night is a 24-hour diner such as Denny's or Gusto.
A few hundred yen buys you unlimited drinks from the self-service drinks bar (coffee, tea, soft drinks, water) and a comfortable seat for the night. It's a common sight to see Japanese men slumped face first on a table or stretched out on the seat, with the restaurant staff working around them unfazed.
Manga Internet Cafes
A slightly more up-market bed (i.e. reclining chair or sofa) can be found at a manga kissa. Manga kissa literally means "comic book coffee shop" but they have a huge library of Japanese comics dating back several years and a self-service drinks bar. They also offer unlimited internet access from the privacy of your own booth. The usual rate is 300 yen per hour but come midnight the 24 hour manga kissa, such as Space Create and Manboo, offer a naito pakku ("night pack") - a discount rate typically allowing six hours for 1,200 yen.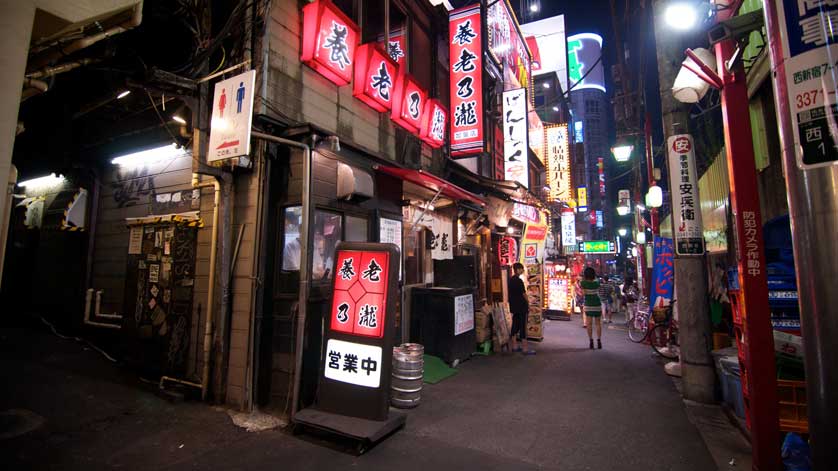 Golden-Gai in the Shinjuku district of Tokyo is a small enclave of late night bars
Although manga kissa are dotted all over Tokyo, if you don't read Japanese then actually finding one isn't always easy. They are usually located near main stations and busy roads, but often occupy the top floors of a high-rise building. Look for the neon banners up on the side of the buildings.
Izakaya
Izakaya (Japanese pub-restaurants) can also be hard to find if you don't know what you're looking for. On weekends there will be izakaya touts on the street, or you could just follow a group of Japanese people who look like they're out to have fun. An izakaya is a good place to hang out with friends or make new friends and enjoy a few drinks and some food without breaking the bank. They often offer varying all-you-can-drink or all-you-can-eat deals (tabehodai/nomihodai) for either one or two hours.
When the izakaya closes at around four in the morning you might find that you still have an hour to kill before that first train.
Convenience Stores
Convenience stores have become an integral part of modern life in Japan. There is a Lawson's, 7/11 or Family Mart just around every corner, where you can use the toilet, fill up on snacks and browse through magazines.
In fact, browsing through magazines at the convenience store is a national pastime and a peek at what's on offer is like looking into the Japanese psyche. A popular magazine for young men is Young Jump. Sandwiched between the glossy pages featuring a Japanese idol - a buxom young bikini model - will be fantastical Japanese manga full of stories about sports, sex and violence.
Karaoke Bars
At Japanese Karaoke bars you get a private room with your friends. There's usually a shihatsu (first train) deal which allows you to sing all you want from midnight until five in the morning for around 1500 yen. With a microphone in your hand and a thick directory full of tunes to chose from, the time passes pretty quickly. You can also order drinks and food. The karaoke touts - dressed in happi coats (a thin cotton coat with the establishments name on the back) - will probably find you on the street and lead the way.
For those who prefer quiet contemplation over noise and kitsch, a shrine or temple makes for an atmospheric spot to hang out. Located in a quiet enclave off the main road, Hanazono-jinja in Kabukicho (Shinjuku's red light district) has a mysterious atmosphere. Look out for the koma-inu (lion-dogs) guarding the entrance, the red torii gate and the thick shimenawa (plaited rope) which wards off evil spirits.
If you've had a few beers then a bowl of steaming ramen (noodles in soup) hits the spot perfectly. Late night ramen tents are usually located near train station exits.
Don't Sleep on Tokyo's Streets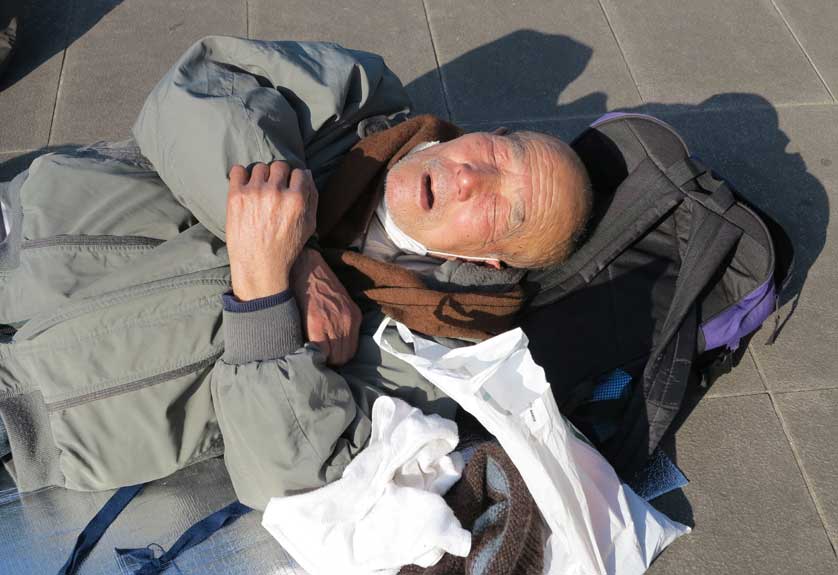 Homeless in Tokyo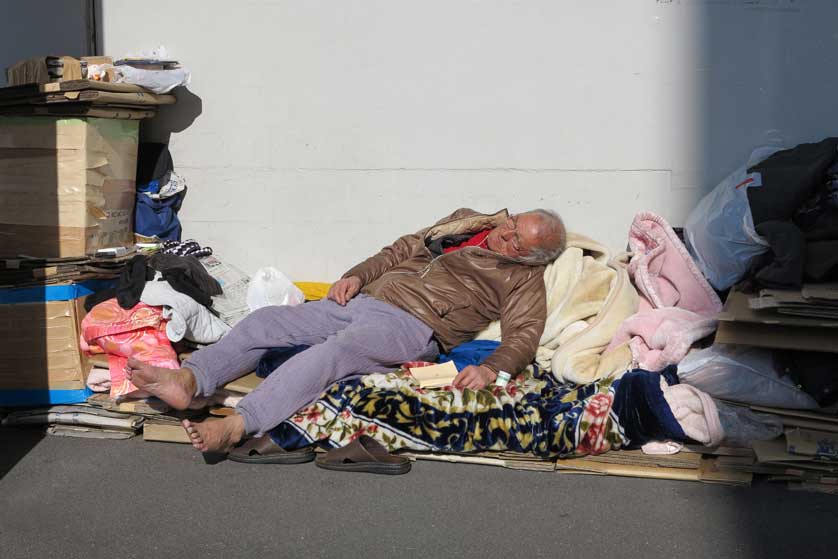 Sleeping rough on the streets in Tokyo
Tokyo's true homeless sleep beneath tarpaulin roofs in the parks. Many of them also find shelter on the west side of Shinjuku Station. Compared to other big cities around the world Tokyo is extremely safe.
However, if you're thinking of sleeping on the street you should be aware of the dangers. In particular, thieves are known to target drunk businessmen who pass out in station areas and wake up to find their wallets and bags gone. Also the police may be interested in you, especially if you are foreign, and may decide to search you.
The trains start running again around five in the morning. The early morning rush hour made up of exhausted party people caught in the bright station lights is testimony to a city that never sleeps, even if you did.
Japan Articles by Joe Sinclair
Interview with a Kabuki Actor
Hitch-Hiking in Japan
Hot Spring Bathing in Japan
Tokyo Story - Movie Review
Memoirs of a Geisha - Movie Review
Twilight Samurai - Movie Review
Fear And Trembling (Stupeur et Tremblements) - Movie Review
The Fog of War - Movie Review
Zatoichi - Movie Review
Interview with David Mitchell, author of "Cloud Atlas"
Book Hotel Accommodation in Tokyo Japan
Missed the last Tokyo train: What to do to get through the night if you miss the last train home from central Tokyo to your home in the suburbs.
All the themes of the city