Ryokan Etiquette
旅館のマナー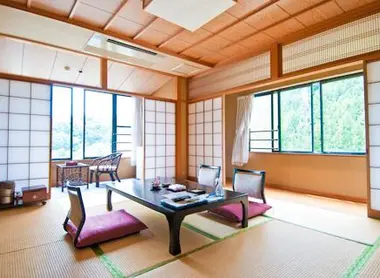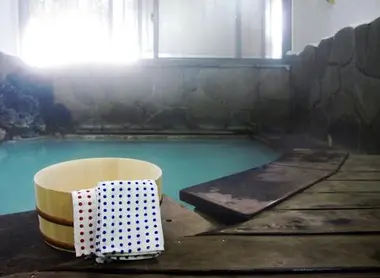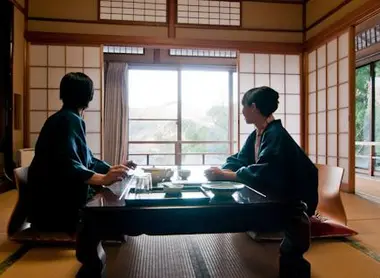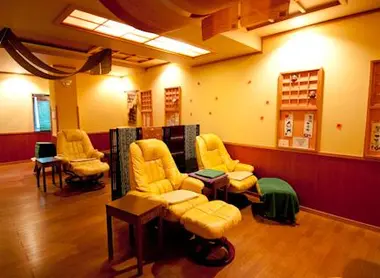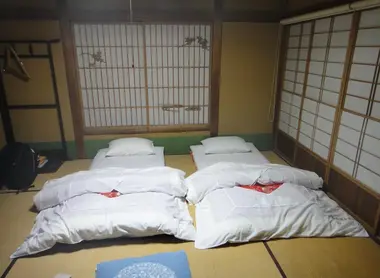 The rules of serenity
Your trip to Japan would not be complete without a stay at a ryokan. These traditional Japanese hotels date back to the Edo period (1603-1868), and are used to accommodate travelers who roam Japan. A stay in a ryokan is a dive into Japanese aesthetics and spirit... which can be confusing. We'll give you some clues to the puzzle but won't spoil the fun.
Where can you find a ryokan?
Ryokan are found mainly in spa towns. Often isolated from urban centers, they offer an onsen, or hot spring, and a time of unparalleled relaxation. Of course, cities also have ryokans, but their water is not drawn directly from a spring. The urban inns are more like traditional hotels. Quite luxurious, one night costs between 15,000 and 25,000 yen, generally including dinner and breakfast.
From Tokyo, several ryokan are easily accessible in the cities of Kusatsu, Ikaho, Kinugawa or Shiba. A large amount of these places are in regions Izu and Hakone. From Kyoto, you can find them in Shirahama, Ohara, Kurama, Kinosaki, or Arima... but these are only a sample of a much longer list. The Japanese archipelago has thousands of ryokan.
The arrival
The first impression on arrival at a traditional inn is critical. The lobby is therefore designed with special care. Take time to admire the decor and various objets of art on display.
Upon entering, you might have to take off your shoes, and if so slippers will be provided. Your hosts will take great care of your shoes, so don't worry! Sometimes the host serves tea with a little welcoming snack.
The second thing to do is change into the provided yukata (light cotton kimono), accompanied by a haori (jacket to put over the yukata) during cold seasons. Don't expect a bed in your room, you will be sleeping on a futon!
Bathing
Changing into your yukata and taking a quick bath before dinner is not an obligation, but done by many. The yukata can be worn anywhere throughout your stay. During meals, when relaxing, and in onsen towns, some customers even walk the streets in their yukata.
At bath time, there is one area for men and one area for women, so be careful not to wander into the wrong area! It can be easier to do this that you'd think, as these areas may alternate from one day to the other, so as to let everyone enjoy the various facilities.
Before entering the bath, take a shower at one of the many shower spaces usually located around the bath. Many ryokan also have rotenburo, or outdoor bath: a must-try for a true onsen experience, especially in winter. Small private baths can also be reserved, "Kashikiri" as they are called, can be booked at the reception desk. Your host will explain all this to you at your arrival. Many ryokan don't have private baths, though. So don't be offended or embarrassed to share a bath with other guests. In Japan, this is not taboo!
Meals
Dinner is usually eaten early, between 6pm and 7pm. Depending on the ryokan, meals are served in your room or in the dining area. The type of food that you have is called kaiseki ryori, a meal consisting of many small dishes, often made ​​by the seasonal ingredients from that particular region. Enjoy these little wonders of gastronomy with your eyes and your tastebuds! Alcohol is not always included in the price of the meal, so if ordered it could be added to your bill at the end of your stay. While you eat, employees often take the opportunity to prepare your futons, so they go into your rooms.
The evening begins calmly with a second bath in the moonlight. The next day, breakfast is served in the same manner as dinner. It is rare that a ryokan will offer toast and coffee, although some do provide Western options. But it's best to be prepared for a meal of rice, fish, miso soup and vegetables in the morning.
Other entertainment
What is there to do between baths and meals? Of course, if you are staying in an onsen or resort town, the activities on offer will not let you down. The city will have probably more natural or historic sites, and other hot springs to try. Ryokan often offer varied entertainment to relax and spend time: massage chairs, karaoke rooms, video games, ping pong tables, etc.
So a relaxing stay awaits you, without fear of getting bored. Take some time to relax and try this quintessential Japanese experience.
All the themes of the city