Kyoto Shopping
Kyoto Shopping 買い物
Kyoto, is not all temples and shrines, and is a wonderful place to shop for traditional Japanese arts and crafts as well as more contemporary items.
Kyoto has many traditional stores, some of them dating back as far as the Edo Period. If you wish to purchase Japanese byobu folding screens, calligraphy, ceramics, folding fans, kimono, lacquerware, tabi or ukiyo-e wood block prints, Kyoto has a number of specialist stores for each craft or fine antique versions at the city's flea markets.
But Kyoto also has a number of modern department stores and shopping malls so let's start there.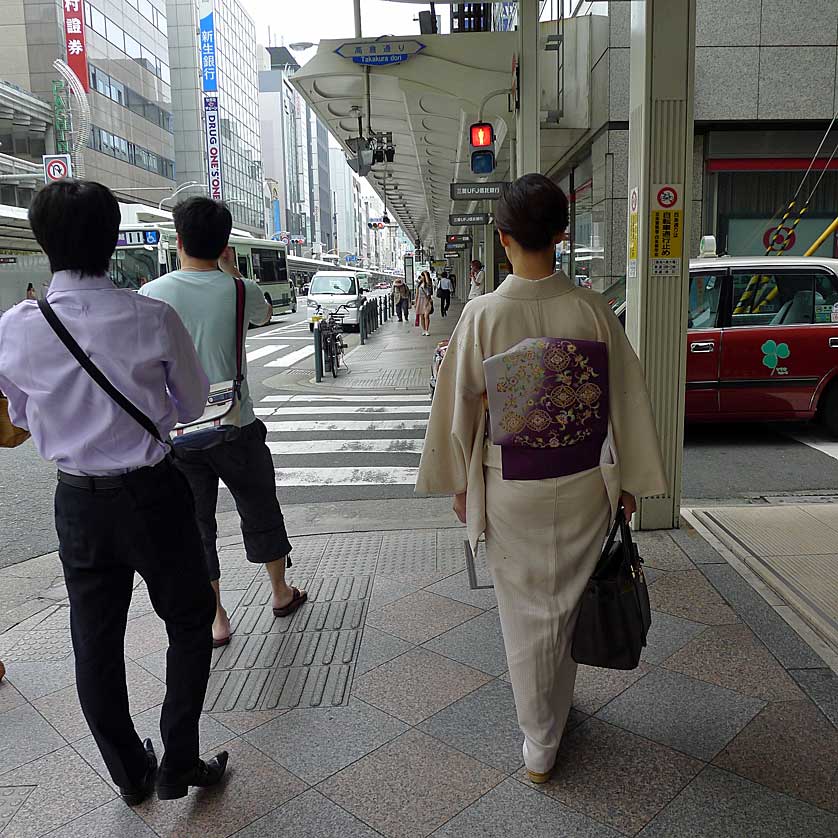 Kyoto Shopping, Shijo Kawaramachi, Kyoto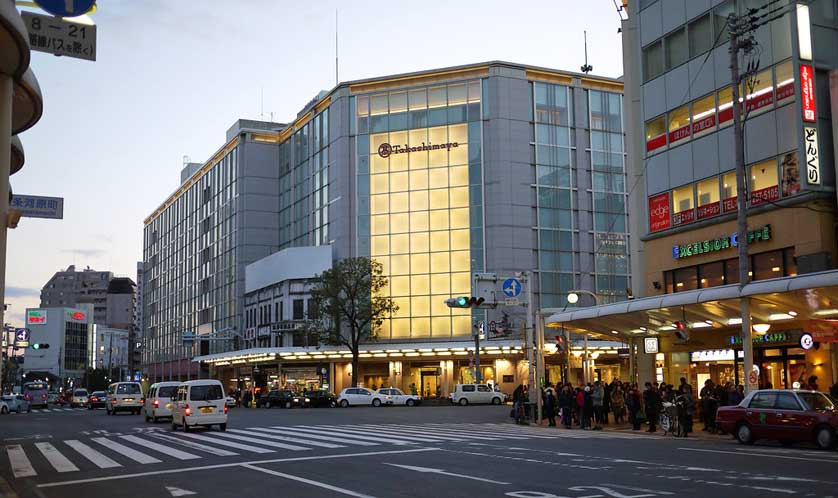 Takashimaya Department Store Shijo Kawaramachi, Kyoto.
Shijo Kawaramachi
The Shijo Kawaramachi intersection is Kyoto's busiest shopping district. The opulent Takashimaya department store is located on the south west corner on Shijo opposite Kyoto Marui department store (which replaced Hankyu department store) on the south east corner. The Koto+ (Koto Cross) mall with mainly ladies' fashion is across Shijo on the north east corner. Daimaru department store is located a little way to the west on the south side of Shijo.
Takashimaya is the queen of Kyoto's department stores and has a wonderful food hall in the basement, a selection of fine restaurants on the seventh floor and Japanese and imported brands including Issey Miyake, Burberry, Chanel, Shiseido, Prada and Louis Vuitton. Kyoto kimono are on the 5th floor.
Marui has six floors with a food hall in the basement. Stores are mainly women's and men's fashions.
Fujii Daimaru has seven floors with a food hall in the basement. Brands are aimed at the younger crowd and include Adidas, Beams, Birkenstock, Comme des Garçons, Crocs, Fred Perry, Katharine Hamnett, Paul Smith, Ugg, Vivienne Westwood and The North Face.
Also along Shijo Street west towards Karasuma Station are Louis Vuitton and Armani stores. Heading east from the Marui department store across the Kamo River towards the Minamiza Theater, Yasaka Shrine and Gion the shops are more traditional including tradional Japanese bags, tabi and geta, reflecting the area's association with geisha.
Heading north on Kawaramachi both sides of the street have porticos providing shelter from the elements. Tsujikura (Tel: 075 221 4396) on the east side of Shijo Kawaramachi, dates from 1690 and sells beautiful Japanese paper (washi) lanterns and umbrellas (wagasa).
On the west side of the street is the OPA mall specializing in youth fashion and the latest trends. Farther north just south of Sanjo is the Mina Kyoto mall with branches of the popular Uniqlo clothing store, Gu fashion, Godiva chocolates and Loft.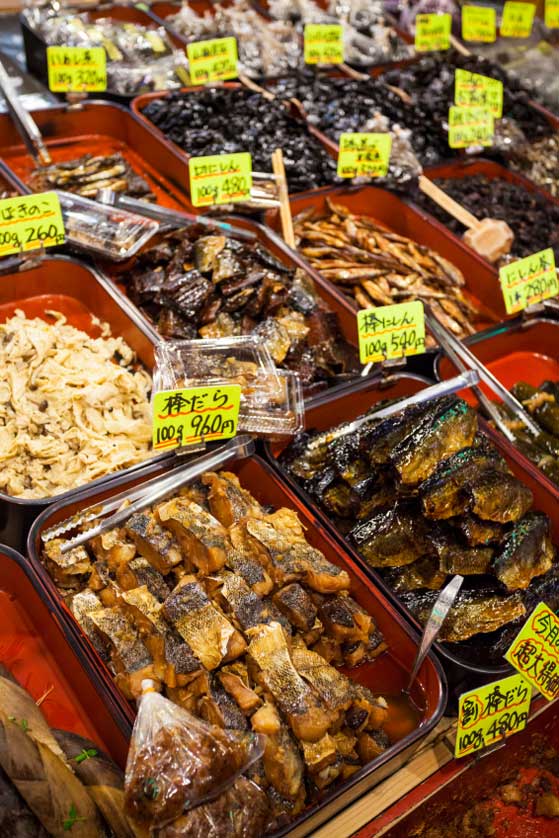 Nishiki Market food store, Kyoto.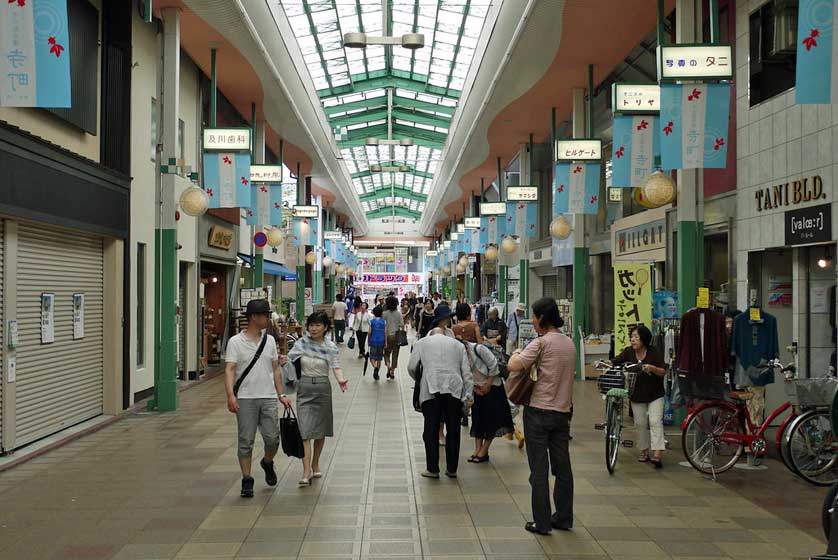 Teramachi Arcade, Kyoto, Japan
Teramachi & Shinkyogoku Arcades
Running north parallel to each other are two shopping arcades (shotengai), Teramachi & Shinkyogoku popular with the coach loads of children on school trips to Kyoto. Both arcades offer a multitude of tourist souvenirs along with a number of specialist stores of long standing including outlets for kitchen knives, dolls, geta, ukiyo-e (wood block) prints and herbal medicine. Shinkyogoku claims to be the oldest arcade shopping street in Japan after Nakamise in Asakusa, Tokyo.
Shinkyogoku stops at Sanjo, while Teramachi continues north across Sanjo (now no longer an arcade) to become an area of high end shops, galleries and cafes. One notable institution here is Ippodo, on Teramachi, north of Oike, which has been selling green tea from Uji for over 150 years.
The bright lights, flashing neon and pachinko parlors make a walk down these arcades the antithesis of any quiet meditation in a Kyoto temple garden.
South of Shijo, Teramachi becomes an electronics emporium area - a mini version of Den Den Town in Osaka and Akihabara in Tokyo.
Shin-Puh-Kan & Laque
At Karasuma Station on the Hankyu Line is Laque a fashion mall for women's clothing. Walking north on Higashi-no-toin brings the visitor to the fairly recent Shin-Puh-Kan, a mix of shops and restaurants, at the top of the street near Oike.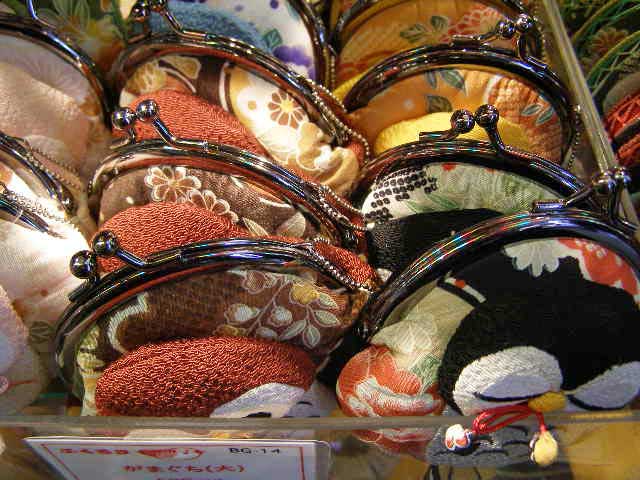 Traditional Japanese purses on sale at Nishiki Market.
Nishiki Market
Nishiki Market, "Kyoto's kitchen" runs east-west one block north and parallel to Shijo. Nishiki is narrow and packed on both sides with stalls that sell vegetables, seaweed, tofu, fish, sweets, tea and trinkets, and much more. Nishiki was established some 400-years ago, and continues to draw in locals and tourists alike. Aritsugu is a famous store in Nishiki selling traditional Kyoto kitchenware including knives, peelers and pots. Aritsugu has been in business since 1560.
Two other emporiums in Kyoto selling traditional goods and where demonstrations by crafts people can be seen are the Nishijin Textile Center in western Kyoto and the Kyoto Handicraft Center in the east of the city just north of Heian Jingu.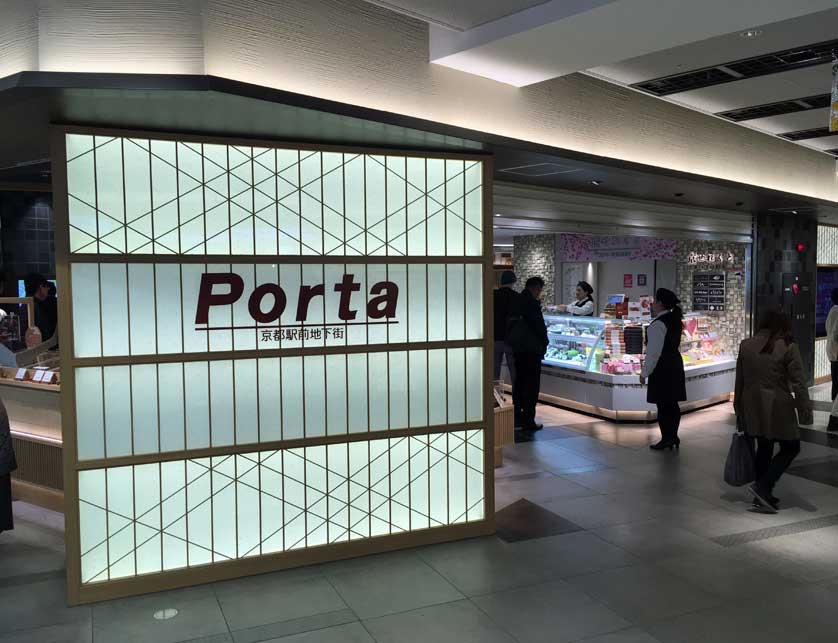 Porta Underground Mall, Kyoto Station, Japan.
Kyoto Station
Since the opening of Kyoto's huge new station in 1997, the Kyoto Station district has become another popular shopping area. The Kyoto Station building includes the Isetan department store with 11 floors above ground and two basement floors selling food. brands include Burberry, Dior, Dolce & Gabbana, Gucci, Fendi, Paul Smith, Ralph Lauren and Yohji Yamamoto.
The top floor of isetan is the restaurant floor. Underneath Kyoto Station is the Porta Underground Shopping Center. There are branches of both BIC Camera and Yodobashi Camera near Kyoto Station for cameras, computers, electronics and cellphones.
The adjacent Kyoto Tower also has some quirky shops. South of Kyoto Station is a large Aeon mall and supermarket.
Kyoto Fleamarkets
Kyoto has two main monthly fleamarkets at Toji Temple on the 21st and Kitano Tenmangu Shrine on the 25th. There is a smaller flea market at Chion-ji near Hyakumanben and Kyoto University on the 15th. Come early for the best bargains. The range is incredible and includes antiques, ceramics, ethnic clothes, foodstuffs, Japanese furniture such as tansu, incense, jewelry, manga, plants, used kimono and obi, tools and just about everything else. Not to be missed if you love markets and are in Kyoto on the right days.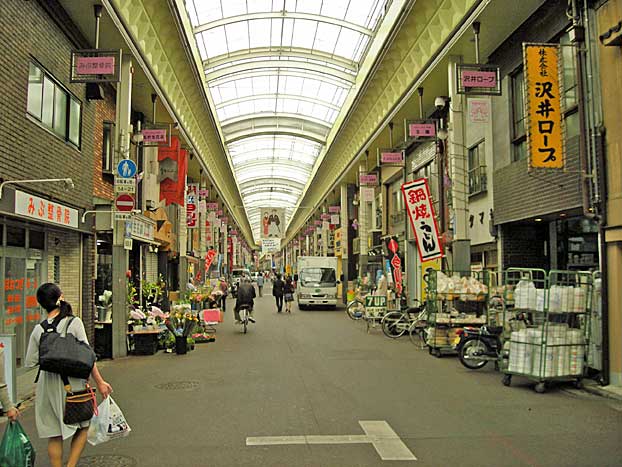 Sanjo Shopping Street in Kyoto is nearly 1 kilometer of covered arcade
Sanjo Shopping Street
Between Senbon Dori and Horikawa Dori which both run north to south, the east-west Sanjo Dori is a traditional shopping arcade or shotengai.
The covered arcade runs for around 850 meters and has numerous traditional shops as well as several more contemporary cafes and restaurants.
This is a great place to stroll to experience something of the atmosphere of a bygone Japan.
Eating and drinking choices include sushi, teishoku set meals, okonomiyaki, yakiniku, tenpura, mochi rice cakes, doughnuts and even Belgian beer!
See sanjokai.kyoto.jp for a full listing of businesses on Sanjo Shopping Street.
Other Shopping Areas in Kyoto
Kitayama Dori around the subway station and the northern entrance to Kyoto Botanical Garden has become a fashionable area with some trendy shops and cafes. For more down-to-earth needs, there are branches of the Izumiya supermarket/department store at Kitano-hakubaicho and Kitano. At Kitaoji Station is the large Vivre store - Kitaoji Town - with Uniqlo, Mister Donuts and a sports club. A branch of Starbucks is close by.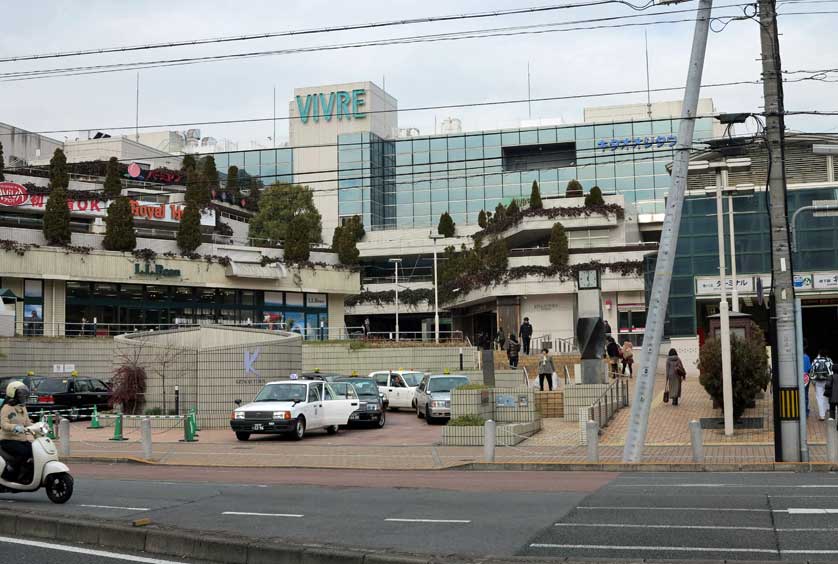 Kitaoji Town, Kyoto, Japan
Two useful guides to the traditional stores of Kyoto are Diane Durston's Old Kyoto: The Updated Guide to Traditional Shops, Restaurants, and Inns and Kyoto: Seven Paths to the Heart of the City.
Kyoto shopping: read a guide to shopping in Kyoto including the department stores of Shijo Kawaramachi, Nishiki, Kyoto Station and Kitayama Dori.
All the themes of the city