Kyoto Imperial Palace Park
京都御苑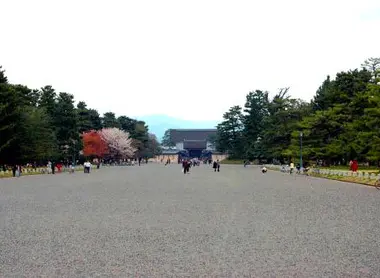 Lunch on imperial grounds
It's been several centuries since the country's emperors walked these paths. Since the transfer of the capital to Tokyo in 1868, now regular folk can enjoy the charms of the park.
This green oasis in the heart of Kyoto was designed by Enshu Kobori (1579-1647), the famous architect who also designed the tea gardens of Sento Palace and Katsura villa. Twenty minutes is enough to cross the park from north to south, but you'll only find all the Shinto shrines hiding within the grounds with a much more thorough exploration.
The park is very popular in late March during the hanami season due to its hundreds of flowering cherry trees, and in November for the deep red colors of its maple trees. But its neat lawns are pleasant throughout the year, and provide an imperial place for picnics.
---
Address, timetable & access
All the themes of the city