Hakkoda-Towada Gold Line
Hakkoda-Towada Gold Line: Aomori's Absolutely Amazing Snow Corridor 八甲田・十和田ゴールドライン
Greg Goodmacher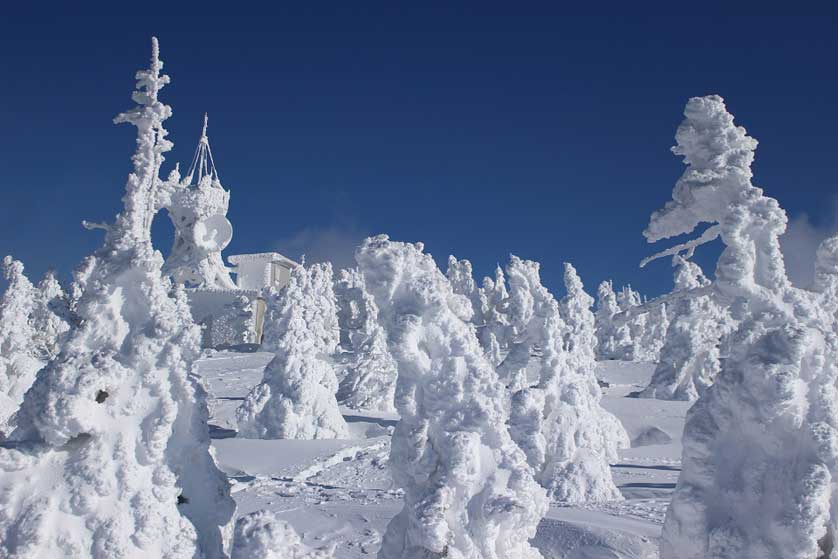 Aomori Snow Monsters © Takada Shintaro
Among Japan's most amazing natural phenomena of winter are snow corridors, or yuki no kairo. These are routes with walls of snow so high that people and cars look like toys.
Mt. Hakkoda's picturesque Route 103, the only road that connects Sukayu Onsen (hot spring) and Yachi Onsen, will open on April 1.
Until late March, snowplows cannot keep up with the volume of snow that nature dumps in the rustic outskirts of Aomori city.
Route 103, whether driven or walked, and the natural surroundings are astonishingly beautiful.
Lucky locals and tourists can celebrate and appreciate the beauty of the pristine, shiny white, nine-meter-high snow walls this March 30 and 31 on foot. Every year, Aomori turns the road into a community celebration of the beauty of winter and the promise of spring.
Reservations to participate in the party-like snow walks on March 30 and 31 must be made between January 8 and March 20. So, unfortunately, joining this year's official "Hakkoda Walk" when the road is open for pedestrians but still closed to automobiles is impossible. However, from April 1, you can still stroll the snow corridor. Just be aware of traffic.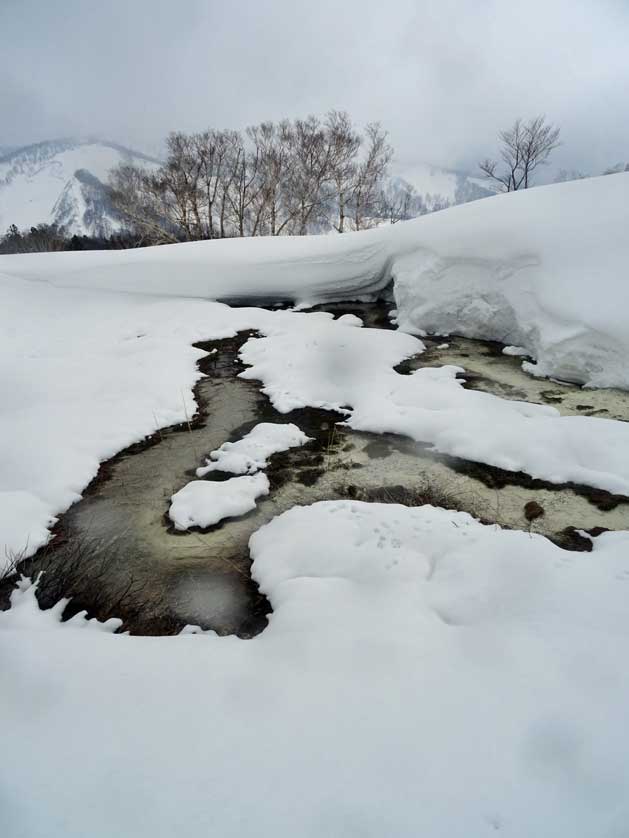 Natural Hot Spring in the Snow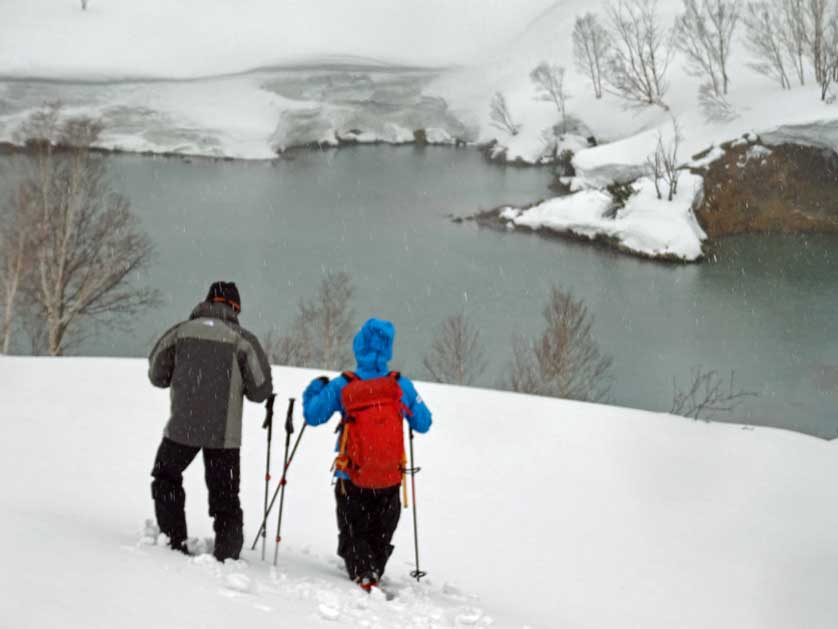 Enjoying Aomori's Natural Beauty
Hakkoda Walk
The event is called the Hakkoda Walk because the route crosses part of Mt. Hakkoda. Snowplows have been working daily to remove the deep snow and clear the road for those two days when people can walk the eight kilometer route between the two onsen ryokans (Japanese inns).
From April 1, car traffic is allowed on the road. You can still walk the entire eight kilometers, but then you will have to walk back the same day. Other options include walking part-way or stopping on the roadside to take photographs.
One suggestion is to start at either Sukayu Onsen or Yachi Onsen, walk to the other side, spend the night in a wonderful hot spring hotel and walk back the next day.
Bus service between the hot springs starts on April 19. Buses go back and forth five times a day starting around 8.50 am and ending around 4.15 pm. Reconfirm these times at the inns or with the bus drivers.
Snow Walls
At the time of writing this article, the snow walls are a brilliant white color, but as April marches on, they will melt and lose their clean shimmer. So you should go as early as possible. Be prepared for temperatures below freezing in late March.
If you cannot visit soon, do not worry. Mt. Hakkoda is worth visiting all year. Its natural splendors are stunning in winter, spring, summer, and fall. Each season paints the alpine vegetation and mountain views with different colors.
Despite its extraordinary variety of natural attractions: natural scenery, wild animals, ski resorts, snowshoe trails, hot springs, marshes, sacred shrines and temples, natural springs and hot spring hotels, scant tourists visit Hakkoda and other areas of Aomori Prefecture.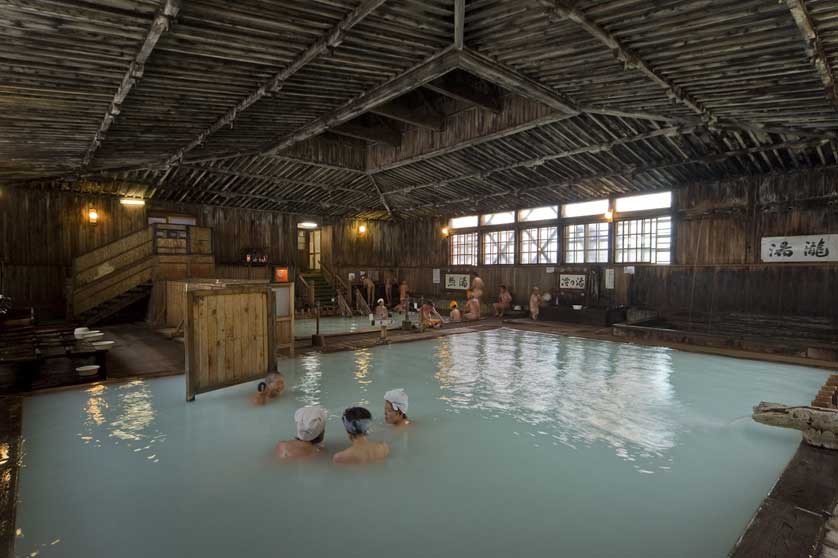 © Sukayu Onsen
Sukayu Onsen
Sukayu Onsen, which is at one end of the snow corridor, is a hot spring hotel that is famous for its huge traditional mixed-sex bath.
One male-only and one female-only bathing area are also available to overnight guests and day visitors.
Experience what bathing was like hundreds of years ago in Japan. The hot spring building is constructed of old timbers. An imaginary line divides the big bath where men bathe and women bathe together. Mixed couples or friends can hang out in the center.
Men typically cover their privates with just a towel that is just a little larger than an average face towel in North America. Many women use the same size towel. Shy or modest women have the option of purchasing a special loose-fitting bathing suit (think conservative one-piece swimming suit) for 1,000 yen.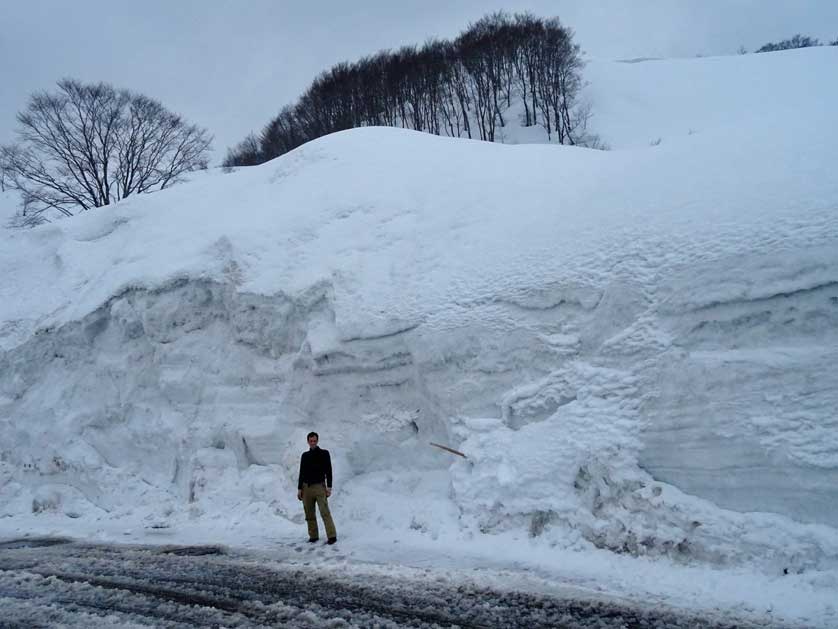 Standing on the Road to Sukayu Onsen
Hakkoda Ski Area
The Hakkoda Ski Area is just a nine-minute drive from Sukayu Onsen. In January and February, the famous snow monsters of Aomori are visible from the top of the ski resort's ropeway. Many people take the ropeway up and ski or enjoy a trek down to Sukayu Onsen.
The slopes and fields behind Sukayu Onsen attract expert back country skiers and experienced snowshoe trekkers. Out-of-towners and beginners should definitely hire a guide or take a tour. The hotel rents gear, offers snowshoe tours, and helps visitors contact private guides.
Winter scenery includes beech and birch forests, animal tracks, ponds, marshes, and natural hot springs that melt the snow. You will smell sulfur in the air, hear bird calls, and view snowy mountains and valleys so attractive that you will feel a need for extra digital camera memory cards.
I almost used up my camera's memory card. While snowshoe trekking, my guide pointed out a snowplow trimming the snow walls and collecting snow off the road in preparation for opening the snow corridor.
We rushed to the top of the snow walls to take pictures. Standing on the precipice of the steep snow wall was just one of many incredible Aomori experiences we memorialized with photographs.
Access - Getting to Sukayu Onsen
By car: You can drive from Aomori Airport or Aomori Station but be sure to use the navigation system. Many roads in Japan are not clearly marked. In perfect conditions, the drive might take forty-five minutes. Winter conditions can double that.
By bus: The JR Bus Mizuumi-go leaves from Aomori Station. Get off at the Sukayu bus stop. Walk for about one minute. The cost is 1,340 yen, and it takes about 70 minutes in good weather. The name of the bus operator is JR Bus Tohoku.
Map of Aomori & Akita
Book Hotel Accommodation in Aomori
Hakkoda-Towada Gold Line: This 8 kilometer walk or drive between Sukayu Onsen and Yachi Onsen in Aomori Prefecture is lined with high snow walls and opens in early April.
All the themes of the city