Usuki Guide
Usuki 臼杵
Jake Davies
Usuki is a small, coastal city on the east coast of Kyushu in southern Oita Prefecture with a population of about 40,000 inhabitants. Usuki is a former castle town and most famous for its collection of stone Buddha carvings, almost 60 of which are classified as National Treasures, though there are plenty of other things to see and do and a full day or more could easily be spent in the area.
The Usuki Stone Buddhas are located about six kilometers out of the town center.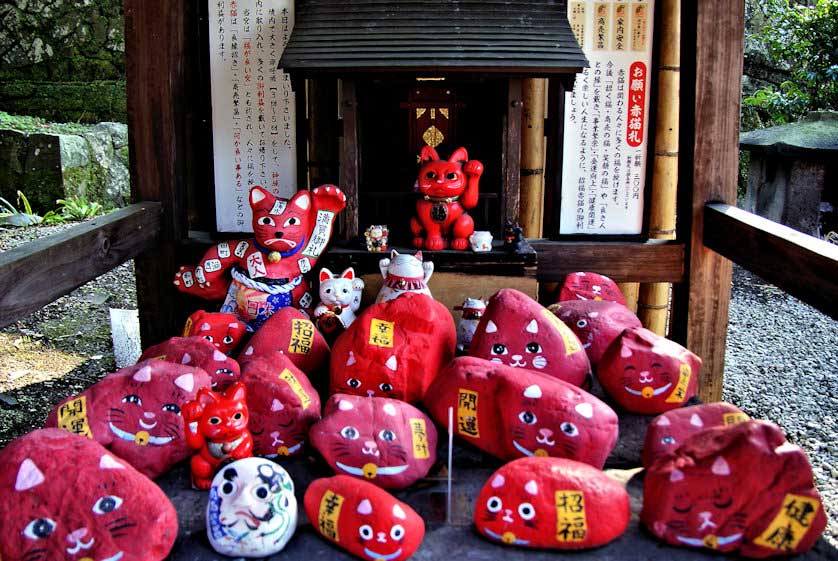 Red Cat Shrine in the grounds of Fukura Tenmangu Shrine, Usuki, Oita Prefecture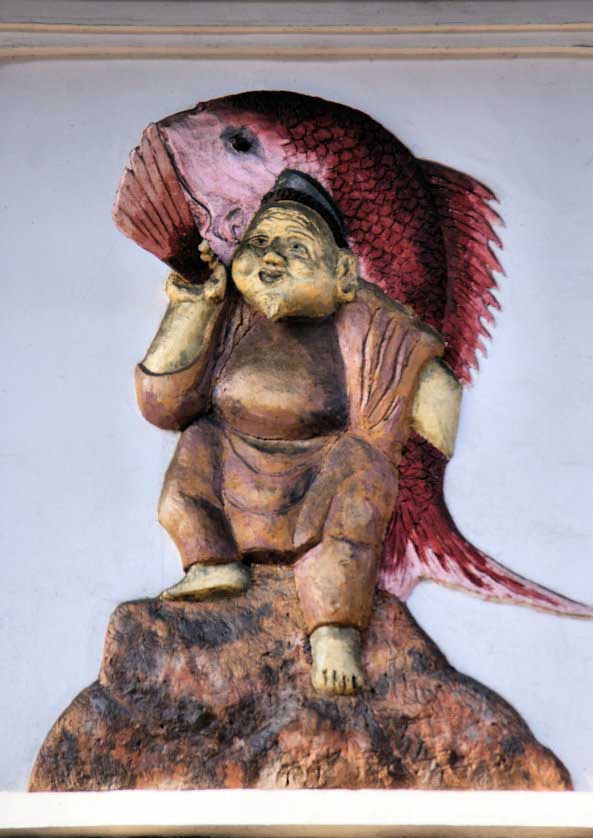 There are several fine examples of kote-e around the old castle town of Usuki, Oita Prefecture
Usuki History
Usuki was founded when the great warlord Otomo Sorin moved his base from Funai Castle, present day Oita City, and built Usuki Castle in 1556 on what was a small island for its better defensive location.
The island has since been swallowed up by land reclamation. Otomo controlled much of Kyushu and became a Christian taking the name of Don Francisco. Following the Battle of Sekigahara in1600 the domain was given to the Inaba Clan who ruled the area until the beginning of the Meiji Period. At that time, like the majority of castles in Japan, most of the structures of Usuki Castle were dismantled.
In 1600 a European ship, the Liefde, with a mostly Dutch crew but with an English navigator, William Adams, arrived off the coast of Usuki. Adams found favor with Tokugawa Ieyasu and was eventually made a samurai with the name Miura Anjin.
His story is probably best known through the novel Shogun and subsequent TV mini series. There is a small museum to Adams and the other crew of the Liefde on the tiny island of Kuroshima. Admission is free but 500 yen ferry tickets need booking in advance on 0972 68 3939.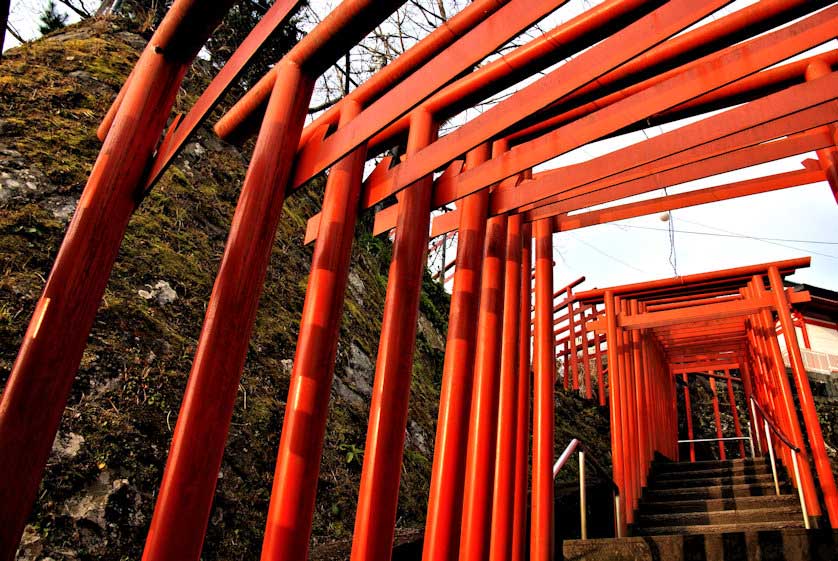 The way to an Inari Shrine at the eastern end of Usuki Castle Ruins Park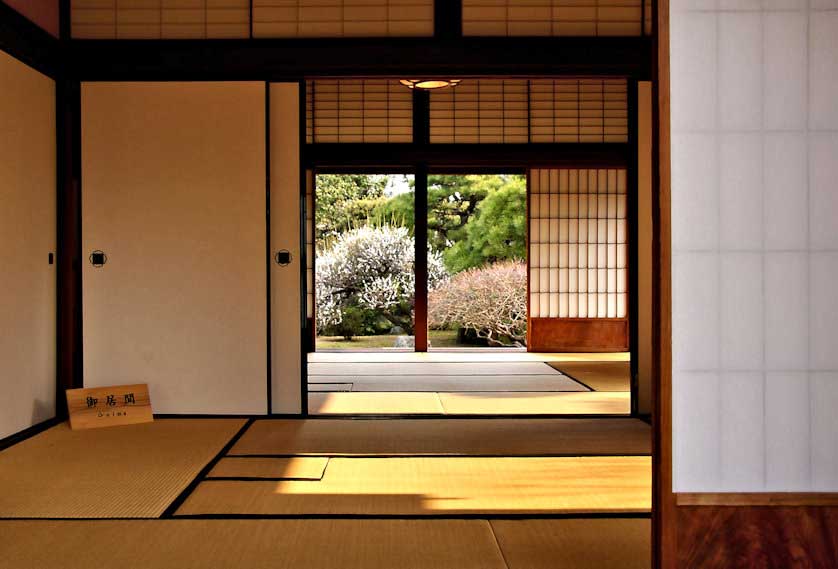 Interior of the Inaba Family Mansion, Oita Prefecture
Inaba Residence
In the Meiji Period, once the old domains had been abolished, the Inaba family who had ruled Usuki for more than 200 years moved to Tokyo to live, but built a mansion/villa in Usuki for when they returned there.
It is now open to the public. It's a large property with several buildings, some traditional, and several gardens.
Inaba Residence
6-6 Usuki, Oaza, Usuki-shi, Oita 875-0041
Tel: 0972 62 3399.
Open from 9 am to 5 pm, entrance 320 yen for adults.
A smaller, but older, samurai dwelling, the Maruno Estate, has free entry.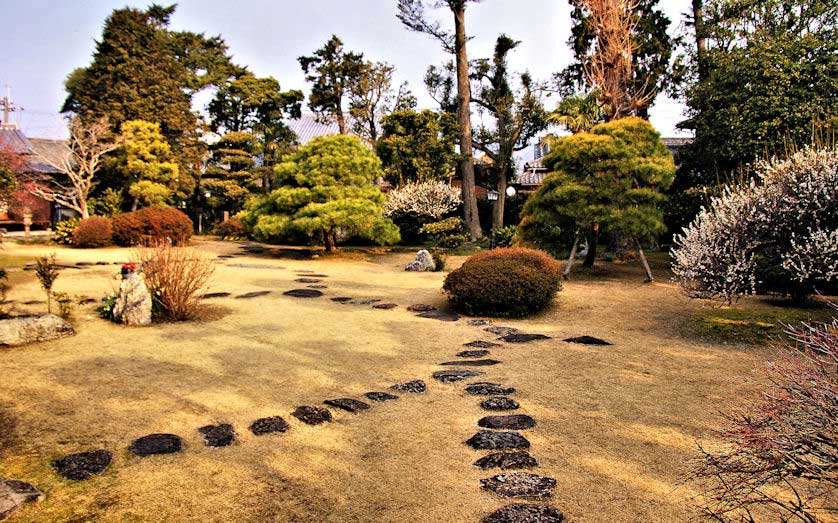 One of the gardens at the Inaba Family Mansion, Usuki, Oita Prefecture
Maruno Estate
14 Kaizoe, Usuki-shi, Oita 875-0042
Open 9 am-5 pm, closed on Tuesdays.
Nioza Historical District
Most people will visit the Nioza Historical District with its narrow winding lanes of traditional buildings, storehouses and temples, it's like stepping back into a bygone era. The former temple, Zenkoji, has been opened as a free "rest" stop and has changing, seasonal exhibits. Like any former castle town there are a multitude of shrines and temples. Notable among the temples is Ryugenji with it's Edo Period three storey wooden pagoda.
Ryugenji
134 Fukura, Usuki-shi, Oita 875-0053
Tel: 0972 62 2717.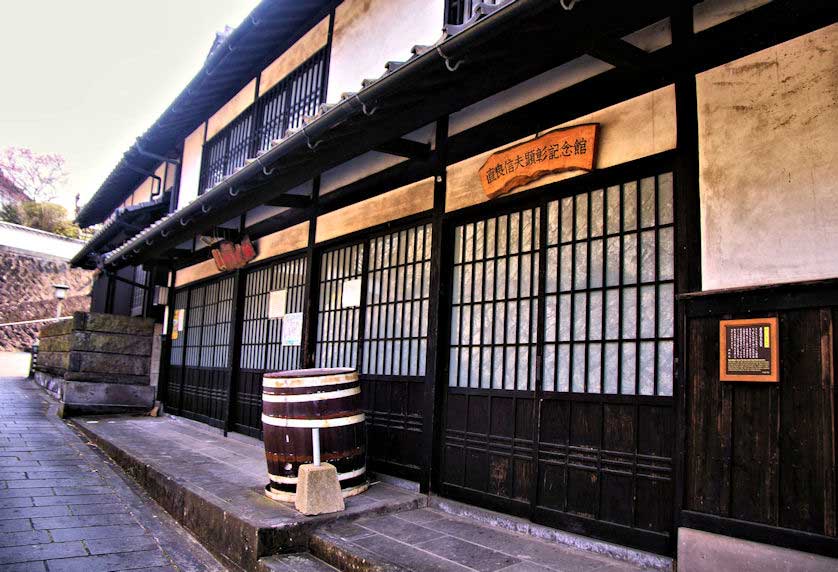 The former home of archeologist Naora Nobua in the Nioza district of Usuki, Usuki, Oita Prefecture
Not too far away is Fukura Tenmangu Shrine with an interesting "Red Cat" shrine in the grounds where you will find many rocks painted as lucky red cats.
Fukura Tenmangu Shrine
352 Fukura, Usuki-shi, Oita 875-0053
Tel: 0972 63 2739
The 19th Century Pagoda at Ryugenji Temple in Usuki, Usuki, Oita Prefecture
Usuki Festivals
Usuki has a a full range of festivals throughout the year, major ones being the Cherry Blossom Festival in early April in the Castle Park, the Gion Festival with parades and giant floats in mid-July, the Fire Festival with 1,000 burning torches at  the Usuki Stone Buddhas at the end of August, and the Takeyoi Festival with 20,000 bamboo lanterns on the first weekend in November. During November 200 maple trees in the grounds of Fugenji Temple are illuminated.
The Usuki Tourist Information Center is located near the west entrance to the castle. They have information in English including walking maps.
Usuki Tourist Information Center
100-2 Usuki, Oaza, Usuki-shi, Oita 875-0041
Tel: 0972 63 1715
Open from 9 am to 6 pm.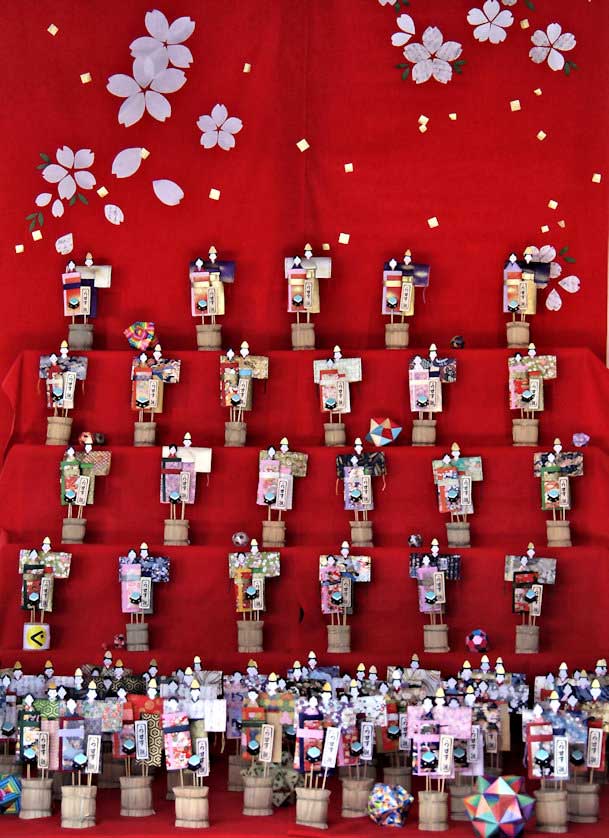 Unusual Hina Dolls on display at the former Zenkoji Temple in the Nioza district, Usuki, Oita Prefecture
Usuki Accommodation
Usuki has numerous hotels such as the Hotel New Tamaya as well as ryokan and minshuku.
Oita is only 21km away by hire car and some recommended places to stay include the four star Oita Oasis Tower, Rembrandt Hotel Oita, Hotel Mystays Oita, Daiwa Roynet Hotel Oita and Hotel Area One Oita. See here for a complete listing of hotels in the Oita area.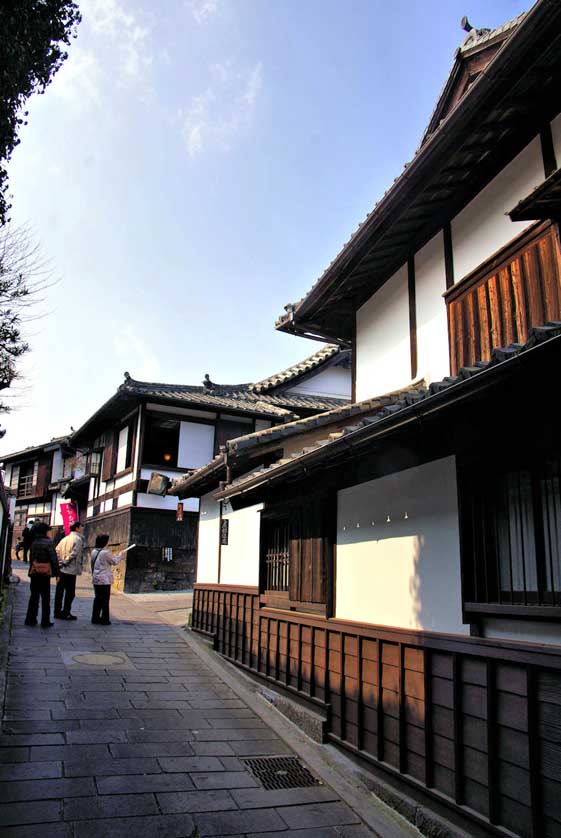 The stone paved street of Nioza District in Usuki, Usuki, Oita Prefecture
Usuki Access
Usuki is located on the Nippo main line of JR Kyushu about 30 minutes from Oita Station and 2 hours from Kokura which connects with the Shinkansen.
There is also a regular ferry service by two different ferry companies between Usuki and Yawatahama in Ehime on Shikoku. The 70 km crossing takes a little over two and a half hours.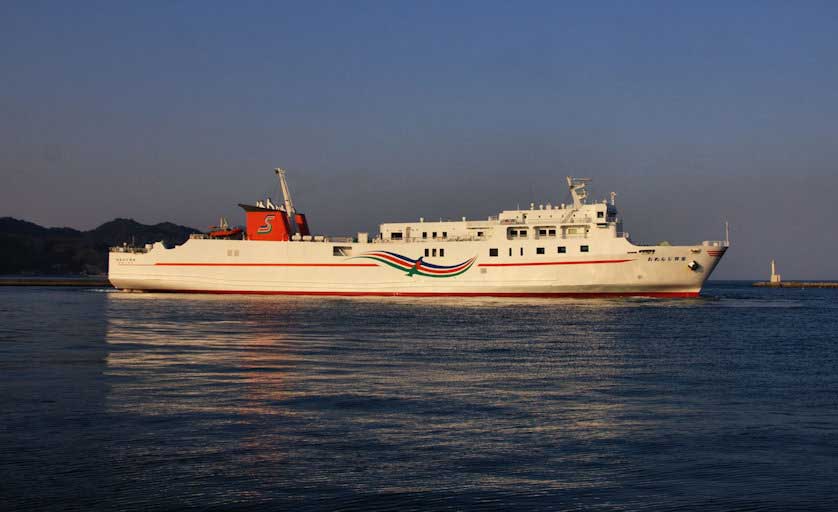 One of the ferries that run between Usuki in Kyushu and Yawatahama in Shikoku
Related Usuki Articles
Eating fugu in Usuki
Usuki Castle
Usuki is a small, coastal city on the east coast of Kyushu in southern Oita Prefecture most famous for its stone Buddha statues.
All the themes of the city