Fuji Matsuri Shibazakura
富士芝桜まつり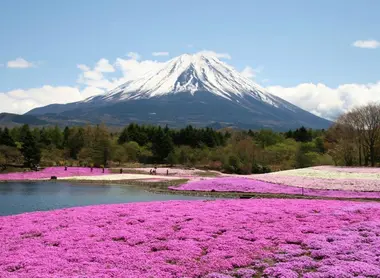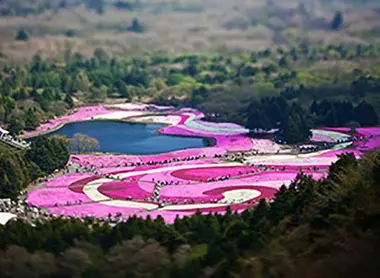 Fuji Flower
The hanami  season barely over, it is time for shibazakura, lawn cherry trees, to bring beauty to the Japanese landscape...
From April 15th to May 28th 2017, on the occasion of the Fuji Matsuri Shibazakura, Mount Fuji  adorns a sumptuous pink coat.
With nearly 800 000 shibazakura -  the Japanese name for moss phlox, also known as "lawn" cherry tree, given due to its resemblance to cherry blossoms. This flower festival is the largest of its kind near the capital.
Blankets of red, pink, purple and white bands crisscross around Ryujin Ike pond, three kilometers south of Lake Motosuko in the Five Lakes region .
A festival in Japan would not be complete without the local culinary specialities that accompany it. During Shibazakura Fuji Matsuri, enjoy the "Mount Fuji Delicious Food Festival" to discover the essential regional recipes often revisited for the occasion in shibazakura style: Fujinomiya yakisoba (fried noodles), Fujiyama taiyaki (fish-shaped cake filled with red bean paste) ...
During Golden Week, the park is over-run with visitors ... To avoid the crowds we suggest that you visit Fuji Shibazakura Matsuri in the morning to really enjoy the magic of this beautiful landscape. 
Enjoy the festival and pick strawberries with Voyagin.
Activité au Japon : Découverte de Kawaguchiko
---
Address, timetable & access
All the themes of the city