JMSDF Kure Museum
The JMSDF Kure Museum in Kure, Hiroshima charts the minesweeping activities of the Japanese Maritime Self Defense Force and includes a visit to the interior of a decommissioned Japanese submarine, the Akishio SS-579.
JMSDF Kure Museum 海上自衛隊呉史料館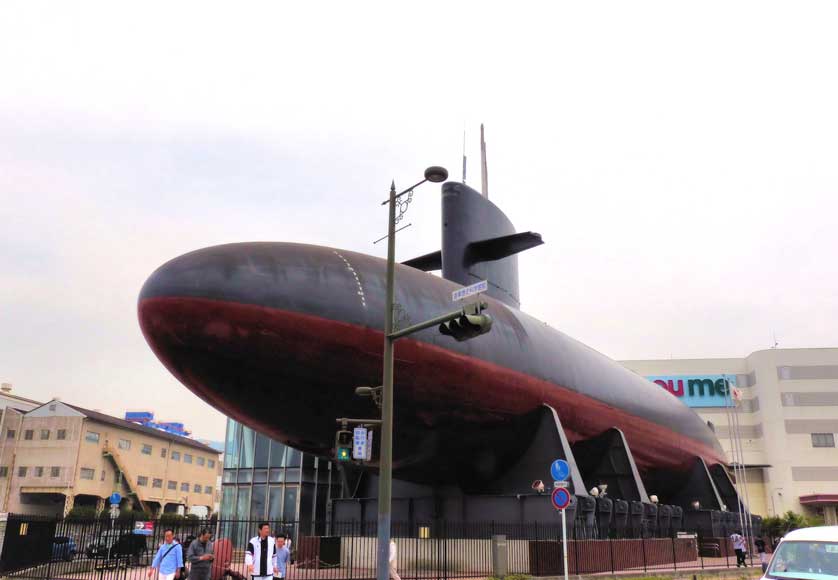 The JMSDF Kure Museum, Hiroshima Prefecture
The JMSDF Kure Museum in Kure, Hiroshima is located right across the road from the Yamato Museum, somewhat incongruously right in front of a You Me supermarket.
History
The JMSDF Kure Museum is mainly dedicated to the mine-sweeping activities of the JMSDF from the end of World War II, when the seas around Japan had been heavily mined by Allied forces, until the present day including Japanese minesweepers in action during the First Gulf War in Iraq.
Exhibits
The first two floors of the JMSDF Kure Museum contain exhibits on the history of the JMSDF, the JMSDF today, mine-sweeping techniques and the different kinds of mines in use in the world's oceans during conflict and the history of minesweepers and the use of helicopters to destroy mines.
The third floor focuses on submarines including life in a submarine, the history of submarines, torpedoes and submarine rescue. From this floor visitors can access the 76 meter-long Akishio SS-579 submarine which was launched in Kobe in 1985 and served until 2004.
The low, cramped quarters show how life was for the 75 submariners of the ship's crew under the ocean. Visitors can also peer through the periscope into Hiroshima Bay.
The museum has a small coffee lounge.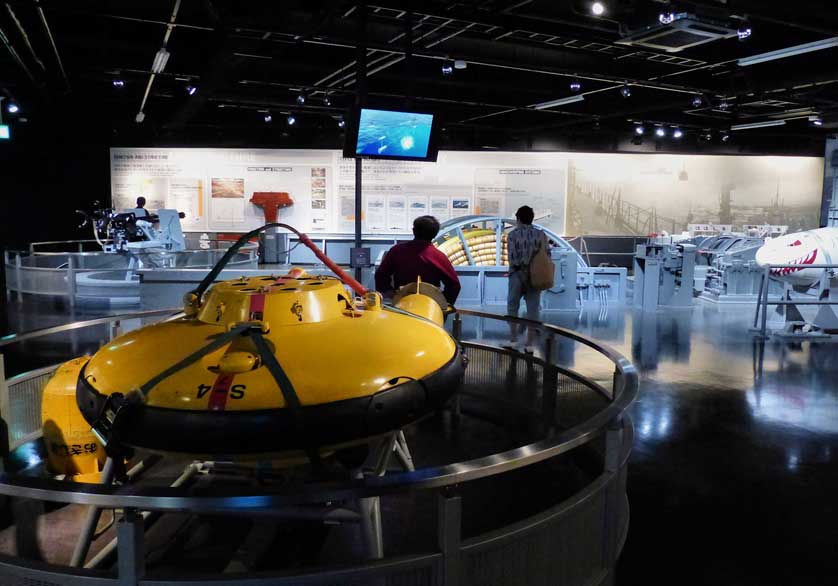 The JMSDF Kure Museum; Hiroshima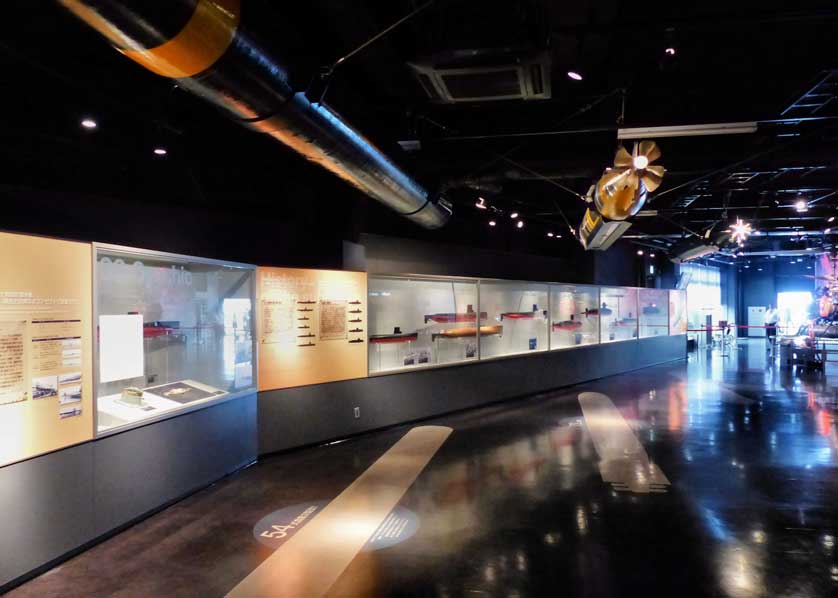 The JMSDF Kure Museum, Hiroshima Prefecture

Access - how to get to the JMSDF Kure Museum, Hiroshima
JMSDF Kure Museum (jmsdf-kure-museum.go.jp)
5-32, Takaramachi, Kure
Hiroshima Prefecture 737-0029
Tel: 0823 21 6111Admission: FreeHours: 9 am-5 pm
Closed Tuesday unless Tuesday is a public holiday
The JMSDF Kure Museum is a short walk from JR Kure Station, about 45 minutes from Hiroshima Station on JR Kure Line. The nearest bus stop is Yume Town Yamato Museum-mae. Also 2 minutes from the Kure Chuo Sanbashi Ferry Terminal. If coming by car park in the Yamato Museum car park.
Other places of interest in Hiroshima include Hiroshima Castle, the Mazda Museum, Hiroshima Museum of Art and Hiroshima Children's Museum.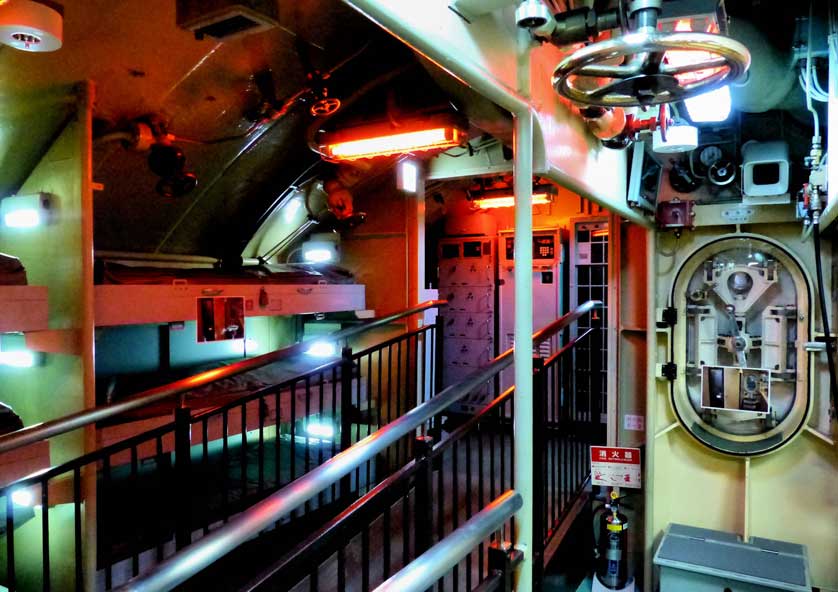 The JMSDF Kure Museum; inside the Akishio submarine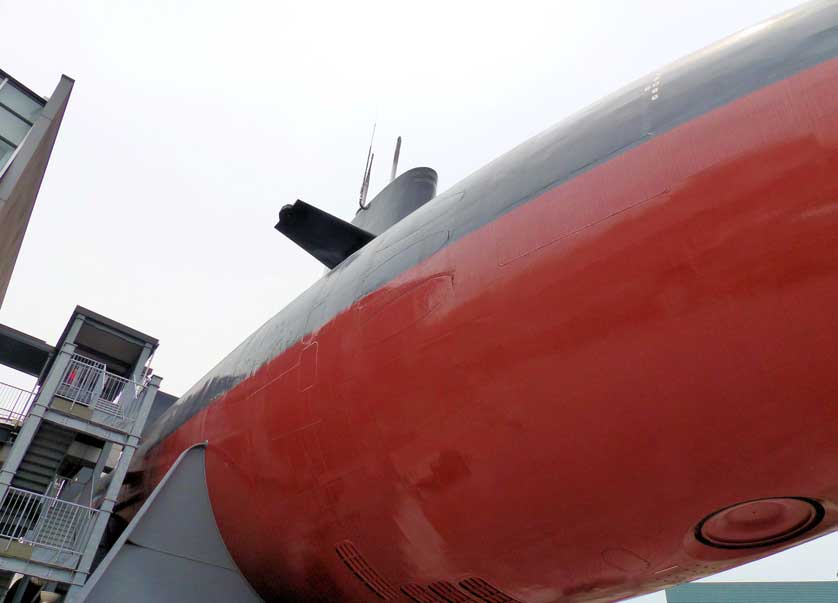 The Akishio SS-579 Submarine, JMSDF Kure Museum
Book Hotel Accommodation Near The JMSDF Museum in Kure Hiroshima
All the themes of the city