Shinbashi dori
新橋通り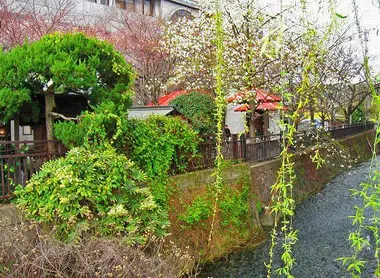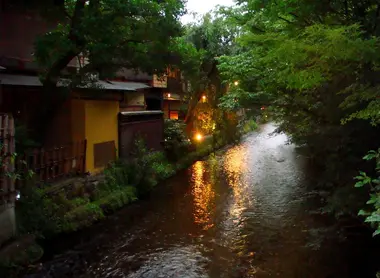 Labalade des dames du temps jadis
Gionest l'âme de Kyoto. Quartier hors du temps, il a préservé lescoutumes et l'apparence du Japon médiéval.Shinbashi dorien marque la limite septentrionale. 
No neon here: only the dim glow of paper lanterns illuminates the dark wood of the stop fronts. The pedestrian street invites visits on a journey through time. It is lined with many machiya, traditional urban dwellings and authentic ochaya.
But don't get confused. If the term ochaya literally means "tea house", it actually refers to institutions where geisha serve and entertain clients. Access is often reserved to a number of handpicked regulars. The famous drink is only one among many here. It is the chashitsu that host tea ceremonies.
Strolling along the Shinbashi dori allows those who are not part of the kyoto elite to see geiko (the local name for geisha) before they disappear in a rustle of cloth. When night falls, evening visitors stroll dreamily on the polished cobbles to the Shirakawa River, to contemplate its course for a moment, before leaving to lose themselves in the city.
---
Address, timetable & access
All the themes of the city