Higashiyama South Walk
Kyoto Area Guide: Southern Higashiyama 東山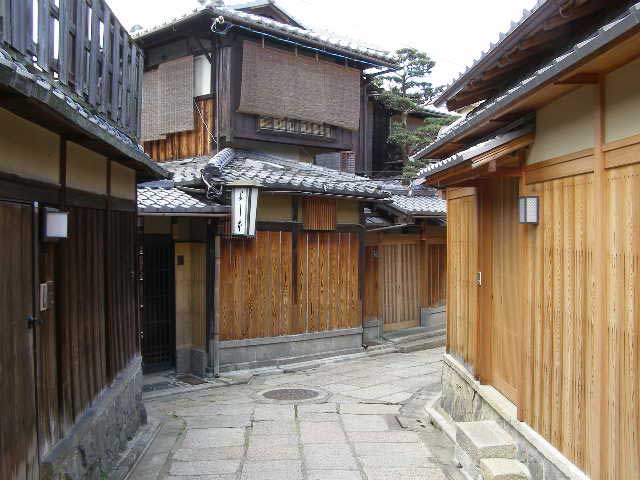 The Higashiyama (eastern mountains) area of Kyoto is packed with World Heritage Sites and much if not all of it can be seen on foot.
A good idea for visitors is to break Higashiyama into its northern and southern areas, and do them on separate days.
Northern Higashiyama is a semi-rural area that affords a great view of Mount Hiei, which is directly to the east.
The northern Higashiyama walk begins at Sekizanzenin Temple and ends at Enkoji Temple and Shisendo Temple area.
This page will continue from there, in southern Higashiyama, heading south along Philosopher's Walk, passing many temples and shrines, and ultimately ending at Kiyomizu Dera (temple). It is a full day's walk.
For those coming from Enkoji/Shisendo, walk down the hill, with Mt. Hiei at your back, until you arrive at Shirakawa Dori (street). Turn left. Walk for roughly ten minutes until you get to Imadegawa Dori. Turn left. A hundred or so meters on the right is the beautiful Hashimoto Kansetsu Garden & Museum, once the refined home of the Japanese painter Hashimoto Kansetsu (1883-1945). From here it is several minutes to the Silver Pavilion (Ginkakuji) and the northern end of Philosopher's Walk.
If you are coming from other parts of the city, the Silver Pavilion is a 15-20 minute walk from Demachiyanagi Station on the Keihan Line from Sanjo Keihan Station or take bus no#5 from Kyoto Station.
Ginkakuji is arguably the zenith of Japanese artistic expression. The fifteenth century temple was originally a villa for the Shogun Ashikaga Yoshimasa, a less than competent ruler but tremendous patron of the arts in a time of conflict and instability.
From there, begin walking along Philosopher's Walk. Along this tree-lined path are Honen-in Temple, Anrakuji Temple, Eikando Temple, and Nanzenji Temple. The path stretches for about 2 kilometers (a bit more than a mile).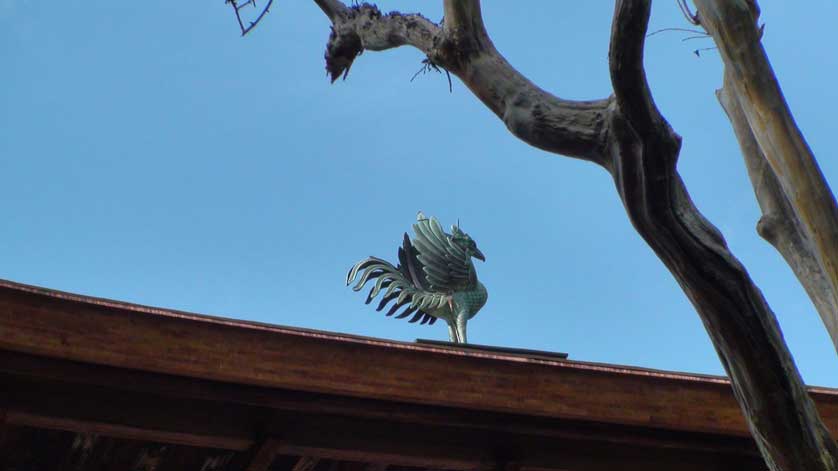 Mythical bird on the roof of Ginkakuji Temple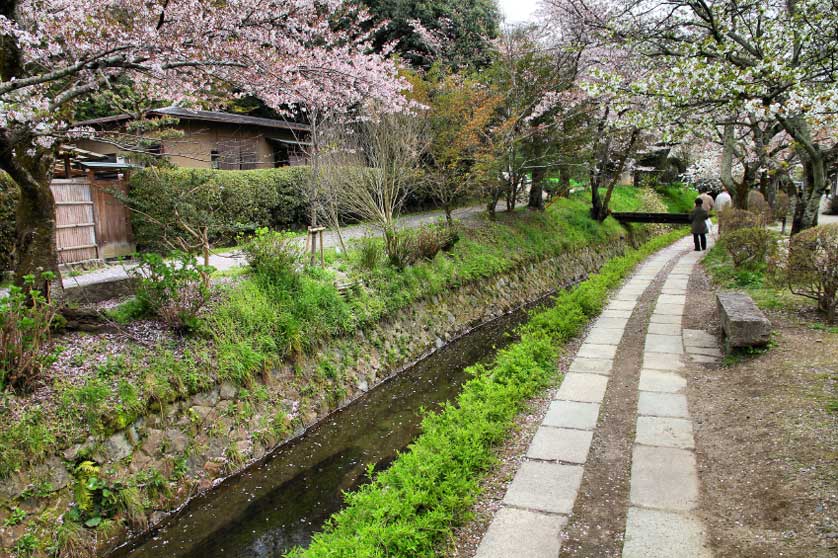 Philosopher's Walk is a favorite spot for cherry blossom viewing in Kyoto
The end of Philosopher's Walk takes you to Keage Station, which is on the Tozai (east-west) line of the Kyoto subway and in front of the Westin Miyako Hotel.
A side trip is just south in Okazaki, which is home to the Kyoto Zoo and several of Kyoto's best museums: the Kampo Museum, Hosomi Museum, Kyoto National Museum of Modern Art, and Kyoto Municipal Museum of Art.
If you stay on the itinerary, the next stop is Chion-in Temple.
Turn right and walk down the slope from Keage Station. At Jingu-michi (street), turn left. Walk up the slope lined with trees. This is the beginning of Maruyama Park. Chion-in is on the left.
Chion-in is the headquarters of the Jodo sect of Buddhism and was built in 1294. It is also home to the largest bell in Japan.
From here, walk through Maruyama Park. Yasaka Shrine is on your right, and Gion just out the front gate and across the street.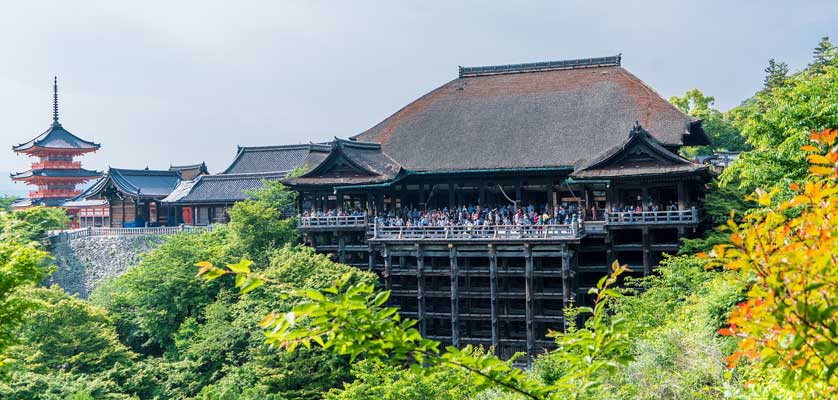 Kiyomizudera Temple, Kyoto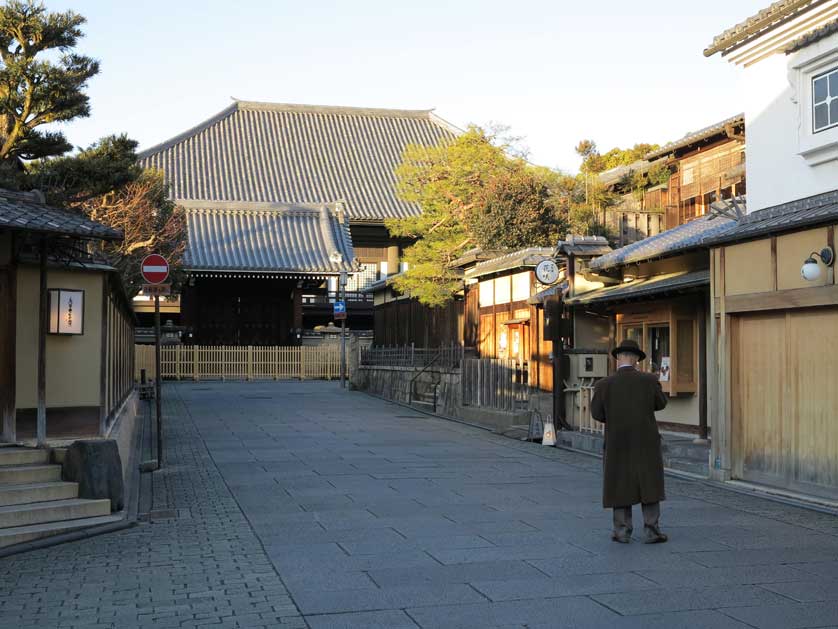 Nene-no-michi, Kyoto
You are now entering one of the most beautiful and popular parts of Kyoto. Exiting the park on the south side, you will wander narrow streets with temples all around you.
You should find yourself on Nene no Michi, a beautiful traffic-free street with Kodaiji Temple on your left and the quaint alley Ishibei-koji on your right.
Kodaiji was built in 1605 at the behest of Nene, a noblewoman who was married to Toyotomi Hideyoshi. After his death in 1598, Nene decided to become a nun and founded the buddhist temple Kodaiji. It is perched atop a hill above Nene no Michi.
On the opposite side of the street from Kodaiji is Ishibei Koji Street, a lovely alley with wooden homes, restaurants, and ryokan (Japanese style inns).
Continuing south on Nene no Michi, you will ultimately arrive at Ninenzaka and Sannenzaka. These are narrow sloped streets with traditional shops.
Jostling with the crowd - and doing a bit of shopping - you walk up the slopes, which will bring you Kiyomizuzaka, the path that leads to Kiyomizu Temple.
Kiyomizu Dera is the most visited site in Kyoto. The original Kiyomizu Temple dates from the eighth century C.E. and is composed of several Buddhist temples.
The most well-known aspect of Kiyomizu dera is the huge veranda of the main hall. It juts out on wooden pillars and is quite impressive.
Walking back down Kiyomizuzaka, you can take the bus back to Kyoto Station from Gojo-zaka. Take bus number 100 or 206.
For a full listing of Kyoto Museums & Art Galleries click here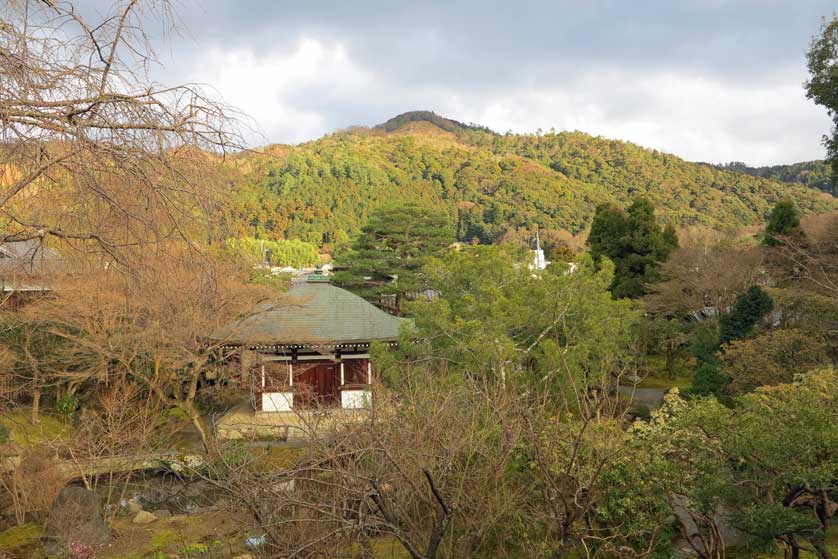 View of the Higashiyama mountains from Hakusasonso Hashimoto Kansetsu Garden & Museum
Book Hotel Accommodation in Higashiyama Kyoto Japan
A Walk In Southern Higashiyama Kyoto: take a stroll from Ginkakuji (Silver Pavilion) to see the Kyoto temples of Nanzenji, Kodaiji, Chion-in, and Kiyomizu.
All the themes of the city