Kamogawa Odori
鴨川をどり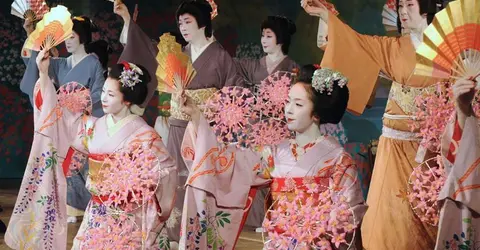 Splendors and miseries of geishas
Since 1872, the Pontochô Kaburenjo theater has been hosting "the dances of the Kamo river" - the one that winds slowly through the Pontochô district - one month a year at the end of spring (variable dates, check with the theater);
This exceptional event organized by an association of geishas brings together, for the pleasure of connoisseurs but also tourists, maiko (apprentice geishas) and geiko (confirmed geishas) in silk kimonos and lacquered socks. The theater, saturated with silver lanterns for the event, represents the Kamogawa Odori with two stages.
On the first one you can attend traditional dance and a show resembling kabuki (an epic form of classical Japanese theater), while on the second you can admire the dance of a group of geishas. These dances are performed three times a day, in the afternoon, and are famous for the use and delicate handling of the fan. They are also accompanied by traditional musical instruments such as the shamisen (long-necked lute of Chinese origin) or the koto (long zither).
The districts of Pontochô and Gion can still boast of being the last in Kyoto where you can meet geishas, if you feel like it and if your purse is full, do not hesitate to order a cup. of tea by one of them before the performances in the tea room of the theater . A delight not to be missed under any circumstances!
---
Address, timetable & access
Address

Timetable

5 minute walk from Shijo station on the Keihanou line near the Kawaramachi Sanjo stop on the city bus line.

Price

normal: 2000 yen / special seats: 4000 yen / special seats and tea: 4500 yen.
All the themes of the city