Iwatayama Monkey Park
嵐山モンキーパーク いわたやま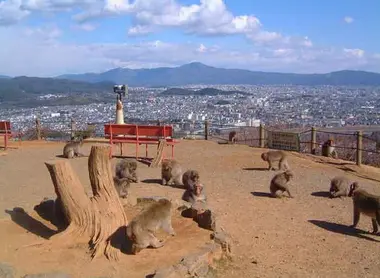 L'Empiredes singes<br>
Labeauté est exigeante. L'esprit le plus endurant présente des signesde fatigue après une journée passée devant la splendeur hiératiquedes temples. Fort heureusement, le Macacafuscata est là ! 
Nagano is not the only place you can see monkeys up close in Japan. Iwatayama Monkey Park  in Kyoto will also give you a chance to get up close and personal with the Japanese macaques. Sensible footwear is a must. Twenty minutes of intense climbing is required to access the primate playground. Once at the top, you will discover one of the most beautiful views of Kyoto. The view is unique, and this alone is worth the trip to this park located in Arashiyama.
Two hundred monkeys roam Iwatayama Monkey Park, and they are very accustomed to human presence. But be wary of your belongings, as these furry celebrities like to steal more than just the spotlight.
For 100 yen, children and adults can buy peanuts and feed the monkeys who will be delighted. At the end of spring and during the summer months, the most sentimental visitors will see their heart melt before the adorable antics of the offspring of the year. A golden opportunity to teach them new tricks. Monkey see, monkey do!
---
Address, timetable & access
All the themes of the city