Sumiya Motenashi Museum
Sumiya Motenashi Museum. Read an article about the Sumiya Motenashi Museum, a former geisha teahouse in the Shimabara district of Kyoto.
Sumiya Motenashi Art Museum 角屋もてなしの文化美術館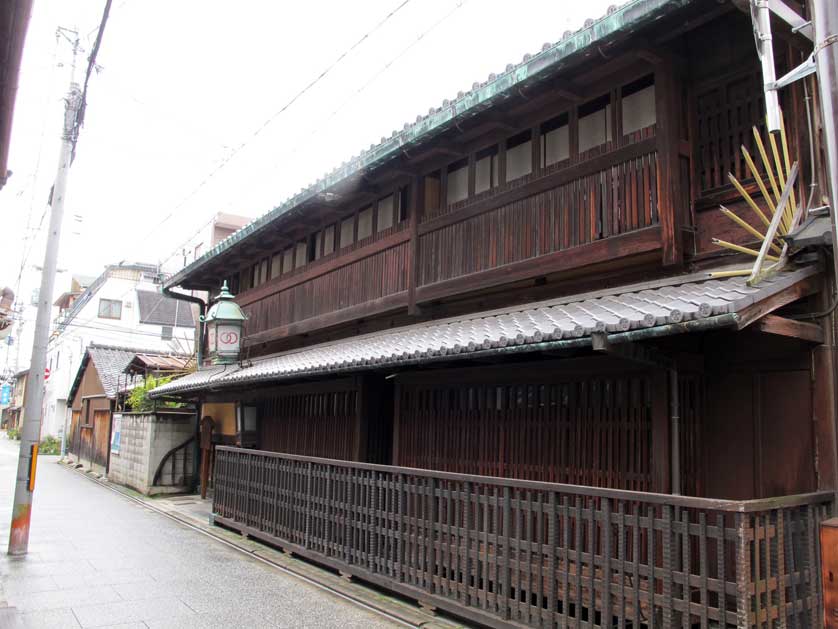 Sumiya is a two-story building that served as a very high-end restaurant/brothel and dates from more than 350 years ago.
Located in a former red-light district known as Shimabara, in central Kyoto, Sumiya is now a museum open to the public, and is the last surviving example of "ageya" architecture.
History of Sumiya
Ageya were elegant restaurants where Geisha and Tayu performed and lived. Performances included elaborate tea ceremonies, songs and dances. Sumiya has been owned and managed by the Nakagawa family since 1641 and the present enlarged buildings date from 1787.
In 1952 the building was designated as an Important Cultural Property.
Sumiya is a two story structure with a tiled roof and combines elements of shoin-tsukuri and sukiya-tsukuri styles. The former is the elegant, formal style of the samurai warrior class distinguished by large tatami rooms, painted screens and fine carvings, whereas the latter is the more informal, sparse style of the tea ceremony.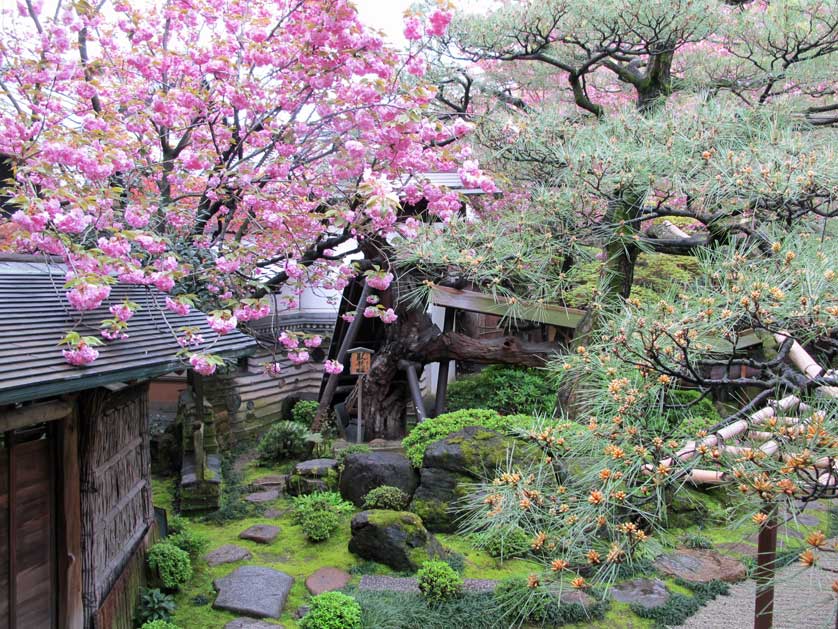 The beautiful garden viewed from the veranda of the Sumiya Motenashi Art Museum, Kyoto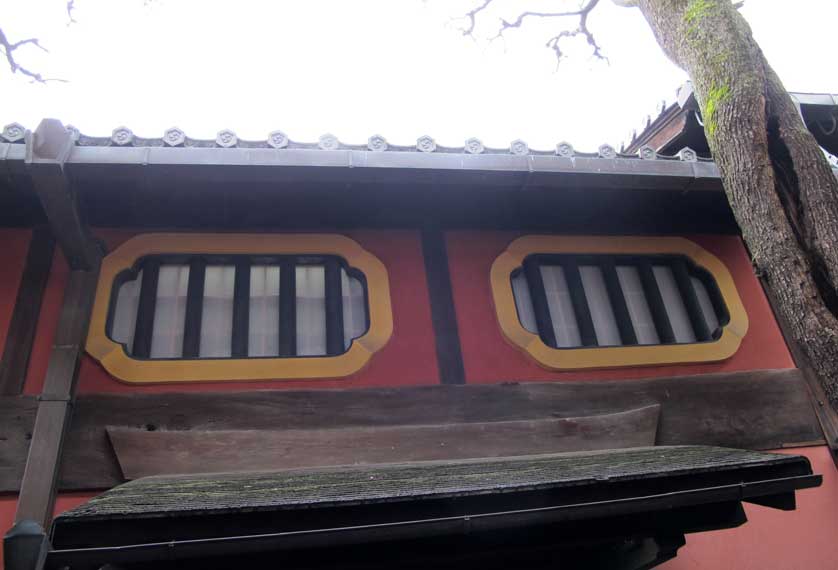 The exterior of the Sumiya Motenashi Art Museum, Shimabara, Kyoto
Sumiya was not just a place of entertainment based on "wine, women and song" but also an important salon where famous people in the fields of politics, art and literature gathered, including a group of haiku poets known as Shimabara Haiden and the anti-Tokugawa reformers Saigo Takamori, Kusaka Genzui and Sakamoto Ryoma, who met here with rich merchants to try and secure funds for their struggle. Their awoved opponents the pro-Tokugawa Shinsengumi also met here in the final years of the Tokugawa regime.
Visitors enter through the original kitchen area and then remove their shoes as they enter the exhibition rooms. The kitchens preserve their original clay ranges with wooden lids and a variety of cooking implements of the period are on display.
The exhibition rooms have glass cases displaying some beautiful ceramics including dishes and sake flasks, Edo period documents relating to the administration and business operations of the restaurant and some exquisite lacquerware. Other tatami-rooms hold priceless byobu folding screens and fusuma-e (paintings on sliding doors).
Works by some of the greatest artists of the Edo Period (1603-1867) can be seen in Sumiya including "Plum Blossoms" a National Treasure by Yosa Buson (1716-1784) as well as works by Kishi Ganku (1756-1836), Maruyama Okyo (1733-1795), Emura Shumpo and Yamada Gazan.
Another item of particular interest is a wooden sword rack, where patrons were to leave their swords.
The highlight of a visit to Sumiya for many visitors is its exquisite garden viewed from an engawa (narrow veranda) running around the edge of the rooms facing it. The raked gravel garden contains a spreading pine tree and a late-flowering cherry.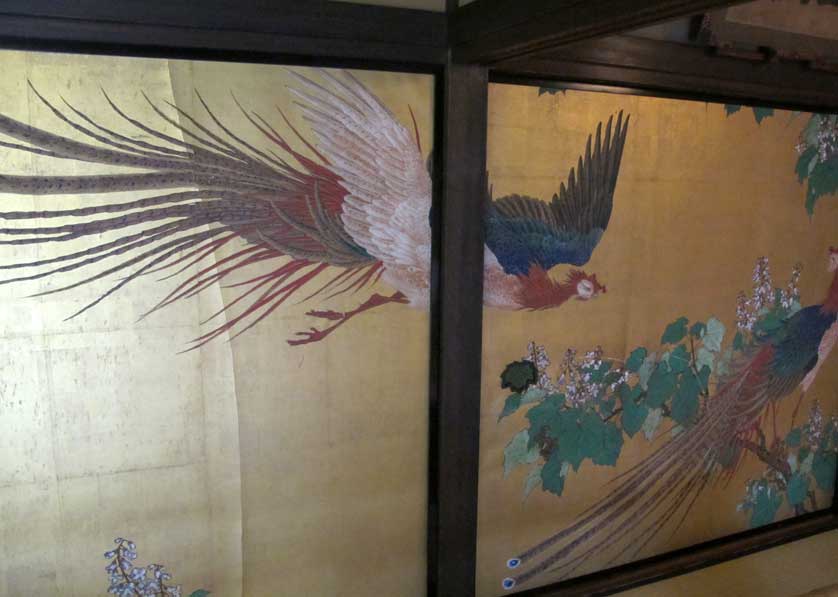 A painted sliding door or fusuma-e at Sumiya, Shimabara, Kyoto
Sumiya Motenashi Art Museum (sumiyaho.sakura.ne.jp)
32 Banchi, Ageya-cho, Shimogyo-kuKyoto 600-8828Tel: 075 351 0024Google Map of Sumiya
Open from 10 am - 4 pm. Closed Mondays. Admission 1,000 yen.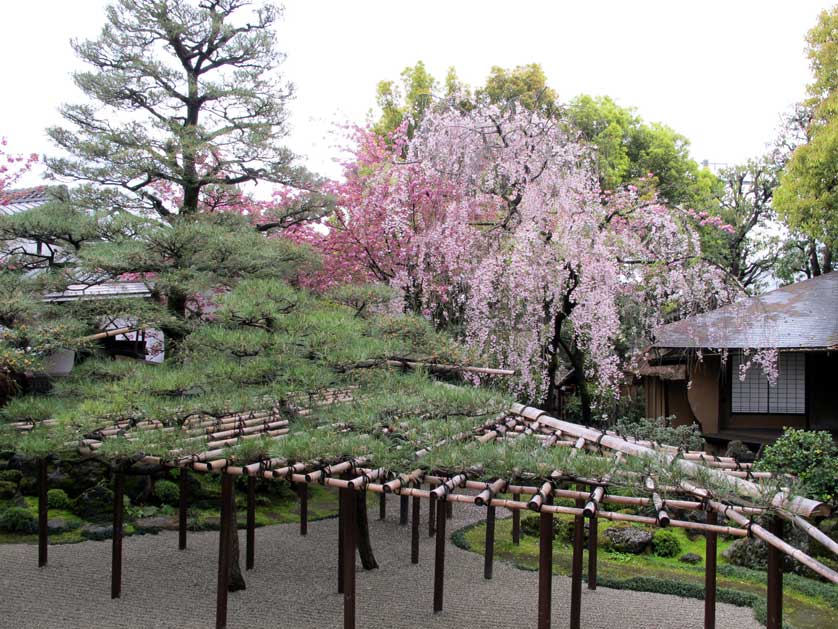 The spreading pine and cherry trees at Sumiya, Kyoto
Access - Getting to the Sumiya Motenashi Art Museum
Access: From JR Tambaguchi Station, which is one stop from Kyoto Station on the Saiin Line, walk south along Senbon Dori (street). This is the street you come to as you exit from the right side of the station. It runs next to the JR train line. Walk with the train line above you and on your right and the Kyoto wholesale fruit and vegetable market on your left. When you reach a small temple on the left, turn left. Make your first right and the walls of Sumiya will appear.
If you are coming from the north side of Nishi Honganji Temple, walk west on Hanaya-machi Dori for three blocks. You will pass through the old gate of Shimabara, keep going straight and you will see a sign to Sumiya on your left.
A sake flask and inlaid wooden carrier for the cups, the Sumiya Motenashi Art Museum, Kyoto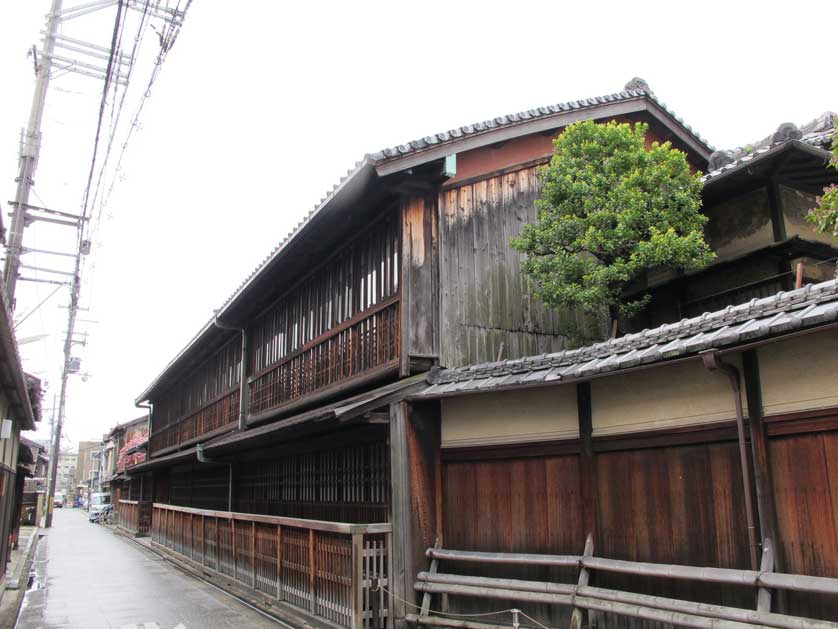 The Ageya architectural style of Sumiya Motenashi Art Museum, Kyoto
Book Hotel Accommodation in Japan Near Sumiya Motenashi Museum
All the themes of the city