Tenzan No Yu Onsen
天山の湯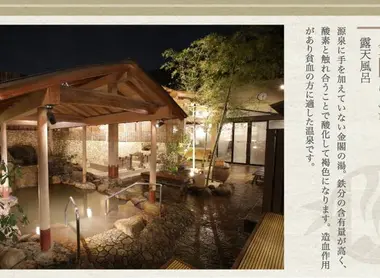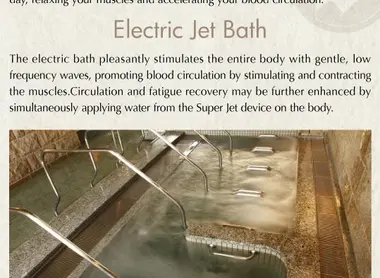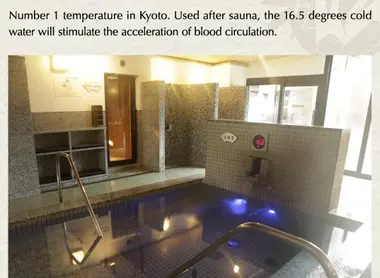 Kyoto's sprawling spa complex
To the west of Kyoto, very close to Arashiyama, the Tenzan No Yu onsen offers a wide choice of baths and hot springs.
Useful information
Tenzan No Yu is more than an onsen. It is a vast spa complex , which, in addition to promising the experience of the pools of thermal hot springs ( onsen ), offers jet baths, cold baths or even a sauna. Located in Sagano near Arashiyama , it is easily accessible from Kyoto via public transportation. Strategically located a few kilometers from the bamboo forest , it is the ideal break after a long walk in Arashiyama , to treat the sore feet of walkers!
Its hot spring originates in the mountains, at a depth of 1200 meters and its exceptional concentration of sodium brings it closer to sea water. the reputation of making the skin particularly soft . The hot baths offer its visitors water up to 42°C.
As often, you will have to start by leaving your shoes in a locker at the entrance. At the reception, you will be given a bracelet that will allow you to open your locker, but also to order food and drink at the restaurant, or even to book a massage. You will then have to pay at the exit.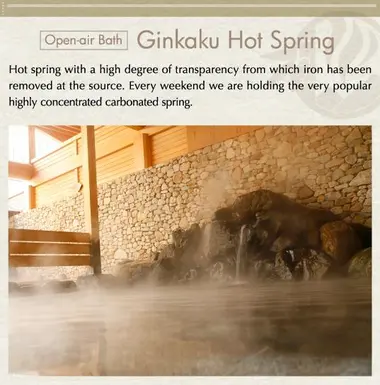 The basic price, 1050 yen (8€50) for an adult, gives you access to all the baths, and everything you have consumed will therefore be charged extra
And if you haven't thought to bring a towel, don't panic: you can rent one on site for 200 yen . As for soap, shampoo, facial cleanser... everything is provided in the showers. As in the majority of onsen, men and women enjoy separate baths, and tattoos are prohibited .
The highlight of the place? Outdoor and indoor baths for the more cautious.
Outside, you will have the choice between three different pools:
The Kinkaku hot spring , in a beautiful basin surrounded by stones, sheltered under a wooden awning protecting it from bad weather. Its cloudy water is loaded with iron, and therefore strongly recommended for people suffering from anemia.
Right next to it, you will find the Utatane baths , to bathe at the waist.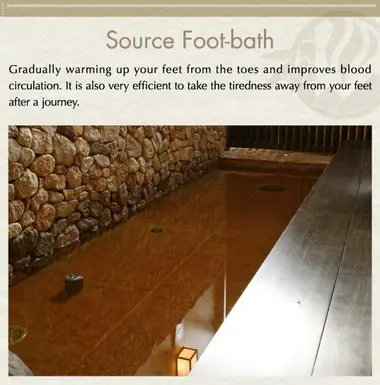 The outdoor area also hosts a second bath, the Ginkaku . It has transparent water since the iron has been removed from it. Every Saturday and Sunday, the water in this bath becomes carbonated, thanks to the addition of carbon dioxide. You will then see hot water bubbles sticking to your skin! This type of bath is widely used in Europe in spa treatments, especially to fight against hypertension.
Finally, two deep ceramic bathtubs complete the installation.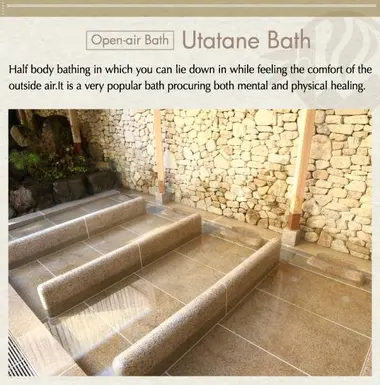 The interior spaces are not left out:
Attached to the large basin decorated with gargoyles, you will find the individual jet tubs : the latter are perfect for relaxing sore muscles after a day of sightseeing.
The cold swimming pool , whose water is kept at 16.5°C, stimulates blood circulation, just after a visit to the sauna.
Because this onsen indeed has saunas , to spoil nothing. On the women's side, the cypress wood sauna relaxes the senses with vapors of essential oils that fill the room. On the men's side, the device is embellished with a technological touch, a large screen broadcasts television!
To complete this moment of relaxation
Finally, you can ask for a Korean massage , which is accompanied by a scrub to rid the skin of its impurities.
And before leaving, be sure to stop by the footbath hut. In addition to the classic foot bath in hot water, the Tenzan No Yu onsen offers you to immerse your feet in the middle of hot ceramic balls . And to continue pampering your feet, you can also enjoy a "fish pedicure" for an additional 300 yen (€2.50)!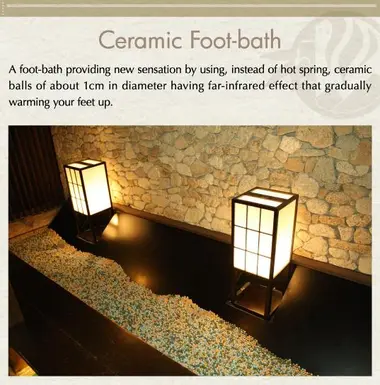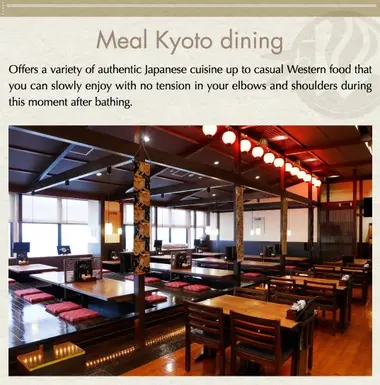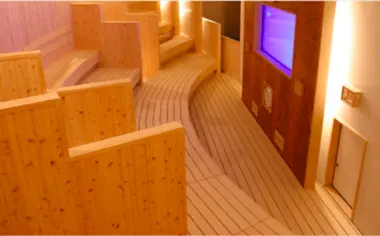 In addition, the onsen has many other facilities for relaxation, such as massage chairs, relaxation areas with armchairs and tatami with newspapers and comics available. For children, a games room is even offered, like Japanese game centers .
Finally, the establishment also includes a fresh fruit juice counter, as well as a large restaurant offering quality traditional cuisine.
---
Address, timetable & access
Address

Phone

(+81) 075-882-4126

Timetable

Get off at the "Arisugawa" stop of the Keifuku Randen tram line

Price

Adult: 1050 yen (8€40) Child: 500 yen (4€), free for children under 3 years old

Access

Open daily from 10 a.m. to 1 a.m.

Website

http://www.ndg.jp/tenzan/en/
All the themes of the city