Best Onsen in Kyoto
Best Onsen in Kyoto: the city is more known for its temples but there are places to enjoy a hot spring experience in Kurama and Kyoto's many public baths.
Top Onsen in Kyoto 京都の温泉
Best Places To Enjoy Hot Spring Baths in Kyoto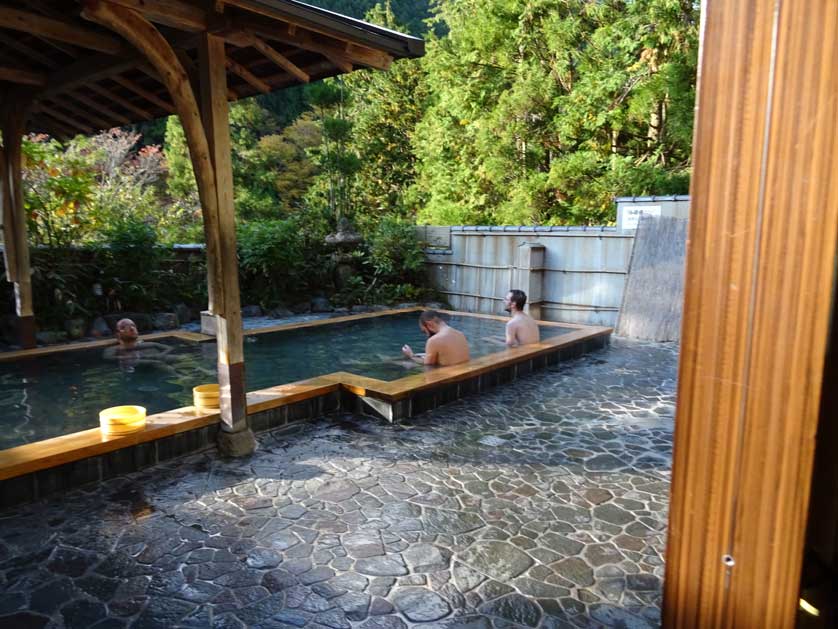 Kurama Onsen, Kyoto
Kyoto admittedly is not the first place that (hot) springs to mind when thinking of the best onsen in Japan.
The famed onsen in Kyushu, such as Beppu and Yufuin, Hakone, just outside Tokyo, Gero Onsen in Gifu Prefecture, yes.
Kusatsu Onsen and Takaragawa Onsen in Gunma Prefecture, Kinosaki Onsen in Hyogo, again, yes, but Kyoto is more known for its glorious gardens and UNESCO World Heritage Listed temples and shrines, not its natural spas.
However, after a hard day of sight-seeing all those Buddhist temples and Shinto shrines, it is possible to enjoy a leisurely soak in a traditional hot spring setting.
Kyoto's onsen are not "natural" in the sense that hot water springs to the surface. Bore holes are dug down to the underground water which is then pumped to the surface and heated.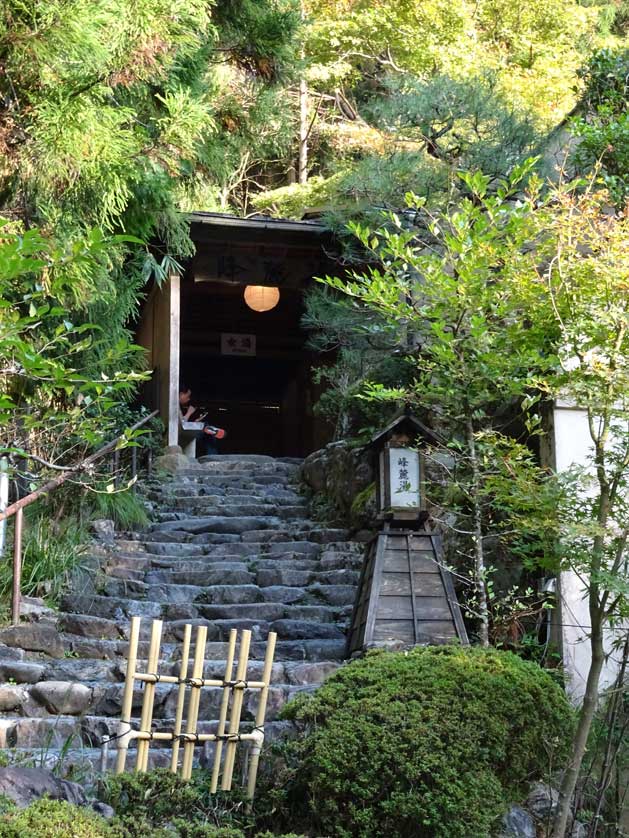 Stairs leading to the outdoor bath at Kurama Onsen
Kurama Onsen 鞍馬温泉
The village of Kurama is an idyllic oasis with significant cultural attractions just an hour from crowded Kyoto Station.
Kurama Onsen Ryokan has an indoor bath, a sauna, and an outdoor bath.
From the outdoor bath there are views of verdant forest. Smooth boards of cypress line the top edges of the bath.
According to the Kurama Onsen website, "The hot spring is composed simply of hydrogen sulfide water with a lot of minerals that are good for people with rheumatism, diabetes, neuroses, skin issues, and lumbago."
It's a 20-minute walk from Kurama Station on the Eiden Line or Kurama Onsen Ryokan offers a free shuttle bus from the station.
Kurama Onsen520 KuramahonmachiSakyo-ku, Kyoto 601-1111Tel: 075 741 2131FAX: 075 741 2375
Open: 10.30 am - (last admission 8.20 pm; closes 9 pm); Winter (last admission 7.20 pm; closes 8 pm).
Fees: 1,000 yen for adults. 700 yen for children 4 - 12.
A train and light-rail route from JR Kyoto Station to Kurama Onsen takes about one hour, and the fare is 800 yen.
Go to the Nara Line and board a Sub Rapid Nara bound for Tofukuji Station. Get off and walk to the Keihan Main Line. Board a local train to Demachiyanagi Station. Find the Eidenguchi Gates and walk up the stairs to the Eizan Main Line. Take the Local Kurama train nine stops to Kurama Station.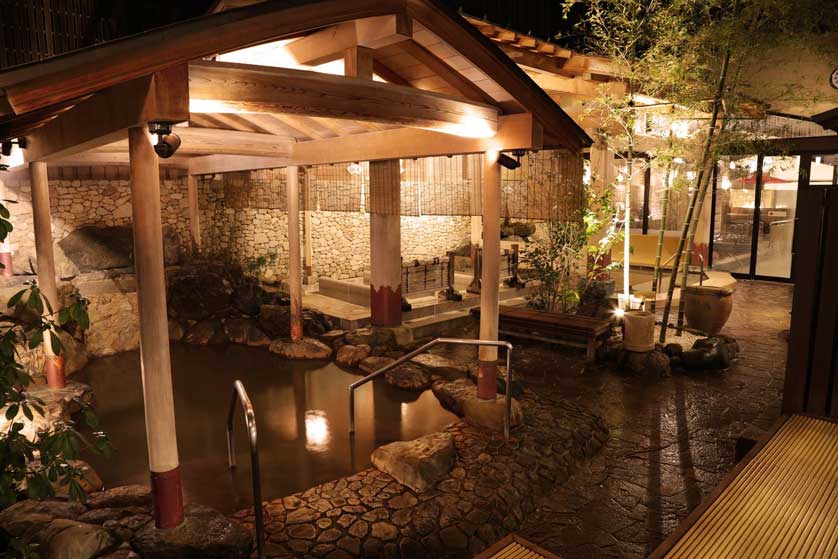 © Tenzan-no-yu (天山の湯)

Tenzan-no-yu Onsen 天山の湯
Tenzan-no-yu in Arashiyama in the west of Kyoto takes its water from a well over a kilometer underground. Tenzan-no-yu is similar to so-called "super sento" found all over Japan as it combines hot spring baths with a recommended restaurant and entertainment.
There's a rotenburo (outdoor bath), saunas and a variety of relaxing Jacuzzi and mineral baths. Various massage courses are also on offer along with a fish bath, where tiny fish nibble at the dry skin on your feet. The large complex also boasts a fresh juice bar, a games corner and a private banquet room.
Sagano Onsen Tenzan no Yu55-4-7 Miyanomoto-choSagano, Ukyo-kuKyoto 616-8315Tel: 075 882 4126ndg.jp/tenzan/en
Hours 10 am - 1 am, daily. Admission is 1,050 yen for adults. Tattoos are not allowed.
Tenzan no Yu is a 3 minute walk south from Arisugawa Station on the Keifuku-Arashiyama Line from Shijo-Omiya.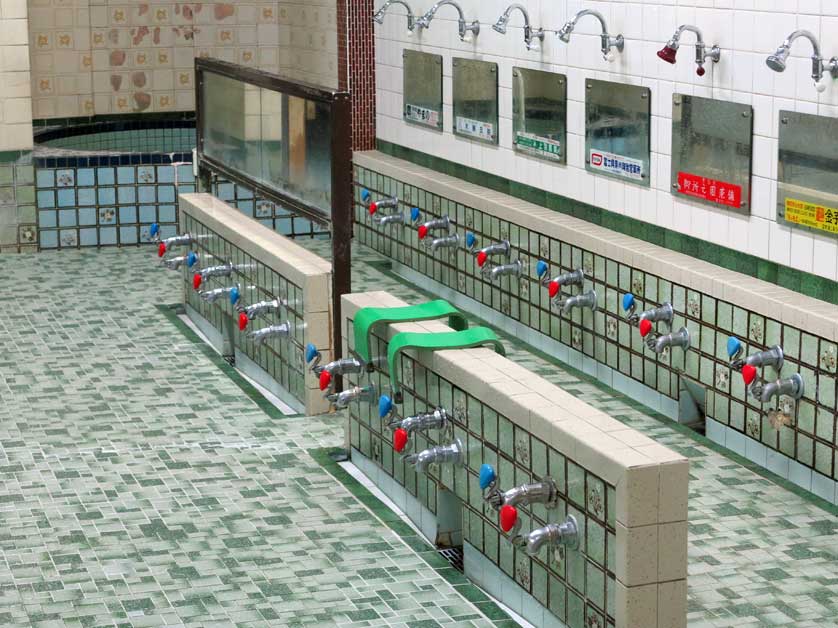 Kyoto Public Bathhouse - sento

Public Baths - Sento
Fortunately Kyoto is blessed with some great public baths or sento to enjoy a small-scale onsen experience.
The city's large student population, often living in cramped lodgings with shared shower rooms, provide a market for many of Kyoto's sento to survive, and in some cases, prosper.
The cold winters in Kyoto are another reason many people head to the city's public baths to keep warm during the freezing nights. Even in the city's stifling summers, a hot bath and sauna can paradoxically feel cooling and refreshing, especially if followed by ample time in the cold plunge.
Here's a listing of some recommended Kyoto public baths.
Funaoka Onsen
Built in 1923, Kyoto's Funaoka Onsen has not changed in a significant way since.
The main attraction are the amazing carvings and tile work on the ceiling and walls of the changing rooms.
They are a testament in wood to the turbulent history of that period. The building is now designated as a registered tangible cultural property. Funaoka Onsen also was the first sento in Japan to introduce a denki-buro or electric bath.
Facilities include a sauna, several types of bath, and a small outdoor bath with a garden (rotenburo).
Funaoka Onsen82-1 Minami-Funaoka-cho Murosaki no Minami26, Kyoto, 603-8225 JapanTel: 075 441 3735Hours: 3 pm - 1 am; from 8 pm SundaysFee: 450 yen
Bus: From Kyoto Station, take bus 206 to Kuramaguchi Station. From there the bath is a 5-minute walk.
Higashiyama-yu
Higashiyama-yu Onsen on the north west corner of Hyakumanben is an old school sento dating back years.
Time slows as you travel back to an earlier, lost, never to be seen again Japan.
The eclectic clientele includes many young students from nearby Kyoto University. Foreigners are in abundance and welcome.
Higashiyama-yu Onsen27 Tanaka MonzenchoSakyo-ku, Kyoto, 606-8225Hours: 3.20 pm - 1 am; Saturday & Sunday 3 pm - 1 am; closed FridayTel: 075 781 4472
Higashiyama Yu Onsen is across Higashi Oji street from Chionji Temple.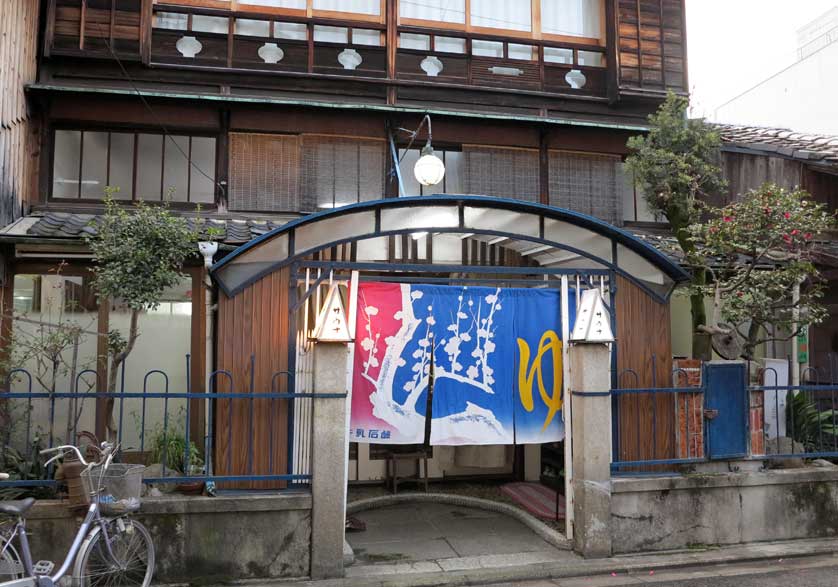 Entrance to Sakura-yu

Sakura-yu
Now 100 years old and counting, Sakura-yu public bath in downtown Kyoto, is a trip back in time. Though situated close to Kyoto's busiest shopping street, Kawaramachi, Sakura-yu is set on a peaceful side street, populated by a few trendy cafes and eateries.
Established in 1919 way back in the Taisho Period, Sakura-yu is a preserved period piece of a sento with some lovely touches, from the weathered wooden shoe lockers at the entrance to the tiled baths themselves inside.
Sakura-yu Tawaraya-cho 454Nakamachidori Marutamachi-agaru Kamigyo-kuKyoto 602-0871Tel: 075 231 0391
Hours: 4.30 pm - midnight; closed Monday
There is room for one car in the car park.
The nearest station to Sakura-yu is Jingu-Marutamachi on the Keihan Line or take one of numerous city buses to the corner of Marutamachi and Kawaramachi. These include: #3, #4, #10, #17, #37, #59, #65, #93, #202, #204, #205.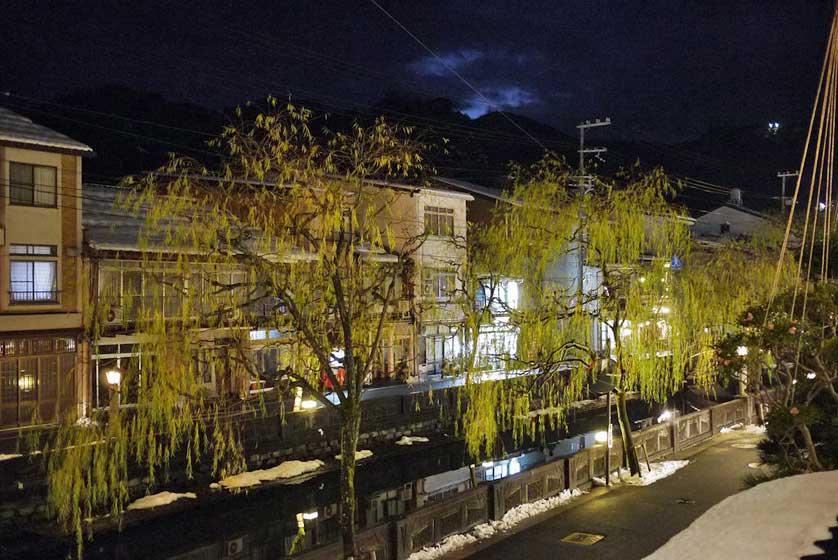 Kinosaki Onsen in Hyogo Prefecture by night

Onsen Near Kyoto
If you do wish to experience a traditional onsen resort with Kyoto as your base, the two nearest hot springs are Kinosaki Onsen on the northern coast of Hyogo Prefecture and Arima Onsen in the southern part of Hyogo near Kobe.
Access to Kinosaki
From Kyoto Station to Kinosaki, express trains take two and a half hours on the Limited Express Kinosaki and cost 4,510 yen; from Osaka, trains take 2 hours and forty-five minutes. On some trains from Kyoto you need to change at Toyooka (two stops from Kinosaki) and transfer to to a train on the Kinosaki Onsen - Tottori Line.
Access to Arima Onsen
By train from Kobe to Arima Onsen, take the subway to Tanigami and then a Kobe Dentetsu train to Arima Guchi, then change again if it is not a through train to Arima Onsen.
By train from Kyoto, the quickest route is to take a Shinkansen to Shin-Kobe Station, then the Hokushinkyuko Railway for Tanigami, then change to a Sanda Line train to Sanda, then change to the Dentetsu Line for Arima Onsen. Journey time is around 75 minutes.
All the themes of the city