Kyoto Design House
京都デザインハウス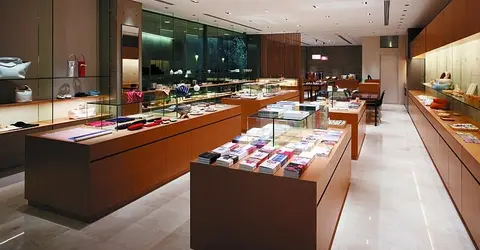 SOS Souvenirs
Running out of inspiration? Kyoto Design House happens to be the perfect place to shop for some of the city's iconic trinkets, when the lack of gift ideas comes.
In a brand new building signed by the famous architect Tadao Ando, Kyoto Design House offers its products combining tradition and design .
Made by contemporary Japanese designers, they reveal that Japanese graphics have carried a certain form of modernity for several centuries. From kyoyaki ceramics to washi stationery and shikebiki silk fabrics, traditional materials are re-visited in modern forms. Kitchen accessories, books (also available in French), are also available and the choice is wide.
The prices too, from the simple collection of haikus at 1000 yen to the bamboo vase for Ikebana at 105,000 yen, you will find there for all budgets. To make no mistake most of the staff speak English.
One of the most popular products with foreign tourists is therefore a friendly introductory book to origami . For rainy days or to alleviate boredom, nothing beats such an opportunity to please by bringing back memories.
---
Address, timetable & access
Address

Phone

+81(0)75 221 0200.

Timetable

stationShiyakusho Mae of the Tozai subway line or KyotoShiyakusho Mae bus stop of lines No. 4, 10, 17, 32, 59 and 205. The Kyoto Design House store is located on Sanjo Street at the corner of Kokura Street, Second Street parallel to the east of Karasuma Avenue. Its glass front makes it easy to see the products on offer.

Access

open every day from 11 a.m. to 8 p.m.

Website

http://www.kyoto-dh.com
All the themes of the city