Chionji Temple
Chionji Temple, Kyoto 百萬遍知恩寺
Chionji Temple in Kyoto is located at the Hyakumanben crossroads of Imadegawa and Higashioji streets just north of Kyoto University.
Chionji Temple is the venue for the smallest of the big three temple and shrine flea markets in Kyoto, the tezukuri ichi, held on the 15th of each month.
The other two markets are the Toji flea market (Kobo-san) held on the 21st of each month at Toji Temple south of Kyoto Station and the Kitano Tenmangu flea market in the west of the city held on the 25th of the month.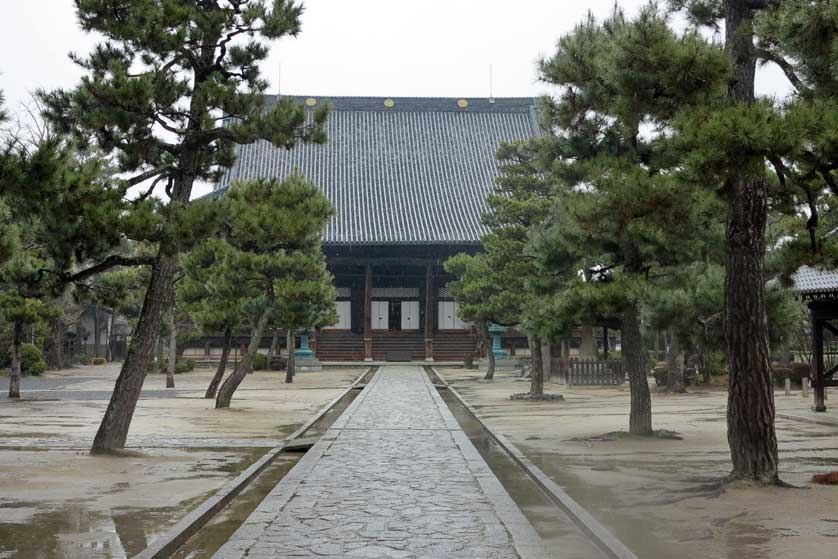 Chionji Temple, Kyoto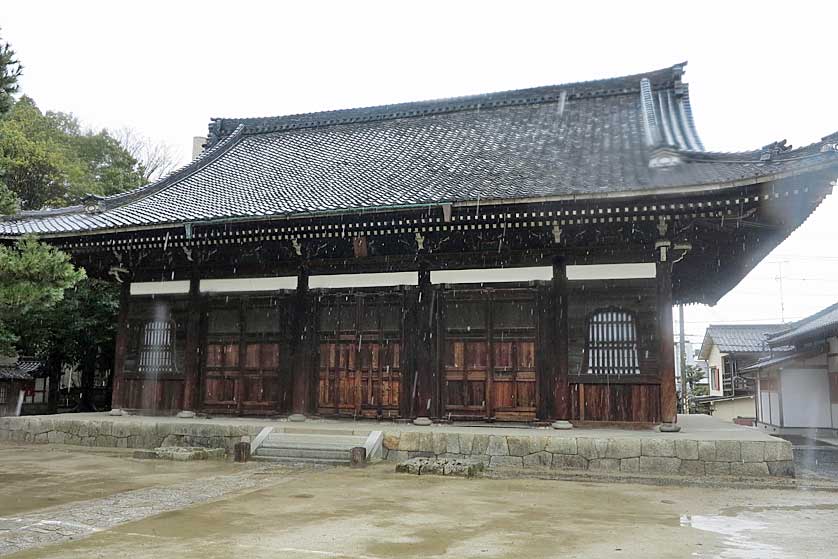 Snow, Chionji Temple, Kyoto
History of Chionji Temple
Chionji's founding is associated with the priests Ennin (794-864) and Honen (1133-1212) and it is a Jodo-shu sect temple of Japanese Buddhism.
Interestingly, the name Hyakumanben ("One Million Times") comes from a period of pestilence and plague in the city in 1331, following an earthquake, when the abbot of Chionji held a service where Namu-Amida-Butsu was recited one million times over the period of a week.
Chionji is entered through an impressive gate on Imadegawa on its south side and has spacious grounds. Visitors can remove their shoes and enter the main hall. Two scrolls painted by the 13th century Chinese artist Yan Hui (aka Ganki; Yen Hui) are treasures of the temple and designated as Important Cultural Properties.
There are several large halls in the grounds. The Main Hall (Mieido 御影堂) originally dates from 1756.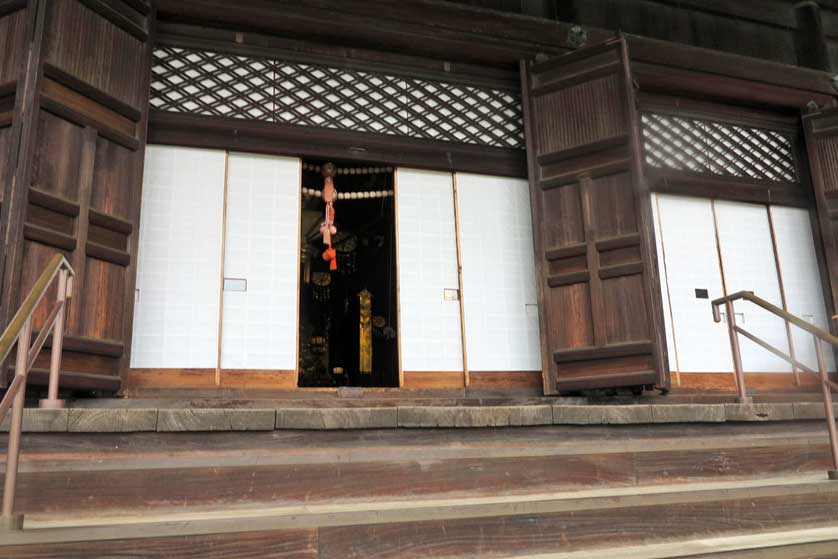 Entrance to the Main Hall, Chionji Temple, Kyoto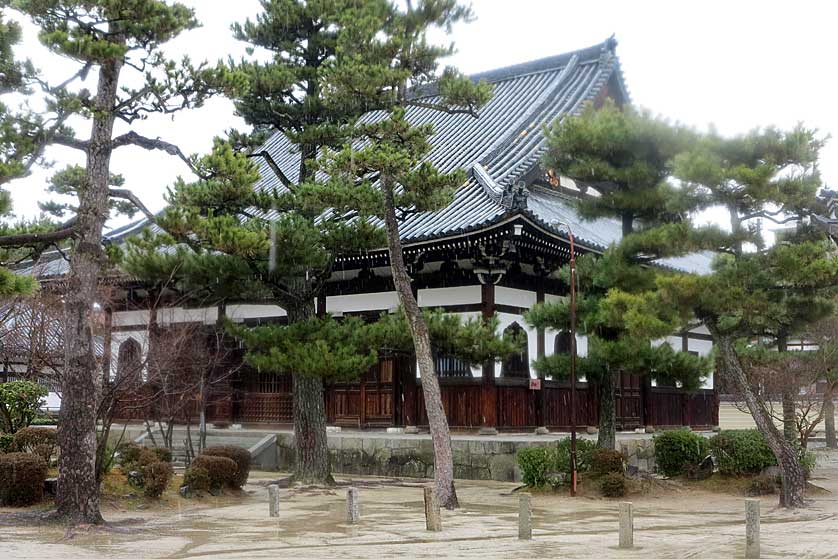 Chionji Temple, Hyakumanben, Kyoto
Chionji Temple is often confused with the more famous Chion-in Temple, known for its massive gate, just south of Okazaki and north of Gion.
Chionji Festivals
The tezukuri ichi flea market is held on the 15th of each month and stalls here sell a variety of hand made Kyoto arts and crafts, including jewelry, bags, beads, clothing, masks and wonderful homemade breads and other food. This is an excellent market to pick up a bargain as a souvenir of your stay in Kyoto.
As well as the monthly market, Chionji Temple hosts a second hand book festival in the autumn (late October/early November). A number of academic second hand book stores serving the students and professors of Kyoto University line Imadegawa near the temple.
To commemorate the Hyakumanben ("One Million Times") prayers, a huge 110m Buddhist rosary, with 1080 beads weighing 350kg, is moved in a circle by scores of worshipers in the main hall on the 15th of the month except for August when it is held on the 25th. Visitors are free to join the ceremony.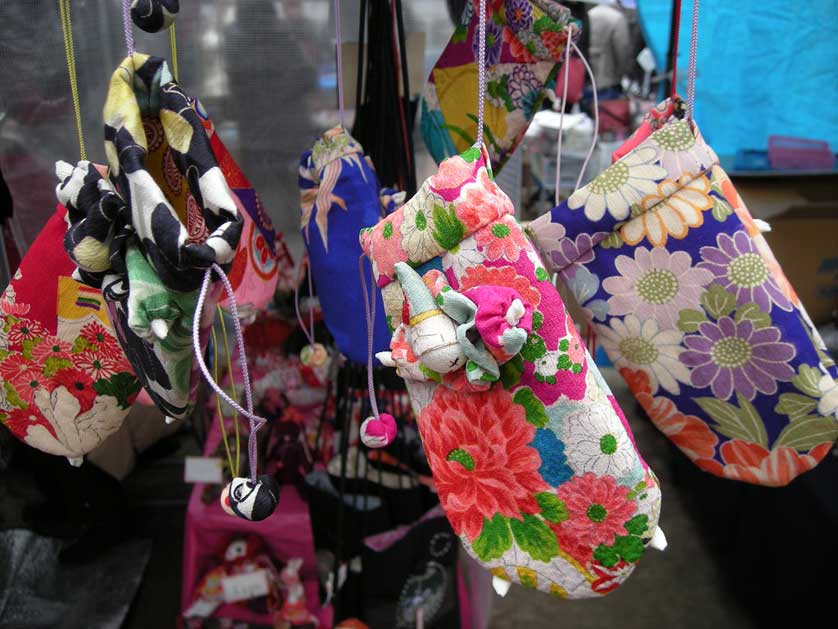 Tezukuri ichi flea market, Chionji Temple, Kyoto
Chionji Temple Access
Chionji Temple (hyakusan.jp in Japanese)
103 Tanaka Monzencho
Sakyo-ku, Kyoto 606-8225
Tel: 075 781 9171
Hours: 9 am-4.30 pm
Admission: Free admission to the temple grounds.
Tezukuri ichi (hand-made market): www.tedukuri-ichi.com (in Japanese)
Chionji Temple is on the #206 and #17 bus routes from Kyoto Station. Alight at Hyakumanben bus stop.
From Shijo Kawaramachi Station take any of Kyoto buses #201 or #203 or #3.
Demachiyanagi Station on the Keihan and Eiden lines is a short walk away.
Nearby Chionji Temple
Chionji Temple is north of Kumano Shrine, Kyoto University Museum, Shogoin Temple, Kyoto Handicraft Center and Heian Shrine. Ginkakuji is a 20 minute walk away east along Imadegawa.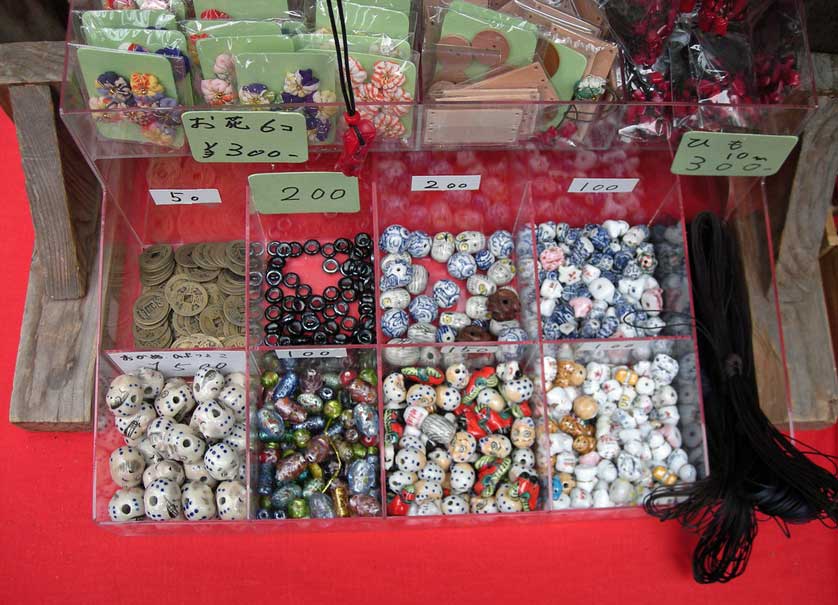 Tezukuri ichi flea market, Chionji Temple, Kyoto
Places stay near Chionji Temple are rather thin on the ground but include both dormitory-style and private rooms at Guesthouse Hyakumanben Cross, two traditional-style rooms at Bonteiji Guesthouse and the holiday home Rakuya Demachiyanagi East.
Chionji Temple at the Hyakumanben intersection in Kyoto is known for its monthly tezukuri ichi crafts market held on the 15th of each month.
All the themes of the city