Chishakuin Temple
Chishakuin Temple: read a guide to Chishakuin Temple in Kyoto famous for its stunning gardens and painted screens.
Chishakuin Temple 智積院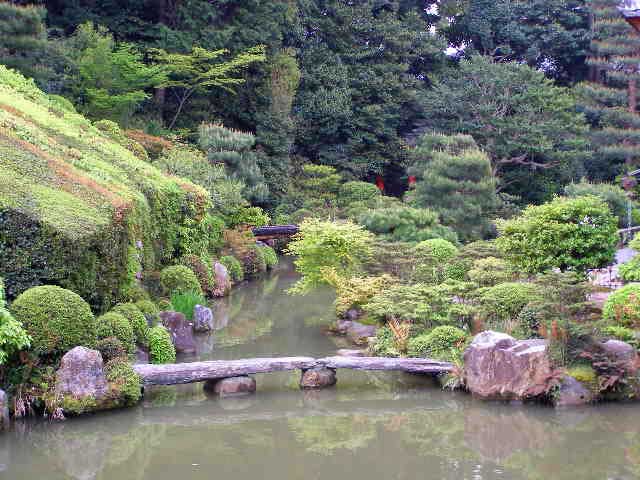 The gardens at Chishakuin Temple are superb
Stunning temple gardens.
Beautifully painted panels and screens.
Located in east Kyoto.
Chishakuin Temple established in 1598.
Chisan Shingon sect headquarters.
Center of Buddhist learning & training.
On the Kyoto Jusan Butsu pilgrimage.
Kyoto's Chishakuin Temple is best known for its panel paintings and its gardens. It is along a well-trod route, just across the street from the Hyatt hotel and Kyoto National Museum, and a short walk from Sanjusangendo.
Chishakuin Temple was originally built at Koyasan in Wakayama, which is far south of Kyoto, in memory of Toyotomi Hideyoshi's son Sutemaru, who died at age three. The buildings were brought here in 1598 on the orders of Tokugawa Ieyasu.
The main garden of Chishakuin Temple was rebuilt in 1674 but later destroyed by fire. The garden was inspired by the area around Mt. Rozan, in China and is centered around a pond which extends under the temple.
Chishakuin's garden, which may be the work of Momoyama Period tea master Sen-no-Rikyu (1522-1591) is known for its azaleas which bloom in late April and early May. The main hall actually dates from only 1975 as the previous building was destroyed by fire in 1947 with the loss of some priceless sliding screens by Kano School painters Eitoku and Sanraku.
In addition to the gardens, the paintings are the main attraction. They are done on panels and are thought to be the work of Hasegawa Tohaku and his son, Kyuzo.
About half of the original paintings remain. Within the temple, Pine Tree and Flowering Plants, Cherry and Maple Trees, Pine and Plum Trees are in particular magnificent.
If you are in Kyoto on June 15, it is worth going to the Green Leaf Festival at Chishakuin. This celebrates the birth of founder Kukai, aka Kobo-Daishi (744-835). It is a wonderful event that displays the mysteries of Shingon. The festival is a fire ceremony, which is a symbolic link between heaven and earth.
Fee: 500 yen for adults (for the garden and museum)
Hours: 9:00 am - 4:00 pm.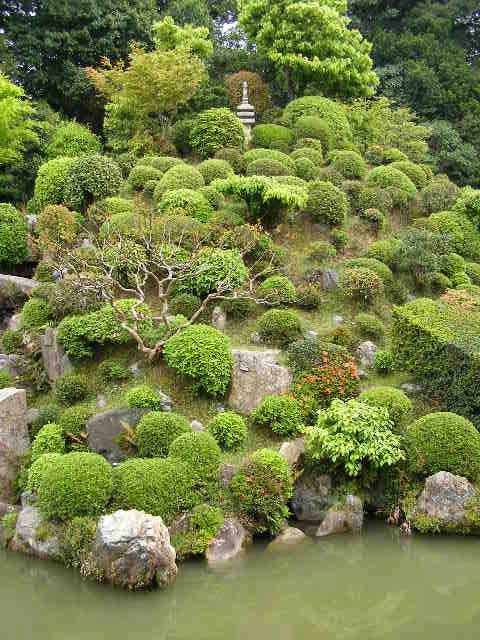 Chishakuin Temple garden in Kyoto showing beautifully tendered bushes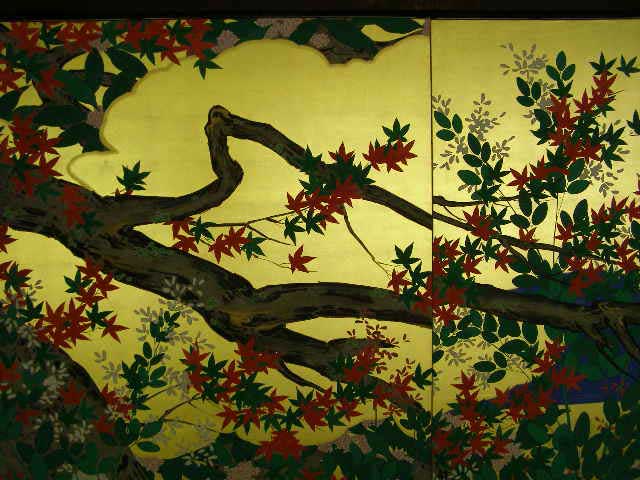 The panel paintings at Chishakuin Temple in Kyoto are thought to be the work of Hasegawa Tohaku (1539-1610) and his son, Kyuzo
Access To Chishakuin
To get to Chishakuin Temple from Kyoto Station, take bus 206 to "Hakubutsukan Sanjusangendo-mae" stop. From Keihan Shichi-jo Station, the temple is a 10-minute walk. Other buses that stop near to Chishakuin include the #18, #100, #207 and #208.
By bicycle from Kyoto Station to Sanjusangendo is an easy 5 minute ride east over the Kamo River.
Chishaku-in Map
View Kyoto Map in a larger map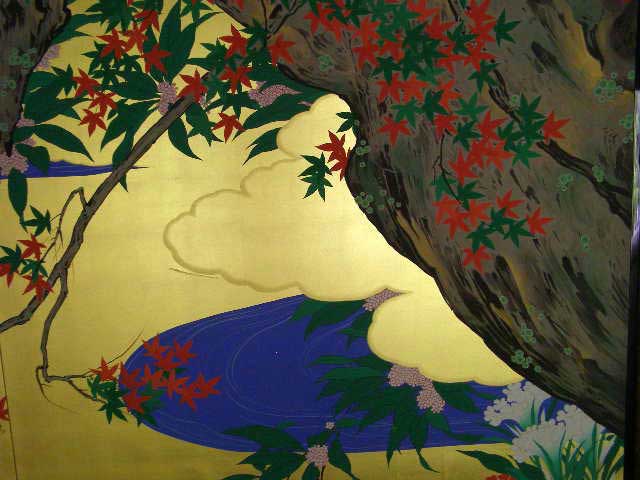 A panel painting at Chishakuin Temple in Kyoto
Book Hotel Accommodation in Kyoto Near Chishaku-in Temple
All the themes of the city