Goryo Shrine Kyoto
Goryo Shrine: read a guide to the historic Goryo Shrine in Kyoto located north of Imadegawa Dori and Shokokuji Temple.
Goryo Shrine (Kami Goryo Shrine) 上御霊神社
Goryo Shrine (kamigoryo jinja) is a short walk north from Shokokuji Temple and the main campus of Doshisha University on Imadegawa Dori in Kyoto.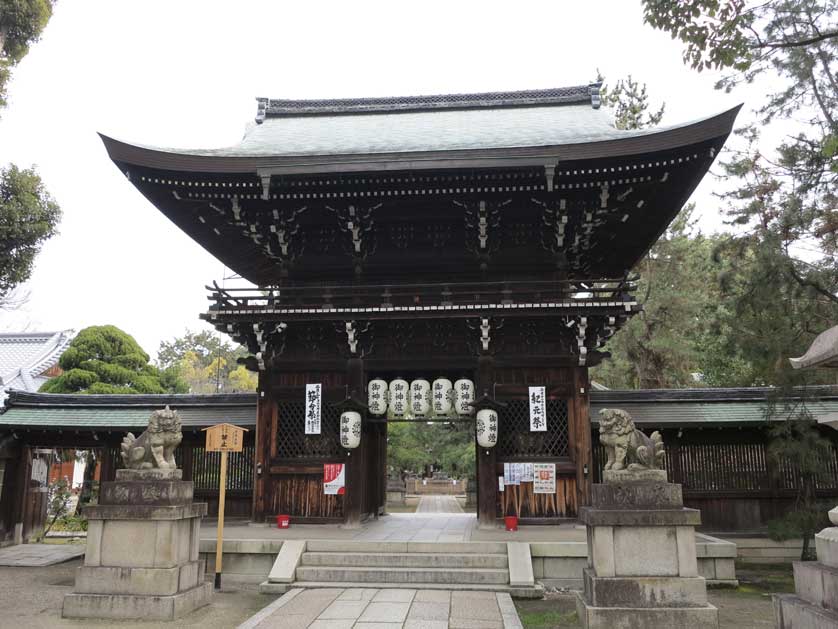 Goryo Shrine, Teramachi, Kyoto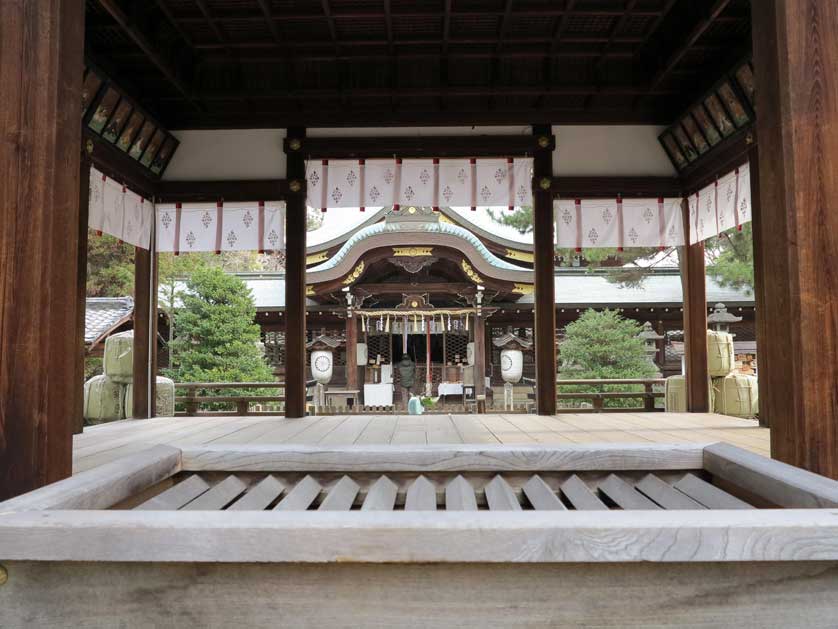 Goryo Shrine, Teramachi, Kyoto

Goryo Shrine History
Goryo Shrine was established during the Heian Period of Japanese history on the site of a former Buddhist temple and the shrine nowadays has much of the look of a Buddhist temple rather than a Shinto shrine.
Goryo Shrine was reputedly founded on the orders of the Emperor Kammu (737-806) after Kyoto became the imperial capital in 794. The shrine is a guardian shrine of the Imperial Palace of Kyoto and prayers have been said here for centuries to placate evil spirits that may threaten the city.
Goryo Shrine is thought to be the site of the start of the Onin War (1467-1477) which ravaged much of Kyoto during the Muromachi Period.
Over a century was to pass before the warlord Toyotomi Hideyoshi rebuilt and restored the shrine.
Goryo Shrine hosts a small flea market on the 18th of each month. Goryo's main festival is held on May 18 with parades around the local streets with participants in period costumes carrying the shrine's mikoshi.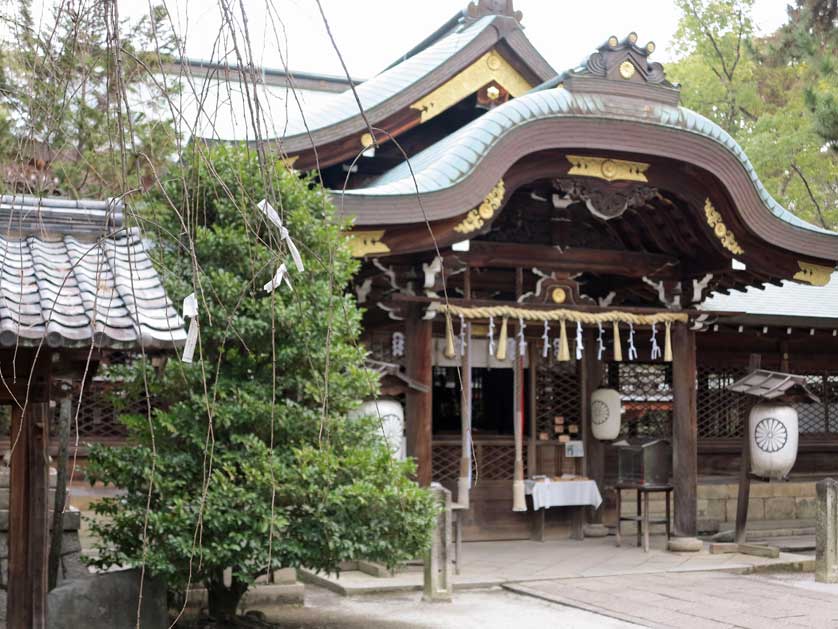 Kami Goryo Shrine, Teramachi, Kyoto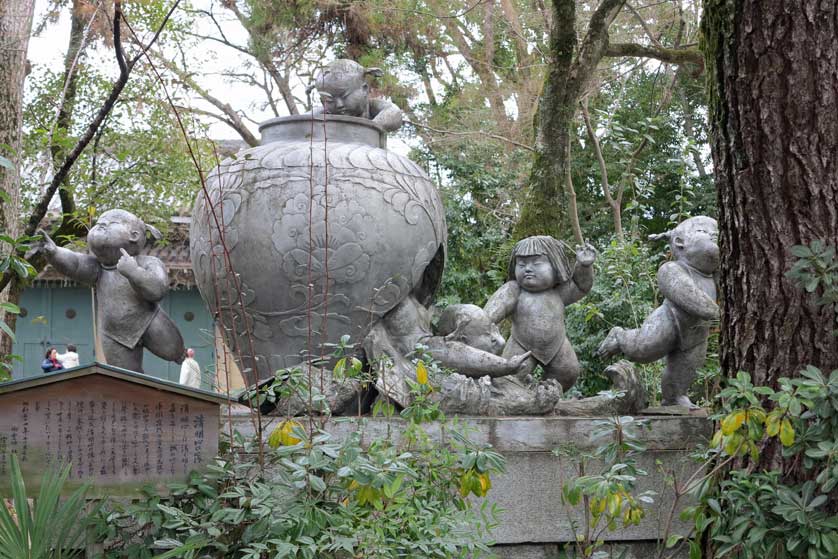 Kami Goryo Shrine, Teramachi, Kyoto
Goryo Shrine Access - how to get to Goryo Jinja
Goryo JinjaGoryomae-doriKarasuma higashi-iruKyoto 604-0995Tel. 075 441 2260
Free admission. Hours 9am-5pm.
The nearest station to Goryo Shrine is Kuramaguchi on the north-south Karasuma Line of the Kyoto subway. Kyoto buses #59, #201 and #203 go to Karasuma Imadegawa subway station, the stop just south of Kuramaguchi.
It is a nice stroll to Kamigoryo Shrine from the Imperial Palace taking in Nashinoki Shrine, Rozanji Temple, Shokokuji, Zuishun-in, the banks of the Kamo River then head west on Kitaoji to Daitokuji and Imamiya Shrine. The total walk would be around two hours and it is possible to finish the walk with a sento (public bath) at Funaoka Onsen and something to eat and drink nearby.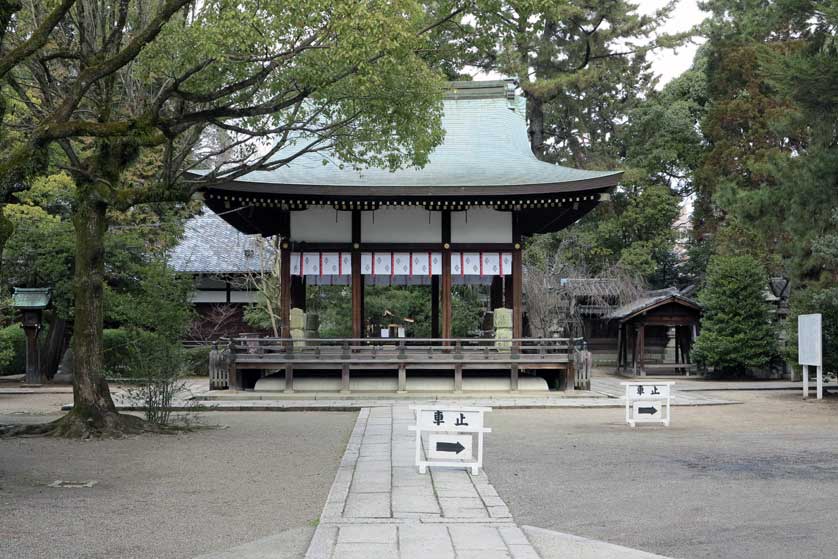 Kami Goryo Shrine, Kyoto

Book Hotel Accommodation in Kyoto Near Doshisha University
All the themes of the city