Yasui Konpira-gu Shrine
Yasui Konpira-gu Shrine in Gion, Kyoto is known for its power stone said to end bad relationships or initiate good ones as well as an annual comb festival.
Yasui Konpira-gu 安井金比羅宮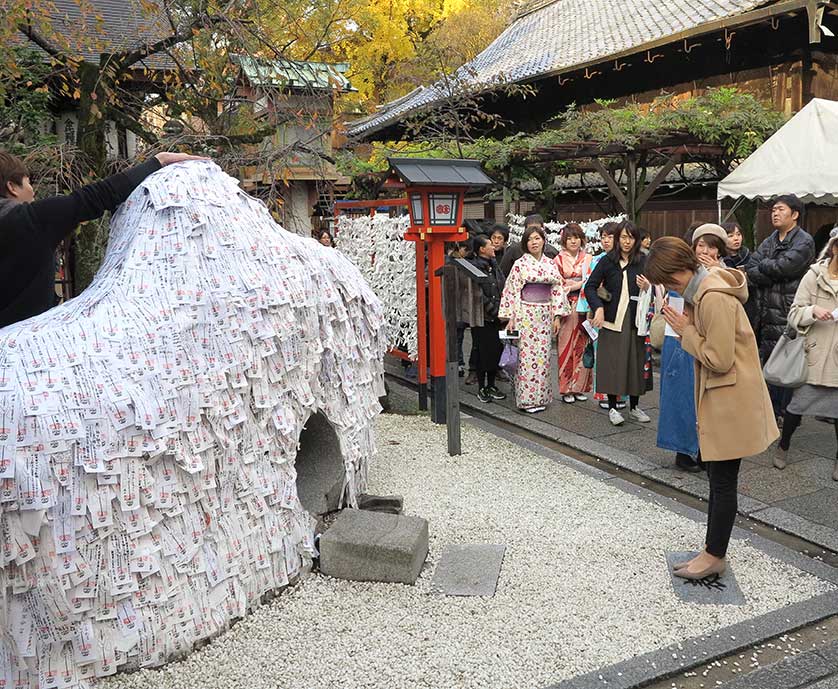 Enkiri / Enmusubi Power Stone, Yasui Konpira-gu, Gion, Kyoto
Yasui Konpira-gu is a quirky shrine in the Gion geisha and entertainment district of downtown Kyoto.
Yasui Konpira-gu has become especially popular among young Japanese women who flock to the shrine to perform a ritual of crawling through a hole in a large ema-shaped stone, known as the enkiri or enmusubi stone.
The ritual is performed to pray for breaking off bad relationships and initiating good ones. Supplicants write down their wishes on a white, paper amulet (katashiro), crawl through the hole in the stone, then back through again before pinning their amulet on the megalith along with the thousands of others covering it.
Performing this ritual can break up or initiate not just human relationships but also end disease or other harmful associations.
Older amulets are gradually removed and burned.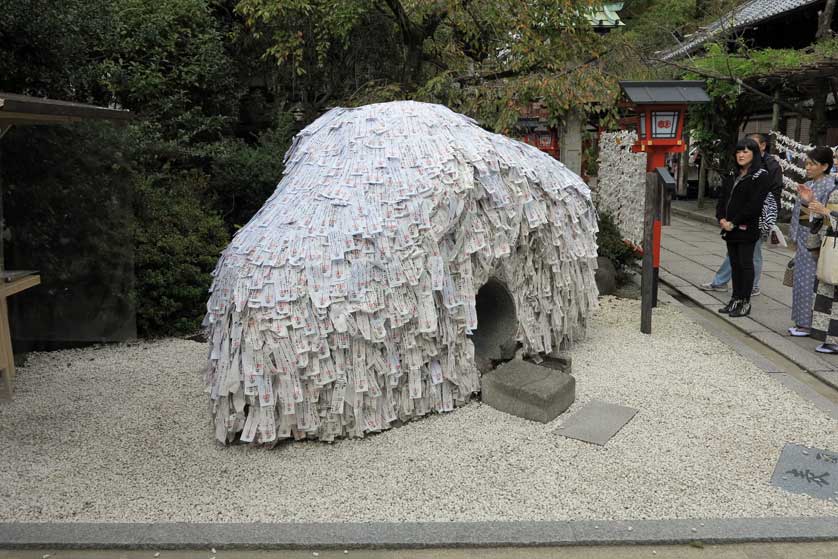 Enkiri / Enmusubi Power Stone, Yasui Konpira-gu, Gion, Kyoto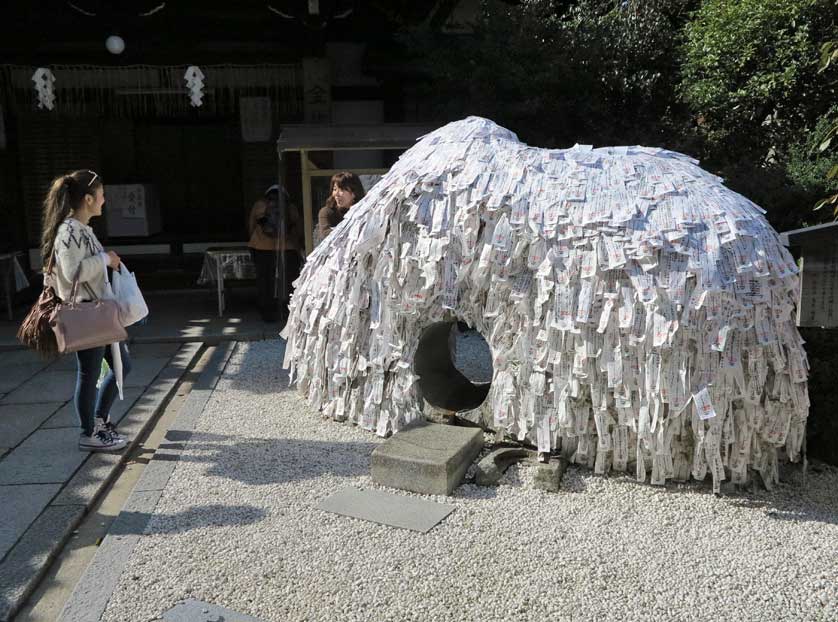 Power Stone, Yasui Konpira-gu, Gion, Kyoto
History of Yasui Konpira-gu
Yasui Konpira-gu Shrine origins supposedly go back to the 7th century and a temple called Fujidera (Wisteria Temple).
This temple was favored by the Emperor Sutoku (1119-1164), who was exiled to what is now Kagawa Prefecture (Sanuki) in Shikoku after a war, known as the Hogen Rebellion, over the imperial succession with his younger brother Go-Shirakawa. Sutoku lost, died in exile and was buried on Mt. Shiramine.
Later Sutoku supposedly appeared in a dream to the Buddhist monk Daien, who reported the event to Go-Shirakawa, who ordered the building of another temple Kanshoji to appease the spirit of his older brother.
This temple, in its turn, was destroyed in the Onin War (1467-1477) and was replaced by Rengekoin, a temple originally located in Uzumasa.
The Emperor Sutoku, Omononushi no Kami (from Konpira Shrine in Shikoku and the protective deity for ships and sailors) and the warrior monk and poet Yorimasa Minamoto were all enshrined here. The shrine became known as Yasui Konpiragu during the early Meiji Period of Japanese history under the nationalistically inspired separation of "imported" Buddhism from "native" Shinto (shinbutsu bunri), when the name Rengekoin was dropped.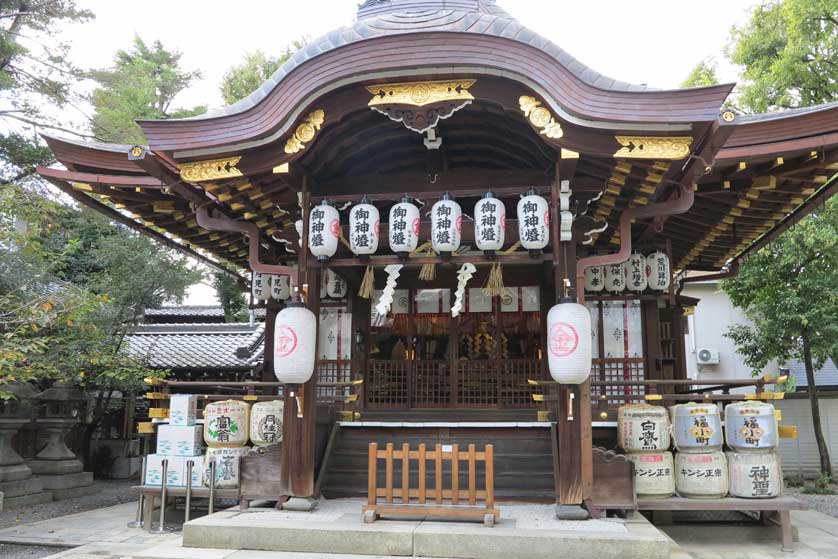 Yasui Konpira-gu, Gion, Kyoto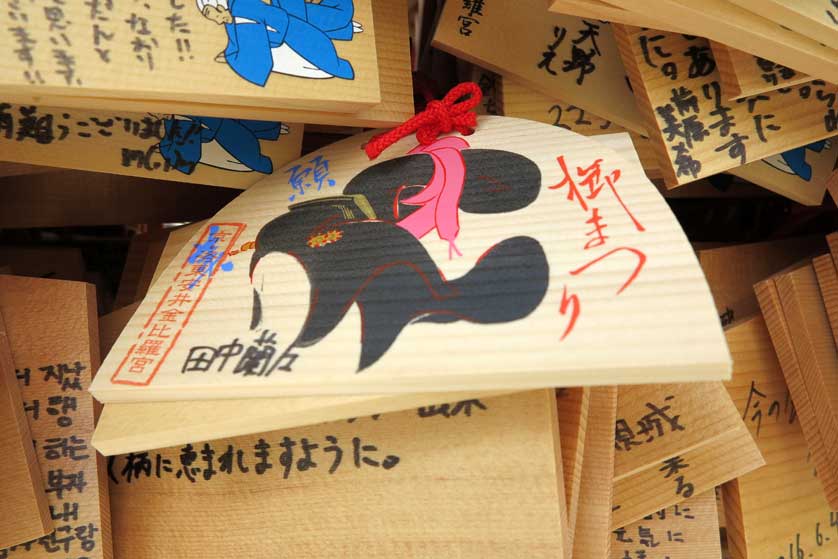 Ema Votive Plaque showing a comb and elaborate hairstyle, Yasui Konpira-gu, Higashiyama, Kyoto
As well as the enkiri / enmusubi power stone, Yasui Konpira-gu has a small museum dedicated to ema votive plaques, the Konpira Emakan Museum (though the old, wooden building housing the museum has been closed for repairs).
It was believed that the gods descended to earth on horses and in ancient times in Japan, live horses were offered as sacrifices to the gods. This practice was gradually replaced by offering clay figures of horses and latterly wooden boards, called ema (絵馬 lit. "picture horse")
A collection of ema are on display and visitors can also see a collection of glass art with pieces by in the Art Nouveau and Art Deco styles as well as a large piece by American artist Dale Chihuly viewed through a glass floor. Chihuly has an affinity with Japan and his glass art can also be seen at the Toyama Glass Art Museum in Toyama and the Hakone Glass Forest in Hakone.
Yasui Konpira-gu hosts numerous festivals throughout the year (see the official website for a complete list with dates) including hatsumode (first shrine visit of the year) and the setsubun festival in February.
Two festivals stand out, however. The Koshi Matsuri (Comb Festival) takes place on the fourth Monday of September and involves the gathering of old used combs and hairpins (kanzashi) to express thanks for their use. Local Gion geisha and maiko participate. This is followed by a procession of models around the streets of Gion sporting various traditional hairstyles from the different periods of Japanese history.
The Shuki Konpira Taisai (Great Konpira Autumn Festival) is the shrine's main festival and takes place over multiple days in October beginning on October 1st and ending on the Sports' Day (Taiku no Hi) public holiday. A mikoshi portable shrine in the shape of a Treasure Boat is paraded around the streets and there are performances of kagura and a lion dance (shishimai).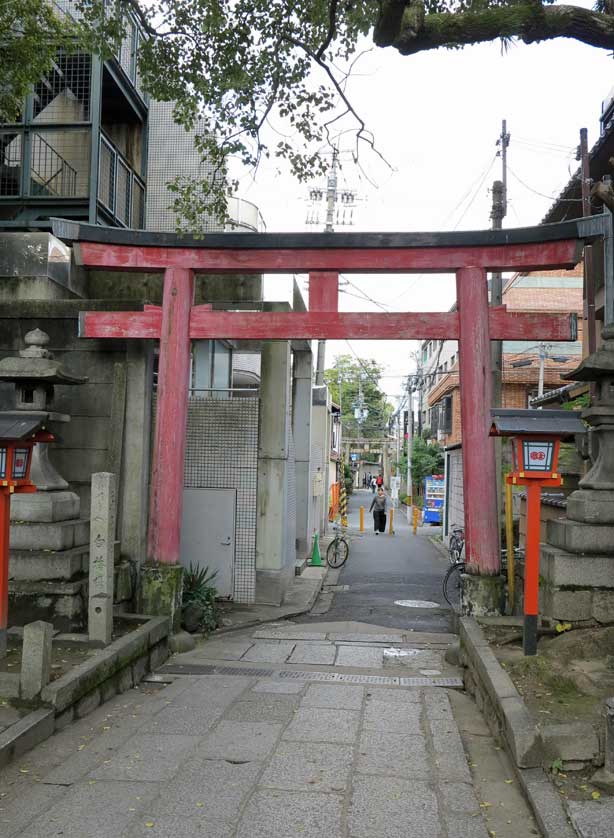 Entrance Torii, Yasui Konpira-gu, Higashiyama, Kyoto
Yasui Konpira-gu (yasui-konpiragu.or.jp)
70 Benten-cho, Higashio-ji, Matsubara-agaruHigashiyama-kuKyoto 605-0823Tel: 075 561 5127
Hours: Open 24 hours; the amulets can only be purchased from 9 am to 5.30 pm
Admission: Grounds are free; Ema Museum 500 yen.
Yasui Konpira-gu Access - How to get to Yasui Konpira-gu
From Kyoto Station take a #206 bus, a #110 bus or a #100 Raku Bus and get off at the Higashiyama Yasui bus stop. Kyoto buses #86, #202 and #207 also stop at the Higashiyama Yasui bus stop.
The Yasui Konpira-gu Shrine is also an approximately 10 to 15-minute walk from both Keihan Shijo Station and Hankyu Shijo Kawaramachi Station.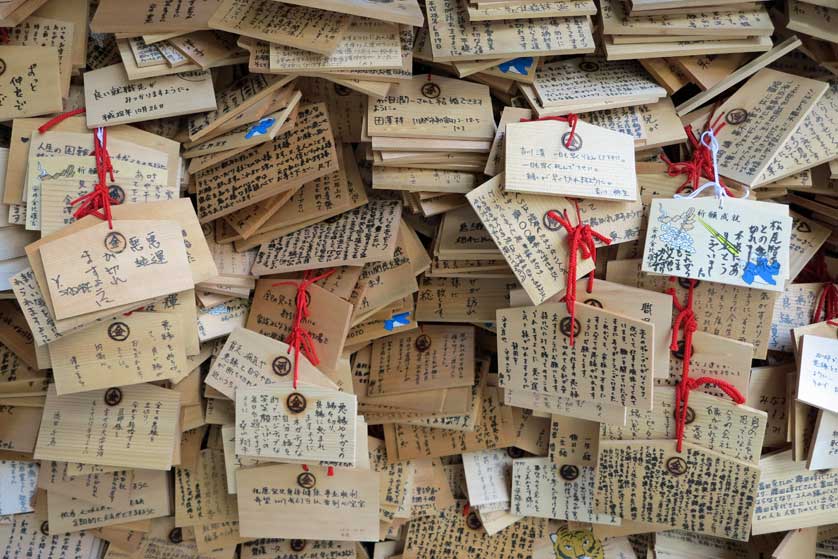 Ema, Yasui Konpira-gu, Gion, South Higashiyama, Kyoto
Other Places Of Interest Near Yasui Konpira-gu
Yasui Konpira-gu is near to Kenninji Temple, the Japan Kanji Museum, Yasaka Shrine, Kodaiji Temple and Kiyomizudera Temple.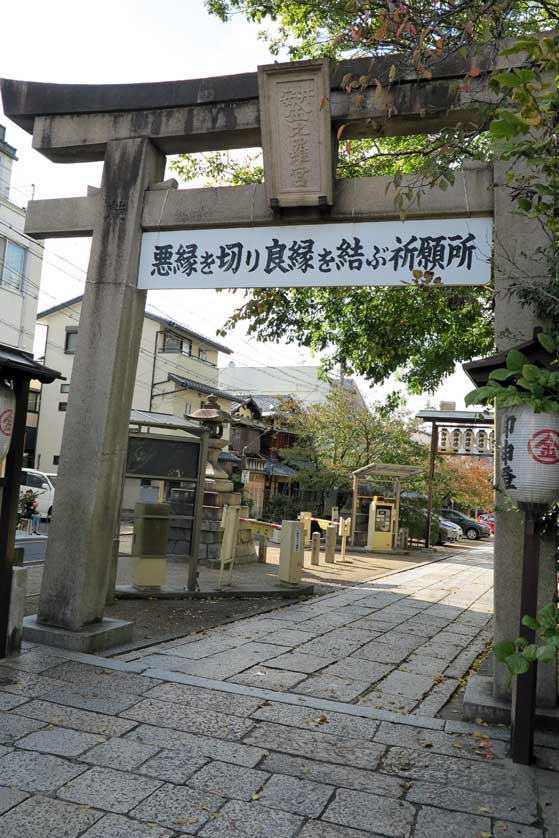 Torii, Yasui Konpira-gu, Kyoto, Japan
Yasui Konpira-gu Map
Book Hotel Accommodation in Kyoto Near Yasui Konpira-gu
All the themes of the city