Miyajima Fireworks
宮島水中花火大会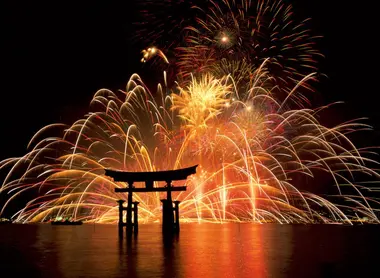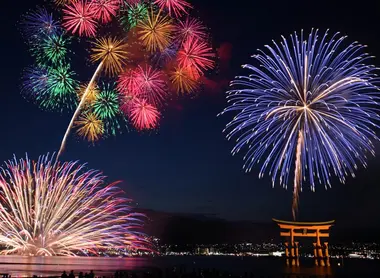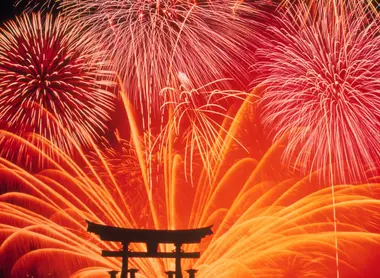 Une féérie pyrotechnique
Chaque année au mois d'août, le 26 cette année, une explosion de couleurs et de formes embrase le ciel de Miyajima derrière l'emblématique portail du sanctuaire d'Itsukushima, offrant un spectacle inoubliable.
Miyajima's fireworks display is an amazing pyrotechnic show, one of the most famous in Japan, attracting about 300,000 spectators each year.
A FESTIVAL OF FIRE
In one hour, 5,000 lights, 200 of which are drawn from above the water, illuminate the sky and are reflected on Hiroshima Bay. Every year, a theme is chosen and the firework artists compete with their imagination and ingenuity. Flamboyant colors that change throughout the explosion, sparks of gold or silver, various shapes, characters ... A pyrotechnic prowess that illuminates the sky and the floating torii of the sanctuary of Itsukushima, a site considered as the " One of the three most beautiful in Japan.
Read: Ikari Shrine
A FANTASTIC ATMOSPHERE
In addition to the amazing spectacle, the festive atmosphere that surrounds it is fantastic. Applause and exclamations of delight accompany each explosion, ending on a crescendo at the moment of the final burst of color.
Read also: Top 5 Fireworks Shows in Japan
EVERYTHING AT A PRICE
The only downside: the popularity of this event means hotel prices rise and public transport is very crowded. If you want to stay on Miyajima or in the surrounding area on the evening of the fireworks, it's necessary to book months in advance to be sure of reserving a room, the price of which will likely be exorbitant.
See: Rent a house in Hiroshima
If you want to watch from the front row, you will have to come very early in the morning to "reserve your place" by laying a mat on the beach near the Itsukushima shrine to stake your claim to that spot!
Expect long queues to access transport (ferry and train) to leave the island once the show is over.
---
Address, timetable & access
All the themes of the city